Obama scraps policy granting residency to Cubans arriving without visas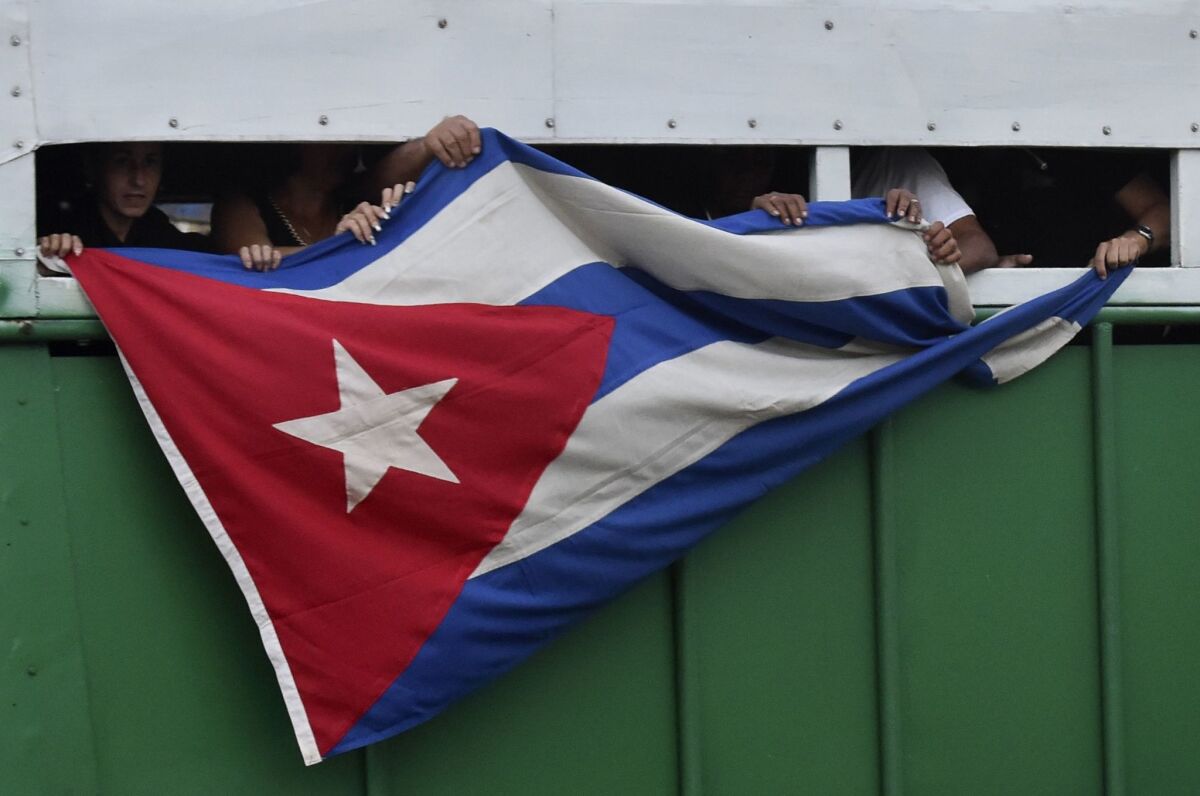 Reporting from Washington —
President Obama ordered an immediate end Thursday to the long-standing U.S. policy of granting easy residency permits to Cubans who reach U.S. shores, probably the last major foreign policy initiative of his tenure.
In a statement, Obama said he is ending the so-called "wet foot, dry foot" policy in a step "forward to normalize relations with Cuba and to bring greater consistency to our immigration policy."
The policy shift means that any Cuban who attempts to enter the United States illegally and without valid humanitarian or asylum cases can be sent back home, like most other migrants in the same situation.
Over the last two decades, Cubans fleeing the communist-ruled island have been given a unique status because they were viewed by U.S. administrations as having escaped an enemy to reach safety in America.
As long as they stepped on land, the Cubans were welcomed and given visas. Those who were intercepted at sea were usually returned to Cuba.
For that reason, the practice became known as the "wet foot, dry foot" policy.
As relations have improved between Washington and Havana in the last two years, the special immigration category seemed incongruous to the Obama administration. Travel from Cuba has become much easier since Cuban President Raul Castro lifted numerous restrictions on people leaving the country.
"What this means is, the past is the past," Secretary of Homeland Security Jeh Johnson said in a conference call with reporters. "The future will be different."
Cuba always complained that the U.S. policy served as an incentive to attract refugees.
Thousands of Cubans have sought to flee the island in recent months, apparently apprehensive that the policy might be scrapped before Obama leaves office.
As a result of the policy, tens of thousands of undocumented Cubans have embarked on long, perilous journeys through South and Central America to reach the U.S.-Mexico border, where they surrender to American officials, rather than taking a boat across the South Florida straits.
More than 38,500 of them showed up at ports of entry along the southwest border in the 11 months ending in August, according to figures provided by U.S. Customs and Border Protection.
Obama and Castro announced they were restoring diplomatic ties in December 2014 after half a century of hostilities born in the Cold War.
They have since re-opened embassies in their respective capitals and are slowly making it easier for U.S. companies to do business in Cuba. Tourism, especially, has flourished.
The new era was capped by Obama's visit to Havana last spring, the first sitting U.S. president visit Cuba in 90 years.
Ending the "wet foot, dry foot" policy was negotiated over several months, administration officials said.
Obama has sought to expand the opening with Cuba as far as he can before he leaves office in hopes that the incoming Trump administration and its supporters in Congress won't be able to put relations back in a freeze.
Republican critics, including Sen. Marco Rubio (R-Fla.), vehemently oppose better ties with Cuba unless the Castro government improves human rights conditions. Rubio has threatened to try to unravel Obama's new ties to Cuba.
Rex Tillerson, President-elect Donald Trump's pick for secretary of State, pledged to review U.S. policy toward Cuba during his Senate confirmation hearing on Wednesday.
But others in Congress praised Obama's latest effort to normalize relations.
Sen. Jeff Flake (R-Ariz.), who has supported bipartisan immigration reform, said ending the automatic visa program was "a win for taxpayers, border security and our allies in the Western Hemisphere," in part because it brings U.S. Cuba policy "into the modern era."
Pro-reform groups agreed. The Washington Office on Latin America, a research and advocacy group, said it would lead to "a more sensible Cuban immigration policy" by ending preferential treatment for Cubans.
Cubans come to the United States because of economic stagnation at home, the group said, WOLA argued, while families fleeing drug wars and political violence in Honduras and El Salvador are more vigorously denied entry or deported.
Jorge Mas, chairman of the Cuban American National Foundation, which opposes the Castro government, said ending "wet foot, dry foot" will have a beneficial effect.
"This will significantly increase pressure on the regime by depriving them of an escape valve" to let discontented Cubans leave, Mas said by telephone from Miami.
Cubans with political asylum claims, he said, may still get special treatment under the Cuban Adjustment Act, a 1966 law that permits another route to U.S. residency.
"Wet foot, dry foot" grew out of the 1966 law, following negotiations with Cuba in 1995.
Times staff writer Alexandra Zavis contributed to this report.
ALSO
Two countries, one economy: A Mexican town whose chief earners are in the U.S. worries what happens if they're sent home
Haitians, Africans, Asians: The sharp rise in non-Latin American migrants trying to cross into the U.S. from Mexico
An overloaded boat, packed with dreams: Hundreds of migrants plucked from a hazardous journey across the Mediterranean
Must-read stories from the L.A. Times
Get the day's top news with our Today's Headlines newsletter, sent every weekday morning.
You may occasionally receive promotional content from the Los Angeles Times.