Daughters of Iraq: Women take on a security role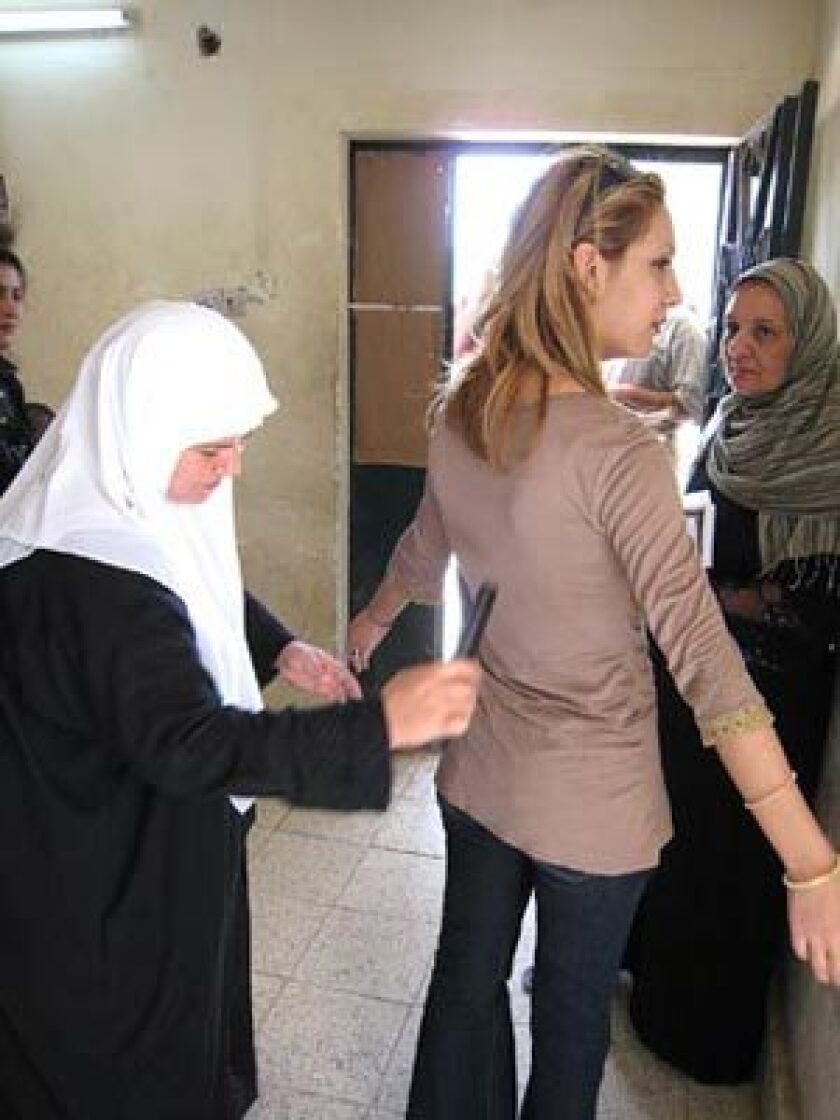 Los Angeles Times Staff Writer
BAGHDAD —
The two women couldn't be less alike: Melath Dulaimi is a single woman in her mid-30s who wears a knee-length skirt, strappy sandals and refuses to cover her hair. Lekaa Mohammed is a retiring widow draped in a navy blue veil and concealing robes.
But when the U.S. military advertised for women to join its neighborhood guard program last fall, both answered the call.
"Iraqi women are the same as Iraqi men," said Dulaimi, the businesslike leader of 42 female security guards in Baghdad's blast-scarred Adhamiya section. "We want to take back our neighborhood."
The women work in pairs, frisking female visitors for weapons and explosives at schools, hospitals, banks and government offices.
The program was set up to counter a growing threat of female suicide bombers. But even as the response from women has been enthusiastic, it has faced resistance from tradition-bound community leaders who believe that fighting insurgents is men's work.
So far, 500 women have joined the more than 90,000 Sons of Iraq, a mostly Sunni Arab guard force that helped drive out insurgents from some of the country's most dangerous areas. Unlike their male counterparts, the new Daughters of Iraq do not carry weapons and operate in just a handful of places in Baghdad, south of the capital and in Anbar province.
U.S. commanders are keen to expand the program, but such efforts would require delicate negotiations with the communities where the women would operate. And the Iraqi government has made it clear that it has no intention of retaining female recruits when U.S. forces eventually hand over responsibility for the neighborhood guards.
Cultural divide
Army Lt. Col. Jeff Broadwater, who commands the U.S. troops in Adhamiya, a walled-in Sunni enclave surrounded by Shiite Muslim neighbors, would like to assign women to checkpoints and markets, which are among the favored targets of suicide bombers. But neighborhood leaders say those places are far too exposed.
"In our culture, we can't have women standing in public on a checkpoint," said Riyad abu Mohammed, deputy commander of Adhamiya's 843 Sons of Iraq. "It isn't good for us, for her or her family."
Although Dulaimi says her two brothers encouraged her to join, other members do not hide their displeasure at the idea of female recruits.
"A woman can't do this work," snapped one of Abu Mohammed's deputies, who gave his name as Sabbah. "It is dangerous."
U.S. commanders have encountered similar obstacles when they have asked the Interior Ministry to hire more policewomen. Critics blame the rise of religious conservatives for the government's apparent reluctance to tackle the threat of female suicide bombers.
There have been at least 21 such attacks since November, according to U.S. military figures, including coordinated bombings at two pet markets that killed 99 people in February. The U.S. military believes insurgents are turning to women because they raise less suspicion and cannot be searched by men in an Islamic society.
Army Lt. Gen. Lloyd J. Austin III, commander of day-to-day operations in Iraq, was diplomatic about the frustrations expressed by some of his officers.
"It is a cultural issue," he said. "It'll be one of these things that will take some time to work through. They're a little slow in letting women be able to do some jobs. We've got to break through some barriers."
Adhamiya was once one of the more progressive Baghdad neighborhoods. It is populated largely by retired military officers and other professionals who made up the elite of Saddam Hussein's secular Baath Party.
Many of its women were once employed as teachers or administrators in government offices across the city. But when the bombing of a revered Shiite shrine in Samarra unleashed revenge killings against Sunnis in 2006, most retreated to their homes, too afraid to leave the neighborhood.
For more than a year, the tortured bodies piled up. When the old graveyard behind Abu Hanifa mosque was full, a new one was carved out of a park where families had once picnicked and children had played soccer.
Husband slain
Mohammed's husband is buried there. A taxi driver, he was pulled over one day by gunmen in a Shiite neighborhood. Five days later, his body turned up at the morgue with a single shot to the head.
Mohammed was left to support five children on her own. She said her job searching women at a busy hospital had provided her "a good opportunity to help my family and my country."
Other Adhamiya men lost their lives fighting U.S. forces, or were killed by fellow Sunnis from the militant group Al Qaeda in Iraq, which imposed a reign of terror in the neighborhood. Officials say they have lost count of neighborhood widows, who make up many of the Daughters of Iraq. Others signed up because their husbands were disabled or lost jobs in the fighting.
Hannah's husband was abducted by Sunni militants, who beat him so badly that he was left with a permanent quiver and can no longer work. Shiite militiamen shot and killed her brother, leaving her to support his five children, in addition to three of her own.
"This job saved my life," said the soft-spoken woman wrapped in pastels, who, like many interviewed, did not want her last name published.
The female recruits undergo the same background checks as their male counterparts, and their details are entered into the same database. Their salary is also the same, about $300 a month.
The women's proudest moment came in March, when thousands of people from across Baghdad, including the country's Shiite prime minister, converged in Adhamiya to celebrate the prophet Muhammad's birthday. The Daughters of Iraq were out in force, patting down women as they approached Abu Hanifa, the city's most revered Sunni mosque.
"A lot of women were happy to see the local women there to protect them," Dulaimi said. "They were hugging and kissing us and giving us Pepsis."
The day passed without incident. But that was the only time the women have worked outside the barricaded walls of official buildings.
No guns on the job
Part of the women's U.S.-provided training included weapons familiarization, during which they learned to take apart an AK-47 and put it back together again. But they do not carry guns on the job, a restriction that is beginning to chafe.
"Al Qaeda is still here, so we need weapons to protect ourselves -- and Adhamiya," said Alam, a formidable woman in a powder blue suit and leopard print veil.
Alam's husband used to work at a medical laboratory but quit after receiving threats from Shiite militiamen in the neighborhood where it is located. The money she earns conducting searches at a school pays the couple's rent and supports their two children. But she has no idea how long the job will last.
The Shiite-led government was slow to embrace the male neighborhood guards, who include many former insurgents. Under U.S. pressure, Iraqi officials agreed last year that they would gradually take responsibility for the Sons of Iraq. But a senior U.S. military official said the government was not willing to take on their female counterparts because of "cultural norms regarding the employment of women in dangerous jobs."
U.S. commanders expect to continue the program at their own expense for a year or two. But that is small consolation for the Daughters of Iraq.
"We help our families, our community and the American forces," Alam said. "So we want the government to give us real jobs."
---
Must-read stories from the L.A. Times
Get the day's top news with our Today's Headlines newsletter, sent every weekday morning.
You may occasionally receive promotional content from the Los Angeles Times.