Colombia said to have killed one of its most wanted fugitives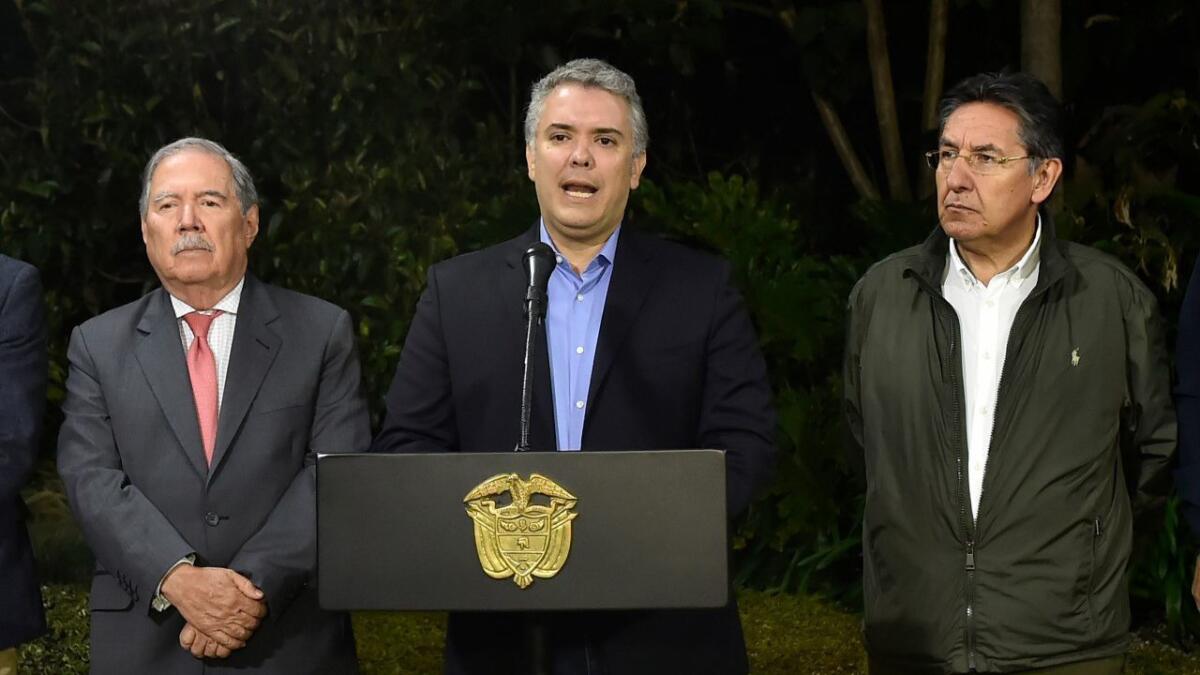 Reporting from Bogota, Colombia —
A dissident rebel suspected of running drug trafficking operations in southern Colombia and ordering the killing of three Ecuadorean journalists in April has been tracked down and killed, Colombia's defense ministry said.
Walter Patricio Arizala, 29, alias "El Guacho," was killed Friday in an armed confrontation with army and police units in the crime-ridden Colombian border province of Narino, according to a ministry statement.
For the record:
11:20 a.m. Dec. 22, 2018The headline on an earlier version of this article said Ecuador had killed the fugitive. It was Colombia.
Arizala was an 11-year veteran of the Revolutionary Armed Forces of Colombia (FARC) who was among an estimated 2,000 fighters who refused to accept terms of the 2016 peace agreement with the government that ended a half century of conflict with the nation's largest rebel group.
He formed an armed group called the Oliver Sinisterra Front, which controlled cocaine production and trafficking in Tumaco township, the busiest coca growing and transit zone of drugs in Colombia, officials said.
Arizala is alleged to have forced farmers to grow coca plants, which are the source of cocaine, and arranged shipments of the drug to Mexican cartels. He also is thought to have headed extensive extortion and kidnapping rackets, making him "one of the most wanted delinquents in the Ecuador-Colombia border area," the ministry said.
But he was most notorious for allegedly ordering the killing of three Ecuadorean journalists with the Quito-based newspaper El Comercio days after they were captured during a March reporting trip to the lawless border with Colombia.
The victims, who were identified as writer Javier Ortega, photographer Paul Rivas and driver Efrain Segarra, were investigating rising drug-fueled violence in the coastal state of Esmeraldas. Arizala, who was born in Ecuador, was believed to have used the Ecuadorean coastline as a transshipment zone for cocaine produced in Colombia.
The killings caused a rift between the neighboring countries and resulted in Ecuador backing out of a previous agreement to host peace talks in Quito, the capital, between Colombian government negotiators and another rebel group known by its Spanish initials ELN.
In a statement to reporters Friday night in Bogota, Colombian President Ivan Duque said that by killing Arizala his nation had kept a promise to Ecuadorean President Lenin Moreno to bring the former rebel to justice for the deaths of the three journalists.
"I told the Ecuadorean people that the crime against the three journalists would not remain in impunity," Duque said. "This is an accomplishment by the entire country."
In a statement issued Saturday, the Ecuadorean government said it "recognizes and appreciates" the action by Colombian armed forces in killing Arizala.
Yadira Aguagallo, the partner of Rivas, the slain photographer, said in an emailed comment that she and the families of the other two victims believe justice has yet to be served and that they are awaiting explanations of why the victims were not rescued or ransomed during 19 days in Guacho's custody.
"It's the position of the three families that no death is cause for celebration, that it is as painful to us that deaths are still happening to those who attacked us as much as to our loved ones," Aguagallo said. "We continue to demand both countries to take action to assure that all those responsible for these crimes are punished to avoid that this crime remains in impunity."
Adam Isacson, a Colombia expert with the Washington Office on Latin America, a private research and advocacy organization, said Guacho's death should improve Colombia's relations with Ecuador, which after the killings accused its neighbor of being "indifferent and unempathetic."
But Isacson warned that if Guacho's killing creates a power vacuum it could soon be filled by two other hyperviolent dissident groups of former FARC rebels active in the Tumaco area, in addition to various Colombian and Mexican mafias thought to be in the zone.
"Now that Colombia has demonstrably done something about it, perhaps relations may warm a bit," Isacson said. "But the Colombia-Ecuador border, especially near the Pacific, remains a convulsed and violent place."
Kraul is a special correspondent. Special correspondent Pablo Jaramillo Viteri in Quito, Ecuador, contributed to this report.
Sign up for Essential California for the L.A. Times biggest news, features and recommendations in your inbox six days a week.
You may occasionally receive promotional content from the Los Angeles Times.