He thought he was going to work. More than 5 years later, the photojournalist gets out of jail
Reporting from Cairo —
Mahmoud Abou Zeid went to work one day in 2013 and came home five and a half years later.
The Egyptian photojournalist, who became an international symbol of the government's clampdown on press freedom, was released Monday morning and reunited with his family after being imprisoned for photographing the security forces' violent dispersal of a protest camp.

For the record:
9:30 AM, Mar. 04, 2019An earlier version of this article reported that some of those sentenced to death the day that Abou Zeid was sentenced have been executed. It is not clear whether any have been executed yet.
Though Abou Zeid's release procedures started on Feb. 16, protocol required that he be transferred to a police station in his neighborhood before being freed. He was released from the Haram station in Giza, near his home.
A selfie of a beaming Abou Zeid, 31, along with his father and older brother on the street in his first moments of freedom, were shared on the Facebook page "Freedom for Shawkan" (as he is popularly known) and on Twitter.
Speaking to reporters outside his home, Abou Zeid said he felt "as if I was flying" in the first moments after his release, the Agence France-Presse news agency reported. He tried to put a positive spin on his imprisonment. "It's bitter, but it lets one look at life from a different perspective, a new perspective that one can't see except from this place," he said.
Abou Zeid won't enjoy complete freedom. He will remain under police observation for five years and has to spend his nights — from 6 p.m. to 6 a.m. — at the police station. He also faces further financial and property-related restrictions.
The freelance journalist's ordeal had made him one of Egypt's most high-profile prisoners and drew international protest against President Abdel Fattah Sisi, whose government has sharply reined in the Egyptian press. Only two countries, Turkey and China, imprison more journalists, according to the Committee to Protect Journalists (CPJ), and Egypt has imprisoned the most for spreading "false news."
"We are relieved to hear that Shawkan is finally free after spending over five years in jail and call on authorities to end their shameful treatment of this photojournalist by removing any conditions to his release," said CPJ Middle East and North Africa program coordinator Sherif Mansour in a statement published on the group's website. "The Egyptian government should take steps immediately to improve its image, which has been badly tarnished by this unjust imprisonment--and it can start by releasing all journalists jailed in relation to their work."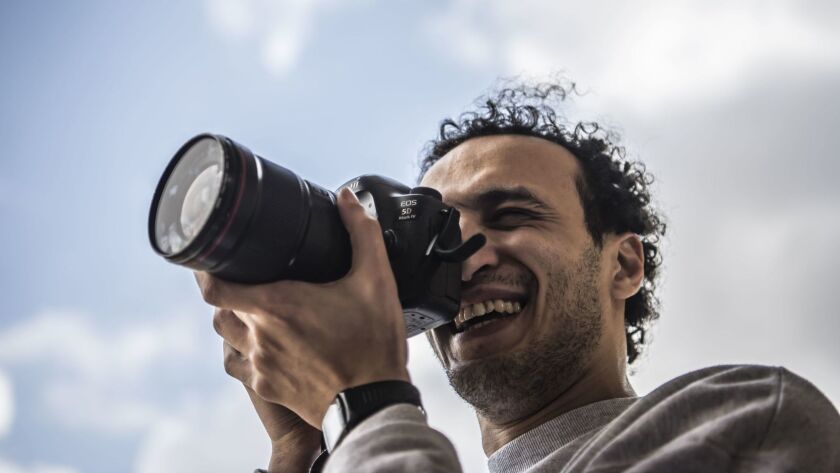 Abou Zeid's release comes just two days after another Egyptian photojournalist, Ahmed Gamal Ziada, was granted release on bail. Ziada disappeared for two weeks after being detained on his return to Cairo airport from Tunisia on Jan. 29. He is accused of spreading false news on social media. It also comes two weeks after a New York Times correspondent and the paper's former Cairo bureau chief, David Kirkpatrick, was held incommunicado on his arrival at Cairo airport for seven hours and then deported.
Abou Zeid was arrested on Aug. 14, 2013, while photographing the security forces' raid of a sit-in in support of Egypt's first democratically elected president, the Muslim Brotherhood's Mohamed Morsi, after he was toppled by the military. More than 800 people were killed in one of the bloodiest moments in the country's modern history.
Abou Zeid was one of 739 defendants, mainly supporters of the since-outlawed Brotherhood, in a mass trial criticized by international rights groups. All the defendants were charged with murder and being a member of a terrorist organization, and faced the possibility of the death penalty; Abou Zeid was spared but 75 others, including senior Brotherhood members, were not.
The photographer was not sentenced until last September, when he was given a term of five years. That made him immediately eligible to be released for time served. He was among 215 people in similar circumstances, all sentenced to the same term that day, most stemming from the pro-Morsi demonstration.
Their release was delayed by an additional six months for unpaid judicial fees and alleged damage to public and private property during the raid on the protest camp at Rabaa Adawiya Square. Authorities, however, never gave them a chance to pay and the defendants were never told how much they owed.
Islam is a special correspondent.
---
The Latinx experience chronicled
Get the Latinx Files newsletter for stories that capture the multitudes within our communities.
You may occasionally receive promotional content from the Los Angeles Times.