Egyptian authorities call on citizens to report on media critical of the government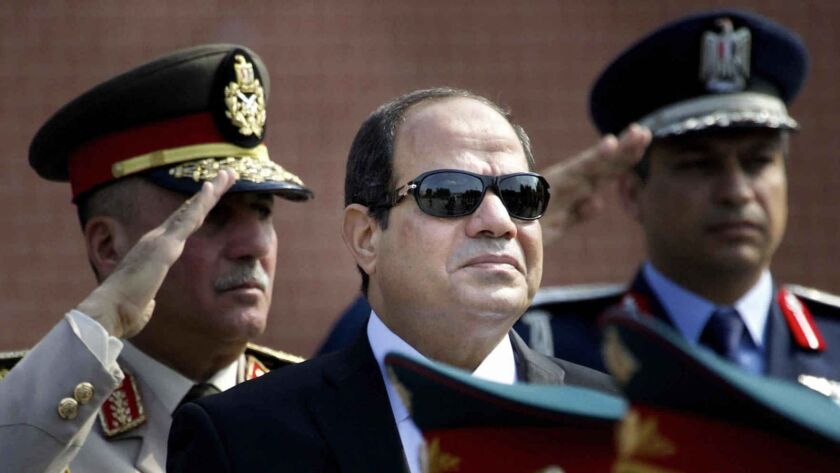 Reporting from CAIRO —
Egypt wants its citizens to report on the news media.
Escalating a preelection crackdown on independent or critical reporting, Egyptian authorities have published a list of telephone numbers for citizens to alert them to reports they view as undermining security or spreading false news.
President Abdel Fattah Sisi, who led the 2013 overthrow of an elected Islamist president, has waged a massive crackdown on dissent in recent years, and authorities have ratcheted up pressure ahead of the March 26-28 election, in which he faces no real challenge.
All potentially serious competitors either withdrew under pressure or were arrested, leaving only Sisi and a little-known politician who supports him.
Authorities have already silenced virtually all independent or critical media in the country, and in recent weeks Sisi and others have warned the media against publishing anything that could be construed as false news or defamation of the security forces.
By offering the telephone numbers — in a statement issued late Monday by Egypt's chief prosecutor — the government appears to be enlisting ordinary Egyptians in its efforts to stamp out any criticism or negative coverage.
The statement advises citizens to send complaints on WhatsApp or as text messages along with their personal details. It referred to a statement last week by chief prosecutor Nabil Sadeq in which he told his staff to monitor the media and take action against any that are "hurting national interests."
With the outcome of the vote a foregone conclusion, the government's worst fear is an embarrassingly low turnout that would raise further questions about the election's legitimacy. To prevent that, the government and local media — which are dominated by Sisi supporters — are urging people to head to the polls.
"The margin of freedom is steadily narrowing and there is a state of fear-mongering," said Hassan Nafaa, a political science professor at Cairo University. "There is genuine fear that social media networks will be used to urge people to boycott the election."
The government has already sought to exert heavy control over reporting on the election, issuing guidelines barring journalists from conducting any polls, or even asking individual Egyptians whom they plan to vote for.
Critical TV personalities have been pushed off the air and dozens of independent and Islamist news websites have been blocked. Around 20 journalists have been detained, including two who were arrested this month while preparing a report on a historic tramway in Alexandria. In a separate case, the government demanded an apology from the BBC and called on officials to boycott the network after it reported on torture and disappearances.
Pro-government media frequently portray negative coverage as part of foreign plots to sow chaos, and sometimes accuse foreign media of promoting a negative image of the country. Camera crews or even reporters with notebooks attempting to conduct interviews in public can face harassment from crowds or police.
---
Must-read stories from the L.A. Times
Get the day's top news with our Today's Headlines newsletter, sent every weekday morning.
You may occasionally receive promotional content from the Los Angeles Times.