Egyptians appear likely to extend President Sisi's rule in ongoing vote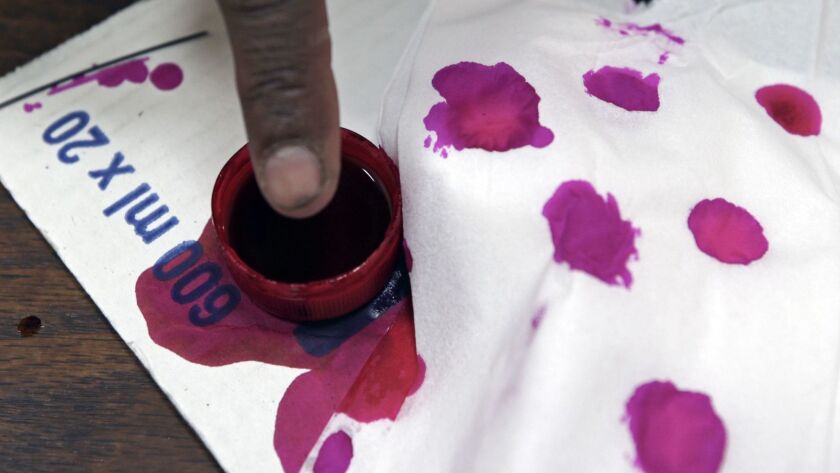 Reporting from Cairo —
In three days of voting that ends Monday, Egyptian voters appear poised to approve a package of constitutional changes that would extend President Abdel Fattah Sisi's rule to 2030 and enhance his power over the judiciary while adding to the military's sway over political affairs.
Opponents of Sisi said their ability to campaign against the power consolidation has been choked by restrictions imposed against them holding public rallies and a failure of the largely government-controlled state media to provide fair or adequate coverage.
Polling stations opened on Saturday morning, just 72 hours after Egypt's parliament, packed with Sisi loyalists, passed the amendments on which voters are being asked to cast their ballots.
About 150 to 200 people lined up outside one school on Kasr el Aini Street in Cairo, just a couple of minutes' walk from the parliament, to be among the first to vote. A large banner outside the polling station declared, "All employees of the El Komyia Distribution are saying yes for the constitutional amendments for a better future," under which several young girls held Egyptian flags and took selfies.
Inside, Abdel Hamed, a 42-year-old chef at the nearby Ritz-Carlton hotel, said that he was there to cast a yes vote "because we need to support our country." But when pressed, Hamed could not provide specifics about the proposals on which he was about to vote.
The changes include extending what would have been Sisi's second and final four-year term that is due to end in 2022 for two more years, and then allowing him to run for one more six-year term.
To opponents, the changes to the nation's 2014 constitution represent the death knell of gains that followed a popular uprising in 2011, which toppled the nearly 30-year autocratic military rule of Hosni Mubarak. They say that most reforms had already been reversed under Sisi, a former general, since he became president in 2014.
The opposition, a coalition of secular and left-leaning parties called the Civil Democratic Movement, has been largely ignored or denounced by leading media outlets, and a request for a rally was denied, with authorities restricting members to holding activities within the small headquarters of coalition groups. In addition, more than 34,000 internet domains were blocked, they said.
On the other hand, "there has been a significant push to get citizens to vote via PSAs on various media channels and songs by famous artists," said Mai Sadany, legal and judicial director at the Tahrir Institute for Middle East Policy. "Although the media content does not explicitly encourage a yes vote, much of the framing and language, videography and examples of ballots implicitly lead citizens there."
Cairo's polling stations have been heavily guarded by troops and police as the voting proceeds, and most are surrounded by banners telling the public to "do the right thing" by voting.
As Adel Cherif, 74, walked out after casting his ballot in the upscale Zamalek neighborhood, he said he supported the referendum because of the security the army provides, including in fighting militants. "If the army can improve the situation then I will vote for the army forever," he said.
Lamia Moktar, a smartly dressed 35-year-old working in a bank who also cast a yes vote in Zamalek, said she had listened to views put forward by opponents but couldn't explain what they were.
She backed the changes, she said, "because it will increase the percentage of women in parliament by 25%," referring to a fixed quota included in the referendum.
In the capital's working-class district of Dar el Salam, voters leaving the polling stations displayed pink-ink stained fingers showing they had cast ballots — and slips with bar codes on them.
One yes voter explained that the slips were coupons for food boxes they were receiving for having voted. "We got the coupon from the mosque, and once we voted, we got it stamped from the stand outside and then took it to the mosque to get our box of food," Mona Ahmed Mohamed said.
Mohamed, who had already collected a white food box, displayed the oil, margarine, sugar, rice and pasta inside and placed the provisions into a plastic bag to take home.
Nawal Zakareya, a 26-year-old cleaner, smiling and holding an Egyptian flag, said: "I haven't read the amendments, but I think the country is getting better and is more secure."
She lamented, however, that price hikes and subsidy cuts in recent years have meant she can no longer afford to buy clothes for her 6-year-old daughter.
Away from the chaos outside the polling stations, a 48-year-old teacher sitting near a plumbing shop said she had just voted no.
"Everything is dark and prices are high…. Maybe Sisi is building a future for coming generations but what is our generation supposed to do, just die?" said the woman, who asked to speak on condition of anonymity because she said she feared for her safety.
Speaking just after he cast his ballot rejecting the amendments at a quiet polling station in the sprawling suburb of Nasr City, Mustafa Kamel Sayed, a political professor at Cairo University and steering committee member of the Civil Democratic Movement, acknowledged that mobilizing people to vote no is proving difficult.
"I think that people who are not favorable to the amendments prefer not to come to vote," he said, "because people somehow do not trust the fairness of elections."
How the military piggybacked on populist uprisings in Algeria and Sudan »
---
Must-read stories from the L.A. Times
Get all the day's most vital news with our Today's Headlines newsletter, sent every weekday morning.
You may occasionally receive promotional content from the Los Angeles Times.