After 6-year ban following riots, crowds return to watch soccer in Egypt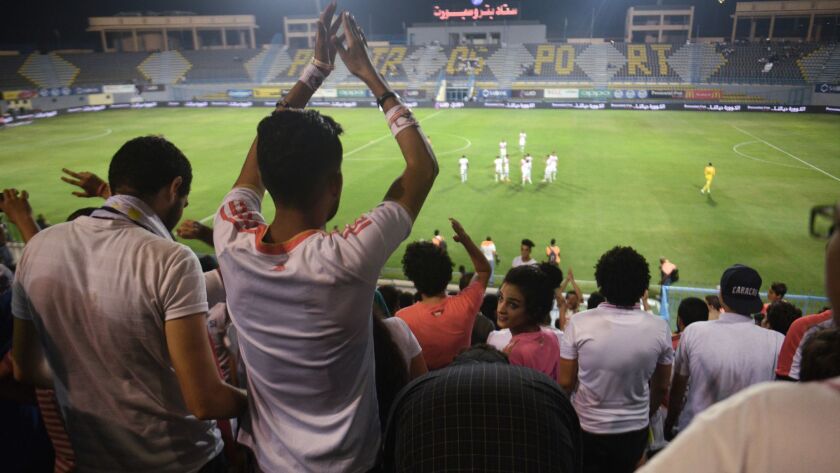 Reporting from CAIRO —
It's been a long wait for Egyptian soccer fans, but a match on Saturday saw the start of a gradual return of spectators to local league matches six years after a ban on stadium crowds was imposed following two deadly incidents.
The excitement in a stadium on the edge of east Cairo was palpable as Zamalek SC — one of the country's top teams — demolished ENPPI with a 4-1 win as dozens of Zamalek fans loudly sang and chanted their way through the entire match, standing on their seats.
The Ministry of Youth and Sports decided in August to allow a maximum of 5,000 spectators for local matches, and up to 20,000 fans for international ones.
"Everyone is looking forward to the public's return to the stands once again, so they can attend their matches and encourage their teams in the appropriate manner," said the minister of youth and sports, Ashraf Sobhy, last month.
On Saturday, less than a quarter of the seats in Cairo's Petro Sport Stadium, which has a capacity of 16,000, looked filled, largely by Zamalek fans. The spectators who attended were selected by clubs and vetted by security agencies.
"Football is made for fans," said 23-year-old law student and Zamalek fan Ibrahim Mahmoud.
Fellow Zamalek supporter, Wael Salam, a 48-year-old teacher, who was attending the game with his three young sons, said he's happy that the crowd ban has been lifted simply because he loves Zamalek, and he hopes that soon stadiums will become full again like they were before 2012.
That was the year 74 Ahly fans died following a riot in Port Said Stadium during a game between Ahly and Masry.
Masry supporters wielding weapons, including knives and swords, attacked the rival fans, who were unable to flee because police didn't open the stadium gates.
Ahly fans believe they were being punished because of the involvement of their hardcore supporters — known as the Ultras — in the demonstrations that brought down President Hosni Mubarak in 2011 and the protests that followed.
The crowd ban was supposed to have been lifted in 2015, but was reimposed when at least 22 fans of Zamalek died in a stampede after police opened fire with tear gas and birdshot in one of the first matches to be reopened to the public. Police blamed Zamalek's Ultras group — known as the White Knights — who they said tried to storm the stadium gates. The White Knights in turn accused the police of a "deliberate massacre."
Present at that deadly game had been Shoaeb Abdel Hafez, a charismatic 22-year-old student sporting an impressive mohawk, who led the chanting of Zamalek fans during Saturday's game. This time, however, there were no anti-government chants by Zamalek's Ultras, or any political chants for that matter. This match was the first one he had attended since then. Asked how it felt to be back, he said, "It is like I was traveling away abroad and now I'm back home."
Abdel Hafez and several other spectators expressed a desire not to see a repeat of the violence that led to matches being played in empty stadiums, but he and others also paid tribute to the 74 Ahly fans who died in Port Said in 2012. In a coordinated move, several Zamalek fans held up their cellphones with their flashlights on in the 74th minute of the match.
It's been tough for players to play without noise and cheering, and the lifting of the crowd ban is an important development for Egyptian soccer, said Ziad Akl, a senior researcher at Al Ahram Center for Political and Strategic Studies.
The decision of both Ahly and Zamalek's Ultra groups, which were banned by the state in 2015, to dissolve themselves was a key reason behind the decision to lift the ban. "There has been a very systematic, consistent process of depoliticizing football fans in Egypt," Akl said. It comes at a time when no dissent is tolerated by the state.
There's also pressure on the state coming from Saudi Arabia, Egypt's close ally, in the form of Turki al Sheik, in effect Saudi Arabia's sports minister and a billionaire. He recently purchased Alassiouty Sport team, which he has rebranded into Pyramids FC with its own sports channel. "In order for these investments to yield more results you need fans in stadiums," Akl said.
---
Must-read stories from the L.A. Times
Get the day's top news with our Today's Headlines newsletter, sent every weekday morning.
You may occasionally receive promotional content from the Los Angeles Times.