EU and Britain say they'll take more time to hammer out Brexit deal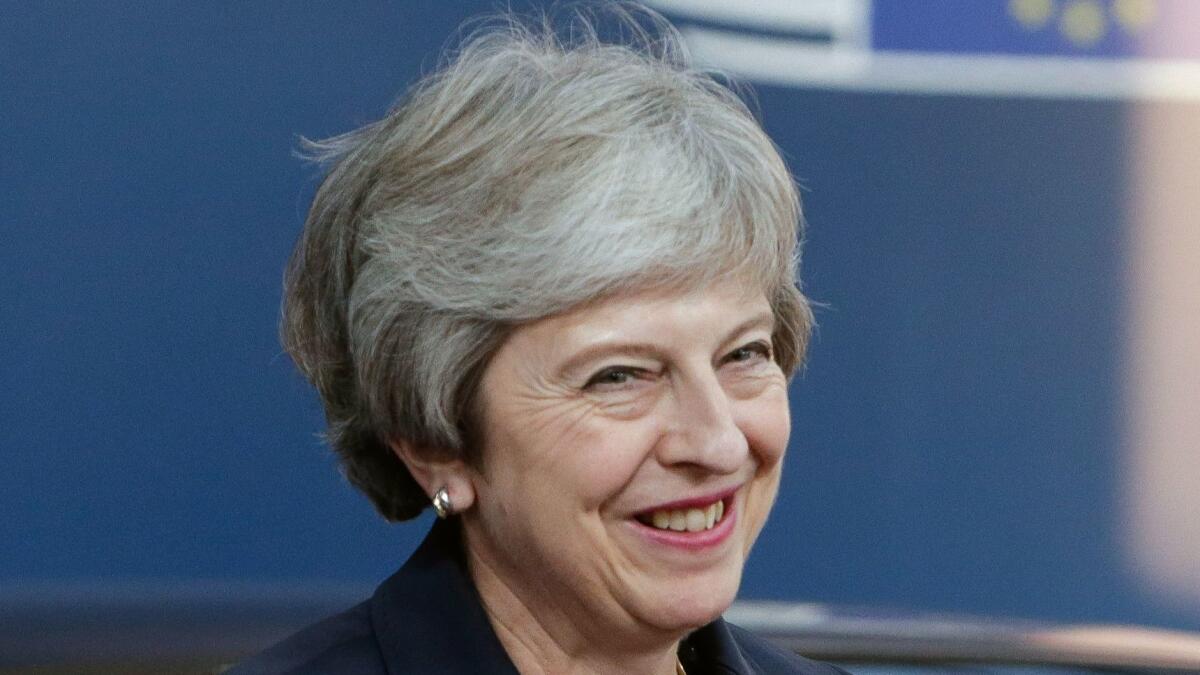 Reporting from Brussels —
Leaders from the European Union and Britain shrugged off a weekend negotiating debacle and previous deadlines Wednesday, giving themselves several more weeks to clinch a friendly divorce deal ahead of their separation.
After the EU insisted for months that this week's summit was a key meeting to get a deal, its Brexit negotiator, Michel Barnier, said, "[W]e need much time, much more time and we continue to work in the next weeks" with his British counterpart.
British Prime Minister Theresa May also spoke about "working intensively over the next days and weeks" to achieve agreement that avoids a no-deal departure from the bloc on March 29 that could create chaos at the borders and in the economy. A deal must be sealed soon so parliaments have time to give their verdict on it.
Underscoring the newfound sense of non-urgency, Prime Minister Sebastian Kurz of Austria, which holds the rotating EU presidency, even spoke of the "coming weeks and months" to get a deal and sought to impose a soothing calm.
"There's no need to dramatize matters. It's always the case with negotiations, that in the end there are challenges," he said.
May addressed other EU leaders before they gathered for dinner — without her — to assess the state of Brexit talks. May urged her counterparts to redouble efforts to find a way to a deal.
"Politically speaking, a will was expressed to move forward and reach agreement but there was nothing substantively new in terms of content," European Parliament President Antonio Tajani told reporters in assessing the state of the negotiations.
On Tuesday, European Council President Donald Tusk implored May to present new ideas for resolving the tricky problem of how to keep the land border between the Republic of Ireland and the U.K.'s Northern Ireland friction-free once Britain no longer is an EU member.
Tusk advised May that "creative" thinking from Britain was required to avoid a hard border on the island of Ireland, the issue that has brought divorce negotiations to a standstill. EU leaders dismissed May's most recent proposal as unworkable.
But when the prime minister was asked in the House of Commons earlier Wednesday whether her government's blueprint for an amicable divorce was dead, May replied: "The answer is no."
The summit in Brussels had long been seen as the "moment of truth" in the two-year Brexit process. But after urgent talks about the Irish border ended Sunday without producing a breakthrough, Wednesday's gathering looked more like a therapeutic bonding session than an occasion to celebrate.
The timeline for a deal has slipped into November, or even December, when another EU summit is scheduled.
"Today there will be no breakthrough," said Lithuanian President Dalia Grybauskaite. She said 2½ years after Britain's Brexit referendum, the country had still not explained clearly how it wants to leave the EU.
"Today, we do not know what they want," she said. "They do not know themselves what they really want. That is the problem."
At present, the two sides are proposing that Britain remain inside the EU single market and bound by its rules after it leaves the bloc in March until December 2020, to give time for new trade relations to be set up.
Many suspect that will not be enough time, which has led the EU to demand a "backstop" to ensure there are no customs posts or other controls along the currently invisible border between Northern Ireland and Ireland.
EU leaders have recently suggested that the transition period could be extended by a year to December 2021 to provide more time for a trade deal to be forged that would make the backstop unnecessary.
Britain says it has not asked for an extension, but May has not yet come up with proposals for unblocking the Irish border logjam. She is hemmed in by pro-Brexit members of her Conservative Party, who oppose any more compromises with the bloc, and by her parliamentary allies in Northern Ireland's Democratic Unionist Party, who insist a solution can't include customs checks between Northern Ireland and the rest of the U.K.
Sign up for Essential California for the L.A. Times biggest news, features and recommendations in your inbox six days a week.
You may occasionally receive promotional content from the Los Angeles Times.