Populists, nationalists again test their strength in pan-European vote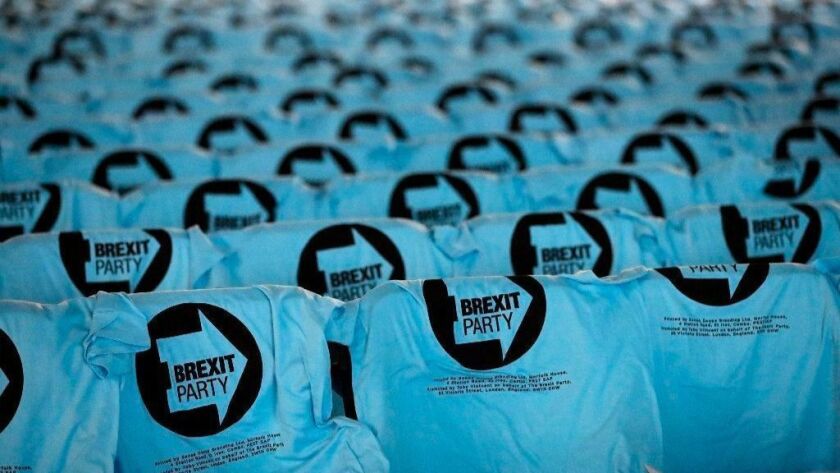 The last time elections for the European Parliament were held, the vote was dismissed by many as a sleepy, low-stakes affair.
Five years ago, Brexit wasn't even a blip on the horizon. Populist and extreme-right parties were mainly political sideshows. The pillars of the postwar order — NATO, the European Union — were weathering occasional family squabbles but hardly riven by existential threats. And the transatlantic relationship hadn't been turned on its head by an impetuous U.S. president who speaks far more harshly of traditional European allies than he does of tyrants such as North Korea's Kim Jong Un.
This time around, it's an entirely different landscape. When four-day balloting for the European Union's legislative body begins Thursday, starting with votes in Britain and the Netherlands, mainstream parties that have held sway for decades face an unprecedented insurgency by anti-establishment movements.
With more than 425 million Europeans across 28 countries eligible to vote in the contest for 751 parliamentary seats, outright victory for national-populist movements is considered unlikely. But most analysts say that's beside the point.
"The populists don't need to win in order to be perceived as making significant gains," said Thomas Wright, the director of the Brookings Institution's Center on the United States and Europe. "They can deprive anyone else of a majority and complicate government afterward."
Another factor in the populists' favor: Turnout in the European Parliament vote tends to be relatively low, a boon for movements with a fired-up base and a laser focus on a few specific issues, such as migration or skepticism toward the EU.
A center-right grouping, the European People's Party, appears likely to win the largest share of votes, but it will almost certainly need coalition partners to command a majority. That gives smaller national parties on both the left and right a king-making role — and with it, outsized policy influence that could last for years to come.
The European Parliament is sometimes thought of as largely symbolic, but lawmakers, who are based in the French city of Strasbourg and in Brussels, wield budgetary powers and have an essential say in matters such as trade deals.
In Italy, Poland, Hungary, Denmark and elsewhere, nationalist parties are expected to make gains. Austria was forecast to be on that track as well, until the spectacular seeming self-immolation of its main far-right party in a scandal that burst into view over the weekend.
The Freedom Party's Heinz-Christian Strache, who served as vice chancellor, was captured on a secretly made video appearing to proffer favors to a woman who claimed ties to the Russian oligarchy. He resigned, and the party was swiftly dropped as a coalition partner by conservative Chancellor Sebastian Kurz, who called for early elections.
"The Freedom Party has destroyed itself," Kurz told the German newspaper Bild.
Preelection drama of a more farcical variety came in Britain, which would not even have taken part in this vote had it left the European Union as scheduled at the end of March. The divisive head of the new Brexit party, Nigel Farage, was hit with a milkshake during a campaign stop in the northern English city of Newcastle on Monday, and then overheard angrily berating his security detail.
The Brexit party, created to drive home the demand to carry out the 2016 vote to depart the bloc, has a substantial lead over the ruling Conservative and opposition Labor parties in the European election contest. The anti-Brexit vote was significant, polls suggested, but split among several parties.
The bumpy road to Brexit illustrates a European paradox: Many of the politicians who have offered the most vigorous and vociferous opposition to the European Union during the parliamentary campaign are not looking to emulate Britain and move to leave the bloc. Rather, they hope to reshape it in their own image, working from within.
Those far-right figures include France's Marine Le Pen, who has rebranded her National Front as the National Rally. She once called for dissolution of the EU but now says it should be overhauled to give individual member states more power.
In another paradox, public opinion polls consistently suggest that immigration is not the top concern for most European voters. But in this campaign, it's been a dominant issue, if not the predominant one.
An especially noisy display of anti-immigrant sentiment came five days before the start of the vote, when Le Pen and about a dozen other nationalist-populist leaders from across Europe gathered for a triumphal preelection rally in Milan, Italy.
Led by Italy's hard-line deputy prime minister, Matteo Salvini, the group denounced "out-of-control" immigration — even though numbers of migrants arriving in Europe have dropped off dramatically since 2015, which saw a surge in arrivals from war-torn Syria, Iraq and Afghanistan.
Working in concert with parties such as Germany's Alternative for Germany and the Dutch Freedom Party, whose platform largely rests on anti-Muslim sentiment, Salvini's alliance hopes to wind up as the European Parliament's fourth-largest grouping.
But the Milan gathering did not include Hungarian Prime Minister Viktor Orban, whom the far-right movement considers one of its brightest stars. He says he may remain allied with the centrist parliament bloc and try to move it rightward. Orban has also shown no interest in joining forces with Le Pen.
Some analysts say election fervor is helping create an illusion of unity among insurgent parties — one that may prove fleeting. Nationalist movements, by their nature, champion the interests of their individual states, which are bound to conflict at times with those of their neighbors.
In very different ways, both the mainstream parties and the insurgents cast themselves as defenders of Europe. But they disagree on what that means.
Leaders like Emmanuel Macron, whose 2017 election as French president was widely — and in retrospect, perhaps incorrectly — seen as a sign that the populist wave sweeping the continent had crested, place their faith in the European project, exemplified by common values, goals and interests.
Salvini and his would-be coalition partners have seized upon the notion that immigrants, especially from Muslim countries, pose a threat to "European" culture — often used in that context as a code word for Christianity.
Even from across the Atlantic, President Trump is an unseen presence in the vote, some analysts said. He hosted Orban in the Oval Office last week, and as a candidate, he was an enthusiastic proponent of Brexit.
His onetime senior White House strategist, Stephen K. Bannon, has sought to play a more active role, boosting politicians such as Salvini and denouncing Macron. The election, Bannon told the French newspaper Le Parisien last week, is a referendum on Macron's vision of Europe, which he derides as unworkable.
"One thing we found in our polling is that there is a lot of anxiety and insecurity among Europeans," said Mark Leonard, director of the European Council on Foreign Relations. "And having the first U.S. president who doesn't support the European Union is adding to that anxiety."
With German Chancellor Angela Merkel having decided not to seek another term in federal elections due in 2021, Macron has sought to take up the mantle as the leading proponent of a united Europe.
But as his popularity at home has slipped, he finds himself grappling with widespread resentment over falling living standards in rural areas.
The "yellow vest" movement has held raucous and sometimes violent demonstrations across the country and in iconic Parisian venues such as the Champs-Elysees. Macron, while promising to listen to the grievances of those who feel left behind, has painted the European vote as a referendum on moving forward with closer integration that would help the EU compete with world powers such as the United States and China.
"Retreating into nationalism offers nothing," Macron wrote in an open letter to Europeans in March. "It is rejection without an alternative. And this is the trap that threatens the whole of Europe."
---
Must-read stories from the L.A. Times
Get all the day's most vital news with our Today's Headlines newsletter, sent every weekday morning.
You may occasionally receive promotional content from the Los Angeles Times.