Ex-rising star of French far right steps into U.S. limelight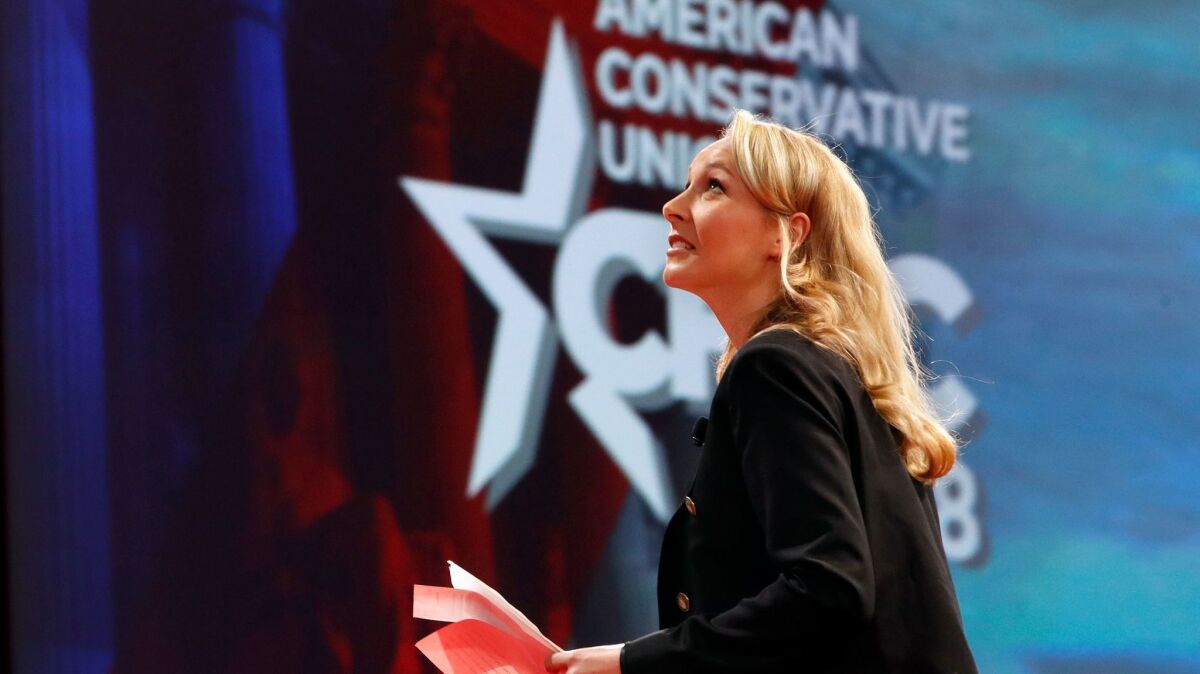 Reporting from PARIS —
Marion Marechal-Le Pen, a rising star of France's far-right National Front until abruptly leaving politics last year, on Thursday stepped into the limelight on the other side of the Atlantic, decrying the European Union and immigration in a speech at a major forum for American conservatives.
The former lawmaker disappeared from the public eye after aunt Marine Le Pen, president of the National Front party, suffered a crushing loss in the presidential race to Emmanuel Macron.
She followed U.S. Vice President Mike Pence at the podium on the opening day of the annual Conservative Political Action Conference in Maryland. President Trump will address the group on Friday.
"France is no longer free today.... Our freedom is now in the hands of the European Union," Marechal-Le Pen said in her 10-minute speech, reiterating the anti-EU stance of Le Pen's presidential campaign.
"I am not offended when I hear American President Donald Trump say, 'America first.' ... I want France first for the French people."
French media widely covered the much-applauded appearance of Marechal-Le Pen, the youngest in the Le Pen political dynasty, after eight months in the shadows. Commentators suggested that it signals a return to politics as her aunt struggles to give new life — and perhaps a new name — to the party. Marechal-Le Pen has been seen by commentators and some within the National Front as a potential new leader.
But the ambitions of Marechal-Le Pen — whose views of society are more conservative than her aunt's — appear more far-reaching. She says she wants to open a political science academy to spread the conservative gospel, telling the gathering that it aims to "train the leaders of tomorrow."
"We want to be the place where all currents of the right can meet and flower," she wrote in a commentary in this week's edition of the conservative magazine Valeurs Actuelles. She didn't provide details of when and where the school would be launched.
In her speech, she visited other familiar far-right themes, evoking what she said was France's loss of identity in an EU-directed Europe and a globalized world.
"France is in the process of passing from [being] the eldest daughter of the Catholic Church to the little niece of Islam," she said, decrying "massive immigration."
Marechal-Le Pen 28, is the granddaughter of National Front founder Jean-Marie Le Pen and is closer to his hard-right vision of society than is his daughter Marine.
However, she has managed to stay out of the family feud between Marine Le Pen and Jean-Marie Le Pen, who was expelled from the party he started in 1972 for racist and anti-Semitic remarks.
A court recently confirmed that his party title of honorary president for life cannot be withdrawn. Doing away with that status is among measures to be voted on at a party congress next month.
Marechal-Le Pen has reportedly not remained in touch with either her aunt or grandfather.
---
Must-read stories from the L.A. Times
Get the day's top news with our Today's Headlines newsletter, sent every weekday morning.
You may occasionally receive promotional content from the Los Angeles Times.