French media viewed the Macron-Trump 'bromance' with puzzlement, skepticism. And what's with the touching?
It was the start of a new "special relationship" between America and France, and like all new romances, started with kisses, hugs, and plenty of touchy-feely gestures.
The French are like that, preferring "bises" — pecks on cheeks — to manly handshakes, but Emmanuel Macron did both.
Macron's state visit to Washington included a tree-planting, an explanation of the workings of the Oval Office, a lavish White House banquet and an address to Congress. The "first ladies" — there is no official position for the president's spouse in France — Melanie and Brigitte impressed with their vertiginous heels.
The French president returned to Paris with no deal on climate change or the Iran accords or any contracts, and there were mixed reactions among his compatriots, but globally, his visit was seen as a success.
For some the visit was a triumph of "soft diplomacy" a la francaise and evidence of Macron's, and by extension France's, role in world affairs. Others were disappointed Macron had come home empty-handed. Here's a sampling of commentary on and by French media about his trip to the White House.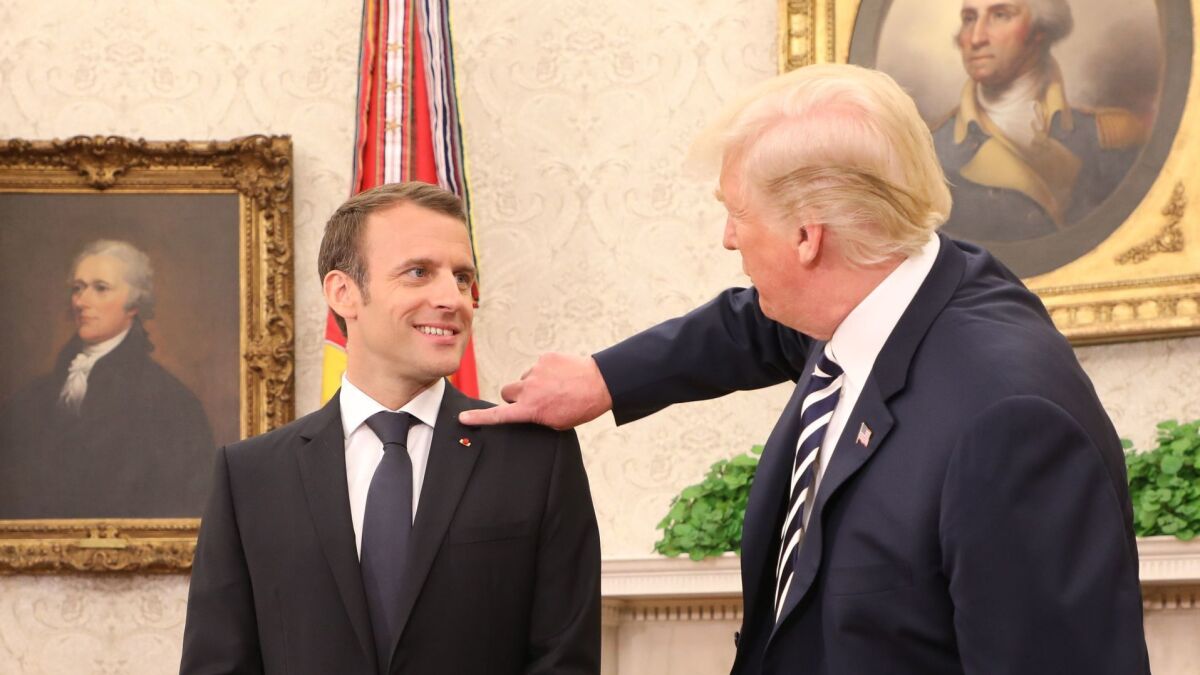 'We cannot expect miracles'
Commentators, noting Trump's frosty relationships with other world leaders, opined on Macron's efforts to win over the president with friendship and kindness.
Former Foreign Minister Hubert Vedrine, to radio station Europe 1:
"French foreign policy has returned to being realistic and ambitious, but we cannot expect miracles. As no politician gives the impression of being able to influence him [Trump] it's not at all absurd for Emmanuel Macron to try the friendship card. There's nothing about it to criticize. Why not try the friendship card? Apparently, Emmanuel Macron is the only person able to position himself as a personal intermediary that Donald Trump accepts. But we can't judge right now, it's too soon."
Vincent Hervouet, commentator, to Europe 1:
"The American president is loyal only to himself. He dumps his wives, his advisors and also his friends. Yesterday, Emmanuel Macron before Congress criticized 'America first' and was at the mercy of a vengeful tweet: Thankfully the American held himself back, but it won't last. The end of the pseudo bromance will be words if Donald is engulfed by the scandals circling him."
Olivier Mazerolle, journalist, to radio station RTL:
After asking if Macron's and Trump's differences — on the Iran deal, trade and climate change — would mean an end of their friendship, Mazerolle provided his own answer: "No, they've said too many friendly things until now to break up like that. They'll probably do as in the saloon bars of the Old West … when they realize nobody has what it takes to win, they take a drink together. And neither of them has any wish to split — Emmanuel Macron, because it makes him important to be the privileged intermediary of the U.S. president, and Donald Trump, because despite his 'America first,' [he] cannot remain isolated. He needs allies."
---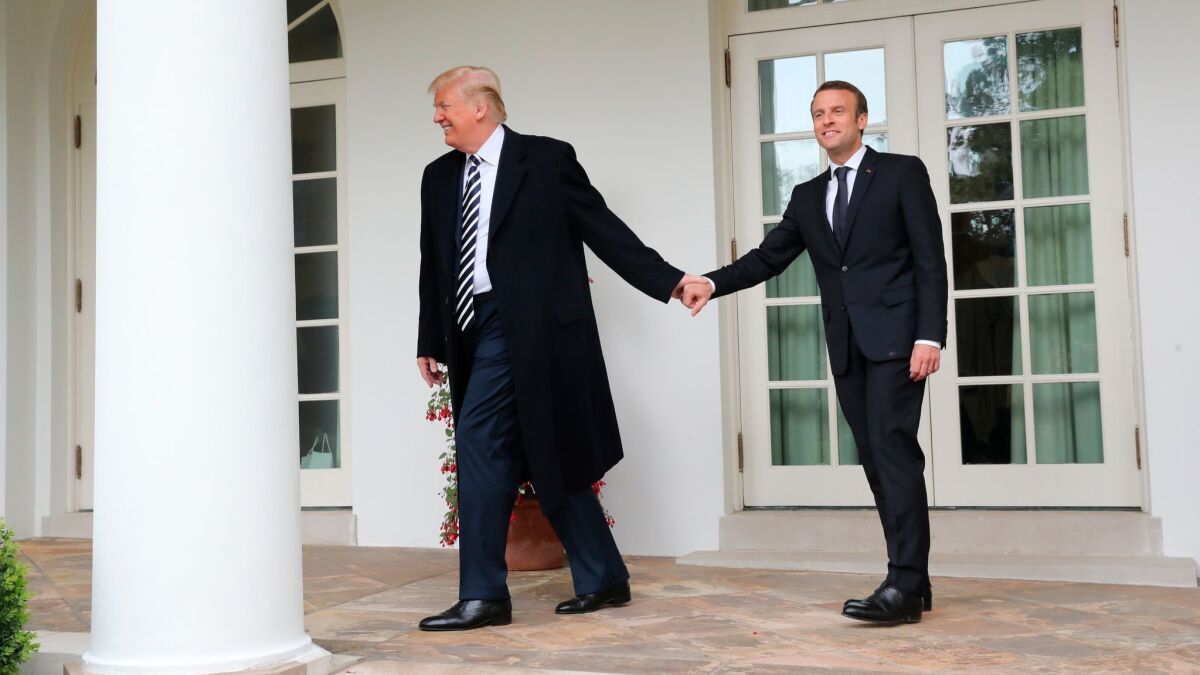 'All those repeated little hugs'
Like political analysts in the U.S., many in France commented on how Trump and Macron kept touching each other — handshakes, hugs, pats on the back or leg. This, they decided, held significance:
Commentator Hervouet to Europe 1:
"Did Emmanuel Macron take risks in Washington? Clearly yes, the most obvious, all those little repeated hugs with the big man who never smiles. To let yourself be hugged exposes you to the risk that the other person suddenly thinks they can dust you down. And why not one day to tweak your ear or punch you in the face. Can anyone imagine Eisenhower removing dandruff from Charles de Gaulle's lapel?"
Stephen Bunard, commentator, in newspaper Journal du Dimanche:
"What Trump and Macron don't realize is the intensity of these gestures. A pat on the back, or repeated taps on the back, the place on the back being tapped … all that is important. For example, the higher on the back the tap, the more the person is showing their dominant character. To take someone by the shoulder is therefore something strong. So we can see this domination game through this semiconscious touching….
"If the pictures of Trump and Macron [touching] have provoked amusement, it's no doubt because there's a feeling it is 'too much.' … A positive side of this familiarity is that the two show mutual recognition. They're judging and evaluating each other, a bit like two lions."
"Emmanuel Macron's very tender and VERY ASTONISHING gesture toward Donald Trump. Accompanied by their respective wives, the two politicians met again, not without emotion, giving a peck on each cheek, a particularly unexpected gesture."
"Accolades taps on the back, kisses … during the last 48 hours the American media has delighted over the attentiveness of the two leaders toward each other."
Patrick Saint-Paul, Le Figaro foreign editor:
"They held hands, they kissed. Trump held Macron by the shoulder, Macron whispered in the American president's ear. … Never has a French president and the host in the White House shown such familiarity."
---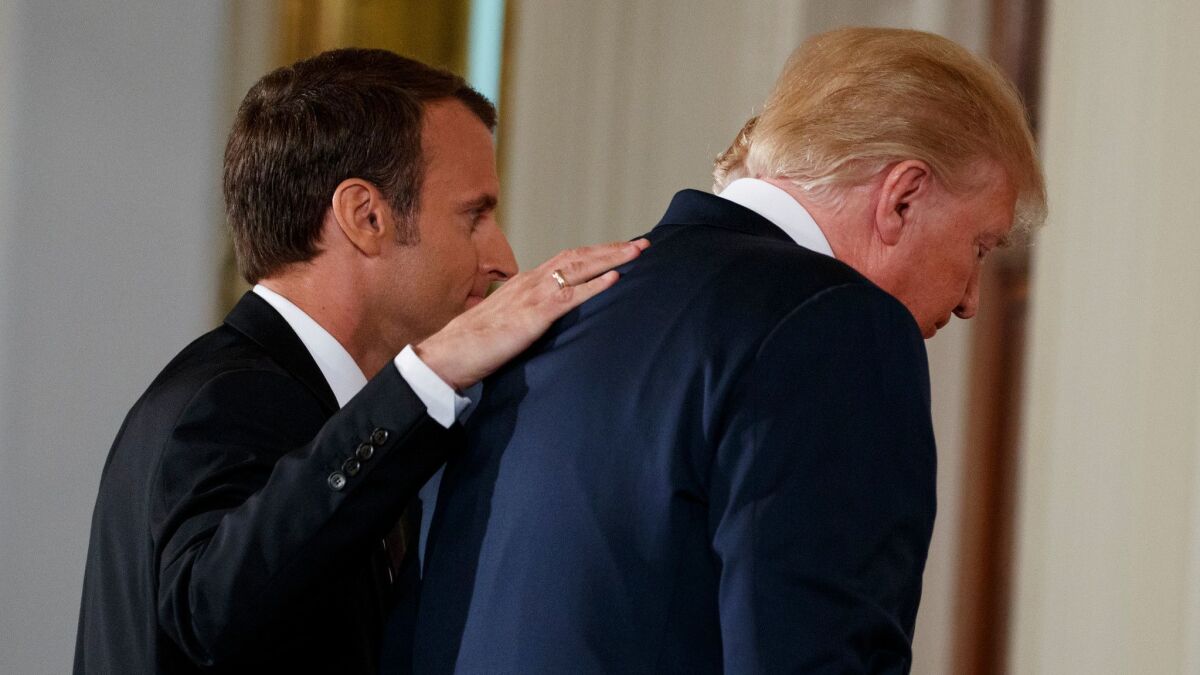 'It was a bit like "Dallas" '
Macron was feted with the first state dinner at the White House since Trump's inauguration. Some commentators were struck by the spectacle of the visit, and whether Macron actually accomplished anything:
Isaac Chotiner, Slate France:
"Macron in Washington: Make Flattery Great Again: The French president's strategy toward Trump hasn't given the slightest result. Can things change?"
DH Belgium, French-language radio station website:
"When the Macrons arrived in the United States … it was a bit like 'Dallas.' A glam (almost bling) state visit…. A very Kennedy-style arrival."
"Throughout the visit, Emmanuel Macron and Donald Trump have had a series of crazy, strange and sometimes embarrassing moments.… We will remember this visit for a long time."
Willsher is a special correspondent.
Must-read stories from the L.A. Times
Get the day's top news with our Today's Headlines newsletter, sent every weekday morning.
You may occasionally receive promotional content from the Los Angeles Times.