Four more Palestinians, including a teenager, killed in Gaza protests. 'You cowards!' protester shouts at Israeli forces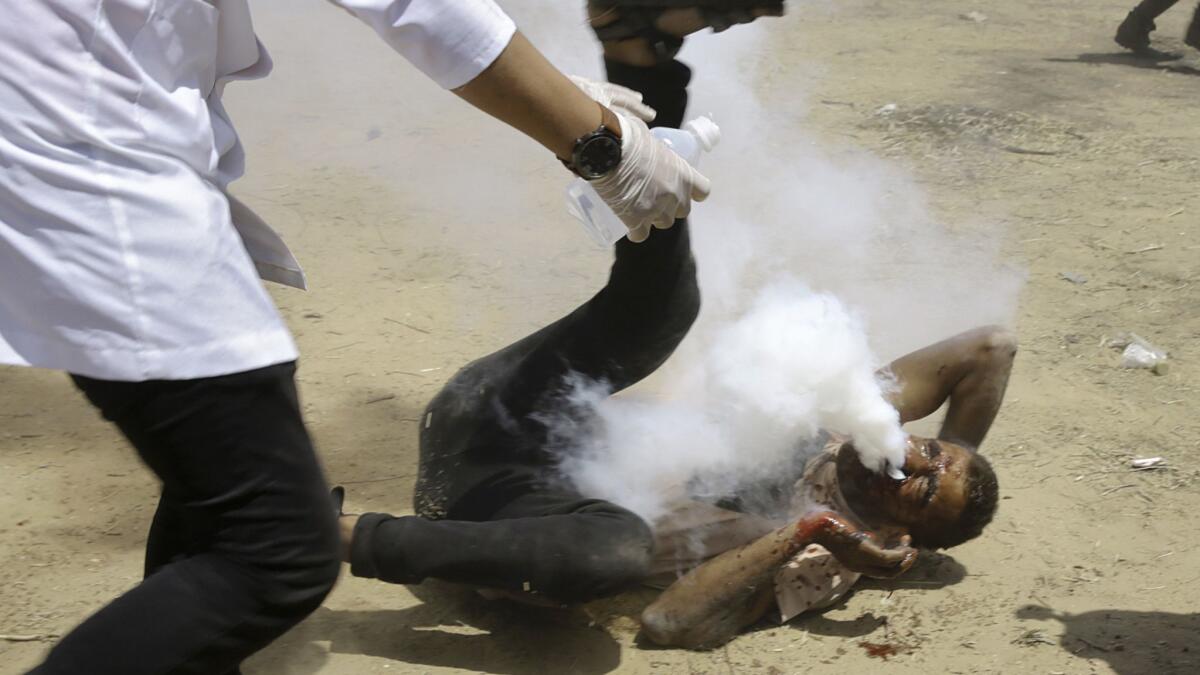 Reporting from GAZA CITY, GAZA STRIP —
Four Palestinians protesters were killed and about 100 wounded on Friday, in the 11th consecutive week of clashes along the border between the Gaza Strip and southern Israel.
According to the Gazan ministry of health, more than 600 Palestinians were injured overall, most suffering the effects of tear gas and 117 wounded by live fire from Israeli troops.
A 15-year-old identified as Haitham Mohammed al Jamal was killed on the border east of the Gaza city of Khan Yunis
About 10,000 people participated in largely peaceful protests in about five sites along the border, according to the Israeli military. The military had prepared for demonstrations similar to those that took place on May 14, when more than four times as many Palestinians flocked to the border and 62 were killed on the day the United States relocated its embassy to Israel to Jerusalem.
According to Palestinian authorities, 127 people have been killed in the weekly rallies that started on March 30.
On Friday, shots were fired from the Gaza protests at an Israeli army post and several grenades were lobbed at troops stationed on the border. Dozens of kites and helium balloons bearing Molotov cocktails and incendiary devices were lofted into Israel.
As a senior officer of Israel's southern command toured the border with about a dozen journalists, protesters attempted to breach the fence marking the boundary. "Look!" the officer exclaimed. "That is exactly what we cannot allow!"
Despite the international outcry provoked by the high number of Gazan deaths, Israel says it will protect its territory and use all means allowed by "international rules of engagement."
Friday's event was a disappointment for Hamas, the Islamist militia that rules the Gaza Strip. Hamas had called for a million-man march to mark the last Friday of the Muslim holy month of Ramadan and the 51st anniversary of the Six-Day War, considered a national catastrophe by Palestinians.
In particular, Hamas urged West Bank Palestinians to hold solidarity marches. This call went unheeded, as it has since the start of the "Great March of Return" movement, an indication of the challenges Hamas faces in spreading its appeal even among Palestinians.
Almost 200,000 Muslims prayed Friday at Jerusalem's Al Aqsa Mosque without incident, according to the Israeli police.
Since the start of Ramadan, a month of daytime fasting, Hamas has attempted to deepen its popularity among Gazans by inviting them to evening meals alongside the border and offering free transportation back into residential neighborhoods after nightfall.
In an indication of Hamas' precarious political and financial predicament, no meal was offered Friday, and buses transported protesters away from the border at the early hour of 6 p.m., about 90 minutes before the end of fasting.
Among the protesters Friday was Khaled Abu Ataya, 47, who'd been in the Malka area, near Gaza City, with his wife and five children since 2 p.m. Five hours later, he noted that "the financial ability of our brothers who are organizing the Great March of Return is decreasing, so the protesters are leaving the camp early to break their fast at home."
Nearby, Taghreed Barawi, 26, her face covering by a kaffiyeh, the traditional checked Palestinian head scarf, said, "We are here every Friday. We didn't use to commemorate the international Jerusalem Day. We only used to commemorate Nakba and Naksa," days on which Palestinians commemorate military setbacks to Israel.
"But we are grateful for Iran's financial and political support. They are doing more than other Islamic countries that should support us."
"You cowards!" she shouted at Israeli soldiers a few hundred yards away. "Get out of there and come here!"
She assisted others in igniting piles of tires, by now a regular feature at the Gaza protests.
Early in the day, in anticipation of a massive wave of protests, the Israeli army destroyed several tents set up in the Al Awda refugee camp, in the southern Gaza Strip, and Israeli drones set fire to tires Palestinian youths had amassed near the border to ignite during the marches.
The army also dropped leaflets warning residents not to approach the fence or try to attack Israelis. The leaflets urged Gazans "not to let Hamas turn you into a tool to serve its narrow interests. Behind these interests stands Shiite Iran, whose goal is to inflame the region for the sake of its religious and ethnic interests."
Friday also marked Quds Day, Iran's annual venting of anger at the Islamic Republic's foes. This year demonstrators expressed solidarity with Palestinians and denounced the move of the U.S. Embassy in Israel from Tel Aviv to Jerusalem.
One week ago, Palestinian Islamic Jihad, Iran's principal proxy and a rival to Hamas, launched an intense daylong barrage of rockets and mortars against Israel, which retaliated with airstrikes against Hamas and Islamic Jihad military sites.
Following Friday's protests, the Israeli military prepared for a possible renewal of armed hostilities, but the peace held.
Quietly, Israel appears to be considering measures intended to better conditions in Gaza, a blockaded territory of 2 million people.
The Israeli Cabinet meeting on Sunday is scheduled to consider a wide-ranging program to improve the economic and humanitarian situation in the Gaza Strip, including the possibility that Gazan workers will be permitted to work in Israel, after a decade in which access has been denied.
Next Friday's rally will fall on the Muslim holiday of Eid al Fitr, a joyful time marking the end of Ramadan. Hamas official Ismail Radwan, visiting the protests east of Gaza City on Friday, said, "The return marches came to defend the right of the Palestinians to return to their towns and villages, which they abandoned more than 70 years ago, and rejected plans to liquidate the Palestinian cause."
Special correspondents Salah and Tarnopolsky reported from Gaza City and Nahal Oz, Israel, respectively.
Sign up for Essential California for news, features and recommendations from the L.A. Times and beyond in your inbox six days a week.
You may occasionally receive promotional content from the Los Angeles Times.