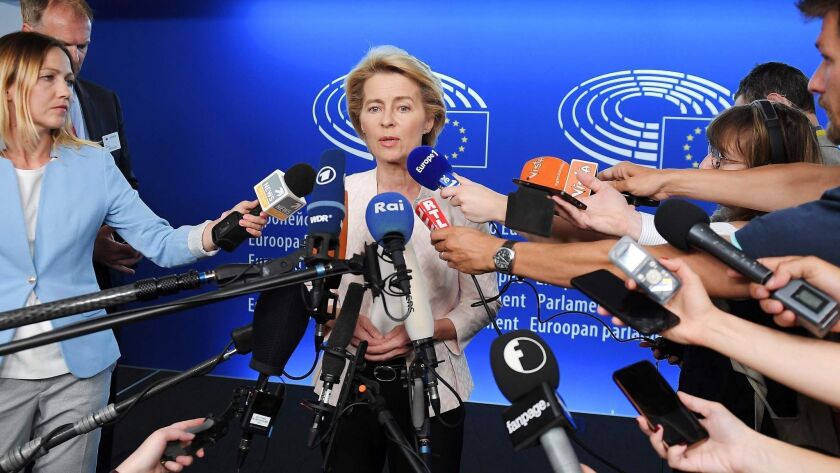 Reporting from BERLIN —
Ursula von der who?
Ursula von der Leyen.
The beleaguered German defense minister is poised to become the next president of the European Commission — the first woman to assume that role — even though she was not even among the candidates running for what is one of Europe's most important jobs. Before Wednesday, her noble-sounding name was virtually unknown outside her home country.
But thanks to another of the backroom (unsavory, some might say) deals that have long been the hallmark of European politics, Von der Leyen became the common-denominator compromise choice to lead the European Union's executive arm in Brussels. She will be the 23rd leader of the world's largest economic bloc, with 513 million consumers in 28 nations.
With its 32,000 bureaucrats, the EU commission regulates much of life across Europe.
The 60-year-old polyglot, a medical doctor and trained economist who lived for four years in California during the 1990s, was nominated to lead the institution only after the leaders of the EU's 28 member countries quarreled behind closed doors for three days and nights.
Various factions had refused to accept any of the candidates who had used May's European Parliament elections to run for president of the commission, a job being vacated by former Luxembourg Prime Minister Jean-Claude Juncker after five difficult years that included Britain's vote to leave the EU and the tortuous Brexit negotiations that ensued.
The EU, whose raison d'etre is to try to avoid being as splintered as it was this week in hopes of standing up against the United States and growing global powers such as China, was facing a crisis of confidence because of the logjam when Von der Leyen's name was suddenly pulled out of a hat by an unlikely consortium of French President Emmanuel Macron and four Eastern European leaders.
"I was overwhelmed, grateful and feel very honored to have been nominated," Von der Leyen said Wednesday in her first public appearance after flying to the European Parliament in Strasbourg, France — speaking first in English and then German. She also speaks fluent French. "We've had a long campaign. It's important now that we show we're united."
That may be wishful thinking. The improbable rise of the personable Von der Leyen, who has seven children and resided in California when her husband was on the faculty at Stanford, to the top leadership job in the EU was criticized in her home country, where she has many detractors in her own conservative party because of her often liberal views and mixed record as defense minister.
Some Germans also bristle about her sunny optimism and envy her success in combining career and family. Von der Leyen has served in a variety of roles in Chancellor Angela Merkel's Cabinet since 2005, including as family minister and labor minister. She was sometimes mentioned as a candidate to succeed Merkel, but there was little support in the conservative party for Von der Leyen, whose policies were often more in line with the rival center-left Social Democrats.
With her ascent to commission president, which often represents the EU in international negotiations with the leaders of the United States, China and Russia, Von der Leyen has now vaulted to unexpected heights — ironically just as a scandal about military cost overruns were darkening her future as defense minister.
Her nomination also stirred controversy in other European capitals because the really powerful actors in Europe — the 28 national presidents and prime ministers — opted to ignore the results and the candidates who campaigned for the job in the European Parliament elections in May in TV debates and rallies.
Instead, 27 of the 28 EU national leaders voted for a relatively obscure German minister whose career ambitions have been repeatedly foiled. Merkel had to abstain in the vote for Von der Leyen because her center-left coalition partners in Berlin declined to back it.
"It seems like Macron did not want a strong leader as the next commission president and this whole sorry episode has damaged the EU," said Thomas Jaeger, a political science professor at Cologne University, referring to earlier times when powerful EU leaders preferred weaker and little-known commission presidents from small countries they could more easily push around. "She will be the commission president legally but not legitimately. Macron wanted someone who wasn't going to be a strong leader, not especially noted for economic policies and someone without a strong network in the European Parliament. Von der Leyen ticked all those boxes."
To be fair, Von der Leyen ticks many other boxes that could make her a successful commission president, including the fact that for the first time in three decades the commission's leader will come from one of its larger countries. Von der Leyen will be the first German to lead the institution since Walter Hallstein from 1958 to 1967.
Her strong command of three of the EU's most important languages and the fact that she was born in Brussels, the European capital (while her father was stationed there in the 1950s), are compelling entries on Von der Leyen's resume that could prove beneficial leading the commission, which was created in the aftermath of World War II to keep the peace on a continent ravaged by wars.
Von der Leyen's exuberance for the spirit of the European Union is also something that shouldn't be underestimated, said Gero Neugebauer, a political scientist from Berlin's Free University.
"She's an extraordinary pro-European and she's got a chance to pull something off with all her enthusiasm for the EU," said Neugebauer.
Also filled in the backroom dealing were three other key positions. Christine Lagarde of France, currently the managing director of the International Monetary Fund, was nominated as the European Central Bank president, leading the eurozone's central bank as the successor to Italy's Mario Draghi. Belgium's acting Prime Minister Charles Michel was nominated as the next European Council president — a position representing the interests of the 28 national government leaders. And Spain's foreign minister, Josep Borrell Fontelles, was nominated to be the EU's Foreign Minister.
Kirschbaum is a special correspondent.
---