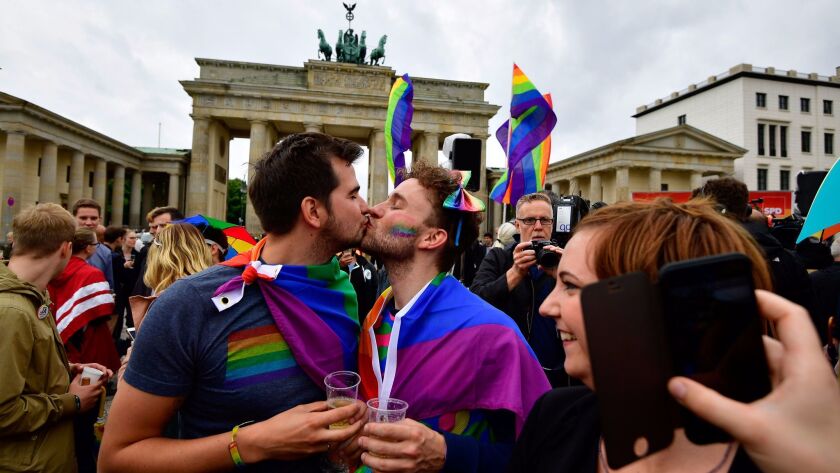 Reporting from BERLIN —
German lawmakers voted Friday to legalize same-sex marriage, a decision welcomed by many citizens who felt the country took too long to lift the final barrier to such unions.
Same-sex couples and supporters celebrated the decision, some by sharing kisses near the Brandenburg Gate or at a spontaneous gathering outside Chancellor Angela Merkel's offices in Berlin. Many carried multi-colored LGBTQ pride flags.
"The German Parliament approved same-sex marriage. Congratulations to all gay couples who have been waiting to get married! #Lovewins," the German Foreign Office posted on Twitter.
Merkel and most other members of the conservative Christian Democrats Union bloc voted against the measure to lift barriers denying same-sex couples full legal rights and adoption privileges.
But members of parliament from the center-left Social Democrat coalition that wanted the measure joined forces with two smaller opposition parties to pass the law by a vote of 393 to 226 with four abstentions.
The passage of the law came after Merkel on Monday unexpectedly signaled that she wanted lawmakers to be free to vote their conscience on the issue, which allowed conservatives in her coalition to break from the party's position and support it.
Merkel's political rivals responded by placing a vote on the Friday agenda, the last regular session for parliament before elections Sept. 24. Merkel is running for a fourth four-year term as chancellor.
Pollsters have reported that more than 80% of the German public supported the same-sex marriage measure.
Some analysts believe that Merkel, who had opposed the vote, shifted her stance because she wanted to eliminate a hot-button campaign issue that opposition parties were planning to use against her.
The right wing is already angry at Merkel because she introduced a minimum wage, eliminated military conscription and ordered nuclear power plants to be switched off in Germany.
"It was strategically a very smart thing to do to take the same-sex marriage issue off the table and out of the campaign," Thorsten Hasche, a political scientist at Goettingen University, said in an interview.
"Those on the far right in her party are definitely going to grumble about this and they won't forget what she's done. But it was a masterful stroke to take the wind out of the sails of the [Social Democratic Party]. This could have been a major campaign issue for them to score points on."
The center-left Social Democratic Party, or SPD, and candidate Martin Schulz got off to a flying start early this year and even briefly moved ahead of Merkel's conservatives in opinion polls in January but have fallen more than 15 percentage points behind the conservatives in recent polls.
Schulz and the SPD cheered Friday's victory for same-sex marriages — joining the opposition Greens and Left party in the unusual celebrations that crossed the aisles in parliament.
The pressure on Merkel to act on the issue after the election would have been intense because all of her possible coalition partner allies have recently passed campaign platforms demanding same-sex marriages.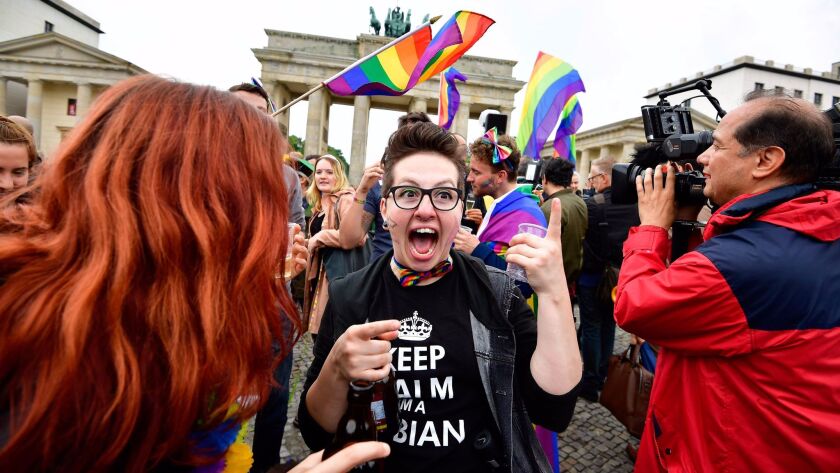 "It's been a long, intensive and emotionally a very moving debate for many," Merkel told reporters after the vote. "I'm hopeful that at least we'll be able to achieve a certain degree of societal peace and togetherness on this question now."
She said she agreed with the view of many of the conservatives who voted against the measure that the German Constitution does not allow same-sex marriages. Conservatives and analysts expect the law to be quickly challenged in constitutional court.
"It's my view that the constitution defines marriage as something between a man and a woman," she said.
The tension between Merkel's conservatives and her SPD coalition partners flared into the open in Friday's at-times fiery debate.
"Thanks for nothing!" Johannes Kahrs, a normally reserved leader of the SPD, shouted at Merkel during the debate.
Kahrs, who is gay, excoriated Merkel for thwarting previous efforts to legalize same-sex marriages.
Germany, which is generally considered to be progressive on social issues, was one of the first countries in Europe to legalize same-sex partnerships in 2001. But conservatives repeatedly refused to consider granting full legal rights.
Despite the polls indicating a majority favoring the measure, the vote Friday generated mixed reactions.
"This is a victory for an open and free society," the Lesbian and Gay Federation in Germany said in a statement. "It's an historic day."
Roman Catholic Archbishop Heiner Koch, however, did not favor the decision.
"It's regrettable that lawmakers have abandoned core elements of marriage to make it fit for same-sex partnerships," Koch said in a statement.
Kirschbaum is a special correspondent.
ALSO
Senior Catholic Church officials have rarely faced charges in the sexual abuse of children. Here are a few who did
Germany's Merkel doesn't mention Trump ahead of G20, but calls 'isolationism and protectionism ... delusional'
Who is spying on Mexico's opposition leaders, journalists and activists?
---
UPDATES:
2:20 p.m.: This article was updated with information on people celebrating and more comments.
8:55 a.m.: This article was updated throughout with Times reporting.
This article was originally published at 2:45 a.m.
---