The Grand Egyptian Museum will be just that, especially in size, cost and ambition
Reporting from Giza, Egypt —
Using tweezers with pointed tips, Mohamed Yosri slowly lifts a tiny bead from a petri dish of beads and examines whether it's one that came off the partially disintegrated textile in front of him. He then reattaches it using a thermoplastic resin adhesive.
Yosri, one of 100 specialists in 17 labs at the conservation center of the new Egyptian national museum under construction, is restoring the colorful and intricately beaded fabric that tops a wooden footstool more than 3,000 years old. It was found in Luxor nearly a century ago in the tomb of the boy king Tutankhamen.
The footstool is one of about 4,000 artifacts from Tutankhamen's tomb that have been transferred to the museum's state-of-the-art laboratories in preparation for the planned opening in 2020 of what the museum's director-general, Tarek Tawfik, says will "without doubt" be the museum's most important collection.
Grand in size, cost and ambition, as well as name, the Grand Egyptian Museum, or GEM, just down the road from the Great Pyramids of Giza, is due to be the biggest museum in the world dedicated to a single civilization, where, for the first time, all of the approximately 5,000 artifacts from Tutankhamen's tomb will be showcased.
Only a third of the treasures, including the boy king's funerary mask, have ever been on public display at the current national museum in central Cairo, known as the Egyptian Museum.
"Some things with the artifacts of King Tut in the Egyptian Museum were not right, and we have taken them to restore," said Ahmed Sheikha, a conservator in the new museum's organic materials lab.
Problems with lighting, temperature and humidity — considered essential for preservation — have caused damage to many precious artifacts in the Egyptian Museum.
The damage was apparent on some of Tutankhamen's most famous pieces, including his golden chariot. In the wood lab, conservator Gilan Mahmoud points to the back of the chariot, inlaid with blue, turquoise and orange stones, where, she said, there also used to be leather.
"This is why we have transferred most of the organic material from the [Egyptian] Museum to the Grand Egyptian Museum and to the National Museum of Civilization," in Cairo's Fustat district, as they are most sensitive to environmental conditions, Tawfik said.
The 116-year-old Egyptian Museum in Tahrir Square is often criticized for resembling a storeroom. A botched attempt by museum workers to repair Tutankhamen's funerary mask with glue, when his beard was accidentally knocked off, made global headlines in 2014 and opened the museum to international ridicule.
But the building is an artifact in itself, Tawfik said, and will continue to exhibit collections.
"What remains at the Tahrir museum are mostly stone and pottery artifacts, which are much less sensitive to damage," he said.
The new museum in Giza will show that Egypt "is up to its role to provide the right and suitable archaeological environment to protect these artifacts for the future," Tawfik said. The ambitious plans call for an interactive experience focusing on the discovery of Tutankhamen's tomb by a team led by British archaeologist Howard Carter in 1922. Museum officials are also asking that the British Museum hand over the Rosetta Stone, on display in London for more than two centuries.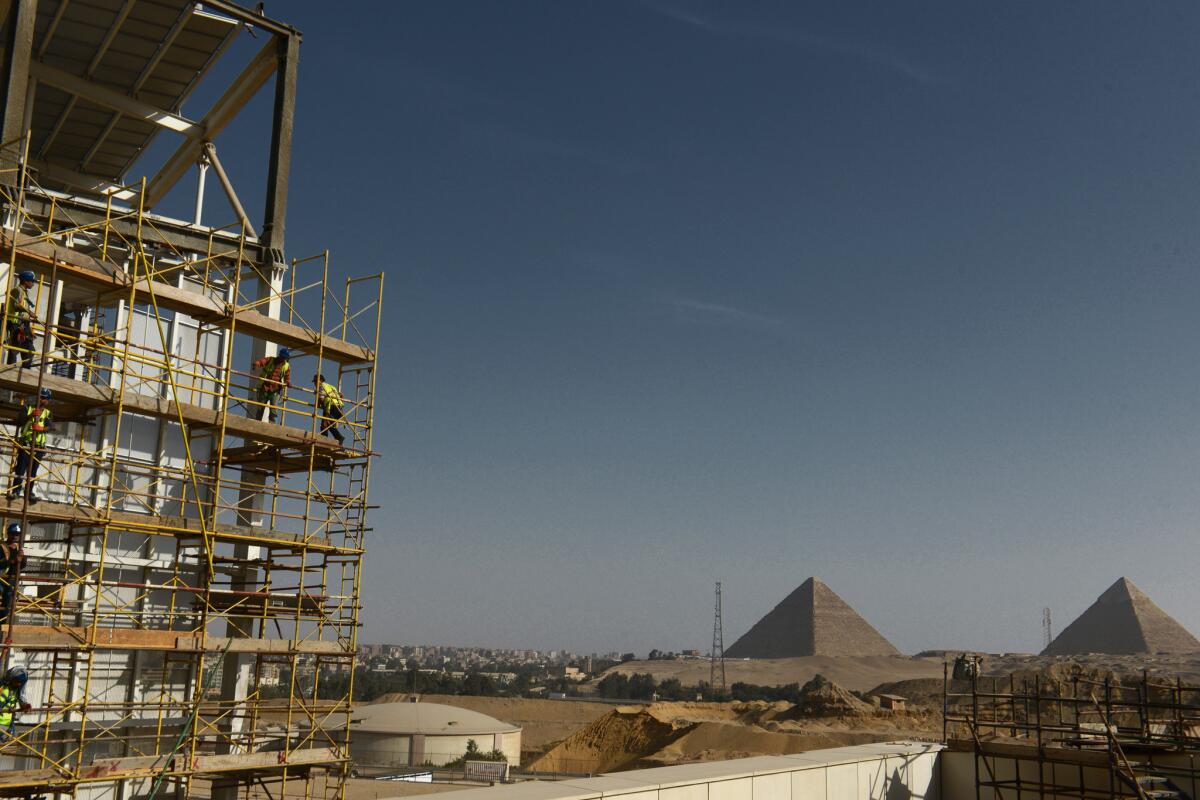 Visitors keen to view the museum's 100,000 artifacts, or seeking a sweeping view of the pyramids from the building's glass facade, must wait two years before it actually opens.
Though the idea for a new national museum was conceived 18 years ago, the project has faced numerous delays. Plans for a partial opening this year were scrapped by Egypt's political leadership in favor of a grand opening in 2020, according to Tawfik. The opening had previously been expected to be in 2022.
The cost too has soared to $1.1 billion, which is mostly financed by two loans from the Japanese government.
At a time when many ordinary Egyptians are financially squeezed, is the new museum too lavish an expense?
Tawfik doesn't think so.
"This is a landmark; it is a place to protect Egypt's heritage, which is an important part of humankind heritage," he says. "And looking at it from this aspect, this is not lavish at all."
The project also appears to have broad support among international colleagues, says British archaeologist and Egypt specialist Nigel Hetherington.
"There will always be critics of any sort of visionary plans, but the majority of archaeologists and Egyptologists are excited to see such a grand project come to fruition," he said.
"The laboratories and conservation suites at GEM are world-class state-of-the-art facilities, something which Egypt has needed for many years," he added. "The painstaking conservation work being carried out on the Tutankhamen collection will help ensure its survival for generations to come."
Islam is a special correspondent.
Sign up for Essential California for news, features and recommendations from the L.A. Times and beyond in your inbox six days a week.
You may occasionally receive promotional content from the Los Angeles Times.