Hungary building second border fence to stop migrants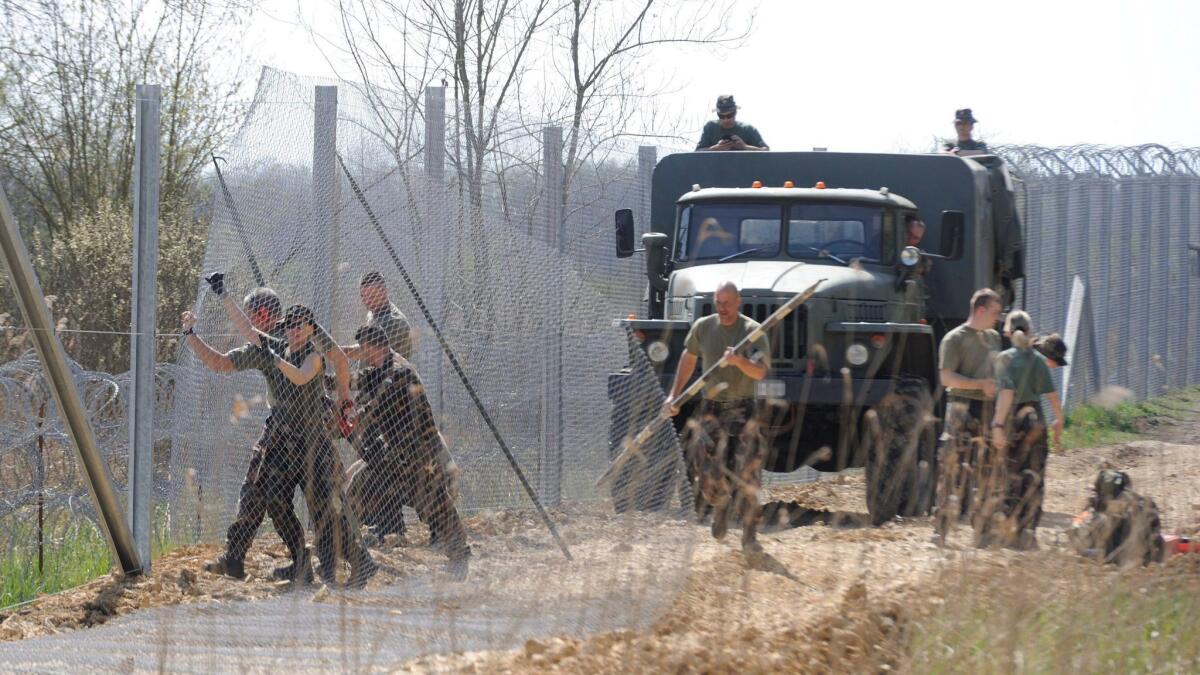 Reporting from BUDAPEST, Hungary —
Hungary has begun building a second fence on its border with Serbia to stop migrants from freely entering the country, the government said Monday.
The government spokesman's office confirmed a report published in the pro-government newspaper Magyar Idok.
Hungary built a barrier along its borders with Serbia and Croatia in 2015. The government says the second fence is needed because it expects a surge of migrants to reach its borders this year.
"Although the EU-Turkey agreement is prevailing and the Western Balkan route is closed, we expect the migration pressure to appear at any moment at our southern borders," Foreign Minister Peter Szijjarto said after meeting his Romanian counterpart, Teodor Melescanu. "For this reason, we are strengthening the defense of our southern border."
A six-mile experimental stretch of the second fence has already been built, some of it equipped with cameras, motion and heat sensors and other surveillance tools.
About 400,000 migrants reached Hungary from the south before the border fences were erected. Nearly all passed through the country on their way west to Germany, the Netherlands and other destinations.
Human rights advocates have been strongly critical of Hungary's migration policies, including the fence and measures that would keep asylum seekers in border camps made of shipping containers while their cases are decided.
In a letter to the European Commission, the Hungarian Helsinki Committee and Human Rights Watch said the planned legal changes in Hungary would go against European Union rules by, for example, "severely" limiting refugees' access to asylum.
"The European Commission should not stand by while Hungary makes a mockery of the right to seek asylum," said Benjamin Ward, deputy director of the Europe and Central Asia division at Human Rights Watch. "Using transit zones as detention centers and forcing asylum seekers who are already inside Hungary back to the Serbian side of the razor-wire fence is abusive, pointless and cruel."
Sign up for Essential California for the L.A. Times biggest news, features and recommendations in your inbox six days a week.
You may occasionally receive promotional content from the Los Angeles Times.