As election results are announced in Iraq, a new role emerges for a longtime U.S. adversary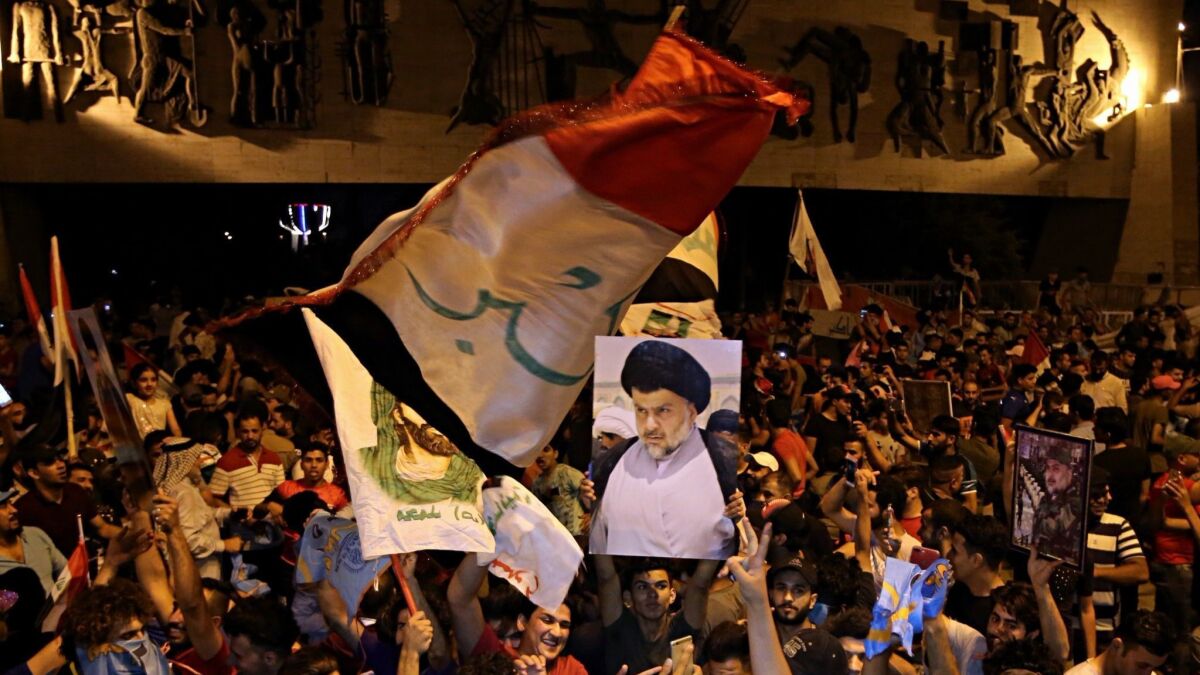 Reporting from Baghdad —
Muqtada Sadr, the populist Iraqi cleric, has been many things: militia leader, America basher, corruption fighter.
Now he may have a new role: kingmaker.
The alliance he leads appeared headed for victory in Iraq's sweeping parliamentary elections, according to results released late Monday by the country's Independent High Electoral Commission.
That would give Sadr a key part in choosing the next prime minister.
His Sairoon alliance, which was backed by communist and leftist groups, was well ahead of both the Fatah bloc, made up of Shiite Muslim paramilitary factions loyal to militia leader Hadi Ameri, and the Nasr coalition, which is headed by U.S.-backed Prime Minister Haider Abadi and was widely viewed as the favorite.
Vote tallies were complete in all but two provinces, according to the commission.
Results from the Kurdish-dominated provinces of Dahuk as well as Kirkuk, a regular tinderbox, were still in dispute, amid accusations of wide-scale voter fraud.
Sairoon's lead breathes new life into Sadr's long-running, ever-changing political career.
As the scion of a Shiite religious family, he was thrust into the limelight after his brothers and his father, Grand Ayatollah Mohammed Sadeq Sadr, were slain in 1999, apparently at the behest of then-President Saddam Hussein.
After the U.S.-led invasion of Iraq in 2003, he became a figure of resistance and called on his Shiite militia, known as the Mahdi Army, to attack American troops. In the ferocious sectarian bloodletting that followed, his cadres engaged in horrific killing sprees against Sunni Muslims.
But in later years he espoused an anti-corruption message and railed against both American and Iranian stewardship of the country. "USA out, Iran out," became a refrain for his followers.
His political rivals running the country largely sidelined him and his followers.
Sadr, 44, has staunchly refused to meet with any U.S. officials.
"Muqtada Sadr has no issue with [U.S.-led] reconstruction projects," said Sheik Salah Obeidi, a spokesman for Sadr's movement. "But for the management of Iraqi affairs to fall under American authority, this is rejected."
Sadr has sometimes been called a chameleon for his ability to read popular sentiment and adapt. It was his anti-corruption message that seemed to resonate most with ordinary Iraqis and laid the groundwork for his political comeback.
Citizens have become so fed up with politicians that two years ago they filled Tahrir Square in the capital to protest, smashing through Baghdad's hallowed Green Zone and storming parliament.
They have suffered through endemic power shortages and chronic insecurity for the last 15 years as many officials have grown rich. Iraq ranks 168 out of 180 countries in Transparency International's Corruption Index and needs $88 billion to rebuild areas destroyed in the difficult four-year war against the militant group Islamic State.
Sadr did not run for office, and most of the candidates in his alliance had never been in power.
"This alliance was the opposite of all the other political blocs. They were built by leaders with political interests," said Jassem Hilfi, a 58-year-old member of the Iraqi Communist Party. "This was built by the masses, a protest movement against corruption."
In his gray suit, open shirt and no tie, Hilfi bore little resemblance to Obeidi, who wears a robe and turban. Their message, however, was the same.
"Battling corruption is not a slogan for election. It is a program," Obeidi said. "We seek to apply this so as to improve the situation in Iraq…. To stay as we were is not good for us, and a government without change is a failure for us."
The alliance had "no specific personality that says 'I must be prime minister and no one else,'" he said.
"The door is open to all candidates…. That gives us the ability to negotiate for the program we seek, not for a person to be premier."
The winning bloc has the opportunity to form the government but must secure the agreement of other groups in parliament to do so. It can also name the prime minister. Since Hussein's 2003 ouster, that job has gone only to members of the country's Shiite majority.
Previous elections were followed by acrimony, as parliamentary factions jockeyed for the chance to name the prime minister as well as control of various ministries and other government departments.
Both Obeidi and Hilfi said their alliance espoused a technocratic program and plans to move away from the sectarian allocations common in past governments.
The results represent a disappointing turn for Abadi, the prime minister. The understated, British-educated engineer had come to power after his predecessor, Nouri Maliki, was widely blamed for inflaming sectarian grievances that helped Islamic State seize a third of the country, including its second-largest city, Mosul.
Abadi led the country in defeating Islamic State. His coalition was the only one to field candidates in every part of the country. The group won in Mosul but placed fifth in Baghdad.
The elections were the fourth since 2003 and the first since the defeat of Islamic State. Nearly 7,000 candidates from 320 parties, blocs and tickets competed for the 329 parliamentary seats.
The most common choice was to not vote at all. Polling stations across the country were largely empty Saturday, as authorities and top religious figures tried to persuade a disenchanted electorate to turn out for the vote.
Just under 45% of the country's 24 million eligible voters did so — the lowest turnout since 2005.
"Ultimately this election was an indictment of the status quo," said Renad Mansour, an Iraq researcher at the Chatham House think tank in London.
Abadi had paid the highest price for voter apathy, Mansour said: "Sadr had a base, whereas Abadi didn't. His centrist messaging wasn't very appealing to those disillusioned voters."
Bulos is a special correspondent.
Twitter: @nabihbulos
---
Must-read stories from the L.A. Times
Get the day's top news with our Today's Headlines newsletter, sent every weekday morning.
You may occasionally receive promotional content from the Los Angeles Times.