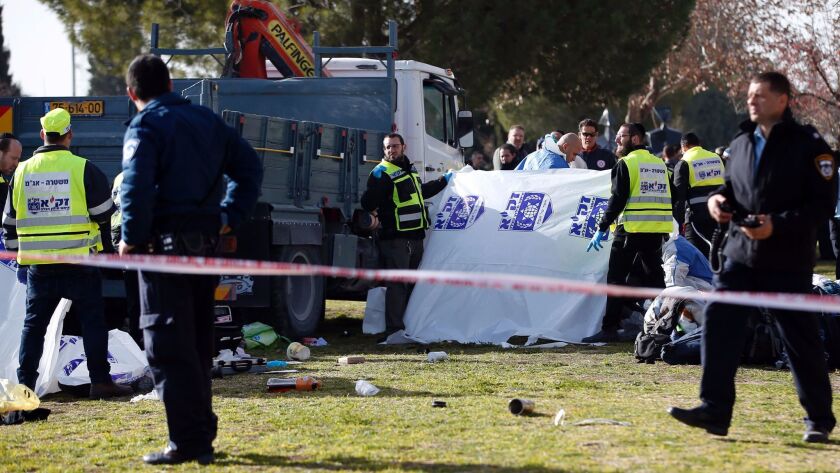 Reporting from TEL AVIV —
A Palestinian truck driver plowed into a group of Israeli soldiers at a Jerusalem tourist promenade Sunday afternoon, killing four and injuring 13, in an attack that Israel attributed to the influence of Islamic State.
The driver was identified as Fadi Qunbar, 28, a resident of a nearby East Jerusalem neighborhood. He was killed when soldiers and a bystander opened fire. Images from a security camera showed a speeding truck running into a crowd of several dozen people who were standing next to a parked tourist bus, and then circling back in reverse toward the same group.
Israeli Prime Minister Benjamin Netanyahu called it a "tragic and brutal terrorist attack'' and suggested that the driver had been motivated by the militant group Islamic State, which has not generally been active in Israel. He compared it to truck rampages in France and Germany for which Islamic State has taken responsibility.
"This is part of the same pattern, inspired by Islamic State, by ISIS, that we saw first in France, then in Germany, and now in Jerusalem,'' he said at the scene of the attack. "This is part of the same ongoing battle against this global scourge of the new terrorism.''
Netanyahu did not say what evidence suggested Qunbar was inspired by Islamic State.
The Palestinian militant group Hamas praised the attack but did not claim responsibility.
A statement on the organization's Arabic Twitter account described the ramming as a "heroic" act that was a "natural response" to Israel's military occupation of the Palestinian territories.
Netanyahu said that security forces had sealed off the suspect's neighborhood, Jabal Mukaber, as they investigated the attack. Later, Israel's security Cabinet ordered the demolition of the suspect's house. Police said they made nine arrests, including five of Qunbar's family members.
The attack came as violence had waned in recent months after nearly a year of frequent bloodshed, much of it centered in Jerusalem, that claimed the lives of 40 Israelis and 229 Palestinians.
The location of the attack was on the edge of the Israeli neighborhood of Armon HaNatziv, a frequent hot spot adjacent to Jabal Mukaber and other Palestinian areas.
The country was on edge after an Israeli soldier was found guilty last week of manslaughter for the execution-style killing of a Palestinian assailant who had participated in the nonfatal stabbing of another soldier. Neither side was mollified by the verdict — Palestinians called it a "farce," and many Israelis were outraged that the soldier was even tried for what they saw as a defensible act.
The latest attack prompted claims by some Israelis that the soldiers at the scene were slow to respond because they feared a court-martial.
The truck ramming occurred as hundreds of soldiers, some of them officer cadets, were arriving at the Haas Promenade, a popular park lookout point near Government House, the United Nations headquarters in the city. Witnesses said they thought at first it was a traffic accident, but when Qunbar kept driving they realized it was an attack.
"Soldiers started to scream. It took a couple of seconds to realize it was an attack," said Lea Schrieber, a tour guide accompanying the soldiers. "I saw a truck ride up from the road onto the sidewalk. Then soldiers began to shoot. Everyone was hysterical."
The U.S. ambassador to Israel, Dan Shapiro, and officials with the United Nations and the European Union all issued statements condemning the attack.
"There is nothing heroic in such actions,'' said Nickolay Mladenov, the United Nations special coordinator for the Middle East peace process.
The soldiers killed in the attack were identified by the military as 2nd Lt. Yael Yekutiel, 20; Academic Officer Shir Hajaj, 22; Sgt. Shira Tzor, 20; and Cpl. Erez Orbach, 20.
Mitnick is a special correspondent.
ALSO
Russia begins to draw down its forces in Syria
Hundreds of migrants plucked from a hazardous journey across the Mediterranean
The 'Krispy Kreme Familia' and the black market doughnuts of Juarez
---
UPDATES:
1:30 p.m.: Updates with injured toll at 13, victims identified, other details.
10:35 a.m.: Updates throughout with Times reporting, Netanyahu blaming Islamic State.
5:20 a.m.: Updated with comments from a Hamas spokesman.
This article was first published at 4:20 a.m.
---