American student activist banned from entering Israel awaits results of appeal at airport detention facility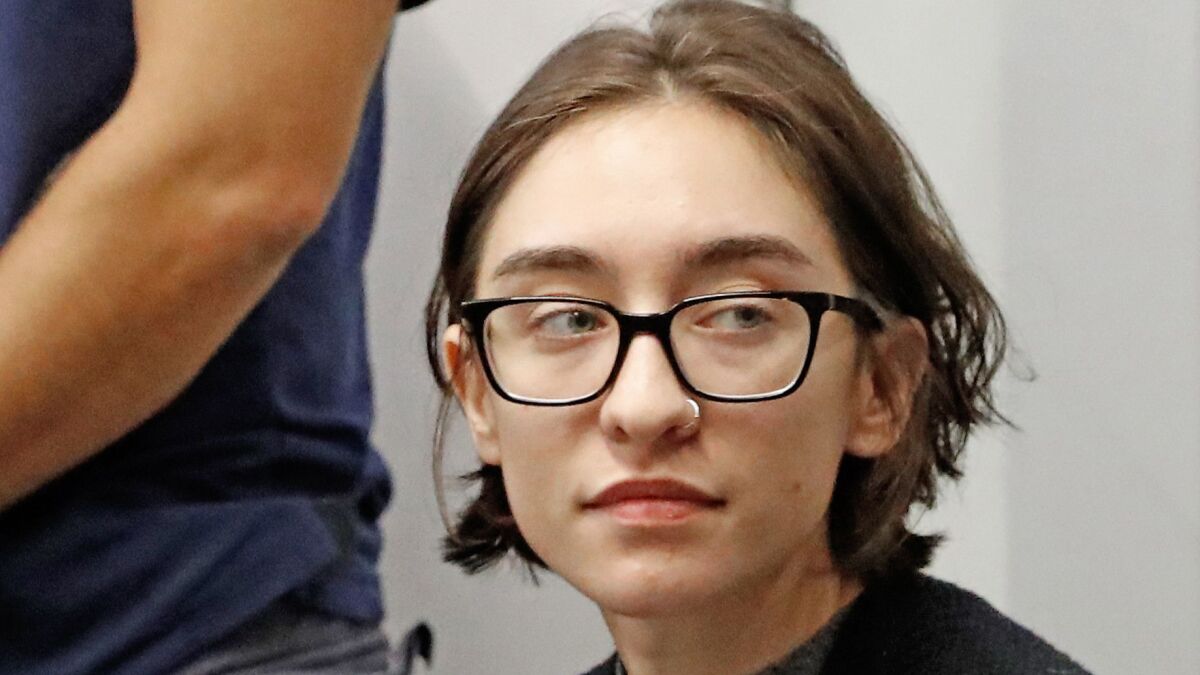 Reporting from Tel Aviv —
For nine days, Lara Alqasem, a 22-year-old American college student, has been detained at Israel's international airport by officials barring her from entering the country to study because of her activism in boycott activities.
On Thursday, the Florida resident appeared in Tel Aviv District Court to appeal the decision to block her entry into Israel, where she had been accepted into a master's degree program.
The case of Alqasem, who does not deny having been active in the past with the Boycott, Divestment and Sanctions movement, is the first test of a 2017 Israeli law aimed at banning any foreign activist who advocates for a boycott of Israel.
The Hebrew University of Jerusalem has supported her appeal, asking the court to rule against the Interior Ministry's interpretation of the law. A lawyer representing the university said that permitting Alqasem to attend the Hebrew University would send a message that "Israel is a democracy and not an apartheid state" as the BDS movement claims.
Israel says Alqasem, who was issued a student visa by the Israeli Consulate in Miami, served as president of the University of Florida branch of Students for Justice in Palestine, a BDS-affiliated organization, during the 2016-17 school year.
In an affidavit filed Thursday, Alqasem said that her thinking has changed in recent years and that she has moved away from espousing an anti-Israeli ideology. She mentioned her enrollment in the Hebrew University graduate program in transitional justice as evidence of her change of heart.
Strategic Affairs Minister Gilad Erdan, who leads the government's efforts against BDS, said in a radio interview that "the Hebrew University is working together with the extreme left here."
Erdan added, however, that "if Lara Alqasem, in her own voice, not through all kinds of lawyers or statements that can be misconstrued, says that supporting BDS is illegitimate and she regrets what she did, I will consider letting her in."
Alqasem been held since Oct. 2 in a dorm-like facility at Ben Gurion International Airport and is allowed outdoors several times a day. Authorities say she is not under arrest and is free to leave Israel at any point if she accepts deportation back to the United States.
The situation has provoked outrage across the board, even from some of Israel's most fervent supporters, both in the country and abroad.
Writing for Bloomberg View, author Zev Chafets said that "the Alqasem case is an example of what happens when cynicism meets moral panic."
Yes, he acknowledged, "BDS does, indeed, hate Israel and the Jews who support it … but the minister wildly exaggerated the danger, not surprisingly given it's an election year in Israel."
The Assn. of Israeli University Heads also criticized the government's action, saying that the ministry reneged on a commitment to consult the local academic institution before any action was taken against a student.
"The damage caused to Israel and Israeli academia as a whole, to the Israeli universities and particularly to Israeli scientists and researchers abroad by decisions of this kind could well exceed the potential damage, if any, of permitting her to enter Israel," wrote Tel Aviv University President Joseph Klafter on behalf of the organization.
Alqasem's contention that her political thinking has evolved was supported in letters from Florida academics, including Eric Kligerman, a professor of Jewish and German studies who taught two seminars she attended.
Kligerman attested that Alqasem, who graduated in May, was "one of the most gifted and promising undergraduate students I have had the pleasure of working with at the University of Florida."
"Far from being an advocate of BDS or a proponent of suppressing dialogue and the intellectual exchange between peoples," he wrote, "Lara is one of the most engaging and thoughtful students I have had in my seminars on Jewish culture and thought. If anything, her presence in Israel would lead to fruitful paths of communication among its distinct and vibrant cultures."
State attorney Yossi Tzadok countered in court that Alqasem remains a proponent of BDS and that her social media platforms were erased before she arrived in Israel to conceal such beliefs.
As evidence, Tzadok presented a screenshot of Alqasem's former Facebook page, including an "attending" click on an April 2016 event advocating a boycott of hummus brand Sabra, which is partially owned by an Israeli concern.
On Wednesday, U.S. State Department spokeswoman Heather Nauert said that "we value freedom of expression … also in cases where people don't agree with local policies or even United States policies."
But "ultimately," she said, "it is up to the government of Israel to decide who it wants to let into the country."
---
Must-read stories from the L.A. Times
Get the day's top news with our Today's Headlines newsletter, sent every weekday morning.
You may occasionally receive promotional content from the Los Angeles Times.