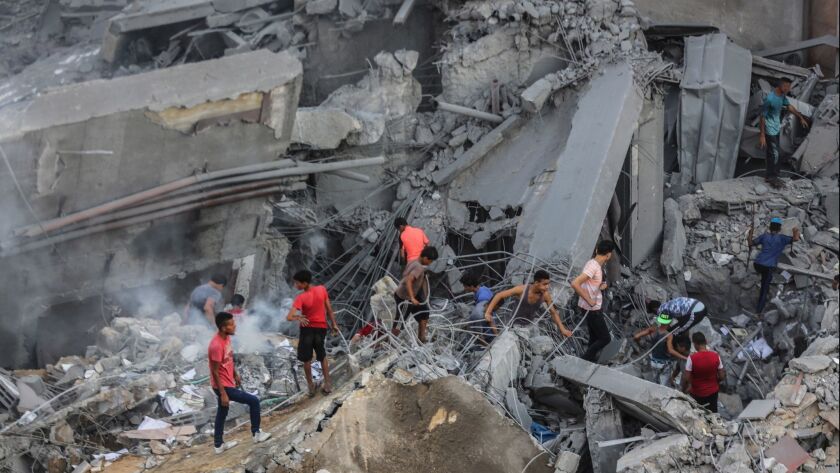 Reporting from GAZA CITY —
For a glaring example of the rising tension between Israel and the Islamist militia Hamas, look no further than the Al-Meshal building in Gaza City.
Hamas, which controls the Gaza Strip, says the building was a popular cultural center for youth. Israel says it was used by Hamas' interior security forces "for military purposes."
The building is now a pile of rubble, and the health ministry in Gaza said Thursday that four people were killed when an Israeli airstrike demolished the building during the latest round of intense exchanges along the Gaza-Israel border. Hamas says 40 people were wounded, Israel put the number of injured at 18.
Hamas launched at least 200 rockets on Wednesday and Thursday into Israel, which retaliated with airstrikes against more than 150 sites within the Palestinian territory.
Israel's air defenses intercepted more than 30 rockets, but a house and several other sites in and around the cities of Sderot and Beersheba, 25 miles inland from Gaza, were hit, according to the Israeli army.
Israel considers Thursday's rocket launches towards Beersheba, the capital of Israel's south, where air raid sirens had not been heard since the 2014 Gaza War, a significant escalation.
In a statement, the Israeli army said the al-Meshal building was used by a unit that "is considered to be an executive branch of Hamas' political leadership." It added that "part of the unit's members are also military operatives of the Hamas terror organization."
Israel and Palestinian witnesses said the army used drones to "knock on the roof" of the building, a technique employing low-yield devices on the roof of a targeted building to warn people to leave.
Eman Hamam, 35, a mother of five living about 75 yards from the al-Meshal building, said Thursday the initial drone strikes "were very strong, we thought it was a real strike."
"My daughters started screaming," she told The Times, "and we went to hide in the kitchen and to follow the news on Facebook."
She said the blast of the bombardment that demolished the building came while she was on the phone with a relative, and "our home went very dark due to the ashes and dust."
None of the nearby buildings were affected by the bombs.
Authorities in Gaza reported that three people were killed earlier, including Enas Khamash, 23, who was pregnant and her 18-month-old daughter, Bayan. Ali al-Ghandour, 30, reportedly a fighter in Hamas's military wing, was reportedly seriously injured. Six others were also wounded in the strikes.
Eleven injured Israelis were taken to hospital for treatment, including one woman who was seriously wounded. In anticipation of further escalations, Beersheba's Soroka Medical Center transferred its neonatal unit to bomb-proof shelters.
Tensions between Israel and Gaza have been on high since the Trump administration announced in December that it was moving the U.S. embassy from Tel Aviv to Jerusalem. Palestinians claim Eastern Jerusalem as the capital of a future state, but Israel claims the city in its entirety as its capital.
Gazans began weekly protests along the border in late March, demanding a right to return to their ancestral homes in Israel. Palestinian authorities there say that Israel has killed 155 Palestinians in strikes to contain the protests. On the Israeli side, one soldier was killed.
Late Thursday, Hamas called for mass participation marches on Friday.
The latest round of violence started amid anticipation of a reported cease-fire agreement between Hamas and Israel. On Thursday at noon Hamas unilaterally announced a truce in a statement that read "This round of fighting is over; maintaining peace depends on Israel."
But immediately thereafter and up until 4 p.m., rockets continued to be launched.
Prime Minister Benjamin Netanyahu convened a meeting with his defense minister and army chief of staff ahead of a security cabinet meeting on Gaza, scheduled for the evening.
"We don't see the end of the escalation. We are closing in on operation in Gaza," a senior Israeli army official said in a briefing for Israeli media, hinting at a possible war in the offing and the possibility of evacuating Israeli civilians if the conflict escalates.
Two hundred thousand Israeli civilians living in border communities were ordered to spend Wednesday night in shelters, and summer camps were permitted to operate only within bombproof shelters. The army also banned agricultural work, which is at its height in August.
At 9:20 p.m. Thursday, air raid sirens continued to send Israelis to shelters throughout the border area.
Speaking to Israel Radio, Shlomi Ilan, a resident of the communal village of Kissufim, said that "there's a terrible atmosphere. We can't work in fields, the summer camps are shuttered, no one can leave the shelters. We have to hit hard at the enemy and then make a deal with them. It has to end."
"Israel is not looking for war, but public pressure may lead to harsher steps," says Amos Harel, the military analyst for the Israeli newspaper Haaretz, describing the current situation as "Israel's Groundhog Day in Gaza — stuck in endless, bloody loop with Hamas."
In addition, the Israeli army said "wide-scale attacks" during the course of the day destroyed about 150 Hamas "strategic military targets" including two tunnels and shafts leading into Israel and a cement factory producing slabs used to build the tunnels.
The strikes were a response to rocket attacks as well as shots fired at civilians working on the border fence, Israeli officials said.
With elections scheduled for next year, Israeli opposition lawmakers slammed Netanyahu for failing to achieve a lasting truce despite ongoing Egyptian and U.N. attempts to mediate a cease-fire between the parties.
Hazem Qassem, a spokesman for Hamas, said Israel barbarically and "deliberately targeted the cultural center with shelling and destruction."
He added that the bombardment was "an Israeli attempt to sabotage the Egyptian efforts to calm the situation in the Gaza Strip."
Nikolay Mladenov, the U.N. Special Coordinator for the Middle East Peace Process, said in a statement that he was "deeply alarmed by the recent escalation of violence between Gaza and Israel."
He added, "we will continue working hard to ensure that Gaza steps back from the brink, that all humanitarian issues are addressed and that Egyptian-led efforts to achieve intra-Palestinian reconciliation succeed."
Special correspondents Salah and Tarnopolsky reported from Gaza City and Jerusalem, respectively.
---
UPDATES:
3:04 p.m.: This article was updated throughout with additional figures on the exchange of fire between Hamas and the Israeli military.
This article was originally published at 7:05 a.m.
---