Gaza violence continues for a second night as Israeli leader Netanyahu faces mounting criticism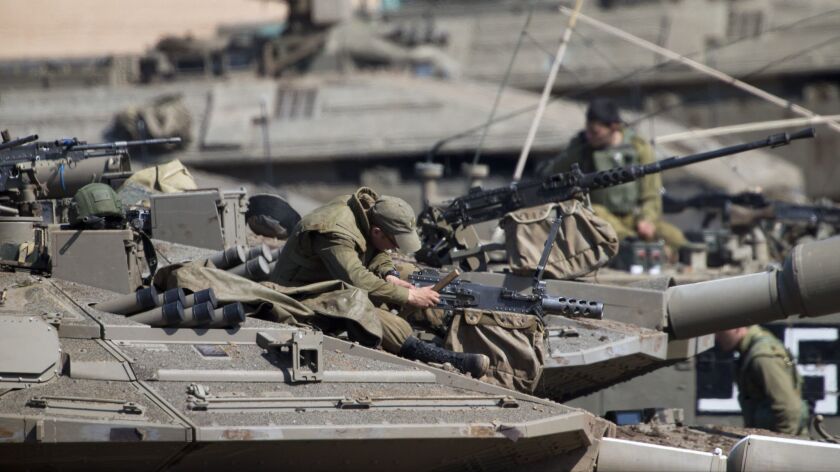 Reporting from NIR AM, Israel —
Air raid sirens wailed across southern Israel on Tuesday as a truce with Hamas collapsed hours after it began and the two sides exchanged aerial bombardments and rocket fire for the second night in a row.
The new round of fighting began Monday when a rocket launched from the Gaza Strip — which is ruled by the Islamist militia Hamas — landed on a home north of Tel Aviv, injuring seven people.
The Israeli army retaliated with an aerial offensive against Hamas targets — including a military compound and a weapons warehouse — as militias in Gaza fired about 80 missiles toward Israel, according to Israeli police spokesman Micky Rosenfeld.
The violence subsided much of Tuesday, apparently as a result of a cease-fire that Hamas said was brokered by Egyptian mediators. But in the evening, it resumed.
Israeli Prime Minister Benjamin Netanyahu, who was visiting Washington, D.C., cut short his trip and and returned to Israel on Tuesday. With national elections exactly two weeks away, he faced blistering condemnation from political rivals.
Naftali Bennett, the minister of education and chairman of the New Right party, implored Netanyahu to name him defense minister in a future government "so I can deal with Hamas properly."
"The Israel Defense Forces must be given the order to defeat Hamas, to uproot Hamas, to destroy its ability to harm the residents of the south — not to talk about deterrence, but to take Hamas's sword and break it," he said at a news conference in the southern city of Ashdod.
He dismissed the latest Israeli operation as "taking out an empty building and telling ourselves that Hamas was deterred."
About 30 people gathered Monday evening at the Nir Am Junction, about seven miles from Gaza, taunting Netanyahu with chants that used his nickname.
"Bibi rise and shine! The whole south is on the line!"
The escalation comes at a crucial time for leaders on both sides of the fraught border, which for the last year has been the site of massive weekly protests.
With the first anniversary of the border protest marches on Saturday, and few achievements to show Gaza's beleaguered population, Hamas faces a daunting challenge.
Last week, about a thousand Gazans were arrested after taking to the streets to protest dismal living conditions in the enclave, which has been subject to an Israeli-Egyptian blockade since Hamas took control of Gaza from the Palestinian Authority in a bloody coup 12 years ago.
Conditions have recently worsened because of sanctions imposed by the Palestinian government.
Close to 200 Gazans have been killed in the weekly protests.
In the last year, Israelis have lost more than 7,000 acres of agricultural land in fires ignited by explosive kites and balloons launched from Gaza as part of the protests.
In the Israeli city of Sderot, which was first struck by a rocket from Gaza in 2001, Shlomo Moskowitz pondered "18 years of this" as members of a construction crew strolled in and out of his house, repairing a massive hole created by a rocket late Monday.
"I heard a huge boom," said Moskowitz, who had taken cover in a bomb shelter. "When I saw that my living room was filled with smoke, I realized the boom must have come from my own house."
The only thing he would say about the looming elections was that it is the leaders' job to ensure citizens "can live a good life. No rockets, just like anywhere else."
"As you can see," he said, "they are not doing it."
Tarnopolsky is a special correspondent. Special correspondent Rushdi Abu Alouf in Gaza City contributed to this report.
---
The Latinx experience chronicled
Get the Latinx Files newsletter for stories that capture the multitudes within our communities.
You may occasionally receive promotional content from the Los Angeles Times.