Netanyahu offends Israelis, Palestinians with settler remark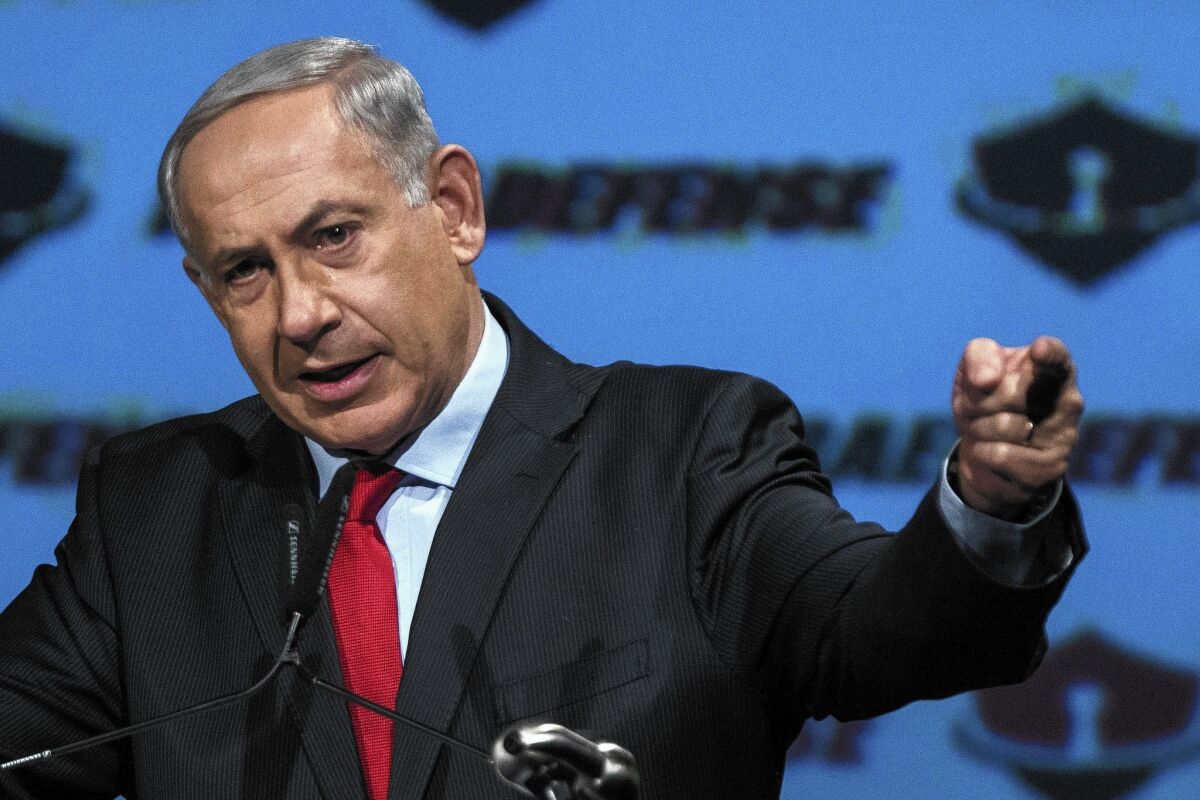 JERUSALEM — It isn't easy to offend both Palestinians and right-wing Israelis at the same time, but Israeli Prime Minister Benjamin Netanyahu managed to do it, leaving a trail of consternation and confusion — and possibly putting another roadblock in the path of a peace accord.
Speaking in Davos, Switzerland, over the weekend, Netanyahu declared that he did not intend "to remove a single settlement" from the Palestinian territories or uproot a single Jew as part of the peace process.
The remarks met with approval from Israel's right wing, which is opposed to removing settlements and hardly enthusiastic about U.S. Secretary of State John F. Kerry's efforts to broker a peace deal between Israel and the Palestinians.
Then, on Sunday, an unidentified government official briefed the news media to clarify that Netanyahu meant that settlers would be given the choice to stay in their homes and live in a future Palestinian state.
If that bombshell was meant for Palestinian ears, it drew what a number of observers believe was the desired response. Chief Palestinian negotiator Saeb Erekat told the Associated Press that the Palestinians would not accept a single Jewish settler in their proposed state.
But it also exploded in Netanyahu's coalition, underscoring the government's tenuous political composition and sparking a fierce exchange.
Economy Minister Naftali Bennett accused Netanyahu of an "irrational loss of values" and said Jews did not yearn for Israel for 2,000 years in order to "live under Palestinian rule."
Joining the criticism were several deputy ministers from Netanyahu's Likud Party, including Tzipi Hotovely, who said the party would never back such a dangerous plan.
Netanyahu's office responded by accusing Bennett of sabotaging "a move designed to expose the true face of the Palestinian Authority." Besides, the prime minister's office suggested, Bennett and others are free to quit the ruling coalition.
Netanyahu did not comment on the matter directly, leaving the stage to unidentified officials. He also left the question about the true aim of his remarks open to interpretation.
Whether a trial balloon gone astray or a crafted crisis, the flap took place as half of Israel's parliament was out of the country Monday attending events in Poland for International Holocaust Remembrance Day.
Though the peace process is widely regarded as stuck, "something is happening there or the right wing wouldn't be so upset," political commentator Nehama Duek told Israel Radio. Ultimately, this could result in changes in the ruling coalition and possibly early elections, she said.
Speaking at a panel in Tel Aviv on Monday evening, Israel's chief negotiator, Justice Minister Tzipi Livni, took swipes at Netanyahu and Bennett. Paraphrasing the latter, she said that Jews didn't dream of Israel for 2,000 years "to become an isolated country that rules over another people." The price of failing to reach an agreement is higher than the price of reaching one, she said.
Kerry said much the same in remarks to the World Economic Forum in Davos. Sheer demographics will make it impossible for Israel to remain Jewish and democratic, Kerry said. "The status quo, my friends … will not last forever," he added.
As for the Palestinians, they will be no closer to sovereignty or controlling their own fate and economy, Kerry said. If they do not achieve statehood now, "there is no guarantee" of another opportunity any time soon, he said.
"Some assert this may be the last shot.... I don't want to find out the hard way," Kerry said.
Sobelman is a news assistant in The Times' Jerusalem bureau.
---
Must-read stories from the L.A. Times
Get the day's top news with our Today's Headlines newsletter, sent every weekday morning.
You may occasionally receive promotional content from the Los Angeles Times.