Hollywood producer Arnon Milchan tied to corruption inquiry of Israel's prime minister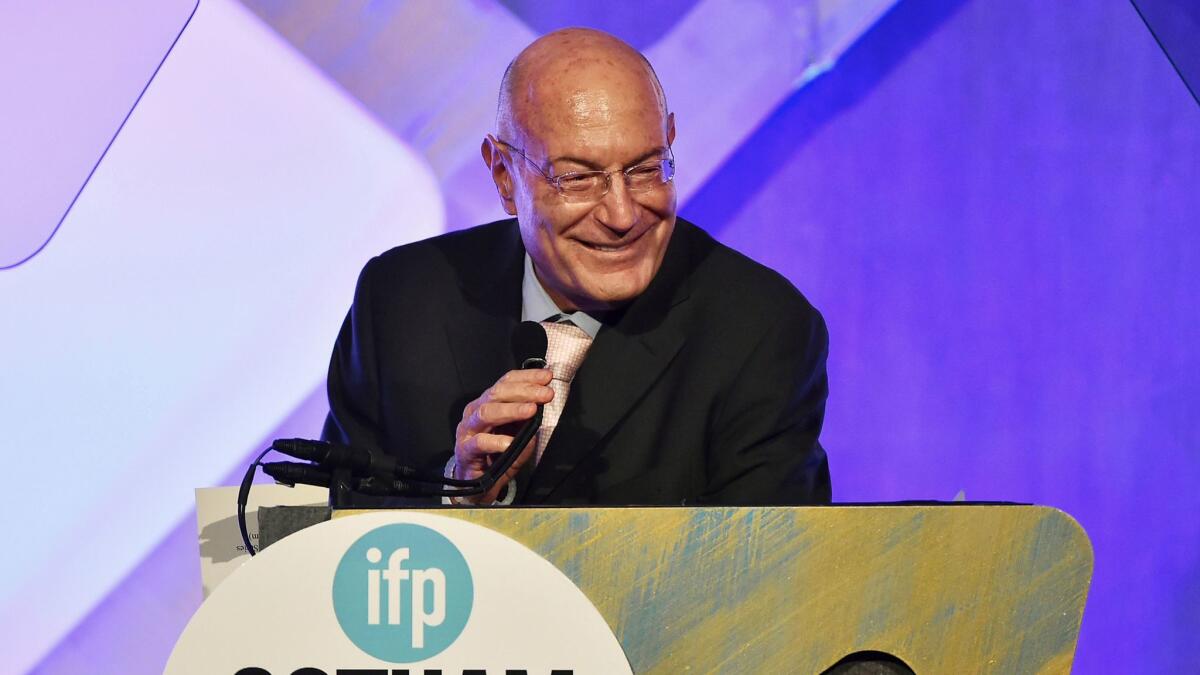 Reporting from Tel Aviv —
Hollywood producer Arnon Milchan, long connected to Israel's political elite, has emerged as among the wealthy individuals whose gift-giving to Israeli Prime Minister Benjamin Netanyahu is under review as part of a corruption investigation.
The prime minister is under criminal investigation on suspicion of improperly accepting gifts.
Police are looking into whether Milchan provided Netanyahu with a steady supply of expensive Cuban cigars going back several years, according to reports this week in Haaretz newspaper and Israel's Channel 2 News Television.
The cumulative value of Milchan's cigar gifts to Netanyahu was estimated to be in the hundreds of thousands of Israeli shekels, according to the reports. Milchan also reportedly provided bottles of Champagne for Netanyahu's wife, Sara.
Israeli police have declined to discuss Milchan's involvement in the ongoing criminal investigation, the details of which have not been made public.
Netanyahu was interrogated by Israeli police Thursday evening for several hours in regards to two separate criminal cases. It was the second time in three days that the prime minister was questioned by police in the graft investigation. Details regarding the second case are unknown to the public.
The prime minister's personal lawyer Friday did not deny that Netanyahu had accepted cigars from Milchan, but said there was nothing criminal in doing so.
"Any reasonable person knows that there is nothing remotely criminal involved when a close friend gives his friend a gift of cigars," Jacob Weinroth told reporters.
Earlier in the week, the prime minister dismissed the police investigation. "There won't be anything because there isn't anything," he said.
Still, the investigation has directed a spotlight on Milchan, 72, a Tel Aviv-born tycoon whose business interests at one point reportedly included 30 companies in 17 countries. He has long wielded influence in politics in the country and abroad, and worked in industries including agribusiness, plastics and weapons.
He is considered one of the movie business' most influential producers, yet has remained an elusive figure in Hollywood, and though he's a jet-setting entrepreneur known for his charm, he rarely gives interviews to press outlets. Nonetheless, he has earned respect and admiration from Hollywood A-listers and studio chiefs. Over his long career, he has made movies with the likes of Martin Scorsese and Oliver Stone.
Milchan's movie credits include "Pretty Woman" and "JFK," as well as recent Oscar winners "The Revenant" and "12 Years a Slave."
"Look in the dictionary under Renaissance man," said then-20th Century Fox chairman Jim Gianopulos in a documentary for Israeli Channel 2 TV. "You'll see a picture of Arnon — or you should."
Milchan's ties to Israeli elite predate his Hollywood successes. As an Israeli businessmen in the 1960s, he befriended Shimon Peres, at the time an up-and-coming politician who played a central role in building Israel's military-industrial complex. Peres eventually served as prime minister and president of Israel.
Milchan worked with Israel's defense establishment to help in weapons procurement and assisted in building up the country's secret nuclear program. In a 2013 interview with Israel's Channel 2 investigation show "Uvda," he spoke about his past career as a weapons dealer and a participant in covert operations for Israel. During the program he described himself as a "James Bond" for Israel.
In addition to Netanyahu and Peres, Milchan counted former Israeli Prime Minister Ehud Olmert among his friends. The entertainment executive is listed in the Israeli phone directory as having a residence steps from the Mediterranean coast in the central Israel town of Beit Yanai.
A spokesperson for Milchan's entertainment company, New Regency Productions, declined to comment on the reports of his gift giving.
Milchan supplied cigars based on the specifications given by Netanyahu, according to a report on Israel's Channel 2 news Thursday. The cigars cost up to $55 each, and the prime minister might smoke as much as $5,000 worth of cigars a month, according to the report.
A statement this week from the office of Israel's attorney general, Avichai Mandelblit, said a six-month corruption probe into the prime minister's dealings had been recently upgraded to a criminal investigation.
During the course of the probe, Israeli investigators ruled out allegations about improprieties with election financing and funding of the prime minister's trips abroad.
Though the investigation hasn't undermined his support within his Likud Party or within the coalition government, opposition lawmaker Erel Margalit has said the shadow of the criminal investigation will taint the integrity of Netanyahu's decision-making as prime minister. The police inquiry has prompted speculation by political analysts that an indictment could force Netanyahu to resign.
Netanyahu is the second consecutive Israeli prime minister to face a criminal police investigation while in office.
Olmert was forced to resign from the Israeli premiership in 2008 amid corruption charges, paving the way for the parliamentary elections that led to Netanyahu's return to power in 2009. Olmert in February began serving a 19-month jail term after being convicted in 2014 of bribery and obstruction of justice.
Mitnick is a special correspondent. Times staff writer Jeffrey Fleishman in Los Angeles contributed to this report.
@joshmitnick
ALSO
To cross the front lines in the battle for Mosul, you just hail a cab
Russia begins to draw down its forces in Syria
The 'Krispy Kreme Familia' and the black market doughnuts of Juarez
---
UPDATES:
4:57 p.m.: This story was updated to include some titles of Milchan's films.
This story originally published at 4:10 p.m.
Sign up for Essential California for news, features and recommendations from the L.A. Times and beyond in your inbox six days a week.
You may occasionally receive promotional content from the Los Angeles Times.