Two new deaths in Gaza clashes as Israel on defensive over dozens of earlier fatalities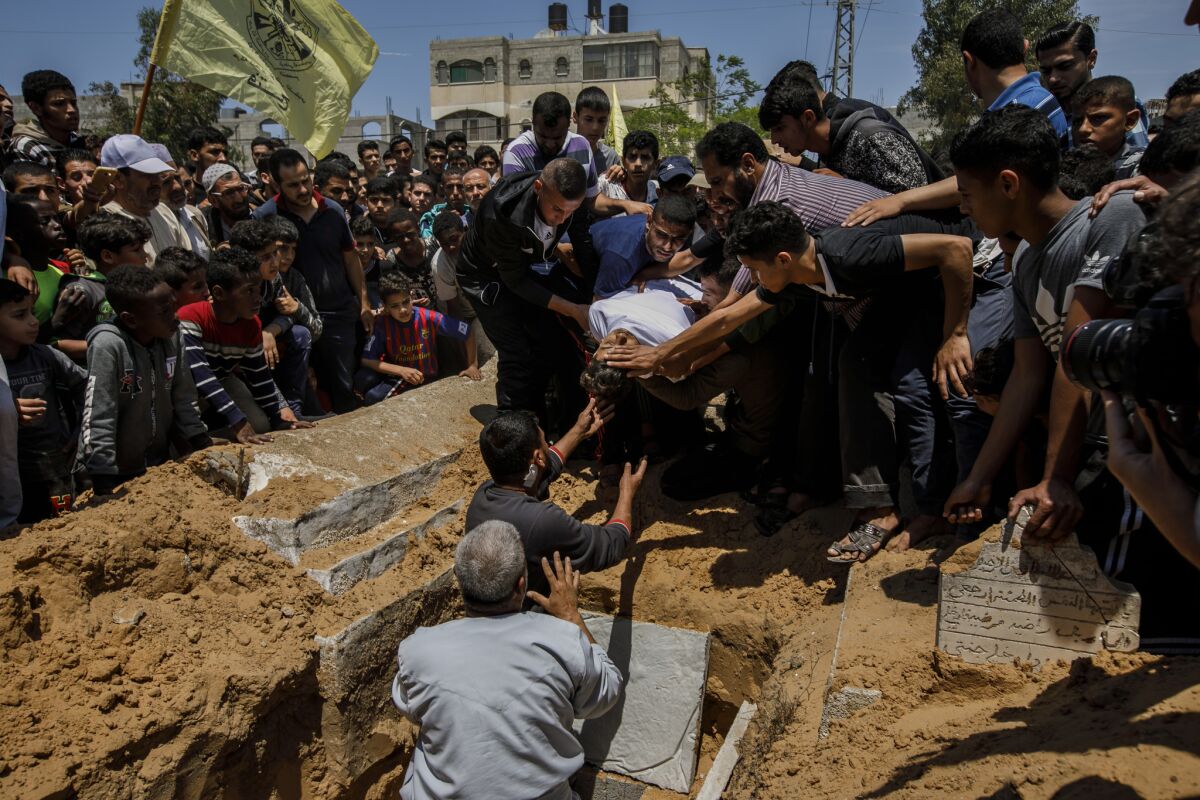 Reporting from Gaza City —
Deadly new clashes erupted Tuesday in the Gaza Strip as thousands of Palestinians staged angry funeral processions for dozens of demonstrators killed a day earlier by Israeli troops. Israel, meanwhile, weathered growing international criticism over the violence.
The latest confrontations came as Palestinians commemorated their mass displacement 70 years ago following the creation of Israel. Palestinian officials reported at least two more fatalities near Gaza's frontier with Israel, pushing the death toll for Monday and Tuesday to 64. Israel's military also said scattered clashes broke out in the West Bank.
Monday's outbreak of lethal violence in Gaza coincided with Israeli rejoicing over the Trump administration's symbolic inauguration of a new U.S. Embassy in the contested city of Jerusalem. The embassy festivities added fuel to the 7-week-old Gaza demonstrations denouncing a more than decade-long blockade of the crowded enclave and demanding a Palestinian return to ancestral homes in Israel.
Israel insisted anew that it used live fire in response to a deadly threat posed by Palestinians seeking to breach the border fence between Israel and Gaza. It said at least 24 of those killed Monday were militants.
At the United Nations on Tuesday, Trump's ambassador to the world body, Nikki Haley, staunchly defended Israel, telling the Security Council that no member "would act with more restraint than Israel has" in the ongoing Gaza border confrontation.
In the West Bank on Tuesday, the Israeli military said 1,300 Palestinians participated in what it described as "violent riots" at 18 locations and said protesters burned tires and hurled rocks and firebombs at security forces. The military said that in the aftermath of Monday's border confrontation, its aircraft hit more than a dozen sites in Gaza that it described as "terror targets."
As is traditional on May 15, Palestinians on Tuesday observed what they call the Nakba, or catastrophe, of 70 years ago, when hundreds of thousands fled or were forced from their homes in what is now Israel. Shops and businesses were shuttered in Gaza City and in Ramallah, the Palestinian administrative capital in the West Bank.
In Ramallah, piercing sirens wailed for a minute and 10 seconds — a second for each year — to commemorate the anniversary, bringing traffic in some areas to a standstill.
Many Palestinian motorists clambered from their pulled-over cars to stand at attention — a mirror of the momentary standstill on the Israeli side for Memorial Day and when the Holocaust is commemorated. Shops and businesses in Ramallah were closed for a general strike, and much of the normally bustling town was silent and deserted.
The Trump administration and Israel have placed the blame for Monday's violence — the worst since a 2014 conflict between Israel and Gaza — squarely on Hamas, the Islamic militant group that controls the seaside enclave.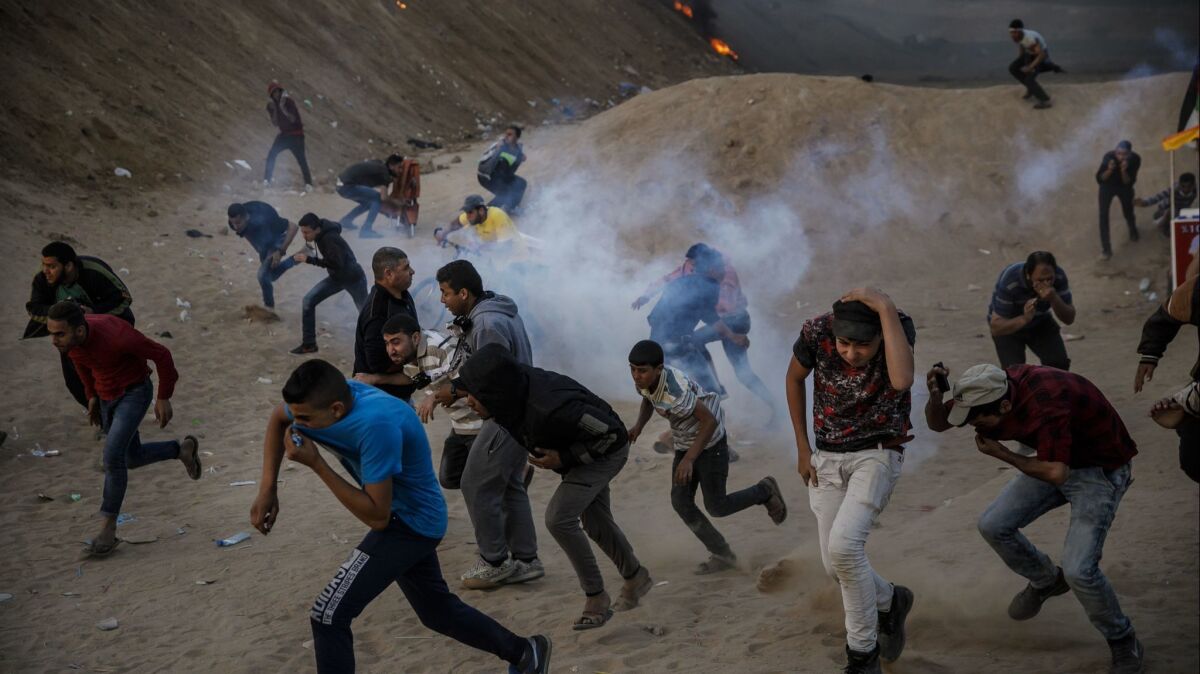 In justifying its use of deadly force, Israel has cited firebombs thrown by protesters and flaming kites being flown across the frontier. The military said that at least 400 protesters gathered Tuesday on the Gaza side of the border fence and that several Palestinians were apprehended as they tried to breach a fence in the north of Gaza.
In Gaza's Bureij refugee camp, Palestinian men fired automatic weapons at an Israeli drone hovering overhead. Hundreds of men huddled behind a sand berm before pushing into an open field to fling rocks and other projectiles toward Israeli forces, some using a door-less refrigerator as a shield. They burned tires in an attempt to obscure themselves from the view of Israeli troops.
Gaza's Ministry of Health reported two Palestinian deaths from Israeli fire at a protest site east of the camp.
Farther south, Israeli drones unleashed volleys of tear gas to drive back protesters from the security barriers. Many of the protesters clipped empty tear gas canisters to their belts like badges of honor.
In a message released Tuesday, Hamas political chief Ismail Haniyeh denounced the "massacre" in Gaza and vowed to expand the confrontation with Israel. Meanwhile, diplomatic condemnation of Israel mounted.
In Geneva, U.N. human rights spokesman Rupert Colville denounced what he called the "appalling deadly violence" by Israeli forces. Ireland summoned the Israeli ambassador to urge restraint.
Turkey declared three days of official mourning, lowering flags to half-staff in a salute to slain Palestinians. With Turkey having temporarily expelled the Israeli ambassador in protest, Israel on Tuesday asked the Turkish consul general in Jerusalem to temporarily leave.
And the embassy-opening ceremony drew new criticism from Muslim-majority Malaysia, which said the move would hamper peace efforts.
A broad international consensus holds that Jerusalem's fate must be settled through negotiations because both Israel and the Palestinians claim it as their capital, and almost all countries keep embassies in Tel Aviv, not in the holy city.
Monday's casualties in Gaza included an infant girl whose death initially was attributed to tear-gas inhalation. Hundreds marched in her funeral procession Tuesday.
A doctor at the hospital where she was treated later blamed her death on a preexisting heart condition. But the Ministry of Health and the family, while acknowledging the baby's prior medical issue, said tear gas was a contributing factor.
Times staff writers Zavis and King reported from Gaza City and Amsterdam, respectively, and special correspondent Tarnopolsky from Ramallah. Special correspondent Hana Salah in Gaza City and Times photographer Marcus Yam in the Bureij refugee camp contributed to this report.
Twitter: @alexzavis
Twitter: @LauraKingLAT
---
UPDATES:
1:10 p.m.: This article was updated with additional details of the fighting along the Israel-Gaza border.
10:45 a.m.: This article was updated throughout with two new fatalities in Gaza, clashes in West Bank and the U.S. ambassador to the U.N. defending Israel in the Security Council.
This article was originally published at 7:25 a.m.
Must-read stories from the L.A. Times
Get the day's top news with our Today's Headlines newsletter, sent every weekday morning.
You may occasionally receive promotional content from the Los Angeles Times.