In Gaza Strip protests, the anger has many targets
Reporting from Khan Yunis, Gaza Strip —
As a child, Fahad would fashion kites from wood, plastic and paper to fly with his friends at the beach. It was a rare and joyful respite from the grinding poverty in refugee camps across the Gaza Strip.
Now he is applying his kite-building skills toward darker ends: to deliver bundles of flaming rags over Gaza's eastern border in hopes of setting Israeli crops and woodland on fire.
It is dangerous work. Since the start of six weeks of protests, Israeli soldiers have killed at least 49 Palestinians and injured thousands more with live ammunition, rubber bullets and shrapnel, Gaza authorities said. Last week, two bullets sliced through a small tent where Fahad makes his incendiary devices at an encampment set up by protesters in central Gaza.
Fahad says he has nothing to lose. At 27, he has no job and can't afford to get married. So he sits at home with his parents and dreams of returning to the land of his ancestors, a place he has never seen.
This week, he hopes to get his chance. Across the narrow strip, tens of thousands of Gazans are expected to converge on the border to protest a crippling blockade imposed by Israel and Egypt, and press for a right to return to lands in what is now Israel.
Dubbed the Great March of Return, the demonstrations are expected to peak Monday, when the United States formally moves its embassy from Tel Aviv to Jerusalem, and Tuesday, the day Palestinians commemorate the Nakba, or catastrophe, when hundreds of thousands of their forebears were driven from their homes during the 1948 war over Israel's founding.
Some are threatening to storm security barriers and swarm into Israel, a move that would probably be met with a lethal response from Israeli forces stationed along the border to protect communities on the other side.
"I hope I won't be injured," Fahad said, scrolling through pictures on his phone of friends who have lost limbs and suffered other devastating injuries since the protests began March 30. "To live like that will be very difficult. But God willing, I will die a martyr."
He asked to be identified by one name, out of fear of Israeli retaliation.
Israel's decade-long blockade, imposed when the Islamist militant movement Hamas wrested control of Gaza from the Palestinian Authority in 2007, has severely restricted the movement of goods and people in and out of the 140-square-mile enclave.
Nearly half of the population of 2 million are unemployed. Students are dropping out of universities because they can't afford the fees. Families do most of their shopping on credit, and prisons are filling with people arrested for unpaid debts.
In 2012, the United Nations warned that Gaza could be unlivable by 2020. A report last year said conditions there were deteriorating even quicker than forecast. Homes and businesses can count on no more than three or four hours of electricity a day, most of the water is undrinkable, medical supplies are dwindling, and hospitals are overwhelmed with casualties from the protests.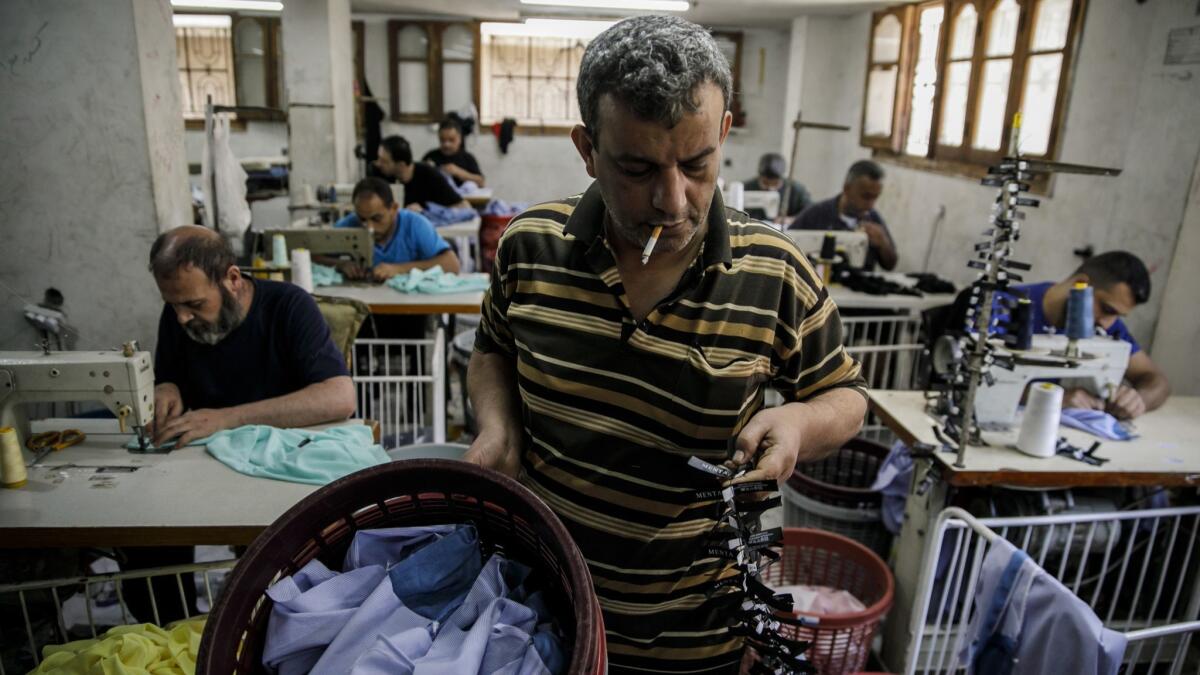 Nafez Shubair once owned two factories that supplied clothing to Israel and provided employment to about 150 workers. But he said orders have dwindled since Hamas took over, and most of his sewing machines sit idle.
Because of frequent border closures, he can no longer guarantee that his deliveries will arrive on time. And even if they do, he can't get permission to go collect payments from clients. He had to close one of his factories and has just 30 people working for him now.
The local fishing industry has also suffered. Citing a need to prevent arms being smuggled into Gaza, Israel restricts fishing to a seasonally adjusted zone up to six or nine nautical miles from Gaza's coast.
"This is without benefit, because the area within nine nautical miles is all rocks, so there aren't many fish," said Adel Abu Riyala, whose family owns two fishing boats.
Before the blockade, he and his brothers could make as much as $800 from a single trip. Now, they might make as little as $80, which won't even cover the cost of fueling their boats.
"Sometimes, when you are in debt and your creditors are demanding their money, you might fish outside the nine miles," he said. And sometimes, a "kind" Israeli ship just might let you get away with it.
But in February, the navy fired on one of his boats, killing his 18-year-old nephew, Ismail Abu Riyala, and injuring two others. Israeli officials said at the time that the boat had ignored warnings and strayed from the permitted fishing area. The family insists it was never more than five nautical miles from shore.
Ismail was the main breadwinner in his household because his father has been unable to fish since suffering a slipped disk. His uncle, Adel Abu Riyala, doesn't hold out much hope that this week's protests will improve matters for the family: "What is a peaceful protester going to do against a tank? … We know, and all the world knows, that we cannot take back any part of the land. We just want to raise our voices to the world."
Though Gazans direct much of their anger at Israel, many are also frustrated with Hamas and its secular rival Fatah, which leads the Palestinian Authority, headquartered in Ramallah, in the West Bank. The bitter standoff between the factions has made life a misery in this sliver of land, wedged among Israel, Egypt and the Mediterranean Sea.
Hamas drove Fatah's forces from the Gaza Strip in 2007, a year after defeating it in parliamentary elections. Last year, the Palestinian Authority ratcheted up pressure on Hamas by slashing the salaries of many of its employees in Gaza and forcing others into early retirement.
Hoping to rid itself of the burden of administering the strip, Hamas signed a reconciliation agreement with Fatah in October that saw the militants hand over control of border crossings into Israel and Egypt, along with the taxes collected there. But Hamas has no intention of relinquishing control over security in Gaza.
Many protesters disavow any affiliation to Hamas, which Israel and the U.S. have designated a terrorist organization. But the group has thrown its weight behind the weekly demonstrations. Workers across Gaza were given Monday and Tuesday off so they might take part.
"What is the problem with hundreds of thousands breaching a fence that is not an international border?" Yahya Sinwar, Hamas' leader in Gaza, said at a rare news conference last week. "This is a peaceful action that is not intended to harm anyone."
That's not how it appears to Israel, which has accused Hamas of using the protests as cover to try to wage attacks against Israeli soldiers and civilians. Israeli military aircraft dropped leaflets Sunday accusing Hamas of using the marches to deflect attention from its own failings.
"The Israel Defense Forces will defend their citizens," the leaflets said. "For your safety, you must not be beside the fence, and don't cooperate or participate in the operations that Hamas is conducting."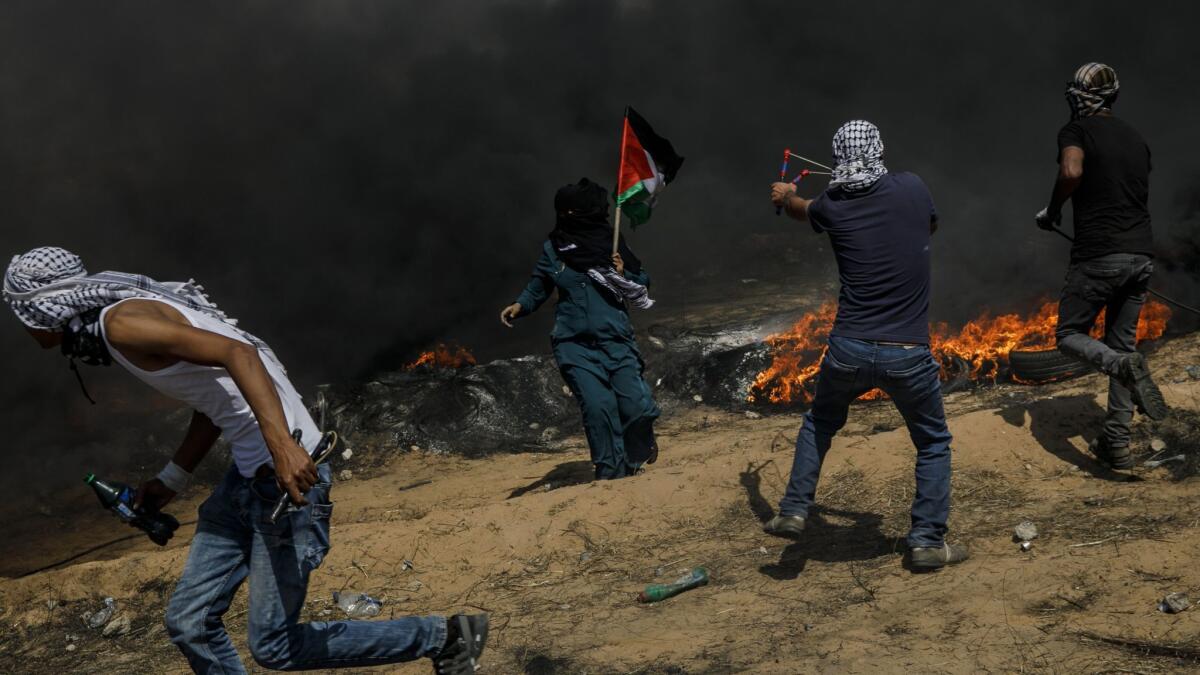 Riyad Abu Hasiras warned his five children that if any of them planned to attend, they shouldn't bother coming home.
Abu Hasiras spent 23 years working for the Palestinian Ministry of Health, but he hasn't been paid since he refused to obey an order from Ramallah to stay home after the Hamas takeover. He couldn't bring himself to continue drawing his salary without showing up for work.
He now operates a small kiosk on the beach, from which he sells coffee and tea for less than 30 cents a glass.
"Sometimes, people come and drink a glass and say, 'I'm sorry, I can't afford even one shekel,' " he said. "Why should we go support the Palestinian factions when they are the reason we are in this bad situation?"
For years, smuggling tunnels provided a lifeline to Palestinians who faced shortages because of Israel's blockade, transporting goods as varied as weapons and baby food. But Egyptian President Abdel Fattah Sisi, who seized power from the Islamist Muslim Brotherhood in 2013, has sought to choke off Gaza's rulers by destroying the tunnels and closing the Rafah border crossing for extended periods.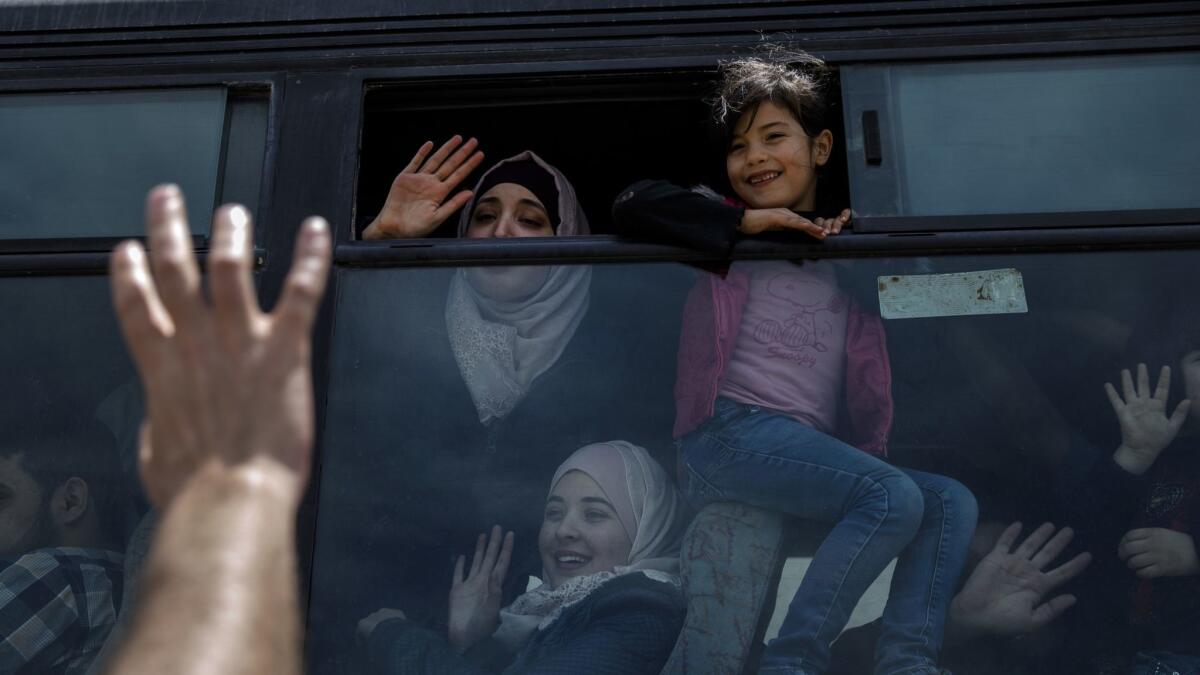 During a rare opening recently, desperate travelers gathered at a dingy basketball court in the southern Gaza city of Khan Yunis, waving passports and pleading with Hamas policemen for permission to board buses headed to Rafah, the strip's main gateway to the outside world.
"Please, my mother is dying in Egypt," a woman yelled. "My brothers are saying she only has days to live."
An officer checked her name against a list and shook his head. She did not have permission to cross that day. The woman's eyes welled up.
A father of triplets said his son and two daughters had missed a year of college because he could not get permission for them to travel to Turkey, where they have scholarships to study engineering.
When their names were finally called Sunday, the entire family started crying. The father, Emad Abu Safia, hugged and kissed each of his 19-year-old children, then ran to the side of the bus to wave goodbye.
"The house will be very empty, but what can I do?" he said. "I have only these children … and the situation in Gaza is very hard."
Abu Safia, too, was once employed by the Palestinian Authority, as a security guard. But he was forced into early retirement, which cut his income by 40%. He had to take out a $3,000 loan to cover his children's travel and had no idea how he would pay it back.
He wasn't even sure whether they would make it to Turkey. "I don't know what will happen on the Egyptian side, if they will pass or not," he fretted.
Hours later, he was still waiting to find out.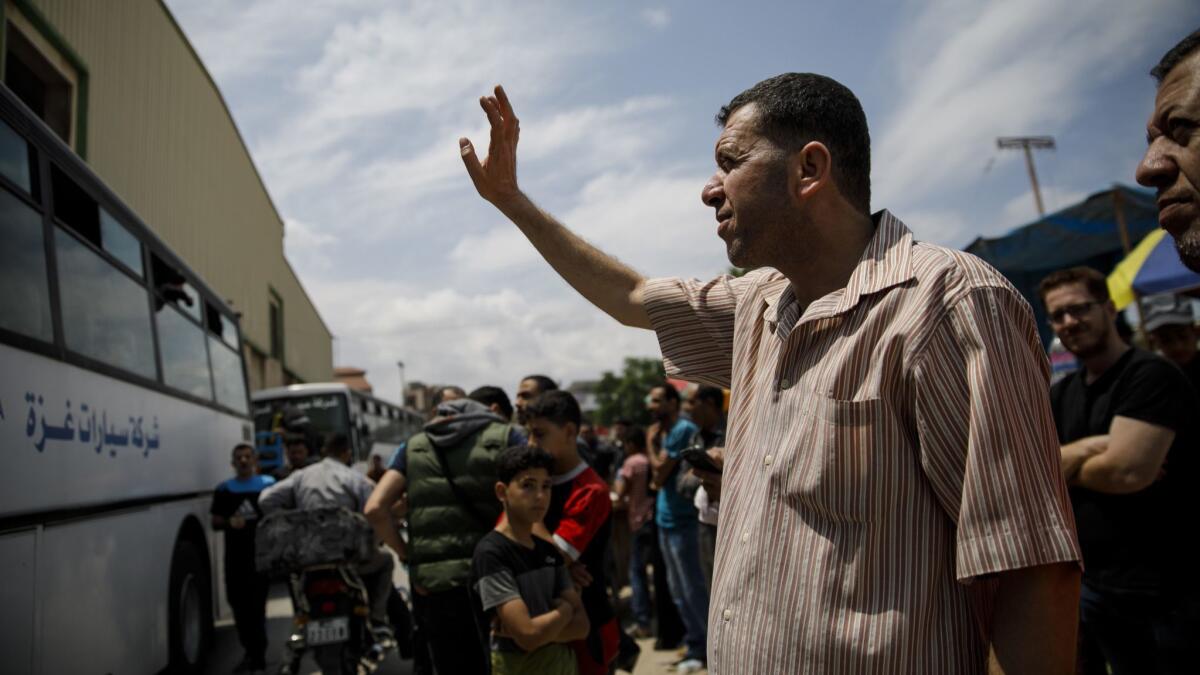 Special correspondent Hana Salah and Times photographer Marcus Yam contributed to this report.
Twitter: @alexzavis
Sign up for Essential California for the L.A. Times biggest news, features and recommendations in your inbox six days a week.
You may occasionally receive promotional content from the Los Angeles Times.