Amid Hamas-Israel standoff, Qatar sends cash to Gaza Strip charity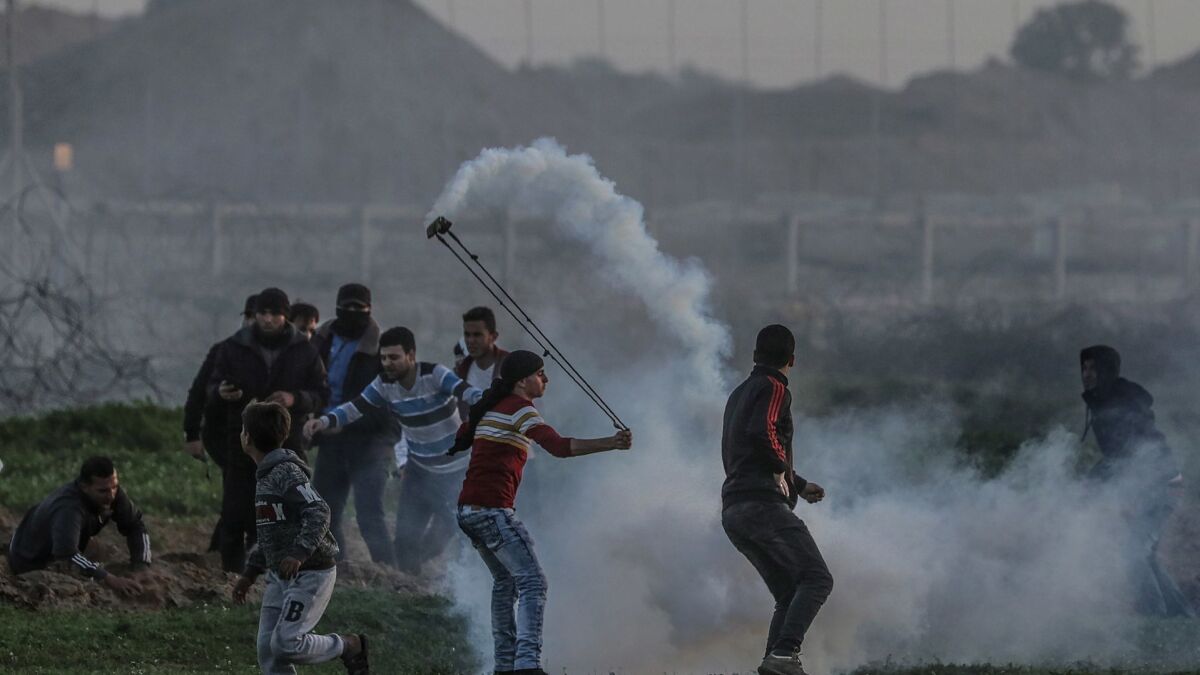 Reporting from Jerusalem —
In a last-minute solution to a crisis threatening the stability of the Gaza Strip, Muhammed Emadi, a Qatari diplomat, announced that $20 million in donated funds would be transferred to a Qatari charitable foundation in Gaza on Monday.
The money is then expected to be distributed to "humanitarian projects in coordination and full cooperation with the United Nations," he said.
The funds were initially earmarked for delivery last week, but were delayed when Israeli Prime Minister Benjamin Netanyahu announced Israel would stop the transfer after a sniper shooting from Gaza struck an Israel army officer stationed at the border.
Netanyahu faces considerable pushback from right-wing coalition partners wary of being labeled accessories to terrorism, if the money, which is intended to be handed directly to workers who are owed salaries, ended up instead in the pockets of Hamas, the militant organization that rules the Gaza Strip.
Near midnight on Thursday, the Israeli Cabinet voted to authorize the transfer that Israeli military advisors said was vital to keep the volatile, blockaded enclave's 2 million inhabitants from economic desperation and violence.
Hamas immediately rejected the Qatari funds, saying the tardy Israeli approval amounted to an "attempt to extort the resistance."
"Netanyahu delayed the transfer of funds to grab more electoral votes," said Khalil Hayya, a Hamas leader.
Emadi said Friday that the funds stalled by the standoff would instead be transferred to the Gaza office of the Qatar Charity.
At a Friday news conference, Emadi echoed Hamas, accusing Israel of exploiting the "humanitarian aid for the internal elections campaign."
The aid will help improve Gazans' quality of life, he said, by being used primarily for "electricity, sewage stations and delivering aid to tens of thousands of poor families and other necessary humanitarian projects."
Israel and Egypt have maintained a blockade of Gaza since Hamas, an Islamist militia, seized power in 2007.
Hamas initiated weekly protests last March, two months after President Trump announced the transfer of the U.S. Embassy in Israel to Jerusalem, which he recognized as the nation's capital.
During the last year, the Palestinian Authority, the internationally recognized government based in Ramallah, in the West Bank, has enacted crippling sanctions intended to subdue or eliminate its adversary, Hamas, which is classified as a terrorist organization by most Western countries.
The measures have limited Gaza, already hobbled by mass unemployment, to three to four hours of electricity a day and unending shortages of electricity and water.
Emadi's plans to alleviate the crisis have been in effect since November.
A previous transfer of Qatari funds took place Dec. 6.
Attending a Gaza demonstration against Israeli troops on Friday in which one Palestinian protester was killed, Anis Dohal, 54, a civil servant, noted that he had not been paid in 54 days. "I support a large family of six," he said. "We understand the pressure exerted on Hamas over the Qatari money, but we also want our salaries."
Special correspondent Rushdi Abou Alouf contributed to this report from Gaza City and special correspondent Tarnopolsky reported from Jerusalem.
Must-read stories from the L.A. Times
Get the day's top news with our Today's Headlines newsletter, sent every weekday morning.
You may occasionally receive promotional content from the Los Angeles Times.