Cries of 'Black Lives Matter' in Israel after officer fatally shoots unarmed young man of Ethiopian origin
Reporting from Jerusalem —
The shooting death of Solomon Teka, a young Israeli man of Ethiopian descent, by an off-duty police officer has sparked protests across the country, modeled in part on the Black Lives Matter movement in the United States.
Teka, who was unarmed and who recently turned 18, was shot and killed Sunday night in Haifa's Kiryat Haim suburb, in northern Israel, while hanging out with friends in a playground.
His family claims he was murdered.
Israeli police spokesman Micky Rosenfeld says the police officer, who was in the park with his family, and who has not been publicly named, identified himself as an officer to the group of youths after a fracas.
Rosenfeld said the youths threw rocks at the officer, who fired a single bullet in response.
None of the youths was armed.
The officer was arrested on Monday and remains under house arrest.
Witnesses who spoke to local media disputed the police statement, claiming that the officer instigated the incident, brandishing his weapon at youths who had done nothing more than gather at a playground.
A witness interviewed on Israeli television said the policeman's life was never at risk.
"He crouched down into a firing position and shot Solomon from at least [90 feet] away," the man said.
An autopsy conducted before Teka's funeral on Tuesday was inconclusive, leaving open the question of the trajectory of the bullet that killed him, and if it was aimed at his chest, where he was struck, or whether it ricocheted from the ground, as the police officer claims, according to leaks to Israeli media.
A judge imposed a seven-day gag order on the investigation into Teka's death.
But details may be superfluous, as Teka's death has rekindled the fury of the Ethiopian Israeli community, which holds long-standing complaints of over-policing and police brutality.
In 2015, a video clip of two policemen brutally beating a uniformed Israeli soldier of Ethiopian origin sparked days of protests, some of which turned violent.
The soldier, today 1st Lt. Damas Pakada, a 24-year-old officer in a military cyber unit, alleged the incident was a racist attack. The prosecution's case ended in a plea agreement and no jail time for the officers seen assaulting Pakada in the clip.
After the Pakada incident, a committee led by the Justice Ministry's director-general found that police disproportionately targeted Israelis of Ethiopian origin, with higher rates of arrests, indictment and incarcerations than other Israelis.
It's hard to be black in Israel and walk around feeling secure.
— Itay Ashatu, a relative of Solomon Teka, 18, who was shot to death by an off-duy police officer
The committee's report includes 53 specific recommendations to remedy the discrimination, but community activists say there has been negligible enforcement of its proposals.
In January in another case that provoked uproar, 24-year-old Yehuda Biadga, also an Israeli of Ethiopian origin, was shot and killed by police officers, despite his family's pleas that he suffered mental illness and hadn't taken his medications.
The Jews of Ethiopia assert origins reaching back to the Exodus, when the sons of Moses led part of the biblical tribe of Dan to Africa.
The community has long roots in modern Israel, but according to statistics published in 2016 by the Brookdale Institute in Jerusalem, most of the 100,144-strong community arrived in two dramatic airlifts the Israeli government undertook in the 1980s and 1990s.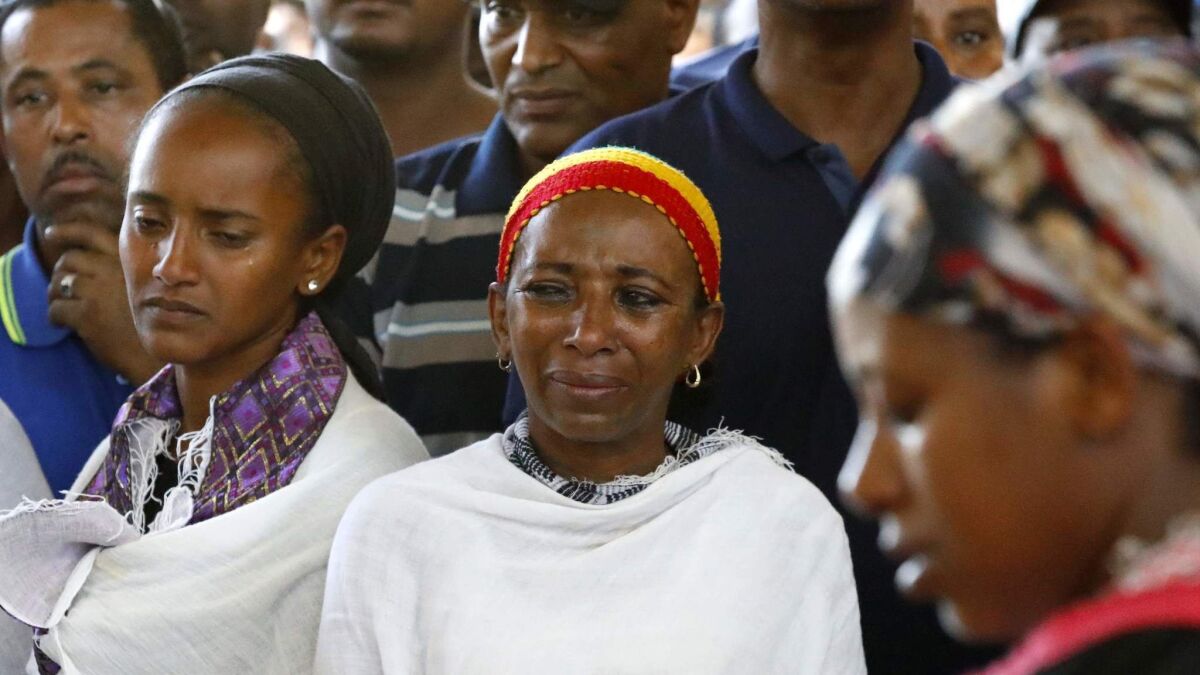 Teka was born and grew up in the northern Ethiopian city of Gondar before his family moved to Israel six years ago, when he was 12.
According to relatives, he dropped out of his senior year of high school and held odd jobs while awaiting conscription.
"Solomon, when he came to Israel, was a good boy who respected his environment and his parents," one of his relatives, Itay Ashatu, told the Israeli newspaper Haaretz. "There are kids who are products of the difficult reality they're in. Every teenager who comes from Ethiopia who's defined as 'on the edge' is a good person underneath it all, but the reality is difficult and there are things that aren't taken care of."
"It's hard to be black in Israel and walk around feeling secure," Ashatu added in the same interview. "Even a policeman of Ethiopian origin, once he takes off his uniform, is at risk of taking a bullet in the head. Parents aren't afraid of road accidents or terrorists, they are afraid of policemen. There's no faith in any system, there's no justice."
Surrounded by family and hundreds of citizens spurred to attend his funeral by the violent manner of his death, Teka was buried Tuesday not far from Kiryat Haim, the town in which he died, whose name means Community of Life.
What did Garcetti really mean when he said he supports the U.S. Embassy move to Jerusalem? »
Speaking to Israeli public radio, Amir Teka, a cousin, insisted the death was a murder by any definition.
"There's no way he left his house, was murdered and they are saying he was 'killed,'" Amir Teka protested. "What was he killed by? A work accident? A car? Say murder, not killing."
Shootings are relatively rare in Israel, where civilians cannot easily acquire firearms.
"You go to the playground with your kid and a gun?" Amir Teka asked about the accused officer. "He saw a man of color, what did he care about killing him?"
Police around the country girded for a second day of protests, which an organizing committee on a Facebook page named Little Ethiopia called to block major freeways as far north as the Galilean city of Tiberias and as far south as Eilat, the Red Sea resort.
Several dozen protesters were arrested while blocking major highway junctions, including the main entrance to Tel Aviv as early evening clashes swelled.
Tarnopolsky is a Times special correspondent.
Must-read stories from the L.A. Times
Get the day's top news with our Today's Headlines newsletter, sent every weekday morning.
You may occasionally receive promotional content from the Los Angeles Times.