What did Garcetti really mean when he said he supports the U.S. Embassy move to Jerusalem?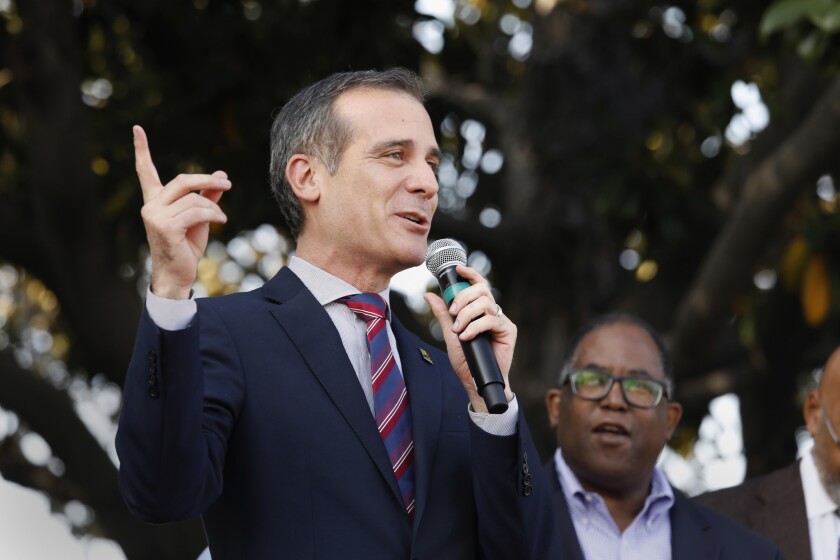 Los Angeles Mayor Eric Garcetti ignited a firestorm of controversy last month when he said during a trip to Israel that he supported moving the U.S. Embassy from Tel Aviv to Jerusalem — a political triumph of the Trump administration.
He quickly backpedaled, offering several clarifications and a video apology to the city's Muslim community.
But weeks later, questions remain about why Garcetti chose to weigh in on the issue and about his handling of the ensuing backlash. Leaders of Los Angeles' diverse Jewish community remain divided over his comments — and the broader, political ramifications for the mayor are unclear.
For decades, U.S. politicians have talked in imprecise terms about moving the government outpost to Jerusalem or artfully avoided the topic with non-answers. But the mayor's straightforward response surprised many — even his own rabbi in L.A.
"I was in Israel at the same time he was and I saw him there. He wasn't preparing a big statement on the embassy," said Rabbi Sharon Brous of IKAR in Mid-Wilshire, who first learned of the mayor's statement when Muslim friends called her in distress.
Brous is among the most outspoken Jewish leaders in the United States, progressive even by L.A.'s liberal standards. In a sermon in May 2018, she called the Trump administration's decision to move the embassy "a reckless and self-serving stunt," a sentiment echoed by the many local Muslim leaders who have publicly denounced Garcetti's statements.
Yet, Brous also longed to see Jerusalem recognized as the capital of Israel and said she understood why Garcetti made his comments to a reporter in Israel and the anger that followed.
"Many people in our community both see that Jerusalem is the capital of Israel and believe that the embassy should ultimately be moved to Jerusalem," she said. "Yet the way it was done makes this a very dangerous and cynical move. It seemed to me that it was throwing a match into a tinderbox."
Despite his decision not to run for president this year, Garcetti has positioned himself as a leader in the national Democratic Party. He frequently sticks to party-friendly positions on climate change and immigration but rarely sticks his neck out on divisive issues.
After the furor over his comments, Garcetti told The Times that he wouldn't have moved the embassy "unilaterally and I would have done it with Democrats by the side… I think a lot of progressive people believe that Jerusalem should be the capital of Israel, as well as probably for the Palestinians in East Jerusalem."
He said he traced his personal feelings about the Holy Land to a medical relief mission he took to Ethiopia as a teenager. He worked with Jewish refugees stranded between the clandestine airlifts that relocated more than 20,000 people to Israel in the mid-1980s and early 1990s.
"My first trip to Israel was following that, to see where Ethiopian Jews were settling," the mayor said. "There's no question that was a very moving experience as a human being — but also as a Jew, to realize that Israel is this place of refuge and of hope when Jews have been faced with extermination, discrimination and hardship."
In 2017, President Trump recognized Jerusalem as the capital of Israel and, last year, moved the U.S. Embassy to the city, to the delight of some Israelis. However, the decision prompted a protest on the Gaza border, leading to scores of deaths among Palestinians. Palestinians claim part of the holy city as their capital, and critics saw Trump's actions as threatening peace between the two governments.
In the wake of the move, Palestinians cut off talks with U.S. representatives, and Trump ordered the slashing of millions of dollars for humanitarian aid to the Palestinians.
Garcetti traveled to Israel last month with a group from the U.S. Conference of Mayors and the American Jewish Committee.
Speaking to a reporter from The Times at the end of his trip to Jerusalem, Garcetti said: "I support the embassy being here." He added that "Israel shouldn't be the only country in the world that can't determine where its capital will be, but there is usually a process to these things rather than what seems like an overnight, one-sided, partisan move."
In response, several local religious groups denounced the mayor's comments. Muslim groups sought and were granted a meeting with the mayor, said Salam Al-Marayati, president of the Muslim Public Affairs Council.
The mayor also made a video apology, saying, "I'm sorry for feelings that I have caused that have frayed in the last few days."
That apology touched off its own round of controversy, with critics taking to social media to accuse the mayor of backtracking.
Garcetti's decision to support the embassy move raises questions about whether he was trying to broaden his appeal to more conservative voters in the Jewish community.
In a follow-up interview, Garcetti explained that he decided to wade into the politically toxic issue because a Times reporter asked him about it.
"I think people say nothing because it's easier and you don't offend anyone, but saying nothing won't move us forward in the Middle East," he said.
"Nations should be able to choose the capitals that they have, and we've recognized that Jerusalem is the capital of Israel for a long time," he said. "I also believe the resolution of a Palestinian state that includes East Jerusalem, and that's where they've publicly stated they want their capital, that should be their right when a peace agreement comes as well."
Garcetti has said that he supports the idea of a two-state solution.
Some progressive Jewish groups from the Los Angeles area were dismayed by Garcetti's comments in May. The head of one group, who asked for anonymity because he wasn't authorized to speak publicly on the issue, said moving the U.S. Embassy put a "needless stumbling block in front of peace."
Others cheered the comments. The Israeli-American Civic Action Network, for example, urged people to sign an online petition supporting Garcetti. Dillon Hosier, the group's chief advocacy officer, said nearly 700 people have signed it. Democrats for Israel Los Angeles also rushed out a statement of support and labeled a Jewish group critical of the mayor's remarks as "fringe."
More Jews live in Los Angeles County than in Tel Aviv — some 470,000, according to Brandeis University's Steinhardt Social Research Institute — and their communities are ethnically and religiously diverse. Alongside more liberal congregations such as IKAR and Valley Beth Shalom, the city is home to tens of thousands of Persian Jews and Jewish emigres from the former Soviet Union, some of whom lean conservative.
Orthodox Jews of all ethnicities lean more conservative on Middle East politics than their coreligionists, according to a nationwide Pew Research Center survey in 2013. The survey found that Orthodox Jews make up about 10% of the estimated 5.3 million Jewish adults in the United States.
Rabbi Noah Farkas of Valley Beth Shalom, a synagogue of 1,500 families near where the mayor was raised in Encino, said his synagogue is a liberal, diverse community "that never agrees on anything." Yet, when news broke of plans to move the U.S. Embassy to Jerusalem, the response was one of excitement and relief.
"I wouldn't say elation, but [the communal feeling was] yes, I'm glad we're finally doing this," Farkas said. "We felt like this is great and it's important, but it felt like the process ignored the larger reality."
A poll of Jewish voters in October by the Mellman Group found that 56% disapproved of Trump's handling of the U.S. Embassy and 44% approved. The study also found that Jewish voters approved of Trump's handling of U.S.-Israeli relations by a small margin.
Garcetti isn't the first mayor to face competing forces around Middle East issues. Former L.A. Mayor Antonio Villaraigosa in 2009 was forced to defend his remarks when he said Israel had a "right and responsibility to defend itself" from rocket attacks being launched from the Gaza Strip. Villaraigosa later met with Muslim groups, which wanted him to speak just as strongly on behalf of Palestinians killed and wounded by Israeli attacks.
Experts disagree on the potential implications of Garcetti's embrace of putting the embassy in Jerusalem.
Jeremy Ben-Ami, president of J Street, a Washington, D.C., lobbying group that advises Democratic candidates, says most politicians try to find a middle position on Israel.
"There is so little upside to going to one side or another," he said, adding that Israel isn't a top voting issue for many Democrats and American Jews.
However, Steven Windmueller, professor emeritus of American Jewish affairs at Hebrew Union College-Jewish Institute of Religion in Los Angeles, said the mayor is signaling to his L.A. pro-Israel constituents his ongoing support for the Jewish state but also leaving room for a two-state solution.
"Jews vote," he said. "The mayor understands this equation. Namely, that Jews vote in very high numbers. He is playing to an issue that interests and resonates with many Jewish voters."
Garcetti's remarks in Israel extended beyond the U.S. Embassy. While in Israel, Garcetti told the Jerusalem Post that "good things" have come out of the relationship between Prime Minister Benjamin Netanyahu and Trump "that, as a Jew, are good to see." He said he'd like know how Netanyahu could help American Jews of a different "political stripe" defend Israel.
"I am not critical of the president on all things," he told the Post. "I am an American first, and a Jew as well, before I am a Democrat. But I believe in my values, in my politics; I will praise good things that happened, but will not be shy about condemning things. If I love Israel, as I do, I need to make sure that you don't have to fit a Trumpesque profile to feel that this is an OK position to have."
---
The stories shaping California
Get up to speed with our Essential California newsletter, sent six days a week.
You may occasionally receive promotional content from the Los Angeles Times.