Kerry pushes back: Israel's very future as a democracy is at stake
Reporting from Washington —
Stepping into a raging diplomatic argument, Secretary of State John Kerry on Wednesday staunchly defended the Obama administration's decision to allow the U.N. Security Council to declare Israeli settlements illegal and warned that Israel's very future as a democracy is at stake.
Kerry, pushing back on Israel's fury at the U.S. abstention of the United Nations vote, questioned Prime Minister Benjamin Netanyahu's true commitment to Palestinian statehood, which has formed the basis for all serious peace talks for years. Though Netanyahu says he believes in the two-state solution, Kerry said, he's at the helm of the most right-wing government in Israel's history.
"If the choice is one state, Israel can either be Jewish or democratic; it cannot be both, and it won't ever really be at peace," Kerry said.
Kerry's speech marked the latest escalation in a vicious, drama-filled row between the U.S. and Israel that has erupted in the last days of Obama's administration. The extraordinary display of discord between allies — with U.S. and Israeli officials openly disparaging each other — also has pitted President Obama against President-elect Donald Trump, who has firmly taken Netanyahu's side.
Israel's government was enraged after the U.S. abstained from voting on the U.N. Security Council resolution last week that called Israeli settlements in the West Bank and East Jerusalem a violation of international law. Netanyahu accused the U.S. of colluding with the Palestinians and helping draft the resolution, charges the U.S. has denied.
"The United States did in fact vote in accordance with our values, just as previous administrations have done," Kerry said in a farewell speech at the State Department. "The vote in the United Nations was about preserving the two-state solution. That's what we were standing up for."
Kerry reiterated that the Obama administration's commitment to Israel was as strong as that of previous presidents, but he noted that previous U.S. administrations also had abstained on certain resolutions critical of Israel. He emphasized the record levels of military assistance the U.S. has provided Israel under Obama, codified by a 10-year aid deal recently struck worth $38 billion.
"No American administration has done more for Israel's security than Barack Obama's," Kerry said.
Obama, who is vacationing with his family in Hawaii, hasn't commented publicly on the resolution or the resulting spat.
Seeking to show he wasn't focusing exclusively on Israel's failings, Kerry in the same sentence bemoaned Israel's "seemingly endless occupation" of Palestinian land and Palestinian leaders' "incitement" of violence. He invoked the widespread concern that the growing Arab population eventually will make Jews a minority in Israel, creating a democratic crisis for Israel unless there's a separate Palestinian state.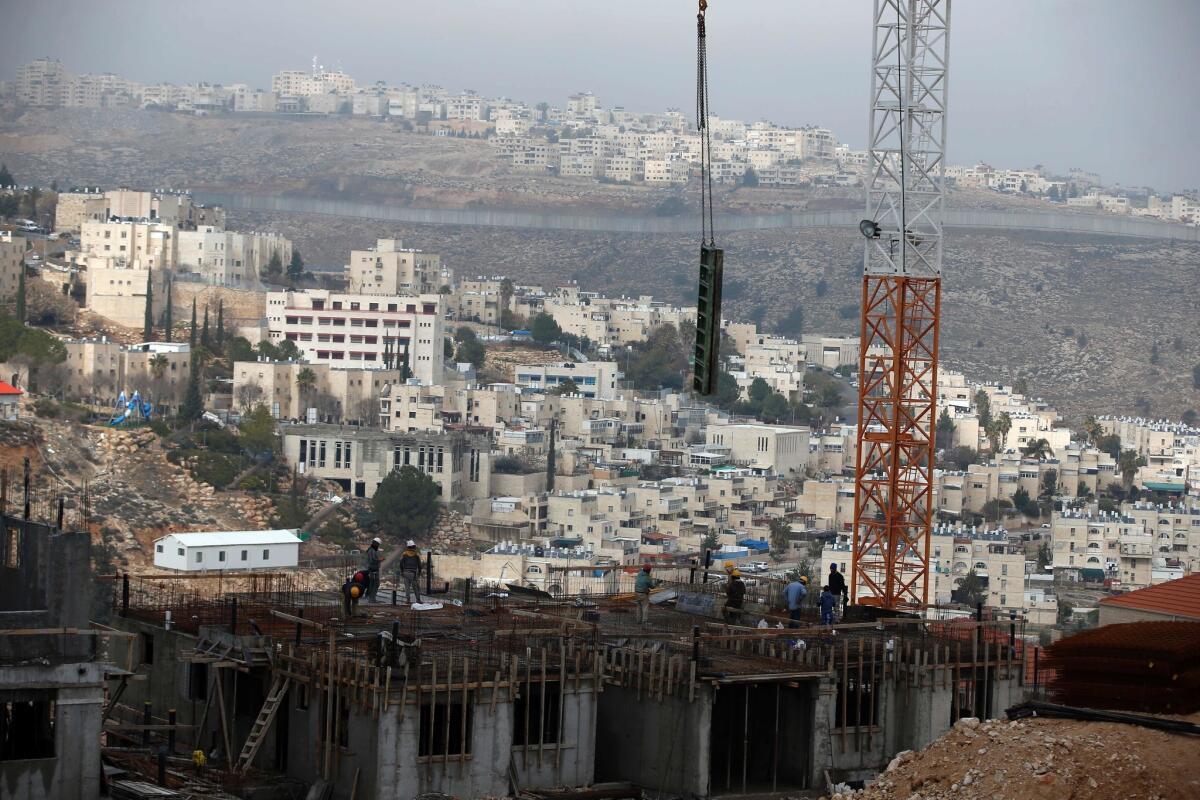 Israeli leaders have made no secret that they are counting on Trump to change U.S. policy, and Trump assured them hours before Kerry's speech that they just needed to "hang on" till Jan. 20, when he would be sworn in as president. While Trump has not outlined a vision, he has signaled a much more sympathetic approach toward Israel, appointing an ambassador with strong ties to the West Bank settler movement and promising to move the U.S. Embassy from Tel Aviv to Jerusalem over Palestinian and others' objections.
"President-elect Trump, thank you for your warm friendship and your clear-cut support for Israel," Netanyahu said on Twitter before Kerry's speech.
A senior Israeli Cabinet minister, Gilad Erdan, on Wednesday called Kerry's speech a "pathetic step," before Kerry even began speaking.
The international community overwhelmingly opposes Israeli settlement construction in the West Bank and East Jerusalem, territories captured by Israel in 1967 and claimed by the Palestinians for an independent state. The Palestinians, and most of the world, see settlements, now home to 600,000 Israelis, as an obstacle to peace.
MORE WORLD NEWS
The aftermath of Nigeria's fight against corruption: Officials have luxury cars, but can't afford gas
Netanyahu, furious over U.N. vote on Jewish settlements, summons U.S. ambassador
At Pearl Harbor, Obama says 'we must resist the urge to demonize those who are different'
---
UPDATES:
9:15 a.m.: This article was updated with remarks from Kerry's speech .
6:45 a.m.: This article was updated to include comments made by U.S. Secretary of State John F. Kerry, as well as those made by an Israeli Cabinet minister.
This article was originally published at 5:20 a.m.
Sign up for Essential California for news, features and recommendations from the L.A. Times and beyond in your inbox six days a week.
You may occasionally receive promotional content from the Los Angeles Times.