Pakistan jolted by a deadly market bombing and an attack on the Chinese Consulate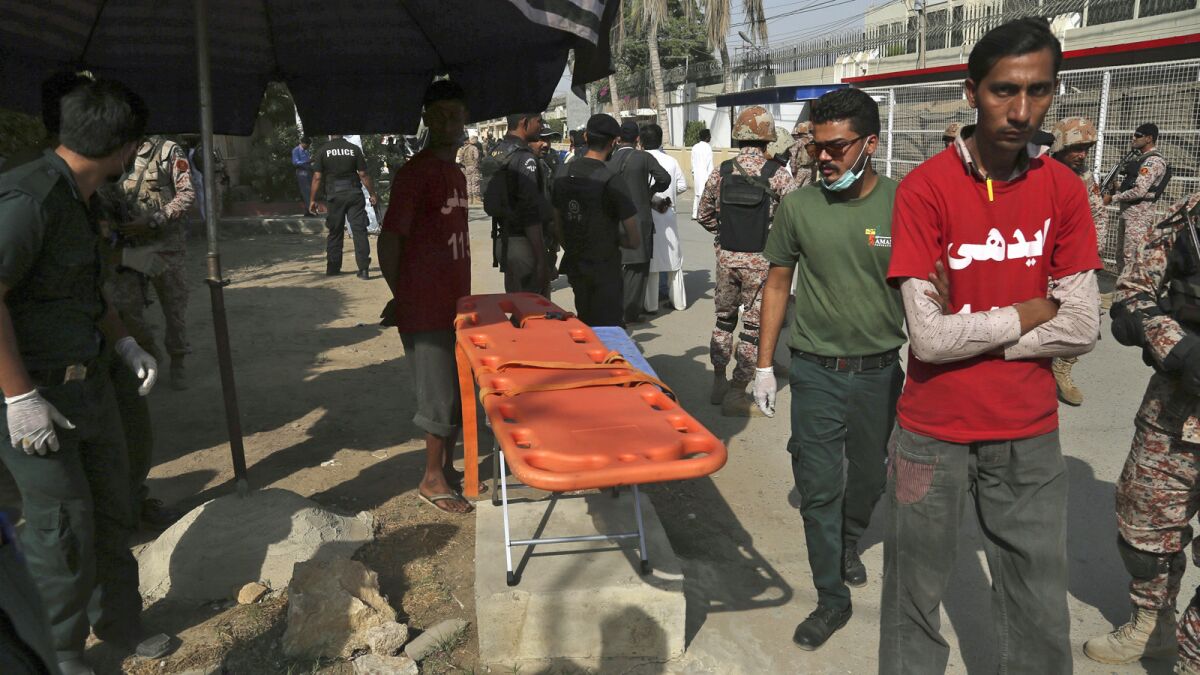 Reporting from Peshawar, Pakistan —
At least 31 people were killed and 40 others wounded when a bomb ripped through an open-air market in northwest Pakistan on Friday. The attack came just hours after two police officers and two civilians were killed when gunmen attempted to storm the Chinese Consulate in the coastal city of Karachi.
The attacks at opposite ends of Pakistan — more than 600 miles apart — did not appear to be related but illustrated the wide range of militant violence that threatens Pakistan's economic ambitions and religious minorities.
The attack at the market in Orakzai, a rugged tribal district southwest of the provincial capital of Peshawar, targeted a shopping area frequented by minority Shiite Muslims. Residents said large numbers of shoppers had filled the market just before Friday afternoon prayers when a loud explosion was heard in the center of the bazaar.
No group immediately claimed responsibility for the attack, but Pakistani Taliban militants have often struck at Shiites, whom they view as apostates. One local official interviewed by phone said more than 17 pounds of explosives had been packed inside a motorcycle that blew up near a Shiite seminary in the bazaar.
Fazal Rehman, medical officer at the main hospital in Kohat, a town east of the tribal district, said nearly 30 wounded people had been brought to his facility, a three-hour car ride away. Several who were severely wounded died on the way or at the Kohat hospital, while some serious cases were transferred to Peshawar, Rehman and others said.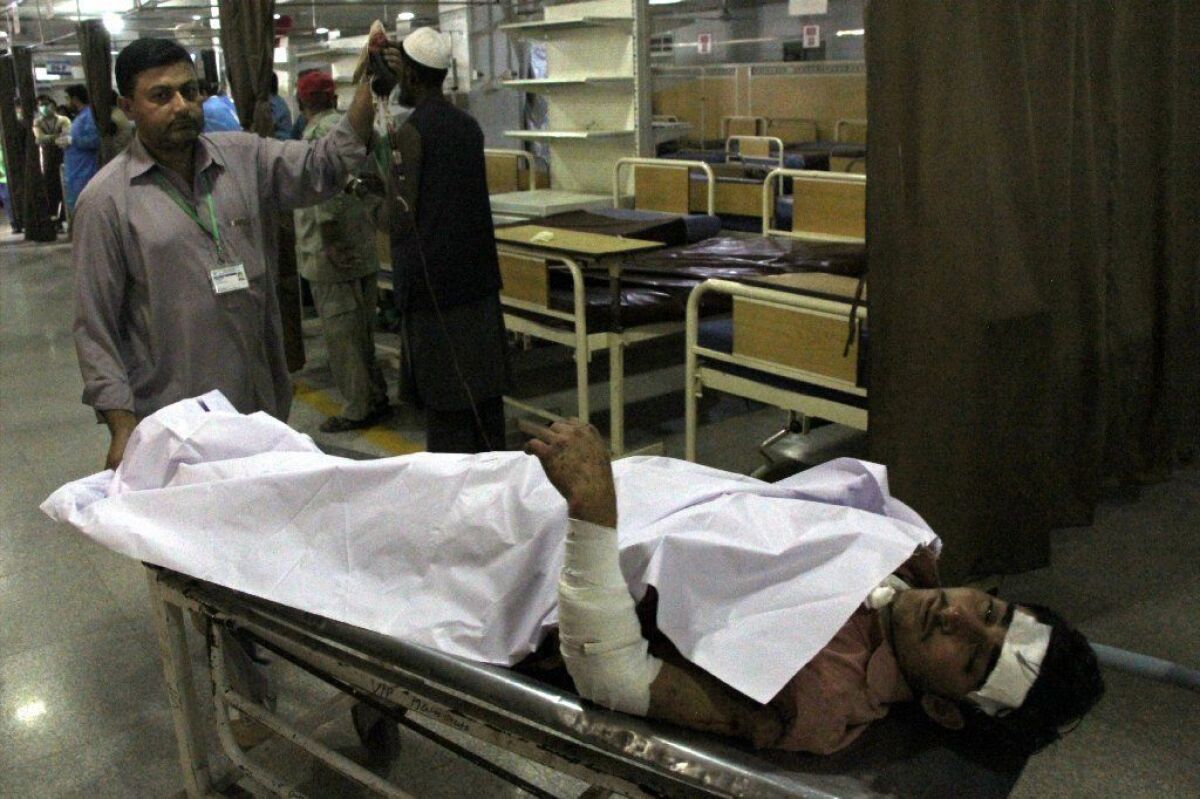 Orakzai has remained a hotbed of anti-government militancy despite a years-long Pakistani military campaign in the tribal belt, which borders Afghanistan. Thousands of families have fled the military operations, and some parts of Orakzai are still not considered safe for residents to return.
The militants who attacked in Karachi were affiliated not with the Pakistani Taliban but with a separatist insurgent group based in the neighboring province of Baluchistan, where Chinese-financed infrastructure projects have upset impoverished local residents.
The three gunmen — all of whom were also killed — were members of the Baluchistan Liberation Army, an ethnic insurgent group that says it opposes Chinese involvement in the province, according to a statement by the group. China is building a port at Gwadar as part of its massive Belt and Road Initiative, an infrastructure program spanning dozens of countries.
Pakistani Prime Minister Imran Khan called the attack part of a conspiracy to undermine Pakistani-Chinese economic and strategic cooperation. "I am absolutely clear both these attacks are part of a planned campaign to create unrest in the country by those who do not want Pakistan to prosper," Khan wrote on Twitter. "Let there be no doubt in anyone's mind that we will crush the terrorists, whatever it takes."
The consulate is situated in a neighborhood housing diplomatic missions and upmarket restaurants, where security officers routinely operate checkpoints.
A journalist at the scene said the assailants attacked the consulate from two sides, with two firing on security officers guarding an entrance while another detonated a suicide vest outside another gate, killing the two police officers.
Private security guards fired on the attackers, killing both before they could enter the building, said Karachi police chief Amir Ahmed Shaikh.
"The security forces resisted the attackers," Shaikh said. "They entered the premises of the consulate but failed to enter the rooms."
Pakistan's foreign minister, Shah Mahmood Qureshi, said all 21 Chinese and local officials working at the consulate were unharmed and had been shifted to a secure location.
The attack renewed concerns about Pakistan's ability to provide security for Chinese personnel and others working on building ports, roads, energy installations and transportation systems, some of which traverse remote parts of the country where the state holds limited control.
Fazal ur Rahman, executive director of the Pakistan Council on China, an Islamabad-based think tank, said the attack would make it harder for the Pakistani government to persuade private investors to pour money into special economic zones being created under the infrastructure program.
Although the Baluch insurgent group has opposed the Chinese program for years, this was the first time it attempted to carry out a significant attack outside the province, Rahman said.
"China does understand the security landscape of Pakistan," Rahman said, "but still it would have a negative impact on the image of a more safe and secure Pakistan."
The Pakistani government is increasingly torn over the Chinese investment in their country, a $60-billion package of loans and grants dubbed the China-Pakistan Economic Corridor, the single largest component of the Belt and Road Initiative.
The Chinese loans are widely believed to have contributed to a financial crisis in Pakistan, which is seeking a bailout from the International Monetary Fund to shore up its economy.
Khan, who won a sweeping election victory this summer, has called for a rebalancing of Chinese investment to focus less on infrastructure and more on social programs.
China has denied allegations that its loans in Pakistan — and other Asian countries such as the Maldives and Sri Lanka — have fueled rising debt. In a statement, the Chinese Embassy in Islamabad condemned the attack and praised Pakistani security forces for their response.
"We believe that the Pakistani side is able to ensure the safety of Chinese institutions and personnel in Pakistan," the statement said. "Any attempt to undermine the China-Pakistan relationship is doomed to fail."
Special correspondents Ali and Sahi reported from Peshawar and Islamabad, Pakistan, respectively. Times staff writer Shashank Bengali contributed to this report from Singapore.
Follow @SBengali on Twitter for more news from southern Asia
---
UPDATES:
6:30 a.m.: Updated throughout with staff reporting, and to raise the death toll in market bombing to 31.
2:05 a.m.: Updated to raise the consulate-attack death toll to seven.
12:20 a.m.: Updated to raise the market-bombing death toll from 12 to 25.
11:40 p.m.: Updated with the market bombing in Klaya.
10:35 p.m.: Updated with the three attackers dead.
This article was first published at 9:55 p.m.
---
Must-read stories from the L.A. Times
Get the day's top news with our Today's Headlines newsletter, sent every weekday morning.
You may occasionally receive promotional content from the Los Angeles Times.