Kenya president rules out talks with rival until calm prevails
Kenyan President Mwai Kibaki, left, walks with visiting South African Bishop Desmond Tutu at State House, the presidential residence in Nairobi, where they discussed the postelection violence that has racked the country.
(EPA/PPS)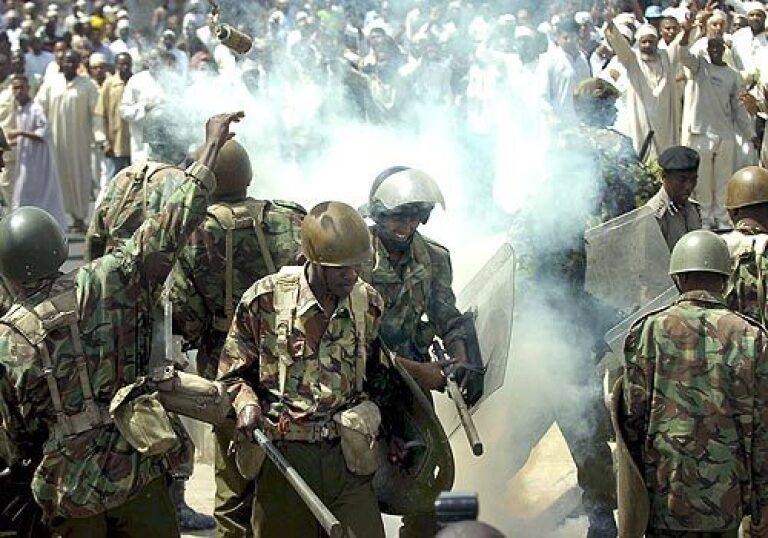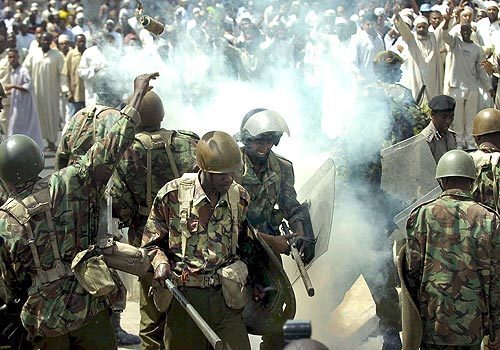 Paramilitary troops throw tear gas at backers of the opposition Orange Democratic Movement in Mombasa, Kenya.
(EPA)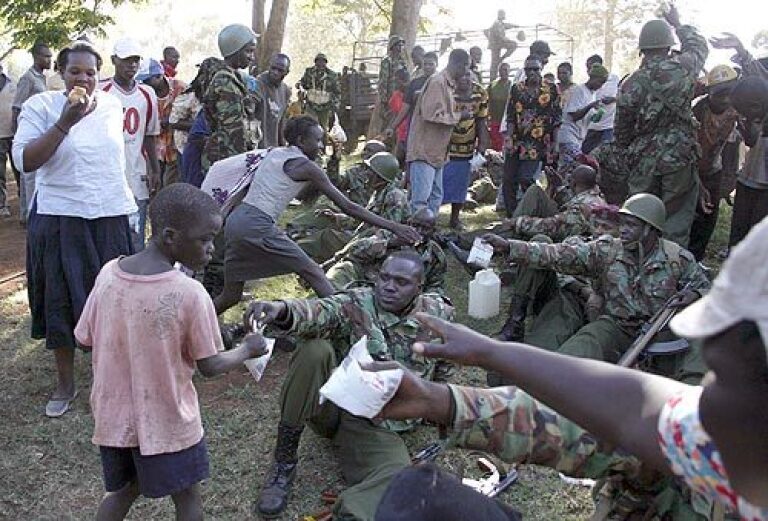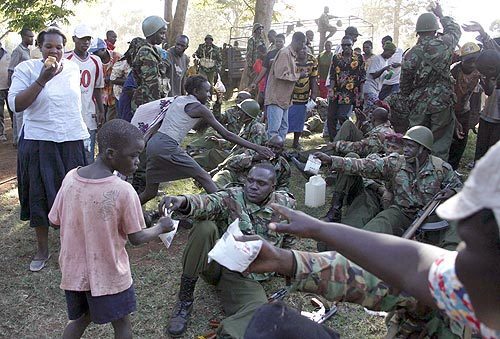 Security forces share food with residents of the Kibera area of Nairobi.
(Boniface Mwangi / Bloomberg News)
Police patrol the streets of Mathare, a suburb of Nairobi, one of the areas where protests have erupted over recent election results.
(Boniface Mwangi / Bloomberg News)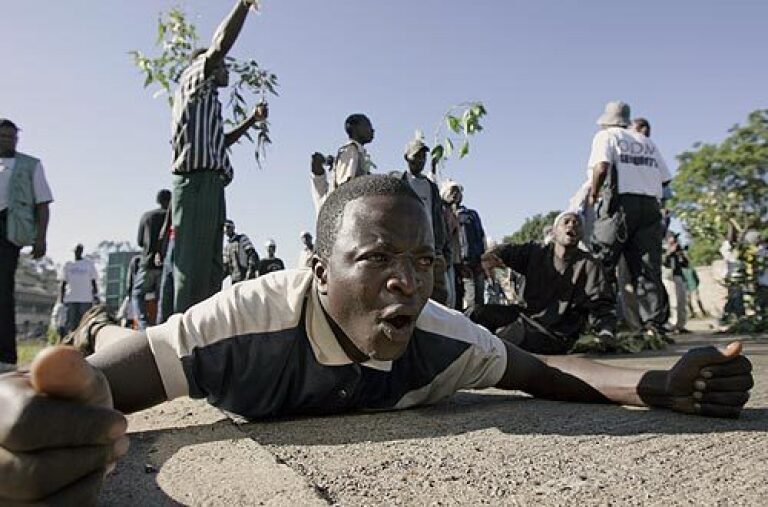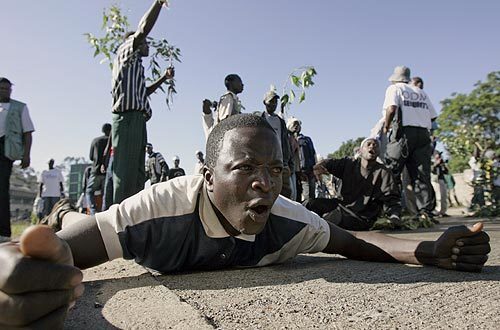 Supporters of opposition leader Raila Odinga gather in Nairobi, Kenya, to protest President Mwai Kibaki's victory in an election they say was rigged.
(Darko Bandic / Associated Press)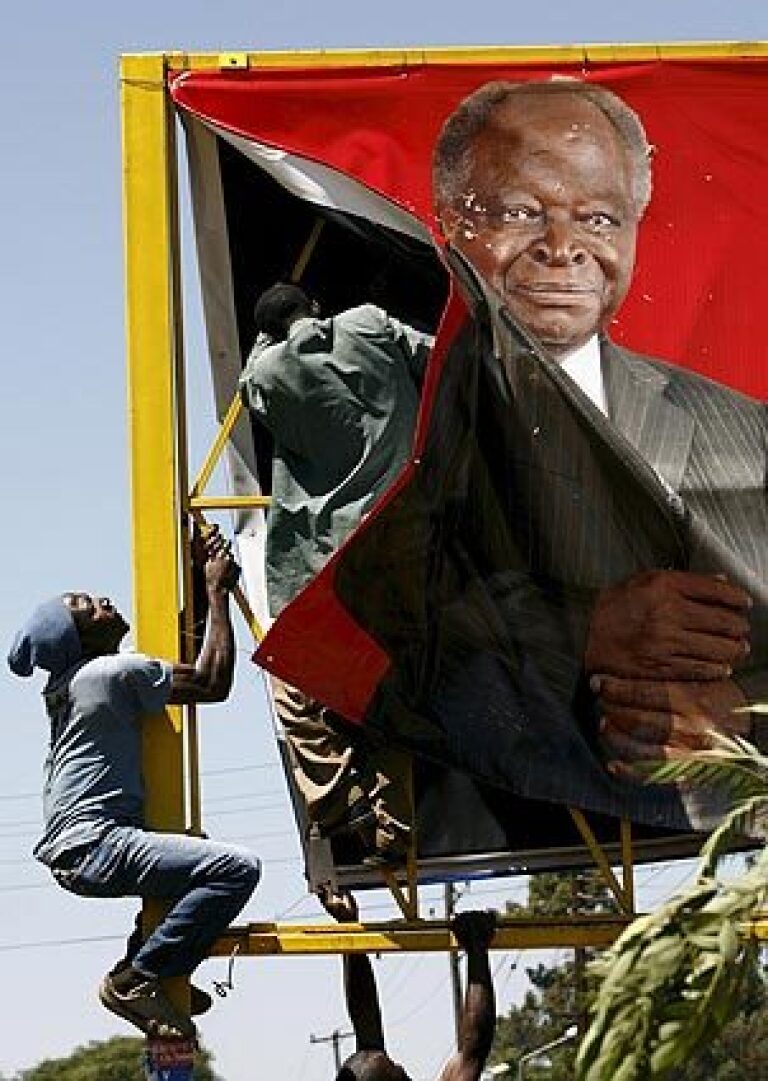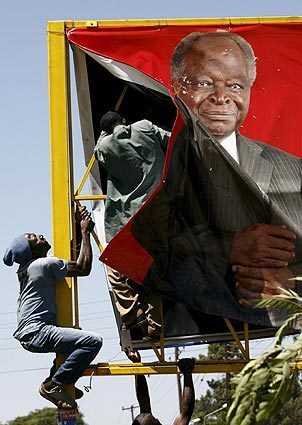 Opponents of President Mwai Kibaki tear down a banner of him in Nairobi. Postelection violence in Kenya has left hundreds of people dead.
(Kim Ludbrook / EPA)
A man tries in vain to put out a fire that destroyed a shopping area during clashes between police and Orange Democratic Movement supporters in Nairobi.
(Kim Ludbrook / EPA)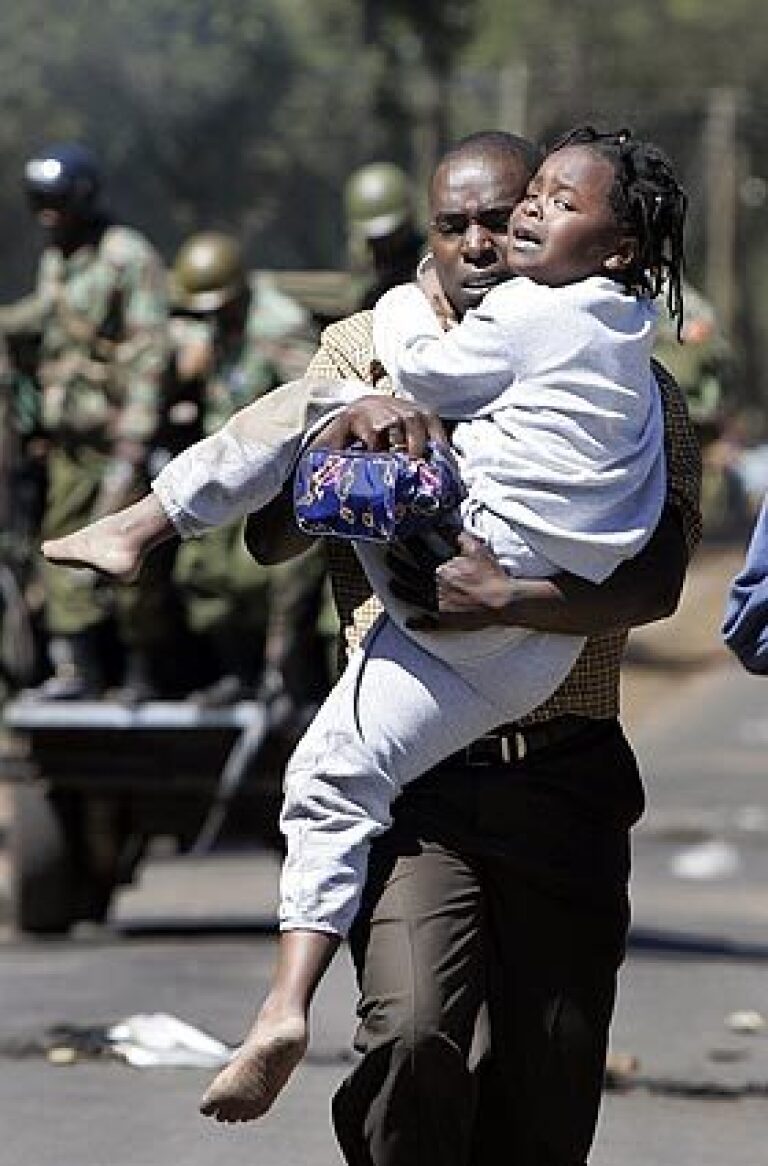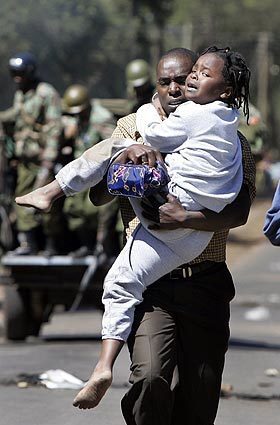 A man in Nairobi carries a frightened girl from an area of wooden kiosks that was set on fire by backers of Raila Odinga's party.
(Ben Curtis / Associated Press)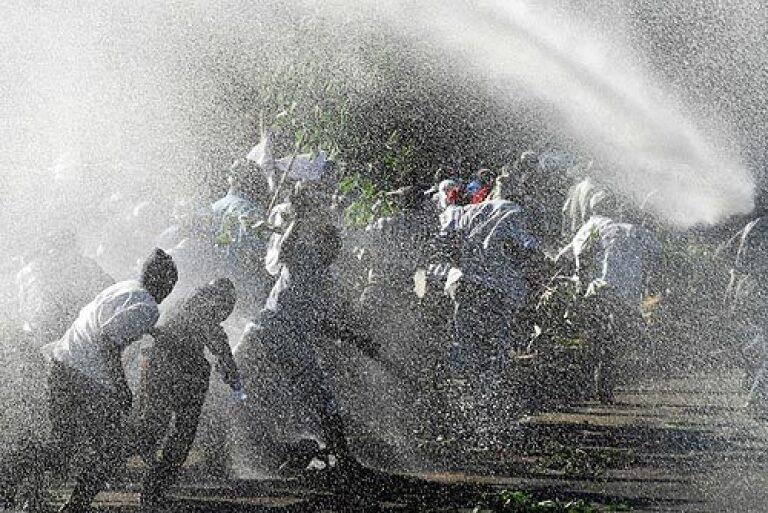 Police use water cannons to disperse the protesters.
(Riccardo Gangale / Associated Press)
Los Angeles Times Staff Writer
NAIROBI, KENYA —
President Mwai Kibaki said Thursday that he was willing to meet with opposition leaders, but only when peace was restored in Kenya.
Hopes of a political settlement to help end the bloodshed and protests over Kenya's disputed presidential election appeared dim despite intense international efforts to bring Kibaki and his rival, Raila Odinga, leader of the Orange Democratic Movement, together.
Riot police blocked protesters in Nairobi's slum districts from going to downtown Uhuru Park for a rally. Odinga postponed it for a day. "The decision we made was that it's better to retreat," said Odinga press secretary Tony Gachoka. "Although there's political capital in moving forward, there's human loss in moving forward."
The chief of the election commission, Samuel Kivuitu, told local media this week that altered tally sheets made it difficult for him to determine whether the election results were accurate.
Odinga and Kibaki blamed each other Thursday for the tribal violence that has cut across Kenya since the Dec. 27 election.
"I am deeply disturbed by the senseless violence instigated by some leaders. Those who continue to violate the law will face its full force," Kibaki told reporters. "I am ready to have dialogue with the concerned parties once the nation is calm and the political temperatures are lowered enough for constructive and productive engagement."
Odinga accused the government of genocide.
"This is a repeat of what has been going on, that people have been attacked by gangs of armed thugs roaming around. Also police officers are shooting to kill, actively ordered to kill. That's why we have talked of genocide, which is being carried out by this government," Odinga told reporters.
President Bush called on both sides to reach a solution.
"It's very important for the people of Kenya to not resort to violence," Bush told Reuters news agency in an interview at the White House. "I believe that they have an opportunity to come together in some kind of arrangement that will help heal the wounds of a closely divided election."
State Department spokesman Sean McCormack said the U.S. was not prescribing what the solution should be.
"They do need to come together, they need to broker some political solution to the political crisis. . . . They are going to have to define that."
South African Nobel laureate Archbishop Desmond Tutu, one of the numerous international figures trying to help mediate, said Kenya's stability had been damaged.
"This is a country that has been held up as a model of stability. This picture has been shattered. This is not the Kenya that we know," Tutu said in Nairobi.
Atty. Gen. Amos Wako said the two sides should agree on an independent figure to carry out an investigation into the election. But the opposition says enough time has passed since the election for the government to further alter the results.
European observers have identified substantial discrepancies in the voting tallies and concluded that the election fell short of democratic standards.
---
Must-read stories from the L.A. Times
Get all the day's most vital news with our Today's Headlines newsletter, sent every weekday morning.
You may occasionally receive promotional content from the Los Angeles Times.