After Trump walked out on him, North Korea's Kim meets with Putin in Russia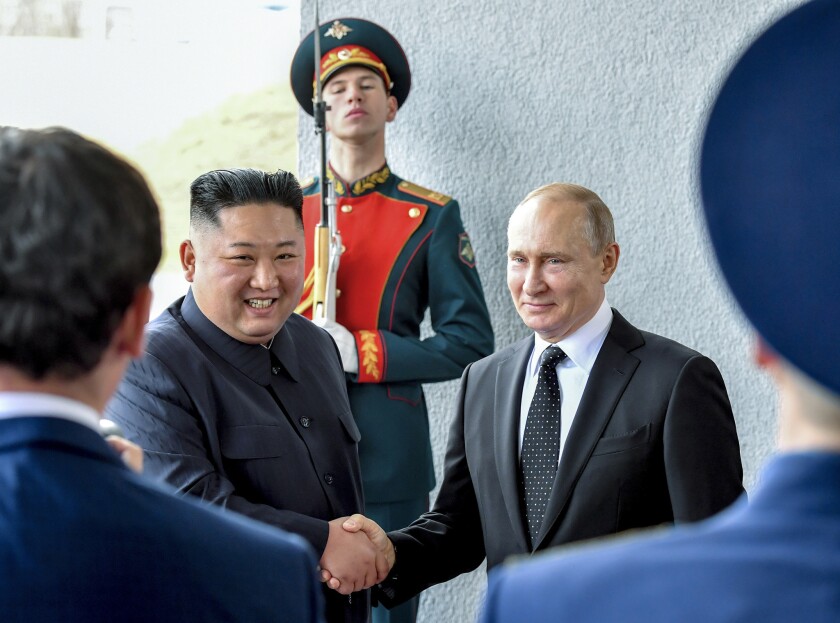 Reporting from Seoul —
Searching for alternatives amid stalled nuclear talks with the U.S., North Korean leader Kim Jong Un on Thursday met with Russian President Vladimir Putin in his quest for support in the region for the easing of the pressure campaign against North Korea for its nuclear program.
The meeting, the first between a Russian and North Korean head of state since 2011, comes as the unprecedented and unconventional diplomacy between Kim and President Trump has ground to a halt after February's summit in Hanoi ended with no agreement on steps to rid North Korea of its nuclear weapons.
The two leaders met on the campus of the Far Eastern Federal University in the port city of Vladivostok, exchanging a long handshake and pleasantries before what was expected to be an hours-long marathon meeting.
Kim told Putin he hoped the visit would "further solidify relations between the two countries with a long history and tradition of friendship."
"With the world's attention on the Korean peninsula, I'm hoping we can have a meaningful conversation … on policies regarding the Korean peninsula," he said.
Putin said he was supportive of Kim's efforts to improve relations with the U.S. and South Korea, and said they would discuss the two countries' trade and economic ties as well as humanitarian matters.
"I am confident that your visit to Russia today will serve the development of bilateral relations, will allow us to better understand how we can resolve the situation on the Korean peninsula, what we can do together, and what Russia can do to support the processes that are currently happening," he said.
Kim made the relatively short trip across the 11-mile border shared between the two countries by armored train Wednesday and was greeted with fanfare including an honor guard and a band.
In a black coat and a fedora, Kim took the rare step of giving an off-the-cuff interview to a Russian state television crew. He said he appreciated the "warm welcome" from the Russian people and expected the summit with Putin would be "an opportunity for a productive conversation for the maintenance of stability in the region."
The North Korean leader's arrival dominated Russian state media news, which ran live broadcasts of his train pulling into the station in the Far Eastern port city, a popular starting point for travelers taking the Trans-Siberia railroad across Russia.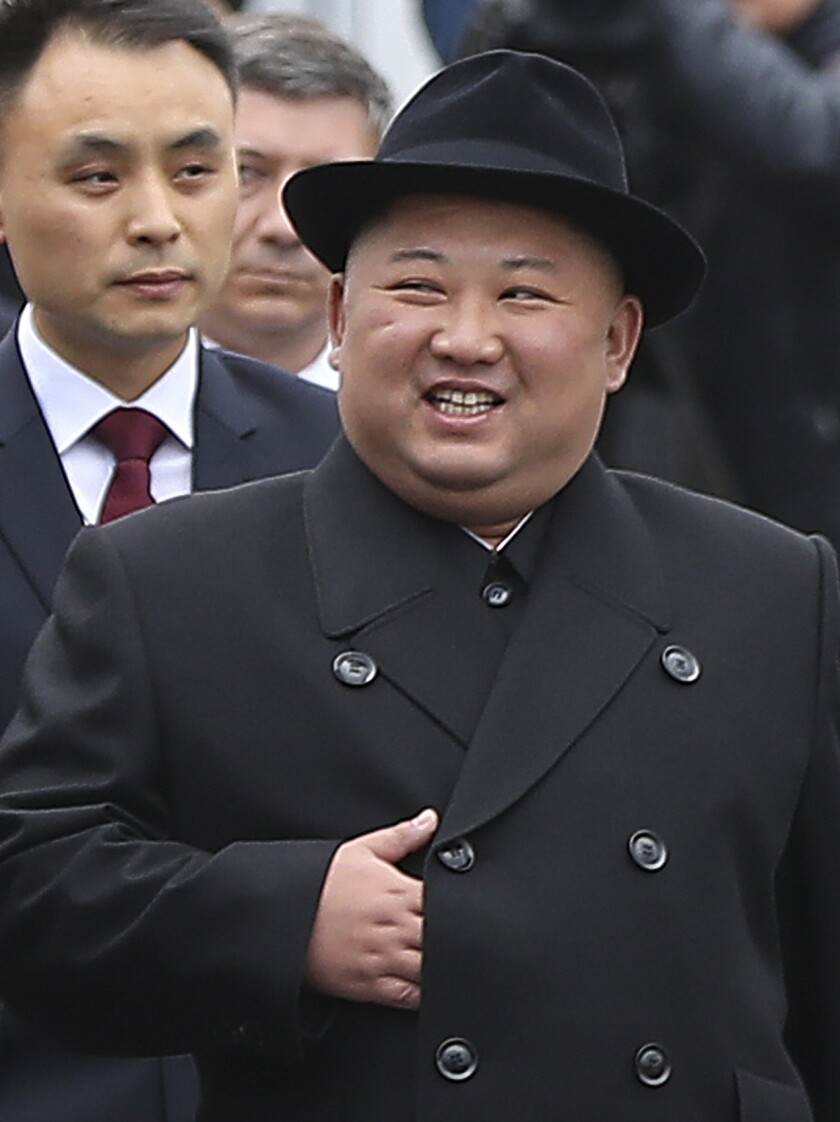 In turning to Russia, a historic ally dating from the Korean War, Kim most likely comes seeking help in easing some of the international sanctions choking North Korea's economy. Kim's second summit with Trump fell apart with North Korea asking for significant sanctions relief, which, the U.S. insisted, would only come after the nation fully denuclearizes.
Analysts said there is little of substance Putin will be able to offer Kim to help North Korea's economy out of its dire state without violating the sanctions Russia signed on to as a member of the United Nations Security Council.
For both Putin and Kim, though, the summit may be more important for its optics than any substantive deal or agreement — particularly for an audience of one in Washington.
Kim Jong Un says he's open to another summit with Trump »
In sitting down to talk, Kim sends the U.S. a message that North Korea has other channels in the region to seek diplomatic breakthroughs, analysts said. Putin, meanwhile, reasserts Russia's role on the world stage and its influence over a thorny diplomatic problem for the U.S.
"Russia wants to show Putin sitting at the table and being the indispensable power," said Alexander Gabuev, senior fellow at the think tank Carnegie Moscow Center. "I don't think anyone expects miracles or breakthroughs."
Andrei Lankov, a Seoul-based Russian scholar and veteran North Korea analyst, said Kim has long declined entreaties by Putin for a summit because Russia has little to offer. Russia accounts for less than 2% of North Korea's trade and has been unwilling to serve as a patron and prop up its regime as the Soviet Union once did during the Cold War.
Kim "understands Russians are not going to shower him with money," Lankov said. "There will be no significant deal, maybe some humanitarian, developmental aid, diplomatic gesture of support."
Russia has thus far gone along with international campaigns to penalize North Korea for its acceleration of nuclear and missile testing in 2016 and 2017. About two-thirds of some 30,000 North Korean guest workers in Russia, an important source of foreign currency for the regime, have been sent home, with the rest of them due to be expelled before year's end.
In a sign that the meeting was being closely watched in Washington, Trump's special envoy for North Korea, Stephen Biegun, visited Moscow last week to meet with Deputy Foreign Minister Igor Morgulov. The two discussed "areas of shared understanding between the United States and Russia with respect to North Korea," according to the State Department.
Kim's summit with Putin may be the latest attempt designed to keep Trump's attention on the Korean peninsula.
In the weeks since the Hanoi summit, North Korea has launched minor provocations without taking any drastic steps that would close the door on diplomacy. It test-fired what state media called a "tactical guided weapon" — not a nuclear weapon or a ballistic missile — and rapidly restored a rocket-launch facility it had previously dismantled.
Jung H. Pak, a former deputy national intelligence officer at the CIA, said Putin could help nudge North Korea toward denuclearization by standing firm and telling Kim that Russia joins all the other nations in the region in wanting a nuclear-free Korean peninsula.
"I see Kim's visiting Russia this week as a sign or a continuation of what he's been doing over the past year — using bilateral relationships and summits to divide the U.S. from the region and create division among the regional partners," she said.
In Vietnam, Trump and Kim Jong Un find symbolism, history — and a shared goal of keeping the press at arm's length »
Kim's meeting with yet another powerful world leader may also be a face-saving measure within North Korea, after he returned empty-handed from Hanoi without the economic relief he had expected, analysts said.
"The biggest thing Kim Jong Un can get out of this is the rehabilitation and elevation of his image and stature," said John Park, director of the Korea Project at Harvard Kennedy School. "You can imagine the coverage this is going to get inside North Korea for a domestic audience."
Times staff writer Kim reported from Seoul and special correspondent Ayres from Moscow.
---
Must-read stories from the L.A. Times
Get the day's top news with our Today's Headlines newsletter, sent every weekday morning.
You may occasionally receive promotional content from the Los Angeles Times.