No 'Divine Comedy,' no 'One Hundred Years of Solitude.' Book banning in Kuwait draws the ire of the intellectual class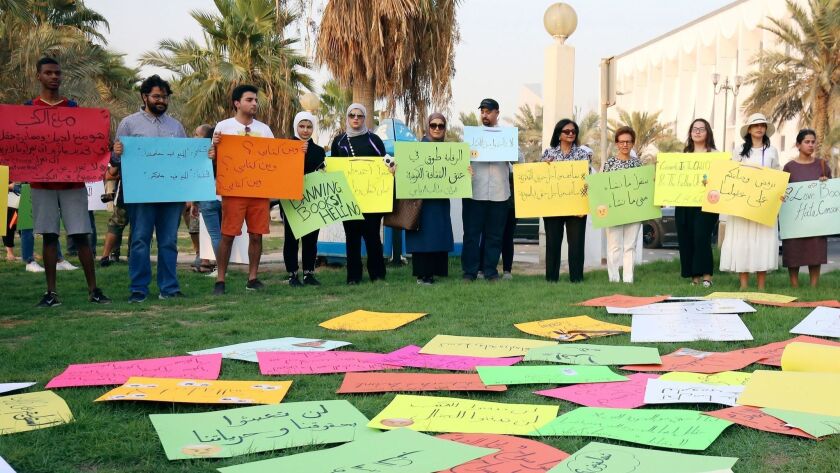 Reporting from Beirut —
Pity budding bibliophiles in Kuwait. They live in a society where Dante and Dostoevsky, the country's own best-known authors and even arcane texts on Islamic jurisprudence have raised the ire of government censors.
Nearly 4,400 titles have been banned in Kuwait in the last five years, an unprecedented level of censorship for a nation once known as the Hollywood of the Gulf for the popularity of its cultural offerings and the open-mindedness of its politics.

For the record:
4:20 p.m. Oct. 2, 2018An earlier version of this article misidentified author Elif Shafak as Elie Shafak.
The injunctions have caused a furor among the country's intellectual class: A few hundred people have held protests outside the National Assembly in recent weeks. Others posted pictures of now-forbidden books they had in their libraries and tweeted under hashtags such as #Banned_In_Kuwait and #Don't_Decide_For_Me.
The outcry began this year when the government responded to an inquiry by lawmaker Khaled Shatti on the number of books banned in the country.
"I asked for information only from the last five years," said Shatti in a recent phone interview. "I thought their written response was going to be in an envelope. Instead, I got 16 cartons of documents with the list along with justifications as to why each book was banned."
In some instances, not using the proper honorific or employing inappropriate mentions of Muslim figures in a way deemed to violate sacred values have resulted in a thumbs-down. Other reasons have included sectarian or politically violent language that could fray national unity, or a passing mention of anything considered racy.
Injunctions of books are handed down by a nine-person committee working under the Ministry of Information. One-page book reports prepared by ministry employees flag content deemed offensive.
As Shatti's staff sifted through the titles and reports, he said, it became clear that censorship is applied arbitrarily and at times based on misunderstandings or, so it seems, outright whim.
Tin-eared monitors, for example, have flagged works based on a misreading of the author's words, he said, or on a lack of understanding of literary symbolism.
"They wouldn't allow something because of what they perceived to be the author's intent.… It's shameful," Shatti said.
Censors have also isolated words and phrases with no sense of context or regard for the story line.
"Let's say a character declares he's an atheist in the middle of a novel but changes his mind in the end. It's a novel after all; there's character development," said Abdullah Khonaini, a Kuwaiti anti-censorship activist and master's student who recently began studying in Britain. "But because the book mentions atheism it's banned."
Other book reports published on social media by Kuwaiti anti-censorship group Meem3 show that such concerns as the bikini top worn by the Little Mermaid are enough to ax an illustrated book on fairy tales.
Also forbidden: a Marvel Comics encyclopedia, a book on Egyptian history and a book of sayings by Sufi Muslim scholar Rumi.
The ban has taken on greater urgency in recent weeks, as the scope of the state's censorship has become clear in the run-up to Kuwait's annual book fair.
The event, held each November since the 1970s, had given Kuwait a reputation as the Persian Gulf's most open society.
But this year's iteration won't have copies of Gabriel Garcia Marquez's "One Hundred Years of Solitude," even though six editions of the book, which was initially published more than 50 years ago, had entered the country with no problems.
Readers seeking Dante's "The Divine Comedy," the second part of Dostoevsky's "The Brothers Karamazov" or the Egyptian author Naguib Mahfouz are also out of luck. You'll find an English-language edition of Elif Shafak's "The 40 Rules of Love," but not the one in Arabic.
Mai Nakib, a literature professor at Kuwait University who won awards for her short-story collection "The Hidden Light of Objects," discovered it on the list of banned books shortly after landing in Kuwait from vacation last month.
"I don't know the specific reason behind the banning of my book, but if recent examples are anything to go by, the reason will no doubt be arbitrary and ridiculous," she said in an email.
"It saddens me that my book, which is, in many ways, a love letter to Kuwait, will no longer be openly available to citizens and residents of this country."
Many see the ban as an extension of a years-long erosion of the liberal political system the country had enjoyed until the Persian Gulf War, which began in 1990.
With conservatives gaining ground in parliament, the government introduced a law in 2006 that strengthened press freedoms but also upped punishments for publishing materials that insulted Islam, criticized the country's ruler or called for leadership change.
"It's a situation where you can write something in the newspaper and it's no problem. The same topic in a book will get banned and will get you punished and imprisoned if it's on social media," Khonaini said.
More recently, a 2015 cybercrime law criminalized online criticism of government officials, members of the royal family, religious figures and foreign leaders, according to the watchdog organization Freedom House. Violations carry a prison term of up to 10 years.
Conservative lawmaker Mohammad Hayef, on the other hand, approves of the committee's work, saying the committee was important in blocking books that promote atheism, drugs and profligacy.
"We salute this committee, which should not pay any heed to these dissonant calls and voices," he said in parliament last week.
Meanwhile, Mohammad Jabri, who just completed his first year as the country's minister of information, dismisses complaints as a "censorship boogeyman" that is "overblown" because the bulk of bans were decided before his tenure.
"The ceiling of freedoms here is high. In 2018 alone we've allowed 12,000 books to pass and banned only 65 books," Jabri said in a phone interview.
Jabri said that he was working within the laws that parliament had approved and that in any case, a ban can be appealed within 60 days.
That has done little to mollify people like Saadiah Mufarreh, a poet and cultural critic.
"The problem isn't in censorship per se, so much as it is that there aren't clear parameters for censorship. A book is banned one year, accepted the next. Banned in the book fair, but available in bookstores," she said in a phone interview .
Lawmaker Shatti was more pointed in his criticism, saying that the government was succumbing to conservative forces with a harsh Islamist worldview.
"Look, many of these books are ones that I wouldn't agree with," he said. "But I still think people should read them."
Twitter: @nabihbulos
---
Must-read stories from the L.A. Times
Get the day's top news with our Today's Headlines newsletter, sent every weekday morning.
You may occasionally receive promotional content from the Los Angeles Times.