Lockerbie bomber dies in Libya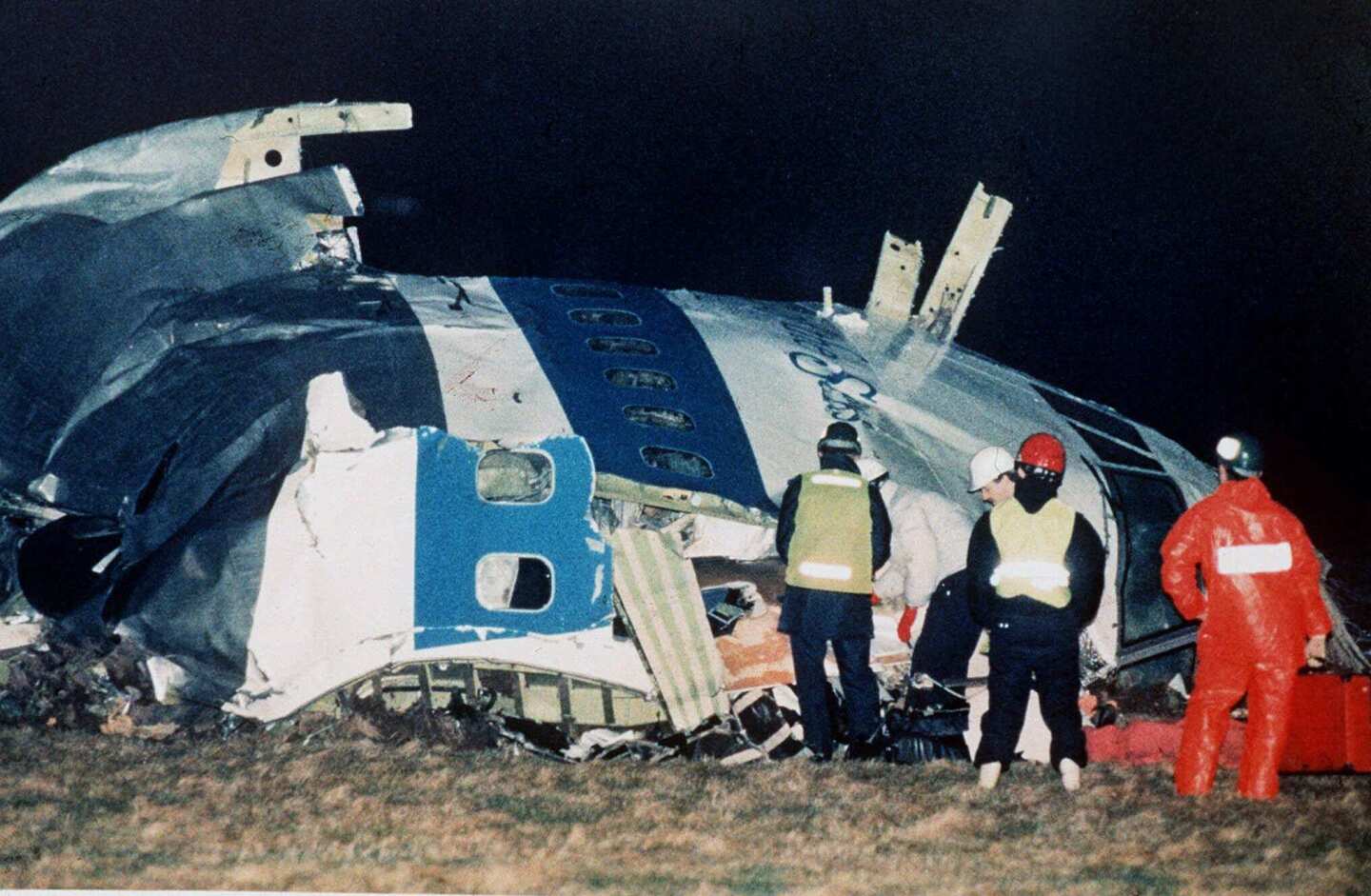 Rescue workers examine the nose of Pan Am Flight 103 near the town of Lockerbie, Scotland, after a bomb aboard exploded and killed 270 people on Dec. 21, 1988.
(Martin Cleaver / Associated Press)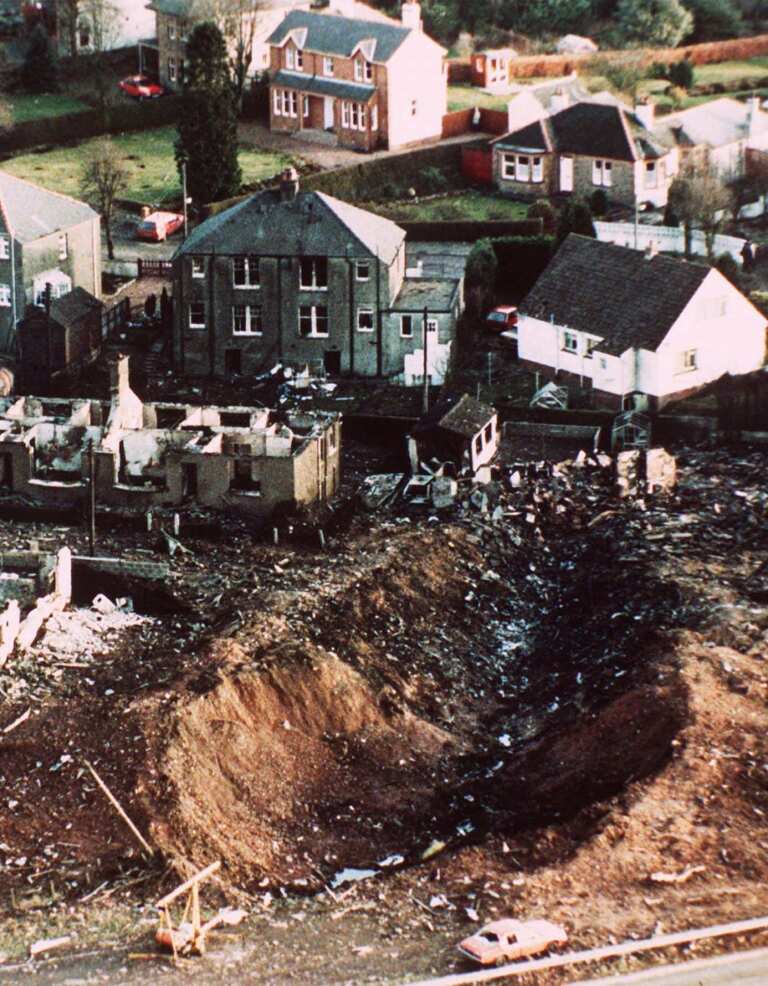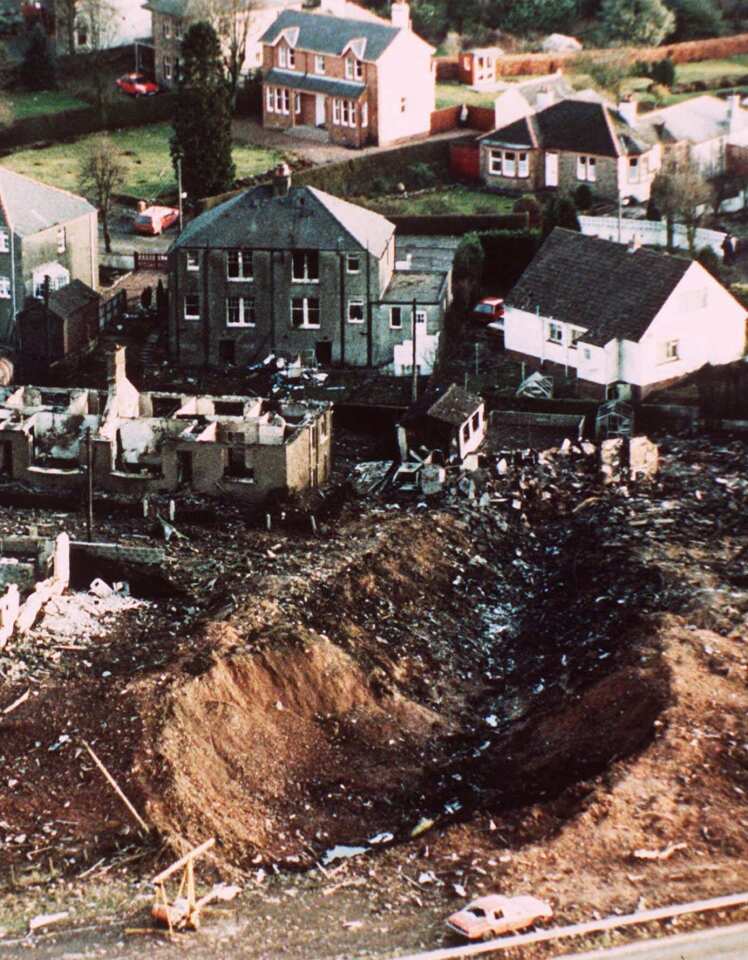 The explosion of Pan Am Flight 103 left burned-out houses and a huge crater near Lockerbie, Scotland, in December 1988.
(Martin Cleaver / Associated Press)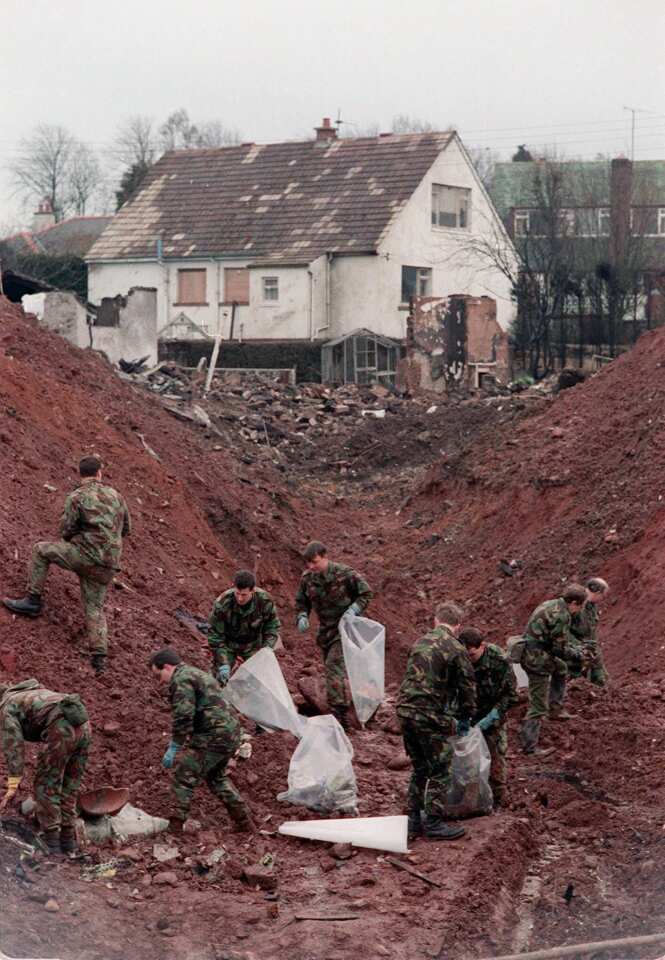 Soldiers search the crater left after the crash of Pan Am Flight 103 near the town of Lockerbie, Scotland, on Dec. 21, 1988.
(Martin Cleaver / Associated Press)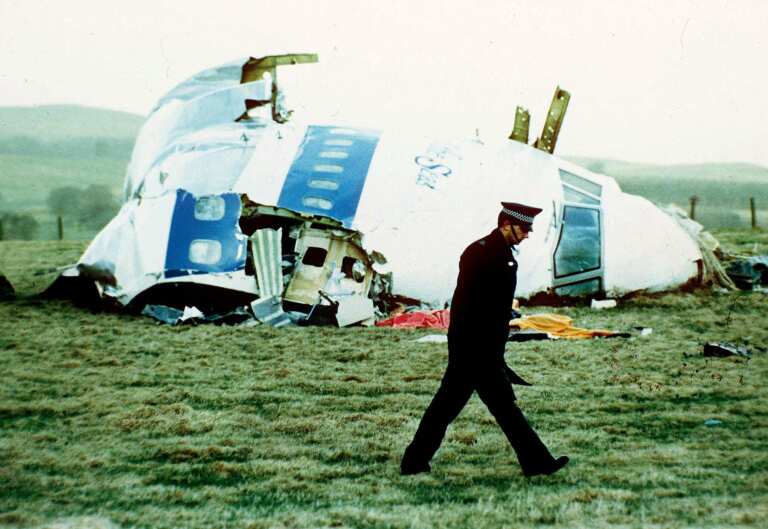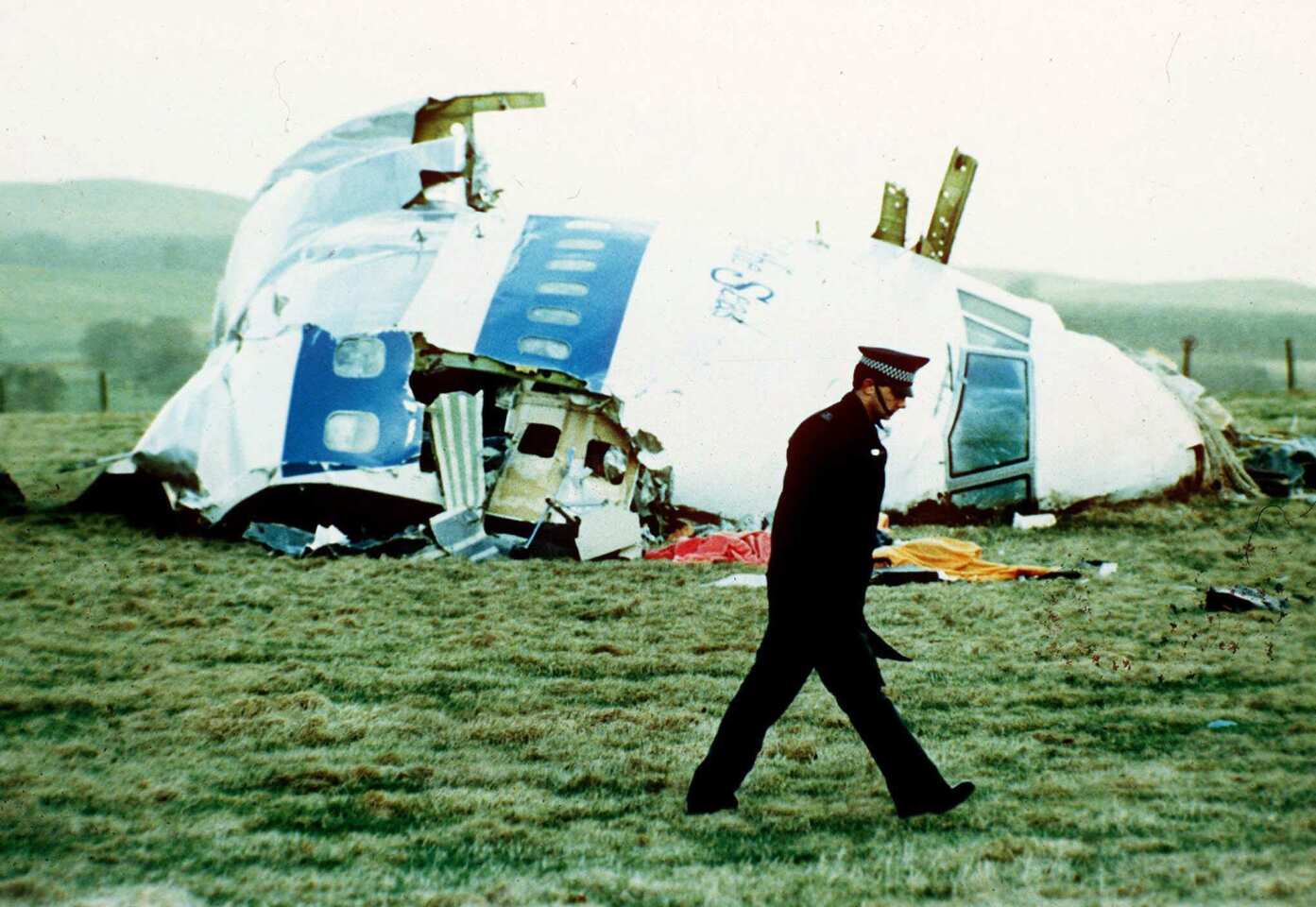 A police officer walks by the nose of Pan Am Flight 103 in a field near the town of Lockerbie, Scotland, on Dec. 21, 1988.
(Martin Cleaver / Associated Press)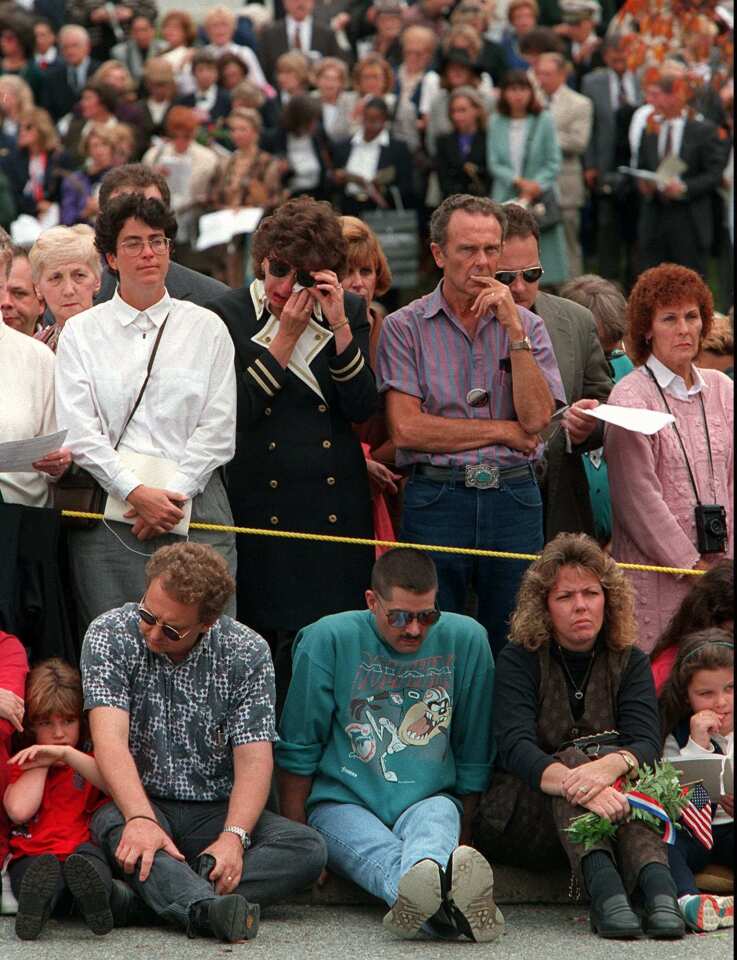 Grieving participants listen to names of victims of Pan Am Flight 103 read at the Lockerbie Memorial on Nov. 3, 1995, at Arlington National Cemetery.
(Denis Paquin / Associated Press)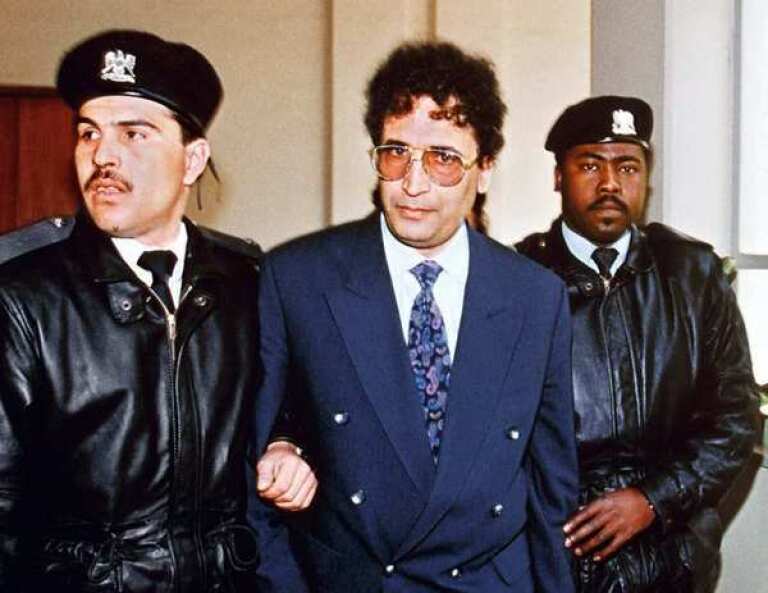 Convicted Lockerbie bomber Abdel Basset Ali Megrahi, center, is escorted by security officers in Tripoli in 1992.
(Manoocher Deghati / AFP/Getty Images)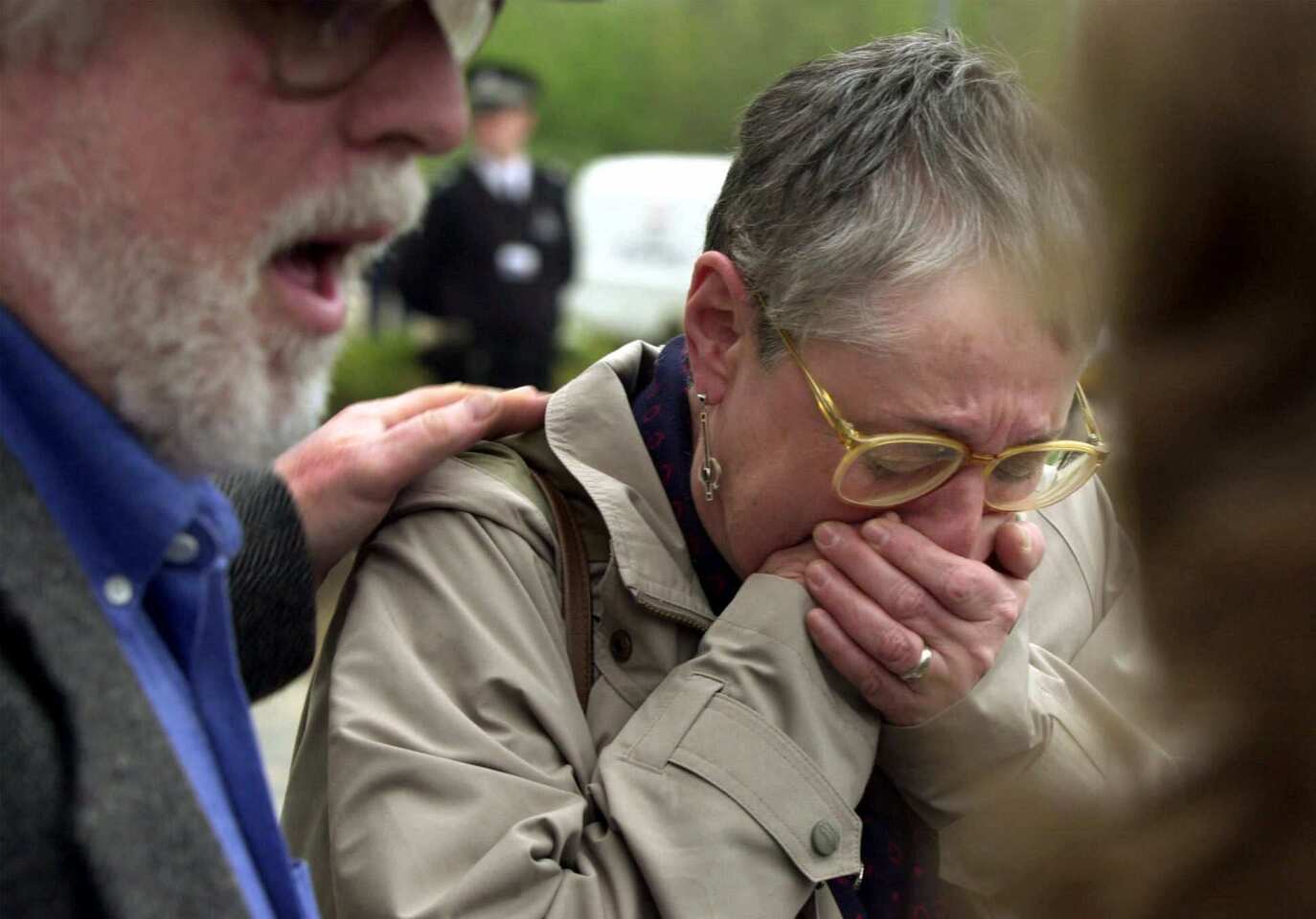 Susan Cohen of Cape May Court House, N.J., is comforted by her husband, Dan, as she breaks down after leaving the Scottish Court at the end of the first day of the trial against two Libyans at Camp Zeist, Netherlands, in 2000.
(Peter Dejong / Associated Press)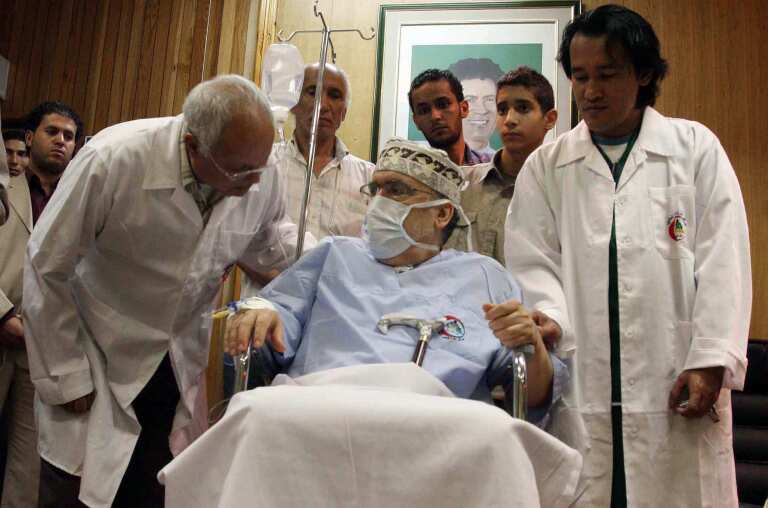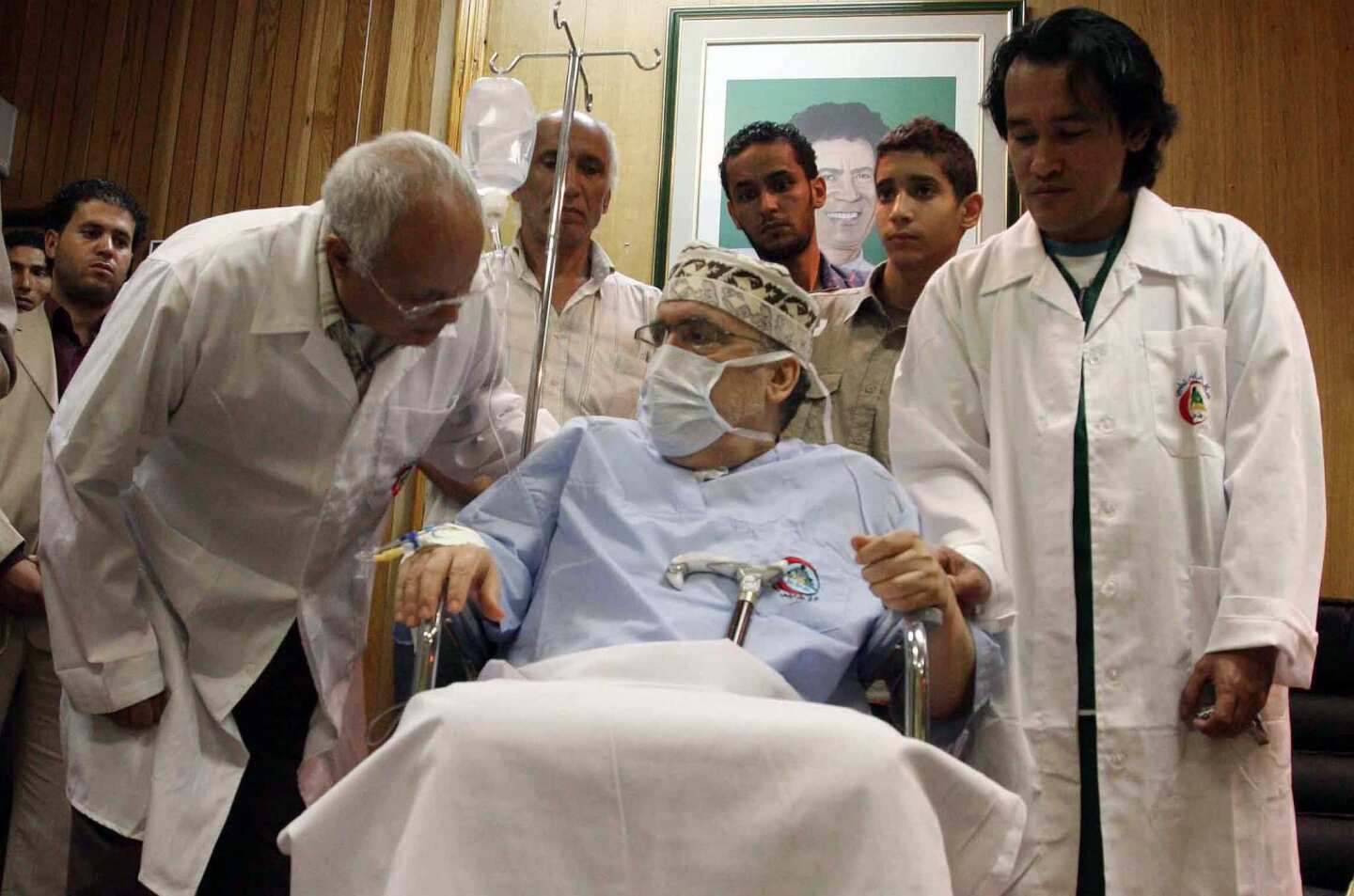 Convicted Lockerbie Pan Am airline bomber Abdel Basset Ali Megrahi, in wheelchair, is visited by a delegation of African parliamentarians at Tripoli Central Hospital in Libya. Megrahi died in 2009.
(Sabri Elmhedwi / EPA)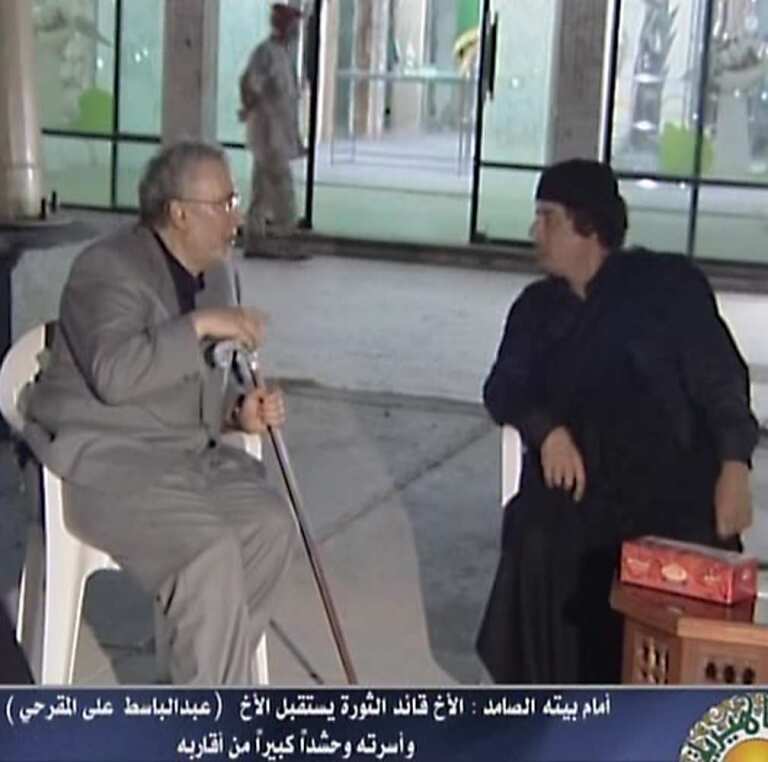 In this image taken from a newscast on Libya's official television, Libyan leader Moammar Kadafi meets with freed Lockerbie bomber Abdel Basset Ali Megrahi in Tripoli in 2009.
(AFP/Getty Images)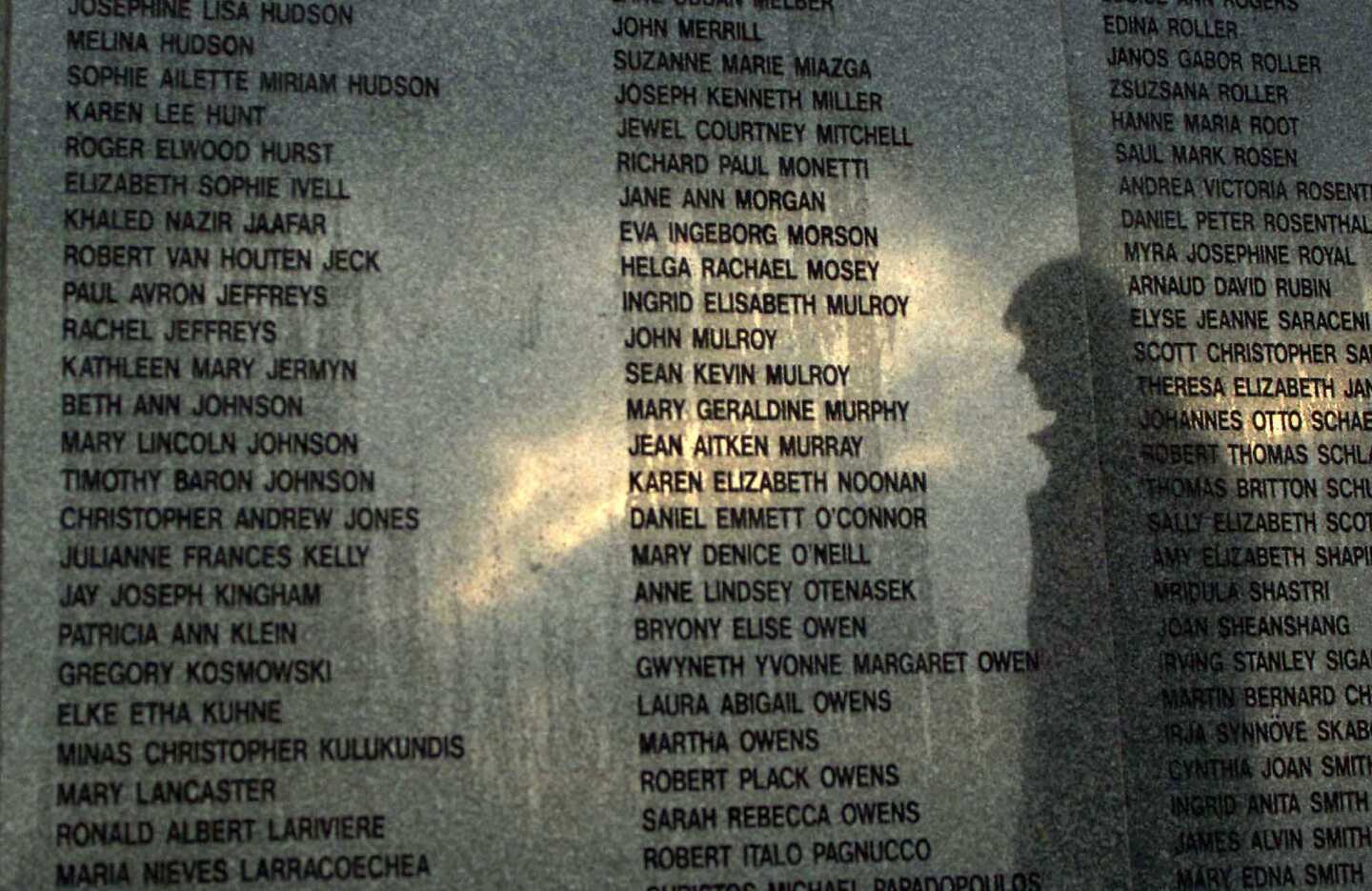 A person's shadow in 2001 falls on a memorial for those who died in the bombing of Pam Am Flight 103 in Lockerbie, Scotland, in 1988.
(Alastair Grant / Associated Press)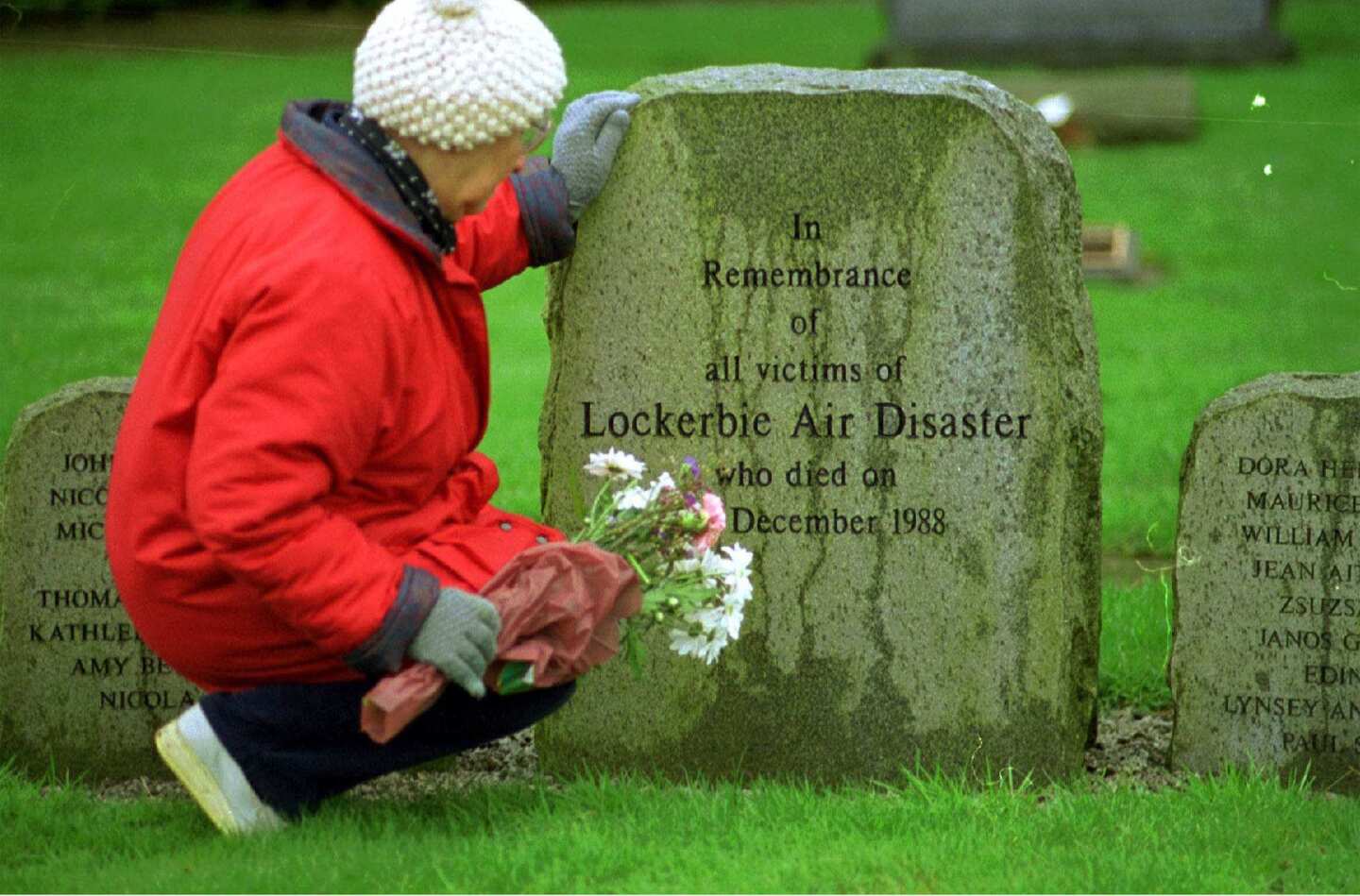 A mourner pays her respects at the memorial to the 270 victims of the crash near Lockerbie, Scotland, in 1998.
(James McEwan / Associated Press)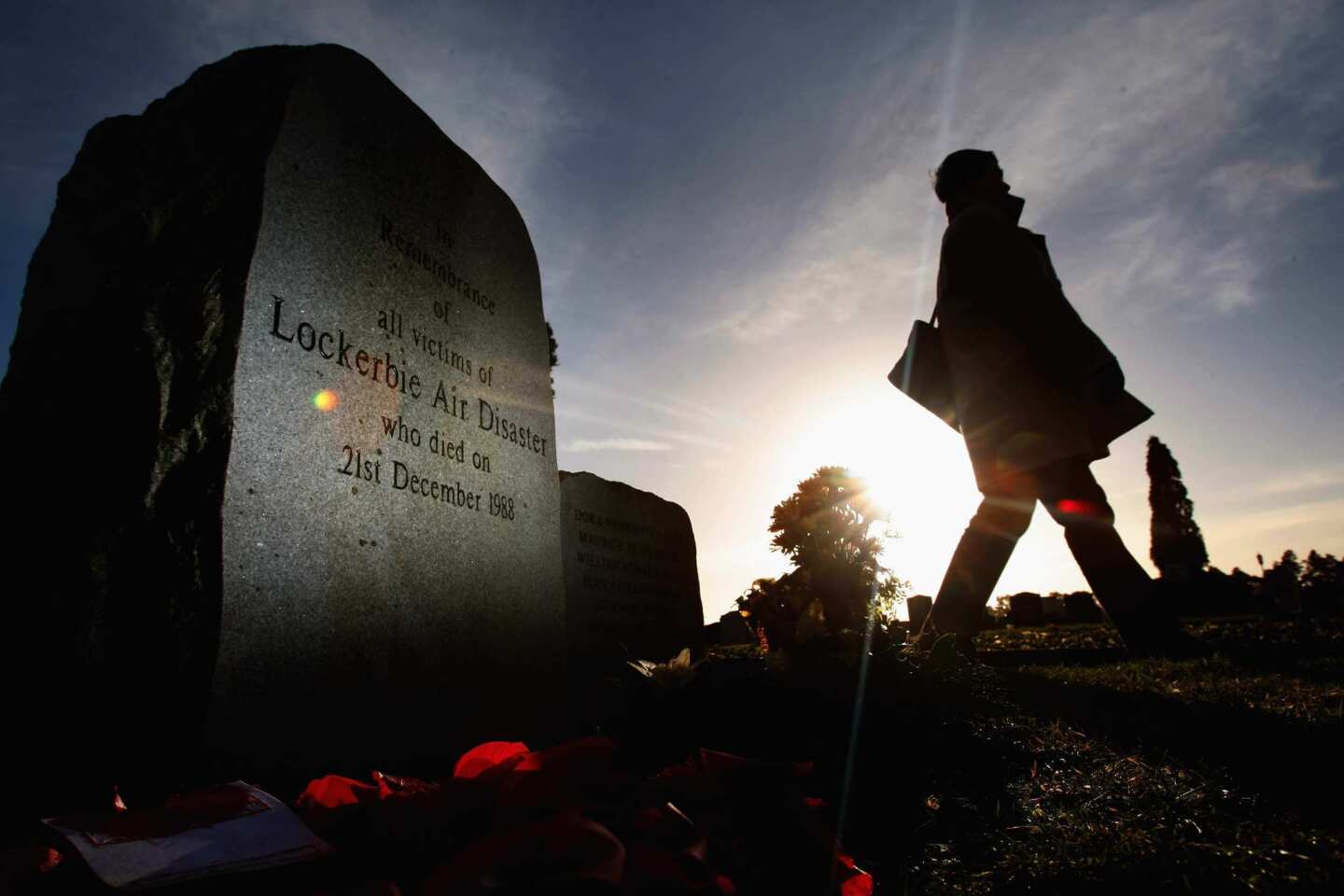 A memorial to the Lockerbie bombing victims is shown in 2008.
(Jeff J Mitchell / Getty Images)
TRIPOLI, Libya — The Libyan intelligence officer convicted in the 1988 bombing of an American airliner over Lockerbie, Scotland, died at home here Sunday nearly three years after passions around the case were reawakened when he was freed on compassionate grounds because of what was reported as advanced prostate cancer.
Abdel Basset Ali Megrahi, 60, became a symbol of state-sponsored terrorism under the late Libyan dictator Moammar Kadafi. Megrahi repeatedly denied a role in the downing of Pan Am Flight 103, which killed 270 people, including 189 Americans, and led to Libya's further isolation as a rogue state.
Diminished and purportedly close to death, Megrahi was freed from custody by Scotland in 2009 on humanitarian grounds. The gesture was scorned by the families of victims and condemned by Western leaders, including President Obama.
The release was seen as part of a deal for Kadafi to steer oil and gas contracts to Britain. British and Scottish officials have denied the accusation.
Megrahi returned to Tripoli to a hero's welcome as Kadafi, a master of intrigue and theatrics, finessed the homecoming into a propaganda ploy. International bitterness around the release intensified as months and years went by and Megrahi appeared to outlast his fatal illness. News about his fate persisted through Libya's civil war last year and Kadafi's demise at the hands of rebels.
"We want to see justice for the victims of the Lockerbie bombing and their families. We will continue working with our new partners in Libya toward a full accounting of Kadafi's horrific acts," White House National Security Council spokesman Tommy Vietor said Sunday.
Word of Megrahi's death spread slowly in Libya, now caught in a struggle between tribes and factions over the nation's shaky future. Megrahi had long been regarded as a curiosity and a scapegoat, a man with curly black hair, big sunglasses and at one time a $4-million ransom on his head for the deadliest terrorist act in British history.
"All Libyans know his face, but no Libyan really knows him," said 25-year-old Arafa Mohammed, who works at a restaurant near Megrahi's home. "We do not know what he has or has not done. It is a mystery."
With both Kadafi and Megrahi dead, it is unlikely that a precise picture will emerge of the full details of the attack. Other perpetrators are believed still at large in a crime that scattered wreckage and bodies across Scotland and spawned an investigation that stretched from Malta to Iran. Libya endured years of sanctions for refusing to extradite Megrahi in 1991.
Megrahi and codefendant Lamen Khalifa Fhimah were eventually tried in the Netherlands. Fhimah was acquitted.
Megrahi was found guilty in 2001 of masterminding the sneaking of a cassette player rigged with a bomb and hidden in a suitcase onto the plane. He was sentenced to life in prison but the case was marred by inconsistent evidence, sketchy witnesses and international pressure for a culprit.
"I am an innocent man," Megrahi, the only person convicted in the case, said in his last interview, published in several British papers in December. "I am about to die and I ask now to be left in peace with my family."
Relatives of Pan Am 103 victims said Sunday that Megrahi's death does not lessen the crime.
"Fine. He deserved to die," Susan Cohen of New Jersey, whose daughter, Theodora, died in the attack, told CNN. "He was a mass murderer. I feel no pity around him. He got to die with his family around him. My daughter, at age 20, died a brutal, horrible death."
Emotions were also raw in Tripoli. Ala Kirkara, 34, who runs a small street stall near Megrahi's home, said Megrahi was guilty and blamed him partially for Libya's problems. "Because of him, we had 10 years of sanctions," he said.
Another man, who asked not be named, said: "The guy is dead; his troubles are over. It's over now."
Times staff writer Fleishman reported from Cairo and special correspondent Johnson from Tripoli.
---
Must-read stories from the L.A. Times
Get the day's top news with our Today's Headlines newsletter, sent every weekday morning.
You may occasionally receive promotional content from the Los Angeles Times.