Drones in the sky and passengers on the ground: London's Gatwick Airport briefly halts flights once again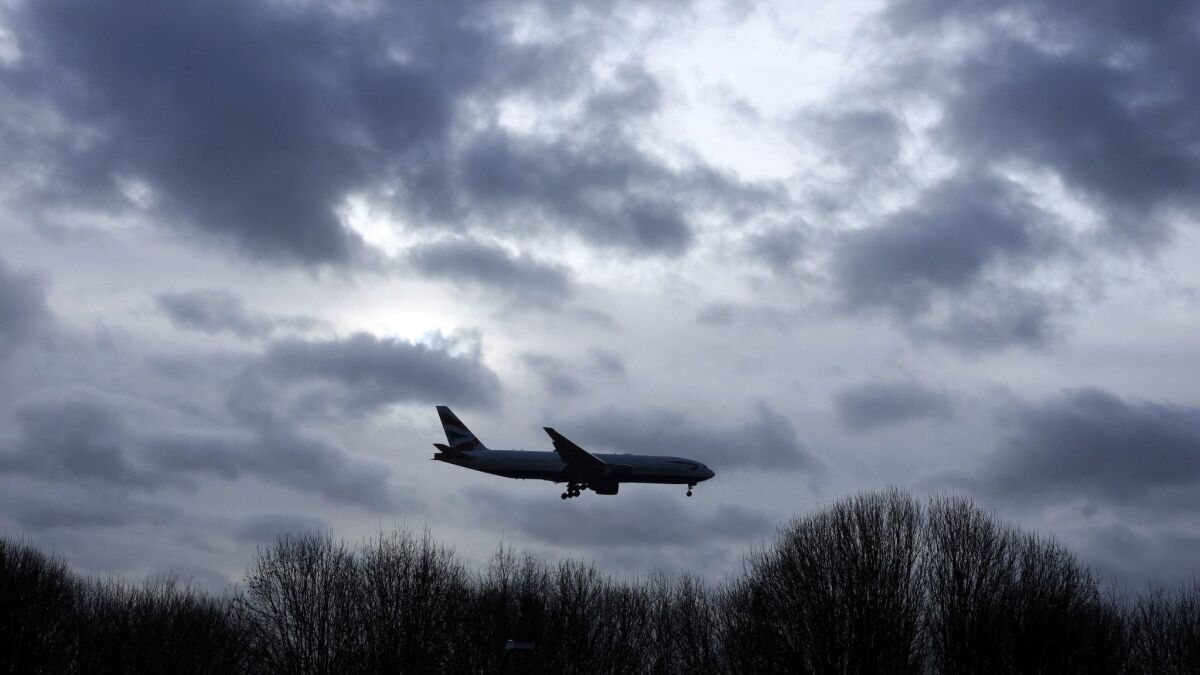 Reporting from London —
New drone sightings Friday caused fresh chaos for holiday travelers at London's Gatwick Airport, which reopened in the morning after a 36-hour shutdown only to hastily suspend flights again for more than an hour in the late afternoon on one of the busiest travel days of the year.
The reopening, closing and re-reopening of Britain's second-busiest airport because of repeated drone sightings raised a host of questions for British officials — how safe is it to fly with drones in the sky, and why can't the country's police, military and aviation experts catch those responsible? Authorities have been investigating the drone invasions since Wednesday.
The Friday flight suspension at Gatwick caused still more delays and cancellations just as the holiday travel season peaked. Tens of thousands of travelers have been stranded or delayed due to the persistent drone scare at Gatwick, located 30 miles south of London.
The latest drone sighting came after British police and transport officials said extra measures had been put in place to prevent drones from intruding on the airport, which serves 43 million passengers a year.
Military forces with special equipment have been brought in and police units are working around the clock, but the drone operators have not been found. Police said they believe the drone operation is a deliberate attack on the airport to cause maximum disruption during the holiday rush.
British police said there are no indications the drone incidents are "terror related."
Gatwick reopened about 6 a.m. Friday after having been shut down Wednesday night and all day Thursday after authorities said drones repeatedly violated the airport perimeter, threatening the safety of incoming and outgoing planes.
Transport Secretary Chris Grayling said early Friday there had been about 40 sightings of "a small number of drones" while the airport was shut down. He told the BBC that the drone disruption at Gatwick was "unprecedented anywhere in the world."
Grayling said additional "military capabilities" and a range of security measures had been put in place overnight but would not elaborate. He said the airport was considered safe for flights Friday even though the drone operator or operators had not been apprehended.
The Thursday shutdown upended the travel plans of tens of thousands of passengers. After flight operations restarted Friday, the airport struggled to resolve a massive backlog of passengers and canceled, delayed or diverted flights. The number of passengers expected Friday was even higher than the previous day, and about 145 of Friday's 837 scheduled flights at Gatwick were canceled to handle the crush.
Then, in a shock, Gatwick takeoffs and landings had to be suspended again as a "precaution" after reports that a drone was spotted about 5:10 p.m., the airport said.
Planes circled over London or sat at Gatwick gates, waiting to find out what would happen Friday night, before getting an "all-clear" message about 80 minutes later.
"The military measures we have in place at the airport have provided us with reassurance necessary to reopen our airfield," airport officials tweeted moments after flights resumed.
The hundreds of travelers who were stuck overnight at Gatwick by Thursday's closure described freezing conditions as they slept on benches or the airport floor. Many complained they weren't being kept informed about rerouted flights.
British officials, meanwhile, were debating whether shooting down a drone was an available "tactical option" due to concerns that such an action could inadvertently hurt people on the ground.
"Shooting the drone out of the sky is probably one of the least effective options" available, said Assistant Chief Constable Steve Barry of Sussex Police.
He said police believe that there was more than one drone operating around Gatwick in the last two days and that it was possible the drones were being operated from a distant location.
---
Must-read stories from the L.A. Times
Get the day's top news with our Today's Headlines newsletter, sent every weekday morning.
You may occasionally receive promotional content from the Los Angeles Times.