Fifteen children die in South Sudan after untrained workers vaccinate them with dirty needles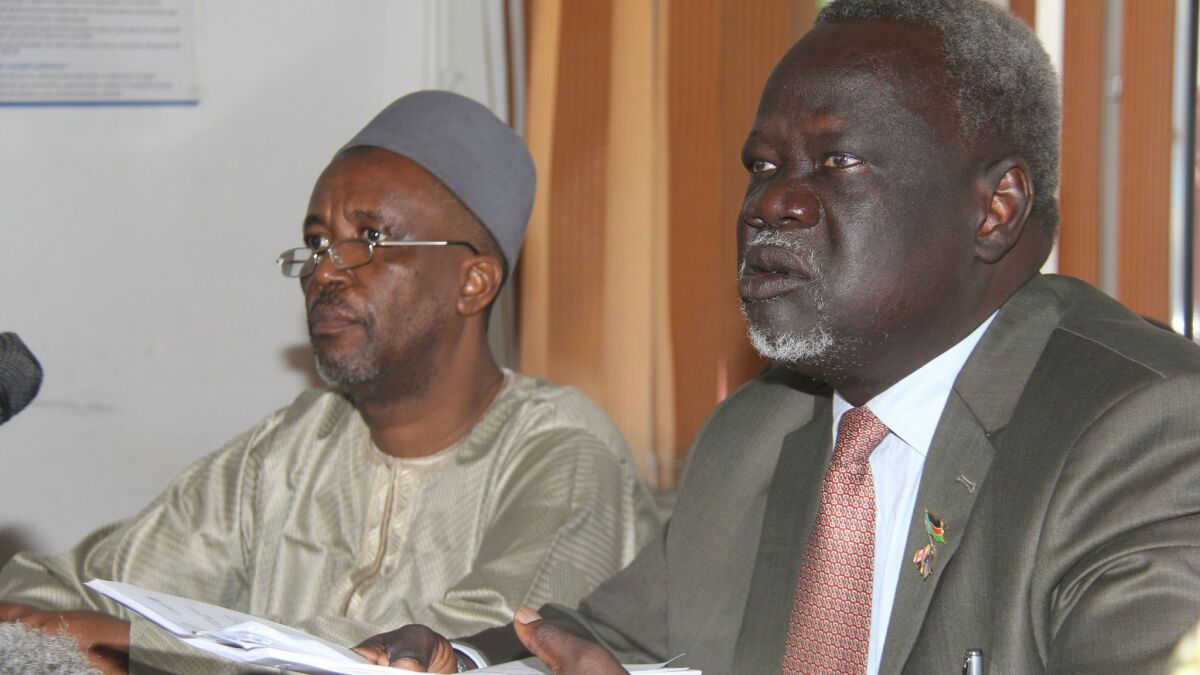 Reporting from Johannesburg, South Africa —
Fifteen children died and dozens more fell ill after vaccination workers ignored basic hygiene procedures during South Sudan's national measles vaccination campaign last month.
A government inquiry found that the needles were dirty, used repeatedly to inject different children, and the vaccines were not refrigerated, with unqualified workers administering the vaccinations.
The government investigation supported by the World Health Organization and UNICEF found that in addition to the deaths, 32 children became ill as a result of infection caused by contaminated vaccination needles.
The deaths occurred in Nachodokopele, a remote village in Namorunyang state in the southeast part of the country.
A statement by the WHO and UNICEF said the deaths could have been prevented had the correct immunization procedures been followed, adding that the staff that administered the vaccinations was not "qualified or trained."
Three hundred people, mainly children, were vaccinated over four days in the first week of May, using one single needle. The vaccinations sat in a building with no refrigerator for four days. Within days, children were sick or dying and by May 8, the World Health Organization got news of the crisis.
South Sudan in East Africa is one of the world's least developed countries, with poor literacy rates and low school completion rates, particularly among girls and in rural areas. Unemployment is high. Some areas have been hit by famine because of conflict, insecurity and soaring food prices.
Some 5.8 million people need humanitarian assistance, according to the U.N., and 2.1 million have fled their homes due to conflict. There have been several measles outbreaks because the national vaccination campaign has missed children displaced by conflict or located in areas too insecure for vaccination workers to operate.
Amid a global campaign by anti-vaccination activists, the WHO and UNICEF said measles vaccinations were safe if correctly used. The vaccination opponents' campaign has recently resulted in falling vaccination rates in many countries and in deadly outbreaks of measles in several countries, including the U.S., Canada, Mexico and some European countries.
At least 69 cases have been recorded in Minnesota recently. In Romania, more than 5,300 cases have been reported since September last year and 25 people have died, according to Romanian health officials.
Measles is a highly contagious, life-threatening disease caused by a virus, which kills 134,200 people annually, mainly in some African and Asian nations where children are not vaccinated. But in the past 15 years there has been a steep increase in the number of children vaccinated globally. The number of cases globally dropped by 79% between 2000 and 2015 as vaccinations increased in many parts of the world, according to the WHO.
In South Sudan, the measles vaccination campaign is administered by the Ministry of Health, with funding and technical advice from the WHO.
An official from Kapoeta county where the botched vaccinations took place, Lorika Stella, told local journalists she was unaware of the vaccination campaign in the village and blamed local officials for the deaths.
WHO spokesman Tarik Jasarevic, said the WHO had issued a field book on vaccinations which emphasized that vaccinations should only be carried out by properly trained staff. The field guide also includes hygiene procedures and emphasizes the need for refrigeration.
"The WHO role in vaccination training extends only to training the county or hub supervisor," Jasarevic said in an emailed response to questions. "The training protocols that are used for training the county or hub supervisor are expected to be used to train at the lower levels."
Jasarevic said the WHO would take steps to prevent similar tragedies in future.
"In particular, WHO will be examining how we select, supervise and manage the training of all those involved in vaccination campaigns in South Sudan to prevent or mitigate this type of tragedy in the future," he said.
Timothy Irwin, a UNICEF spokesman in South Sudan, said the organization would work with the government to improve procedures so that the incident was never repeated.
"The deaths of these children is a tragedy and our thoughts are with their families," he added.
A spokesman for the South Sudanese health ministry did not pick up calls Friday.
Twitter: @RobynDixon_LAT
ALSO
One of South Africa's top tourist destinations is almost out of water
The day road rage led to a treason charge in Zambia, as democracy falters in Africa
South Africa's president has survived a rape trial, corruption charges and many bids to oust him
---
UPDATES:
11:30 a.m.: This article was updated throughout with staff reporting and additional details.
This article was originally published at 2:15 a.m.
---
Must-read stories from the L.A. Times
Get the day's top news with our Today's Headlines newsletter, sent every weekday morning.
You may occasionally receive promotional content from the Los Angeles Times.