2 European cyclists found dead in Mexico were killed, not accident victims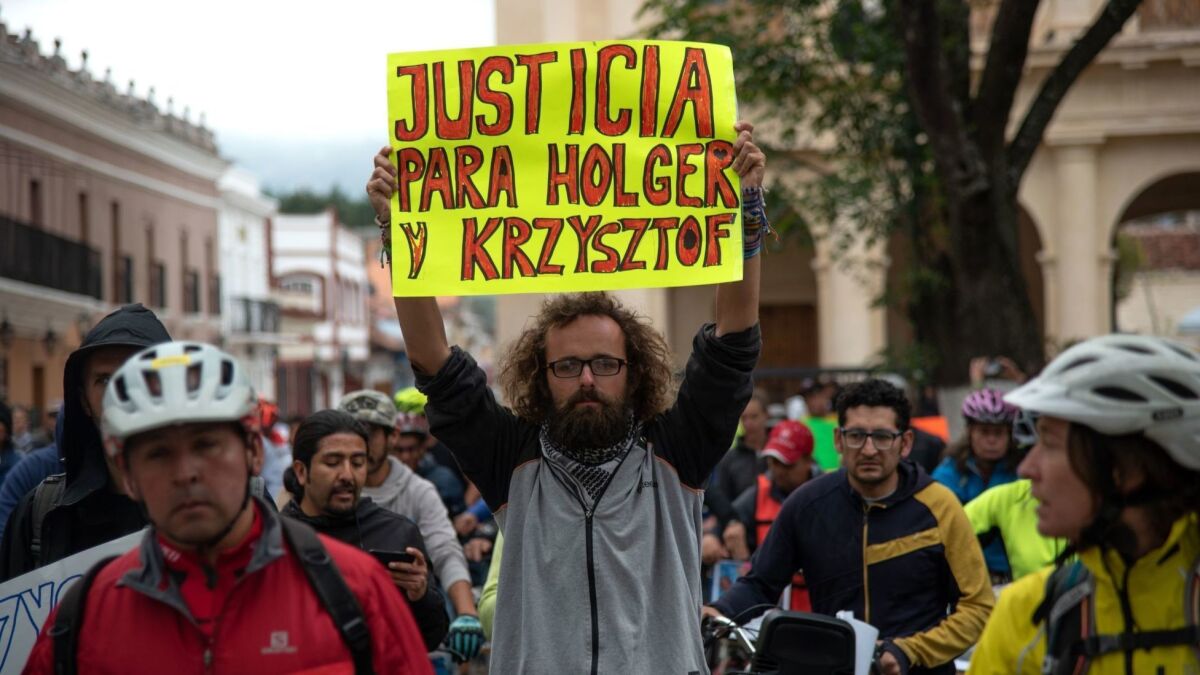 Reporting from Mexico City —
A pair of European cyclists who disappeared in southern Mexico last month and whose remains later turned up in a rural ravine were victims of an armed robbery and not an accident, a Mexican prosecutor said Friday.
One cyclist was shot in the head and his companion likely died from a head wound caused by a beating, Luis Alberto Sanchez, the chief homicide prosecutor in Mexico's Chiapas state, told the Mexican media.
Last week, a different state prosecutor had said there was no indication of foul play in the high-profile disappearance.
The case of the missing cyclists — Holger Franz Hagenbusch, a German national, 43, and his Polish traveling companion, Krzysztof Chmielewski-Podroznik, 37 — has reverberated for weeks on social media and in the European and Mexican press.
Mexico has seen a spike in murders and other crime that has almost exclusively victimized Mexican citizens and does not appear to have had a major effect on the nation's multibillion-dollar tourism industry. Officials in Chiapas vowed to increase security along highways in the wake of the cyclists' killings.
The bearded Hagenbusch — pictured in Facebook photos with a broad smile as he sipped soft drinks and listened to music in Mexico — was a veteran cyclist and adventurer who had pedaled through Asia, Europe and the United States before coming to Mexico, according to social media postings. He was planning a trip to Africa.
Last week, after authorities announced that the body of the Pole had been found, an assistant state prosecutor in Chiapas declared publicly that he had likely died in an accident. The narrow road on which the cyclists were riding featured a precipitous drop into the adjoining ravine, authorities said.
But Friday, Sanchez said the two cyclists were victims of an "assault," with robbery a likely motive.
"We have the loss of two human lives that looks to us like intentional homicide," Sanchez told Mexico's Televisa network.
A bicycle and photographic equipment were among the items missing from the scenes where the bodies were found, the prosecutor said.
The two bodies, badly decomposed, were discovered in a remote area along the winding highway between the cities of San Cristobal de las Casas and Ocosingo in Chiapas. Hagenbusch's remains were found May 4 about 200 yards down a ravine from the site where Chmielewski-Podroznik's body had been discovered April 26, authorities said.
According to media accounts here, a bus driver had reported seeing the two cyclists riding together on the San Cristobal-Ocosingo route April 20.
The German cyclist's brother, Rainer Hagenbusch, had issued a plea for help on Facebook in late April after not having heard from Holger in 11 days. Holger Hagenbusch had last been in touch from San Cristobal de las Casas, a colonial town popular with tourists.
On Thursday, Rainer Hagenbusch — who had traveled to Chiapas to identify his brother's body — said on Facebook that he had confirmed that his sibling had died from a gunshot wound to the head.
"Rest in Peace Holger," Rainer Hagenbusch wrote. "The whole world will miss you. You were something special."
On social media, commentators condemned the killings — many bemoaned an escalating lack of security in Mexico — and paid tribute to Hagenbusch's adventurous life. One YouTube video from a friend featured images of the late cyclist in Asia and Mexico, saying: "My heart is broken for you and for Mexico."
The two cyclists were reportedly headed to Ciudad del Carmen, on the Yucatan peninsula, some 300 miles to the north of San Cristobal de las Casas. En route, the pair apparently planned to visit the majestic, remote Mayan ruins of Palenque, a major tourist attraction.
The Mexican media have carried various accounts of assaults along the isolated roads between San Cristobal and Palenque.
Last year, seven assailants wearing ski masks and brandishing arms waylaid a bus carrying 28 Palenque-bound German tourists and robbed them of cash, jewelry and other valuables. None of the tourists were injured in the attack, the Mexican media reported.
Twitter: @PmcdonnellLAT
Cecilia Sanchez of The Times' Mexico City bureau contributed to this report.
Must-read stories from the L.A. Times
Get the day's top news with our Today's Headlines newsletter, sent every weekday morning.
You may occasionally receive promotional content from the Los Angeles Times.