Ex-Mexican governor accused of embezzling billions just got 9 years in prison. Many think that's not enough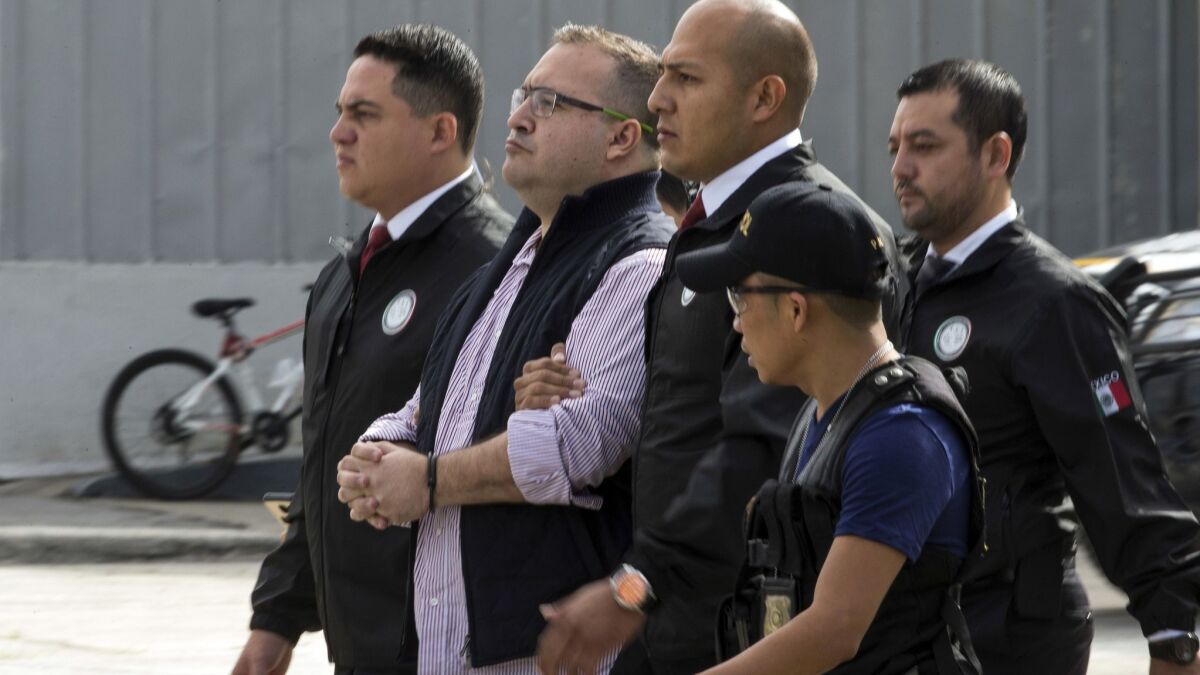 Reporting from Mexico City —
A former governor of Mexico's Veracruz state who was suspected of embezzling possibly billions of dollars while in office — and who became a symbol of endemic political corruption in this country — has struck a deal with prosecutors that will land him nine years in prison, a fraction of what he might have faced if tried andconvicted.
The sentence sparked outrage among many in Mexico who assailed the punishment as too lenient.
Ex-Veracruz Gov. Javier Duarte, a onetime rising star of Mexico's ruling party, was charged last year with setting up shell companies to divert public money and having links to the criminal gangs that have made the Gulf state one of the most violent regions of the country. He faced up to 55 years in prison if convicted on all charges.
Instead, Duarte pleaded guilty Wednesday to two charges — money laundering and criminal association — and received a nine-year prison term.
Along with prison time, Duarte must pay about $3,000 and give up 41 properties that he allegedly purchased with illicit money.
Duarte, 45, became a national embodiment of the corruption that has ravaged Mexico and severely tainted the image of the long-dominant Institutional Revolutionary Party, or PRI, of which Duarte was a longtime member.
Duarte is one of at least half a dozen PRI former governors facing corruption charges or jailed for alleged wrongdoing. The mounting roll call of tarnished ex-governors has become a major embarrassment for a political party that ruled Mexico for much of the 20th century.
Veracruz, once a PRI bastion, has fallen largely under the political control of opposition blocs.
With time already served and the potential for parole, Duarte could be free in four years, authorities said.
"It is a mockery," Martha Tagle, a federal deputy for the Convergence for Democracy party, said on Twitter.
"With sentences like this, instead of inhibiting corruption, you are encouraging it," tweeted political analystJose Antonio Crespo.
But the Mexican attorney general's office — which has faced setbacks in prosecutions of some other high-profile corruption cases — defended the outcome.
"With cases like these … no one is ever satisfied,"Felipe de Jesus Muñoz Vazquez, a top prosecutor with the attorney general's office, told reporters.
State prosecutors in Veracruz say they are also investigating corruption charges against Duarte's wife, Karime Macias, who is reportedly living in London with the couple's three children. Macias is seeking asylum in England as a victim of political persecution in Mexico, her lawyer has told Mexican news media.
During Duarte's almost six-year term, Veracruz — which is among Mexico's richest states, home to a major port and base of the country's petroleum industry — became infamous as a battleground for various gangs seeking control of drug smuggling and other rackets. Criminal syndicates also fight for primacy of the huge migrant-trafficking business in Veracruz, which is traversed by multitudes of Central Americans headed to the United States.
In recent years, the state has also won notoriety as the home of many clandestine graves where the bodies of homicide victims have been found. Grisly footage of the unearthing of skulls and other remains from remote sites in Veracruz is regularly aired on Mexican television. Thousands of people have "disappeared" in the violence that continues to rack Veracruz.
More than a dozen journalists were killed in Veracruz during Duarte's term in office, according to press freedom groups.
But prosecutors never linked Duarte directly to any of the killings and disappearances that, along with rampant corruption, tainted his administration.
Duarte left office in 2016, six weeks before his gubernatorial term was to end. He vowed to defend himself against the mounting allegations, insisting that he had not stolen "one cent."
Instead, Duarte went on the run. He was captured in April 2017 in a lakeside mountain resort in Guatemala. The fugitive governor was extradited to Mexico to face criminal charges.
Authorities said Duarte's theft of public funds reached "historic" levels, perhaps in excess of $3 billion. He was ultimately charged with stealing millions of dollars in public money.
Duarte was once seen as one of the most promising young members of the ruling party headed by Mexican President Enrique PeñaNieto. Duarte was expelled from the party in late 2016 when he was charged with corruption. Still, corruption charges against him and other ex-governors who belonged to the PRI helped turn public opinion against the party. The PRI's candidate in this year's presidential election, Jose Antonio Meade, finished in third place.
The winner of the election, Andres Manuel Lopez Obrador, ran on an anti-corruption platform and vowed to root out billions of dollars in annual corruption and use the money to pay for the creation of social programs for the elderly, the sick and students. Lopez Obrador ran under the banner of his own National Regeneration Movement, known as Morena.
President-elect Lopez Obrador has said he will lead by example in order to change Mexico's culture of corruption, but critics say that may not be enough in a place where bribe-paying — and the personal enrichment of political leaders — have long been regarded as facts of life.
Lopez Obrador, who takes office Dec. 1, is himself a onetime PRI stalwart from southern Tabasco state.
The president-elect's prospective administration includes many former ruling-party loyalists who have since switched their allegiance to Lopez Obrador and his political movement. All say they are on board with the new president's vow to rid the country of institutionalized corruption.
Twitter: @katelinthicum
---
UPDATES:
1:39 p.m.: This article was updaed with addition details, context and reaction.
This article was originally published at 9:25 a.m.
---
Must-read stories from the L.A. Times
Get the day's top news with our Today's Headlines newsletter, sent every weekday morning.
You may occasionally receive promotional content from the Los Angeles Times.