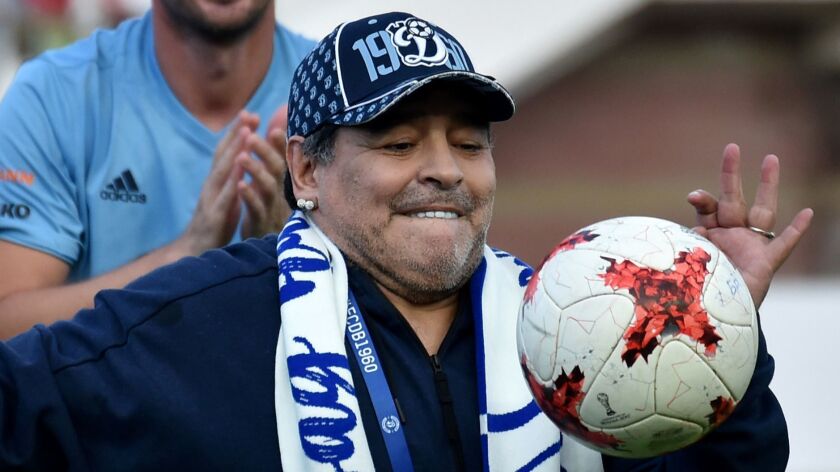 Reporting from Mexico City —
Argentine soccer legend Diego Maradona, one of the most flamboyant and controversial figures in the sport, is headed to Mexico.
In a Facebook post Friday, Maradona confirmed reports that he would become the new head coach of Dorados, a professional team based in the western state of Sinaloa.
"I am happy to assume this new challenge, and to remain connected to football, which is my life," Maradona said.
The Dorados team announced the move Thursday, generating buzz and scorn in sports circles in Mexico and beyond.
"The Argentine will take the reins of the Great Fish," Dorados said on its website, using the team nickname.
Media reports indicated that Maradona, 57, is expected to be introduced as coach next week in the Sinaloa state capital, Culiacan.
Social media erupted in a torrent of disbelief and ridicule at the prospect of Maradona — with his outsize personality and admitted history of cocaine abuse — headed to a region of Mexico that has long been a hub for drug trafficking.
The Mexican state is the base of the so-called Sinaloa cartel, once headed by Joaquin "El Chapo" Guzman, the legendary kingpin awaiting trial in New York on drug trafficking and other charges.
"Taking Maradona to Sinaloa is like taking a kid to Disneyland," sportswriter Rafael Martinez wrote on Twitter.
Various memes on social media mocked the move.
One manipulated image circulating on the internet showed an exuberant Maradona in the VIP section of a soccer stadium holding a giant plastic bag filled with white powder and labeled "Pure Sinaloa Quality."
Terms of Maradona's deal with the Mexican club were not announced.
The Sinaloa team currently plays in the second division of Mexico's professional leagues.
In his move to Mexico, Maradona will be headed back to a nation that hosted his greatest and most controversial triumph — the 1986 World Cup, during which Maradona, the Argentine team captain, led his national squad to the championship.
The short-statured prodigy who rose from poverty in Buenos Aires' villas miserias, or slums, scored his infamous "hand of God" goal in a knockout-round match against England at Estadio Azteca in Mexico City. Replays indicated that the ball had glanced off his hand into the English net, and Maradona later said it was the "hand of God" that had intervened.
That episode earned Maradona a lifetime of infamy in England and around the world.
But his second and decisive goal in that same quarterfinal match — in which Maradona deftly dribbled past various English defenders — has sometimes been called "the goal of the century."
During the height of his playing days, Maradona was acclaimed as the world's premier footballer, even compared to Pele, the Brazilian great from an earlier generation of soccer stars — though many Pele fans vociferously reject the notion.
Maradona became a beloved idol in Naples while playing for the Italian club Napoli, leading the team to the Italian league championship even as he pursued a highly public playboy lifestyle.
But he was suspended for 15 months in 1991 after testing positive for using cocaine before a match. He also battled a weight problem. Argentina removed Maradona from its 1994 World Cup team after he tested positive for stimulant drugs. He retired in 1997.
In 2004, Maradona, suffering from high blood pressure and other ailments, was reported near death in a Buenos Aires clinic as weeping fans held a vigil outside. But he recuperated, attended various rehab stints and went on to hold coaching positions in Argentina and elsewhere, though his coaching acumen never approached his playing skills.
Maradona coached the Argentine national team to the World Cup quarterfinals in 2010 and more recently coached in the United Arab Emirates.
He attended the 2018 World Cup in Russia as a guest of FIFA, soccer's international governing body, and was a conspicuous enthusiast for the underperforming Argentine side. Maradona made headlines when he complained that the Colombian national team had been the victim of a "monumental robbery" in its penalty shootout elimination defeat to England. He later apologized for the remarks.
This year, Maradona was named chairman of the Dynamo Brest team in Belarus on what was reported as a three-year contract. Exultant Dynamo fans greeted the soccer icon in July as he was paraded through the city of Brest in a huge, military-style jeep.
On Thursday, the BBC quoted a Dynamo official saying that word of Maradona's hiring in Mexico was "unexpected news."
In his Facebook post confirming his move to Mexico, Maradona said he would continue as "honorary president" of the Dynamo Brest team.
Cecilia Sanchez in The Times' Mexico City bureau contributed to this report.
Twitter: @PmcdonnellLAT
---