Mexican authorities find illegal avocado plantations in monarch butterfly reserve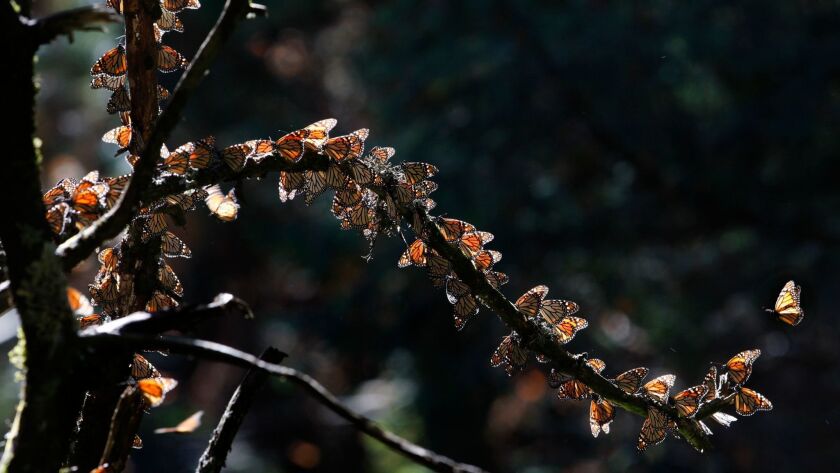 Reporting from MEXICO CITY —
Mexican environmental inspectors said Wednesday they had found about 7½ acres of illegal avocado plantations in the monarch butterfly's wintering grounds west of Mexico City.
It's apparently the first time that avocado planting has directly affected the heart of the monarch area, a protected nature reserve.
Monarch butterflies migrate from the U.S. and Canada to Mexican pine and fir forests that thrive at about the same altitude as prime avocado-growing land.
Previously, deforestation linked to lucrative avocado planting had been seen in areas to the west and south of the reserve.
But on Wednesday, the environmental protection office said that a man had been arrested for weapon possession inside the reserve.
In April, police found that a 91-acre swath of pine trees had been cut down in the nature reserve of Valle de Bravo, east of the butterfly reserve, to make room for avocado trees.
Without pine trees to provide thermal cover and roosting sites, the butterflies can freeze to death. While the monarch is not in danger of extinction, its amazing 3,400-mile migration is endangered. No butterfly lives to make the round trip, and experts are still studying how they "remember" the route.
Previously, experts have estimated that Michoacan — the state where part of the reserve is located, and the biggest avocado-producing state in Mexico — loses about 15,000 to 20,000 acres of forest land annually to avocado plantations.
Ramon Paz, spokesman for Mexico's Assn. of Avocado Export Packers and Producers, said few avocados are grown on land that was deforested to make way for plantations.
"We have been accused a lot of deforestation, but according to the information we have ... between 85 and 90 percent of the area planted with avocado trees was previously occupied for other agricultural uses," Paz said.
"The vast majority of avocado orchards have been in agricultural use for many years," Paz said, adding they were usually cornfields.
Paz said his group, known as APEAM, was concerned about conserving forests, noting "we don't want our product to be perceived as one that results from deforestation."
Paz said the APEAM is working on getting its avocados certified as sustainable, and embarked four years ago on a project to plant about 250,000 pine seedlings annually.
Still, while prices have dropped from last year's levels, avocados are much more lucrative than almost any other legal crop Mexican farmers can grow, and many landholders appear to be turning to avocados, legally or illegally.
However, the avocado trade also employs nearly 100,000 people in Michoacan, and much of the fruit is produced by small farmers.
Paz said 80% of the state's 23,000 avocado producers had plots of 12 acres or less.
"We're talking about 100,000 families in Michoacan who have found a way to earn a dignified living, who no longer have to emigrate, who no longer live in poverty and are less susceptible to being recruited by organized crime," Paz said.
And the butterfly reserve is threatened by other factors, including illegal logging and increasingly fierce storms than freeze butterflies or blow down big swaths of trees.
---
Must-read stories from the L.A. Times
Get the day's top news with our Today's Headlines newsletter, sent every weekday morning.
You may occasionally receive promotional content from the Los Angeles Times.