Mexico's president vows to 'eradicate' gas theft amid the horror of pipeline explosion
A crew from the state oil company Pemex works the burn area Saturday after the pipeline explosion in Tlahuelilpan, Mexico.
(Claudio Cruz / Associated Press)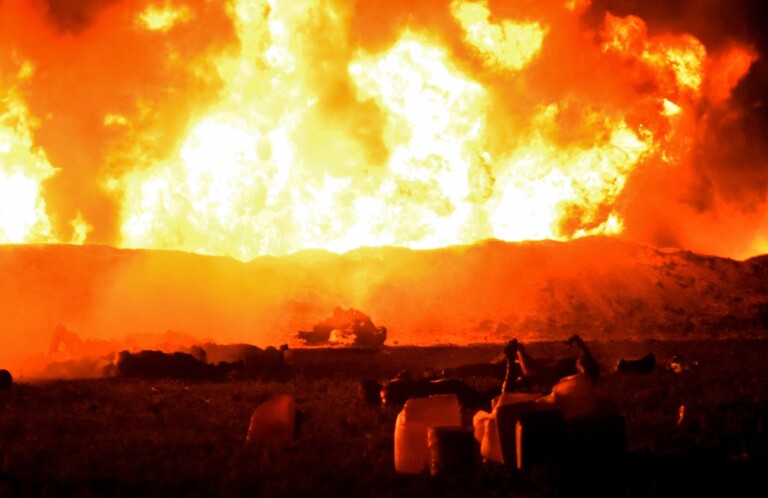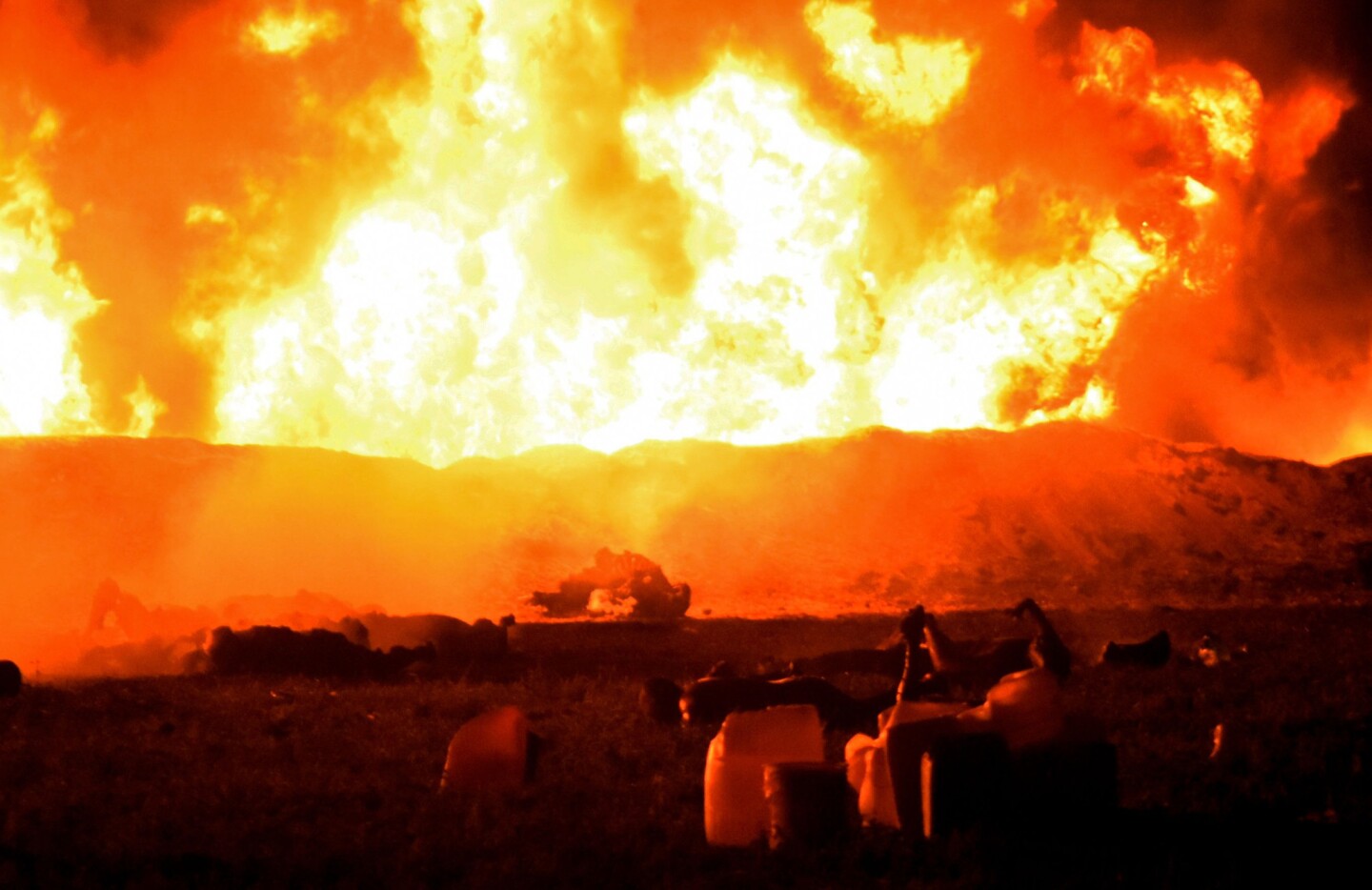 A wall of flames silhouettes fuel containers left behind when a ruptured gasoline pipeline exploded in Tlahuelilpan, Mexico.
(Francisco Villeda / AFP/Getty Images)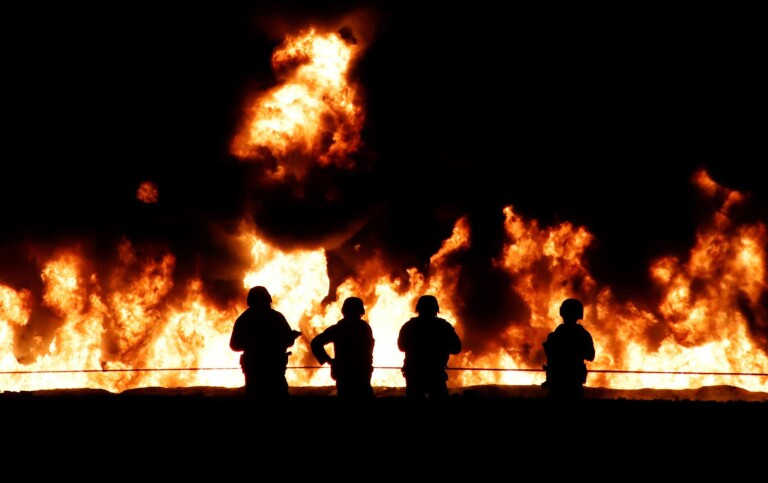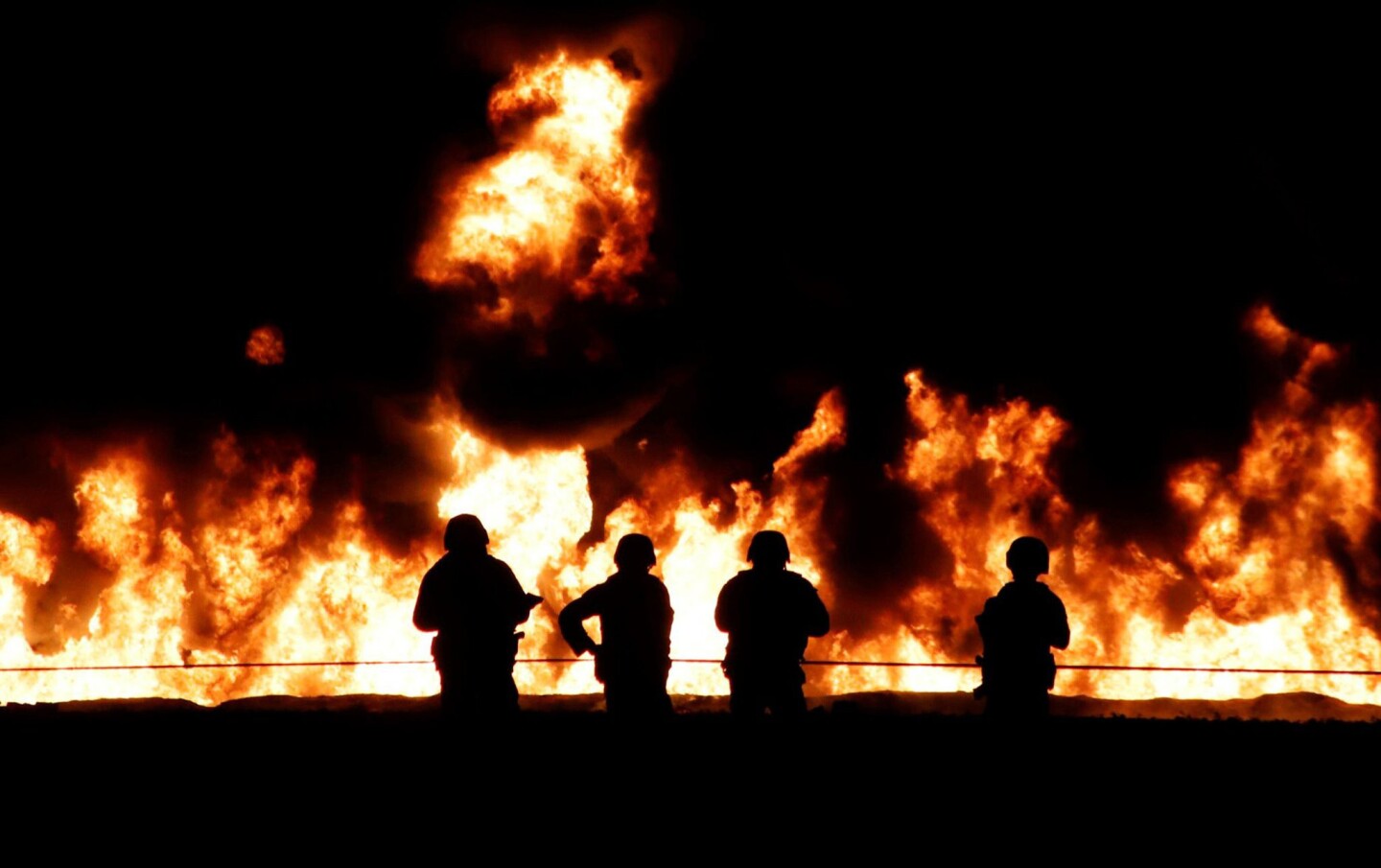 Soldiers stand guard before a wall of fire after an explosion of an illegal tap on a Pemex pipeline in Tlahuilipan, Mexico.
(OASA /EPA-EFE/REX )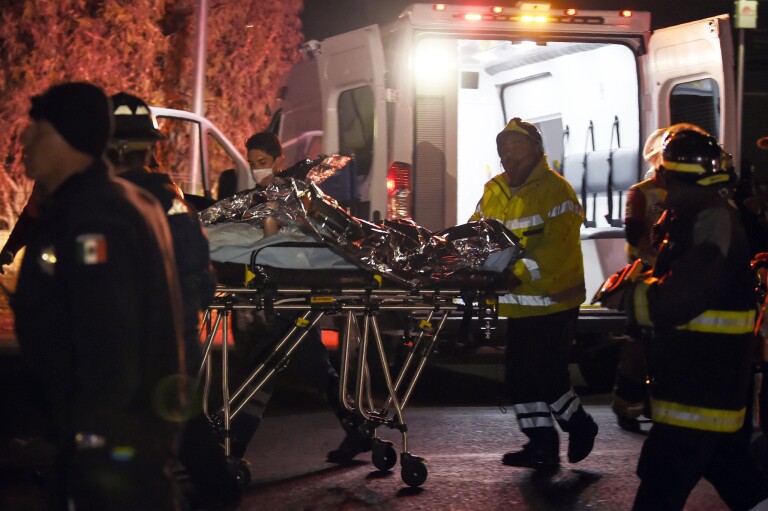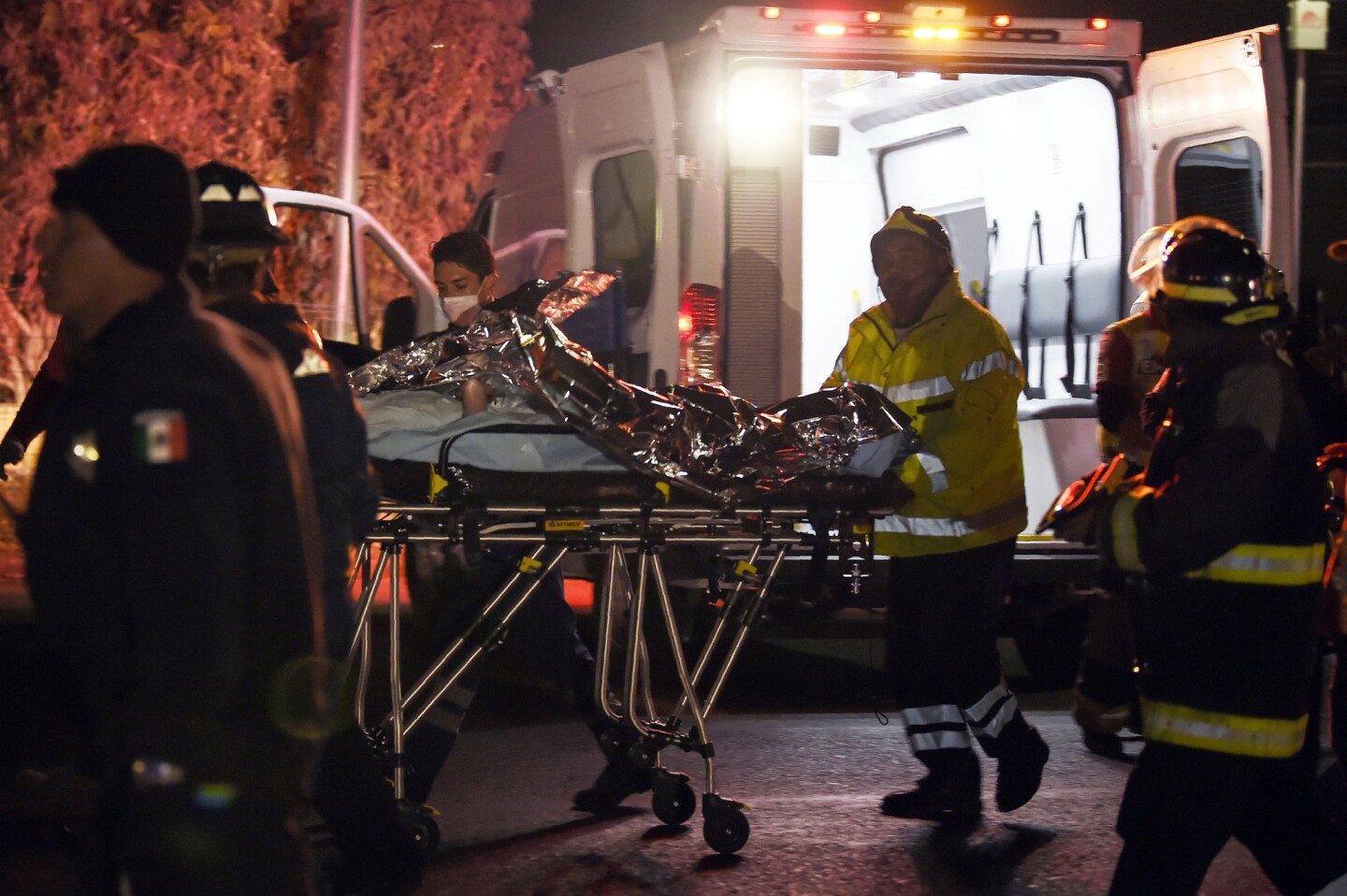 An injured person is transferred to a helicopter near the fire scene in Tlahuelilpan.
(Alfredo Estrella / AFP/Getty Images)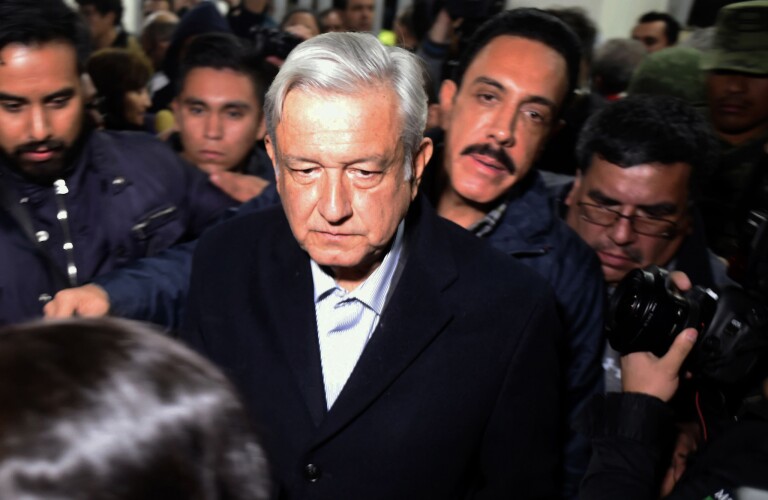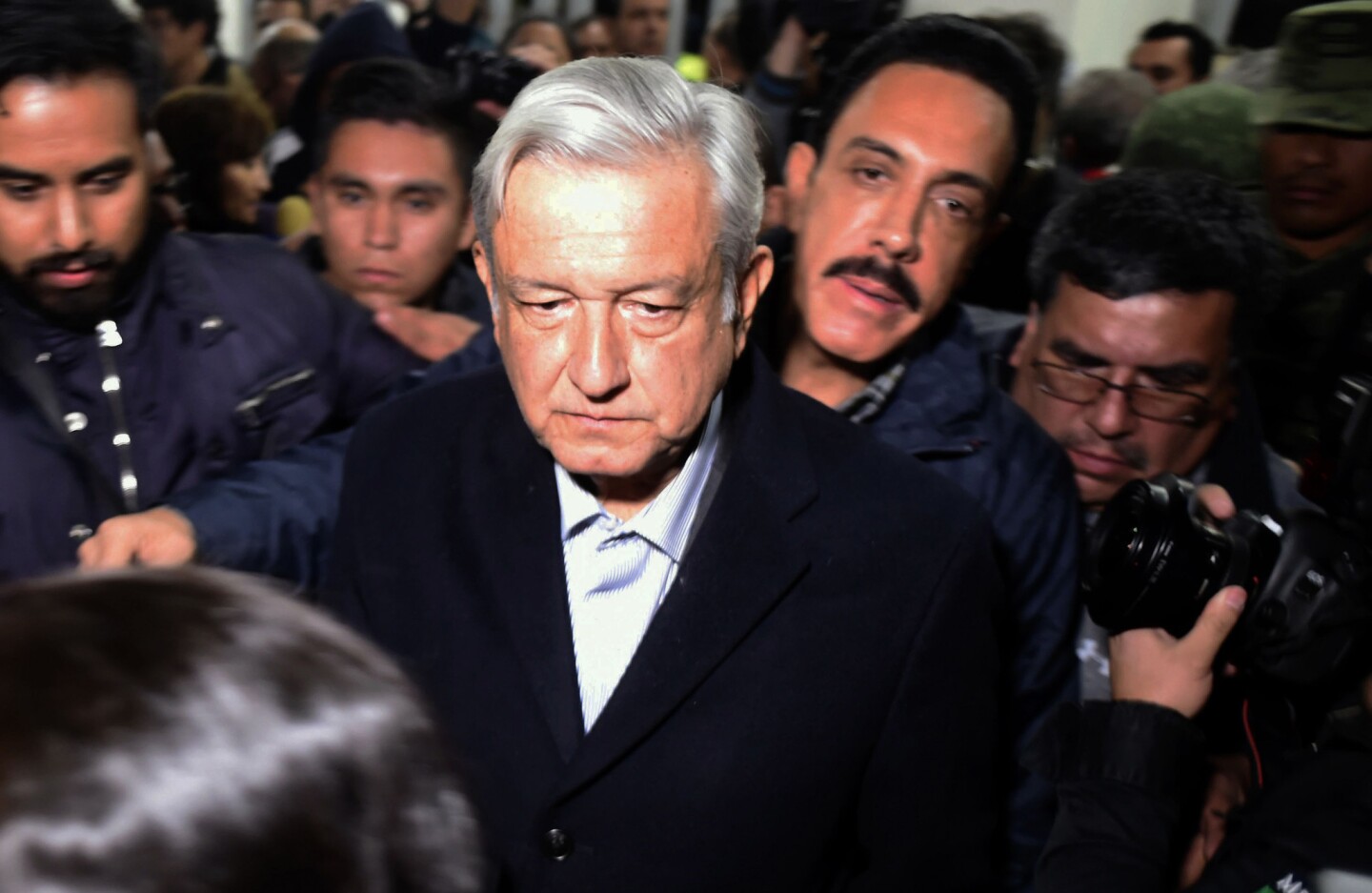 Mexican President Andres Manuel Lopez Obrador arrives in Tlahuelilpan after the explosion.
(Alfredo Estrella / AFP/Getty Images)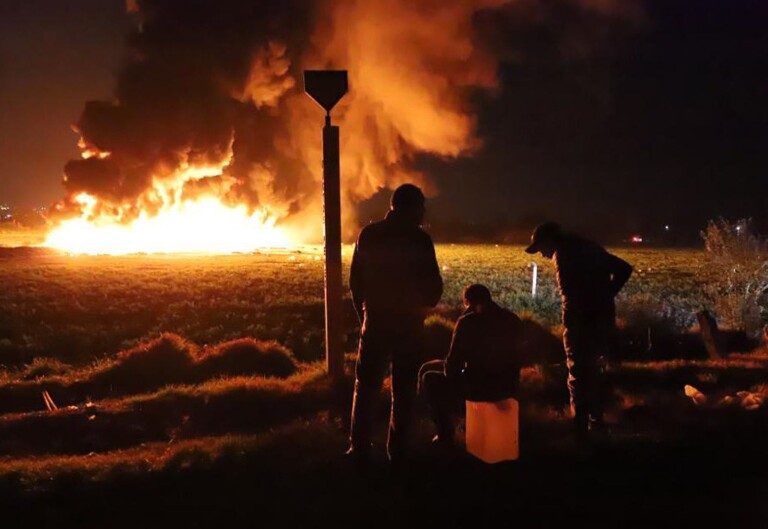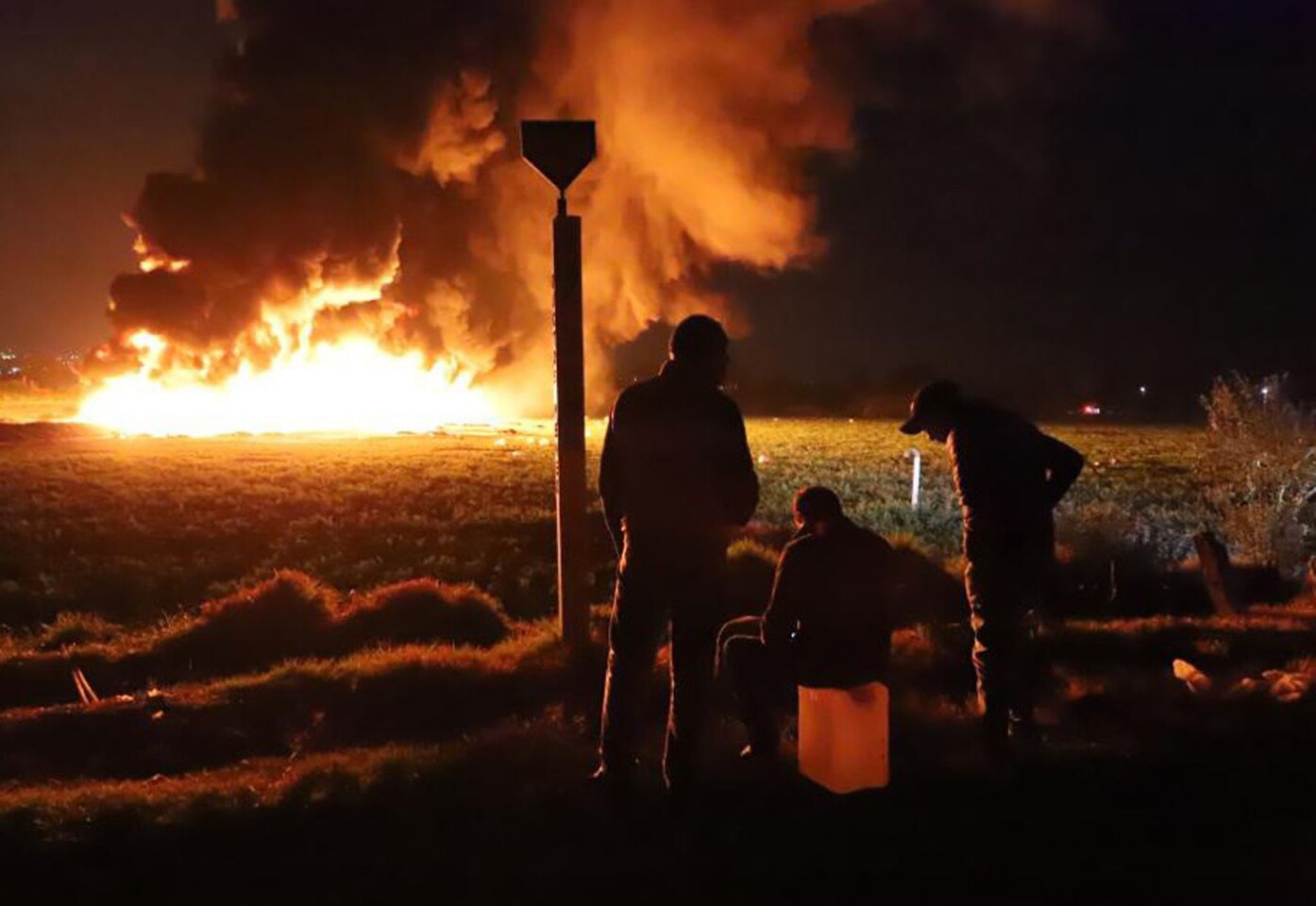 People watch from a distance as the fire rages at the Pemex pipeline in Tlahuilipan, Mexico.
(OASA / EPA-EFE/REX )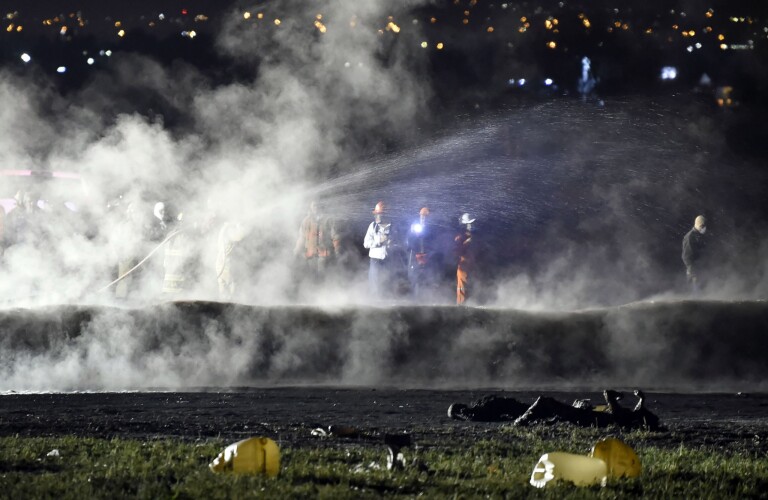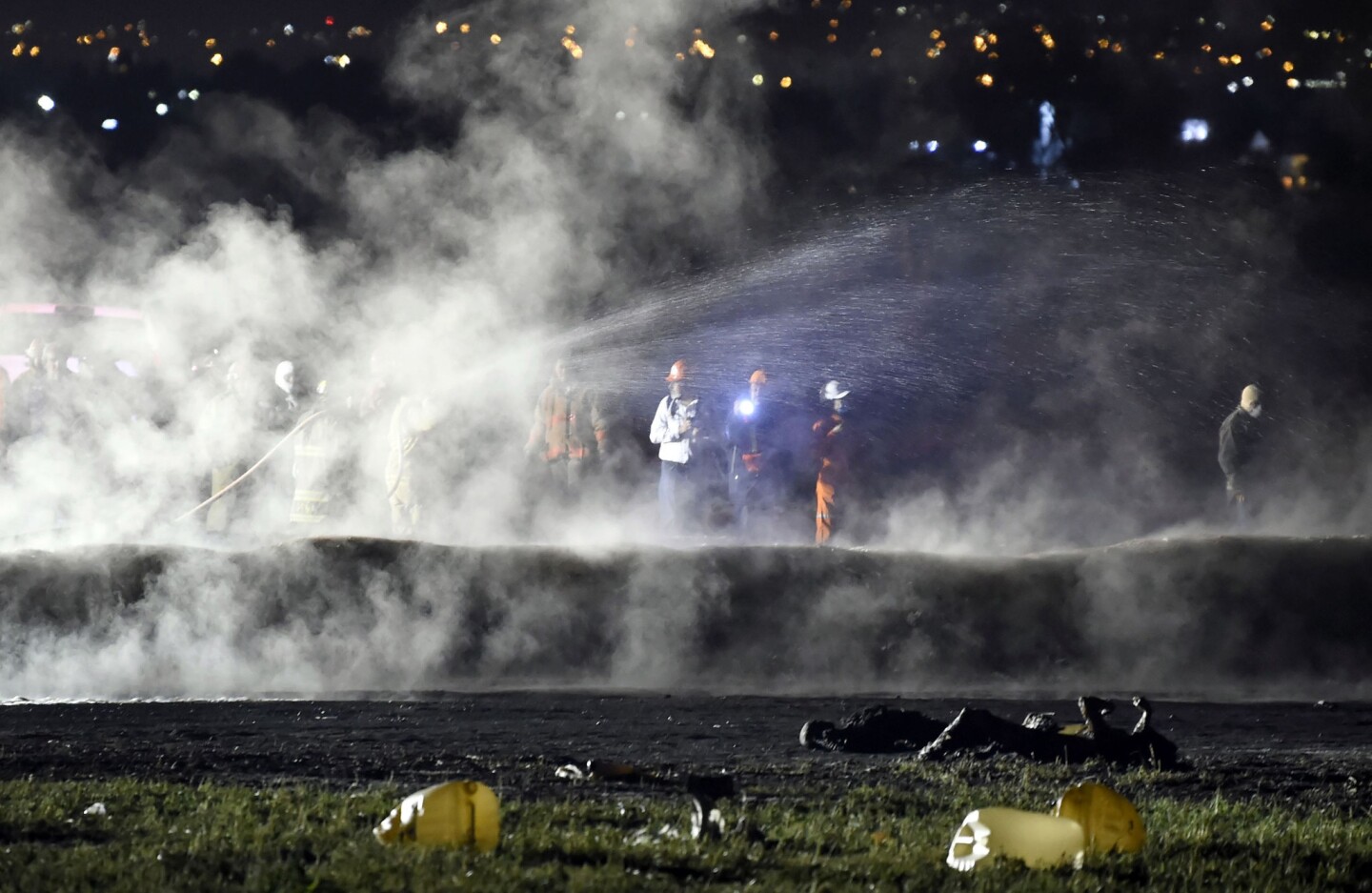 Firefighters extinguish hot spots near where the bodies of victims lay after the pipeline explosion in Tlahuelilpan, Mexico.
(Alfredo Estrella / AFP/Getty Images)
Reporting from Tlahuelilpan, Mexico —
Stunned relatives searched for signs of loved ones Saturday at the site of a gas pipeline that exploded in central Mexico as it was being illegally tapped, killing at least 73 people and injuring dozens more.
In a fire-blackened field near the town of Tlahuelilpan, people sorted through clothing, shoes and other items that those fleeing Friday's blast had torn off in a desperate bid to survive.
"I came here in the night looking for my son, walking through charred bodies lying on the ground," said Martin Francisco Trejo Hernandez, 55. "Some people were still alive, screaming in pain, screaming for help. I never imagined I would see such a sight."
His son, Martin Alfredo Trejo, the 34-year-old father of a 6-year-old girl, had not be been found.
The massive fire, which took authorities four hours to put out, came amid President Andres Manuel Lopez Obrador's controversial efforts to eliminate rampant fuel theft across the country. In recent weeks, Lopez Obrador has ordered thousands of troops and police to guard pipelines, some of which have been temporarily closed so that breaches may be repaired. The president has accused fuel thieves — known here as huachicoleros — of sabotaging fuel lines in a bid to thwart the government crackdown.
The blast exposed both the inherent risks of fuel theft, which has caused large blasts in the past, and how rampant the practice has become. It also represented a new political crisis for Lopez Obrador, whose efforts to stop fuel theft have prompted anger because they have created gas shortages around the country.
Residents of Tlahuelilpan who were at the blast site on Saturday acknowledged that the siphoning of gasoline from pipelines had become commonplace.
"In these towns, we all have a relative or friend who is dedicated to this," said Jesus Cesar Vera Velazquez, 43. "But they do it out of necessity, because of hunger. There's no work here, and people earn very little farming."
"Here, even the mayor protects huachicol [black-market gasoline]," said Ruben Cruz, 51, a farmer. "Authorities here receive money from huachicol. It pays very well and it's an opportunity to have some money, enjoy a better life."
Pemex chief executive Octavio Romero Oropeza said the pipeline where the explosion occurred had been subject to at least 10 breaches in the past three months.
The first 911 call reporting the breach on Friday came in just after 5 p.m., authorities said.
Soon, as many as 800 people had converged on the site to gather gasoline, which gushed like a geyser from the ruptured pipeline more than 20 feet into the air, Luis Cresencio Sandoval, Mexico's defense secretary, told reporters Saturday.
Videos showed children and families at the site as men hauled jerrycans of fuel away, with some gatherers saturated with the flowing fuel.
Around 7 p.m., something triggered a massive explosion. In such a volatile environment, any form of friction — even from clothing — could have ignited the vapors, according to authorities on the scene.
Videos of the blast showed people engulfed in flames screaming as they ran from the fire, and badly burned victims whose clothes appeared to have been seared off by flames. At least 74 people were hospitalized, according to Omar Fayad, governor of Hidalgo state. Officials said many of them were in critical condition.
Videos taken before the blast showed soldiers standing around the scene who did not appear to make efforts to disperse the mob.
Cresencio, the defense secretary, sought to justify the military's actions, saying the small number of soldiers had been unable to deter a sometimes "aggressive" crowd. On previous occasions, Cresencio noted, people collecting black-market gasoline from ruptured fuel lines have attacked soldiers and police.
Lopez Obrador toured the blast site Saturday. At a news conference, he vowed only to intensify his efforts to combat fuel thieves.
"We have to continue with the plan to end the robbery of fuel," López Obrador told reporters. "We are not going to stop — we are going to eradicate this."
Friday's blast intensified the already heated debate over the president's efforts to end what he calls the "scourge" of fuel theft, an illicit industry that has grown in recent years and is controlled by some of the country's most powerful and violent criminal groups.
The president, a leftist populist elected last year on an anti-corruption platform, has complained that fuel theft costs Mexico $2.5 billion to $3.5 billion annually. Members of the military and Pemex, Mexico's state-owned petroleum company, have been accused of taking bribes to look the other way as thieves drill into pipes and resell the fuel on the black market.
Lopez Obrador's efforts to divert fuel from pipelines frequently targeted by thieves and transport more fuel by tanker truck have sparked shortages around the country, with hours-long wait times at some pumping stations.
Critics of the president say his plan has been poorly executed and is unrealistic, as unlikely to succeed as former President Felipe Calderon's 2006 decision to put soldiers on the streets to do away with drug cartels, a strategy that increased violence nationwide, leading to tens of thousands of deaths, while failing to diminish the drug trade.
Some blamed Lopez Obrador for Friday's explosion. Trending Saturday on Twitter was a hashtag that referred to the president an "assassin."
Others defended the president, saying the pipeline tragedy simply underscored the risks of fuel theft.
"The huachicoleros are murderers," tweeted Epigmenio Ibarra, a well-known television producer and vocal supporter of the president. "They will not go unpunished," he said. "They will not be able to defeat Lopez Obrador."
The president expressed sympathy for people in towns and rural areas that have come to rely on the illegal fuel trade. Many, he said, had "no alternatives" because of the widespread poverty and lack of opportunity in their regions.
The president said he would visit the pipeline zones in the coming days and outline an alternate economic development plan, including low-interest loans, for them.
At the scene of the blast, some angry relatives of the missing expressed outrage at the president's plan. Others staggered around in a profound sense of shock and mourning.
Gloria Lopez de la Cruz, 38, said she was looking for her husband, Porfirio Hernandez, 40.
"I can't find him anywhere. He is not in any of the hospitals or listed among the dead," said De la Cruz, who could not hold back tears.
Her brother-in-law survived with burns and was in a hospital, added De la Cruz, who said she regretted not having stopped her husband from visiting the pipeline the night before. Hernandez went to see what was happening out of "curiosity" after seeing people carrying plastic jugs filled with gasoline, she said.
"I should never have allowed him to come," she said. "Now I am full of regrets."
The fields through which the pipeline courses displayed evidence of the disaster. The ditch marking the pipeline route was scorched on both sides. Murky gasoline pooled at various spots, posing an ongoing hazard. Pemex crews were there, working to fix the duct and remove leaked gasoline.
In a corner of an alfalfa field was evidence of the desperate attempted escape of two people, a man and a women.
His burned and grimy jeans were heaped on one pile; still attached was a leather belt with a silver-toned buckle, embossed with the image of a horse.
A few feet away lay the seared and melted remains of a woman's blouse or dress and underwear. Both had apparently tossed off their burning garments in panic as they hastened to escape the fiery holocaust.
Whether either survived was not clear.
McDonnell reported from Tlahuelilpan and Linthicum from Mexico City. Cecilia Sanchez of The Times' Mexico City bureau and special correspondent Liliana Nieto del Rio contributed to this report.
---
Must-read stories from the L.A. Times
Get the day's top news with our Today's Headlines newsletter, sent every weekday morning.
You may occasionally receive promotional content from the Los Angeles Times.