Mexico's president announces 'special plan' to combat violence in Tijuana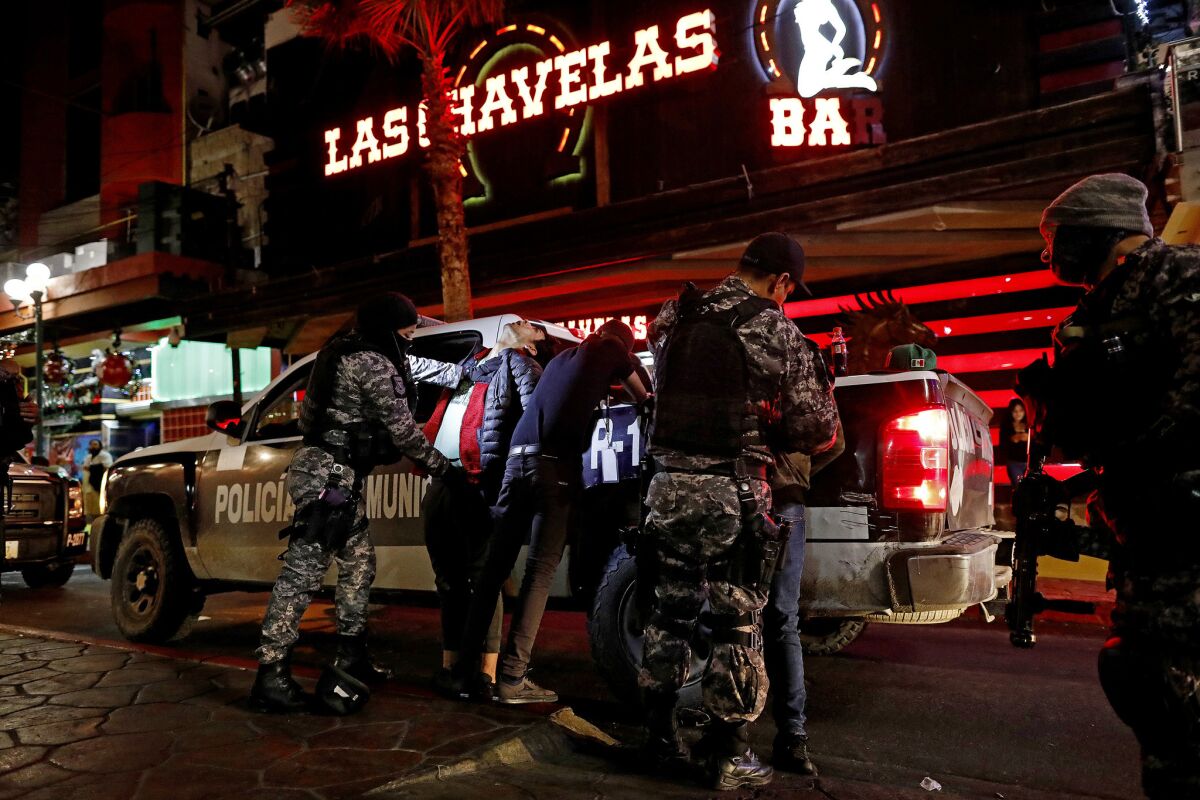 Reporting from Mexico City —
Mexican President Andres Manuel Lopez Obrador said Thursday that he has deployed federal troops to Tijuana to combat the city's spiraling violence.
"A special plan is being implemented because the killings in Tijuana have grown a lot," he said at a news conference in Mexico City.
He said members of the army, navy and federal police will work with local forces to tackle violence in the city, where a record 2,518 people were killed in 2018, part of a nationwide surge in killings.
Members of those forces will eventually be part of a new National Guard that Lopez Obrador hopes to form this year. Establishment of the guard, which would consist of about 70,000 troops, has not yet been approved by Mexico's Congress but is expected to be soon.
A charismatic leftist who was elected in a landslide last summer thanks in part to his promise to curtail Mexico's rising violence, Lopez Obrador has given mixed signals in recent months about just how he plans to do it.
At a news conference on Wednesday, Lopez Obrador declared an end to Mexico's war on drugs, saying his administration will stop seeking to weaken powerful cartels by arresting their top leaders. That strategy, which was embraced by his predecessors, has only fueled the bloodshed, he said, adding that he plans to instead focus on reducing homicides and other crimes.
"There is officially no more war. We want peace," he said. "What we want is security, to reduce the daily number of homicides."
While a candidate, Lopez Obrador vowed to forgo Mexico's military-led drug war in favor of economic development to give young people better options than criminal groups offer. One of his popular campaign slogans was "abrazos, no balazos," which translates to "hugs, not gunshots."
But critics say that a national guard, which would report in part to the Defense Ministry, would simply be a continuation of the militaristic strategy criticized by Lopez Obrador.
The roughly 70,000 members would include recruits from the army and navy but, unlike the armed forces, would have the mandate and capacity to assist in criminal investigations. Critics of the president's plan say what is needed is more training of and investment in local police forces, many of which are plagued by high levels of corruption.
State and local police have struggled to contain the violence in Tijuana, where killings have risen by 400% since 2012 as local dealers battle over a booming drug market. With 140 killings per 100,000 people, Tijuana is now one of the deadliest cities in the world.
On Thursday, President Trump cited rising violence in Mexico as justification for construction of a border wall. "Worse even than Afghanistan," he tweeted.
Trump also claimed that murder cases in Mexico rose 33% last year compared with 2017. That is untrue. The number of homicide investigations rose from 28,866 in 2017 to 33,341 last year, an increase of 16%.
Cecilia Sanchez of the Times' Mexico City bureau contributed to this report.
Twitter: @katelinthicum
---
Must-read stories from the L.A. Times
Get the day's top news with our Today's Headlines newsletter, sent every weekday morning.
You may occasionally receive promotional content from the Los Angeles Times.