Reporting from Mexico City —
Thousands of Central Americans from the migrant caravan that has become a divisive campaign issue in the U.S. midterm election have begun arriving in Mexico City, still hundreds of miles from the border.
The migrants were being directed to a sprawling sports complex on the capital's outskirts, where they were given food and water and provided basic services.
The migrants began streaming into the city over the weekend and by midafternoon Monday police estimated as many as 3,000 had settled into the sports complex near the city's international airport. Officials expect about 5,000 by Wednesday.
The sports facility was hastily converted into shelter for the migrants. Various tents provided meals, mattresses, clothing and other necessities. Portable toilets lined a long fence. And water for washing was provided in huge blue tanks. Doctors and nurses offered medical aid to those who needed it while volunteers arrived with food, toys and clothing. Clowns and musicians entertained the travelers.
"It feels great to be here, after so long on the road," said Nixa Nunez, 33, who traveled from Honduras with her three young daughters. "But this is just a temporary stop. We all want to go to the United States."
She cradled her youngest, Gladys, 4, in her arms. The child was suffering from a cold and had already been treated for dehydration during the trip, Nunez said.
"I'm doing this for my daughters, so they have a better life," she said.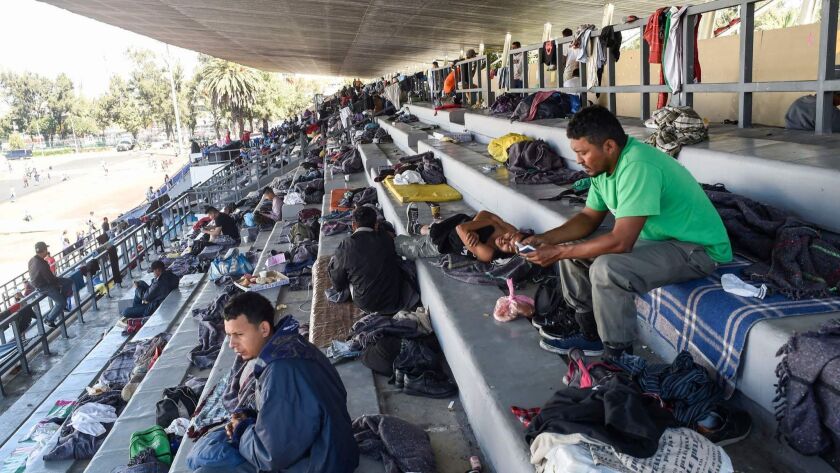 Juan Antonio Lopez, 16, left Honduras more than three weeks ago with two older sisters and several nieces and nephews. He said that at times they'd gone without food or water and battled fatigue.
"Sometimes my sisters felt desperate, but we had to keep going, pushing forward."
Like others, Lopez said he was undeterred by President Trump's vows that they would not be allowed into the U.S., where many of the Hondurans have relatives.
"Hopefully the president will soften his heart and open the door of his country," said Lopez. "We are not bad people. We suffered a lot in our countries and all we want is a better future. People in the United States should not be afraid of us. We just want to work…. We are not criminals."
Mexico City officials said they would be able to provide for the migrants despite the fact that the city is facing a major water shortage this week as workers try to repair the city's aging water infrastructure.
The caravan has fragmented in recent days. Participants traveled mostly on foot through Chiapas and Oaxaca states in southern Mexico and then crossed into the gulf state of Veracruz over the weekend.
But many have been offered rides, hitched rides on trucks or jumped on buses bound for the Mexican capital. Church officials and others helped pay bus fares, migrants said.
The route through Mexico City represents a detour of hundreds of miles for the U.S.-bound migrants. The more direct course to the U.S.-Mexico frontier would have been through Tamaulipas state, which borders Mexico's Veracruz state and Texas.
Caravan organizers said the exhausted and ailing migrants — who have traveled hundreds of miles, mostly on foot — needed time to recuperate and rest in the Mexican capital. Many are suffering from colds, blistered feet, insect bites and other ailments. Caravan representatives were also seeking to meet with Mexican political leaders in the country's capital.
It was not clear how long the caravan participants planned to remain in Mexico City nor where precisely they planned to head along the almost 2,000-mile U.S.-Mexico border.
In the run-up to Tuesday's U.S. midterm elections, Trump has labeled the migrant caravan an "invasion," vowed that its members would not enter U.S. territory, and said thousands of troops would be deployed along the southwestern border to thwart the migrants' advance.
The caravan took off Oct. 13 from the Honduran city of San Pedro Sula, considered one of the most violent places in the world. Participants say they are fleeing violence and lack of opportunities in Honduras and other Central American nations and hope to resettle in the United States.
Twitter: @PmcdonnellLAT
Special correspondent Cecilia Sanchez in The Times' Mexico City bureau contributed to this report.
---
UPDATES:
3:15 p.m.: This article was updated with reaction from members of the caravan and more details the migrants arriving in Mexico City.
This article was originally published at 9:55 a.m.
---