The New Zealand mosque shooting is just the latest in a trend of violence against houses of worship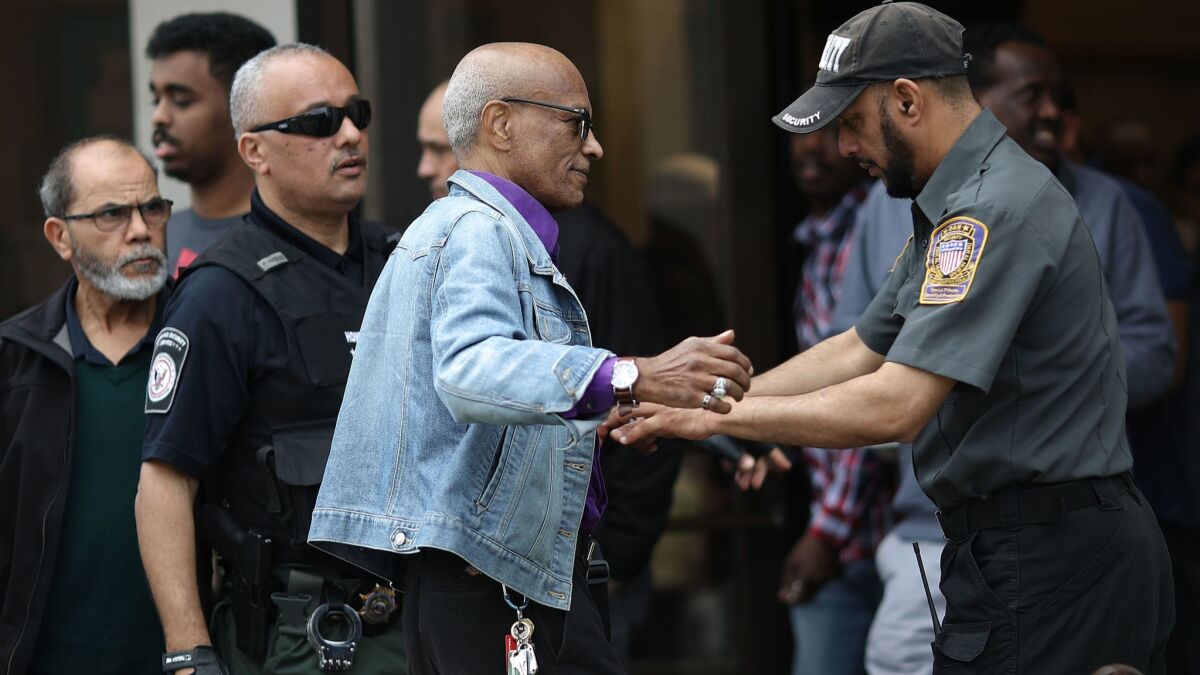 As he prepared to give his sermon Friday, Omar Atia went over the parallels between his mosque in southwest Indiana and the two in Christchurch, New Zealand, where dozens of Muslims died in a terrorist attack during communal prayers.
"We're a suburban minority community with kids of immigrants in a Western, English-speaking nation," said Atia, an assistant imam at the Islamic Center of Evansville. "In the Muslims of New Zealand, we see ourselves. Everybody has a fear."
So on Friday, during the same set of congregational prayers that took place in New Zealand hours earlier when gunshots struck worshipers, Atia said he and the hundreds of Muslims at the worship center were prepared. Inside the mosque, he spoke about the unpredictability of when life ends. Outside the building, off-duty police — called in especially for this day — guarded it with guns.
The attacks in New Zealand, at the Al Noor and Linwood mosques, are believed to have been carried out by a self-described racist, according to New Zealand officials. They have left not only the world's Muslim communities on alert but struck a chord with religious minorities around the globe who, in recent years, have seen scores of attacks on houses of worship amid terrorism and hate-fueled campaigns.
In the United States, the recent sites of destruction have become symbols of religious and racist intolerance. Besides attacks on mosques, they include the Tree of Life synagogue in Pittsburgh; Mother Emanuel African Methodist Episcopal church in Charleston, S.C.; the Oak Creek, Wis., Sikh temple; and the Overland Park Jewish Center in Kansas. In this decade, each was the location of an attack by a white supremacist bent on eliminating Jews, African Americans or Sikhs.
Outside the U.S., the targets have included a Roman Catholic cathedral that was bombed in the southern Philippines this year; the Islamic Center of Quebec City in Canada, the site of an anti-Muslim shooting in 2017; andLahore, Pakistan, churches that extremists bombed in 2015 and 2017, to name just a few. Incidents in Asia and Africa have often been orchestrated by extremists tied to nationalist or religious terrorist groups.
"Places of worship were historically considered sanctified even by those who would commit crimes otherwise," said Atia. "It seems the world is now going in the opposite direction."
According to the Pew Research Center, recent attacks on religious sites are part of a global rise in anti-religious sentiment among individuals and governments. In an analysis, the center found that in 2016, 27% of the world's countries had "high" or "very high" levels of social hostility involving religion. That's a seven-point increase from 2007.
In the U.S., which has historically been a haven for religious minorities, the chance of violence against a religious center is slim. But faith leaders said the killings in New Zealand have put them further on guard.
"People are starting to recognize this kind of baseless hatred toward an entire group of people, whether it's Muslims or Jews or any other group in the world, is a terrifying occurrence of our time," said Rabbi Beth Singer of Congregation Emanu-El in San Francisco. Her temple community, which for years has required visitors to pass through metal detectors, planned to hold prayers for Christchurch victims on the Jewish Sabbath.
At the All Dulles Area Muslim Society, a Virginia mosque near Washington that is among the nation's largest Muslim centers, Imam Mohamed Magid said he invited community members and non-Muslims to attend a Friday night vigil mourning the deaths in New Zealand.
"There is an anti-religious movement specifically targeting black American churches, the Jewish community, the Muslim community," said Magid, a former president of the Islamic Society of North America. "I think part of it is polarization. The further this 'us versus them' attitude continues, the more you will see this violence."
His observation on racist and anti-religion violence is echoed in government data. In its most recent report, the Federal Bureau of Investigation logged 7,175 hate crimes in 2017, a 17% increase from the prior year that was caused by growing attacks against racial and religious minorities. The number represented the third consecutive year that hate crimes went up and the biggest year-by-year increase in hate crimes since 2001.
That's one reason that Farhana Khera, executive director of the civil rights organization Muslim Advocates, described the terrorism in Christchurch as "not an anomaly or a surprise."
"Over the past few years, there has been an epidemic of attacks and planned attacks on Muslim communities and mosques across the United States," Khera said in a statement. She cited incidents in recent years when a mosque was bombed in Bloomington, Minn., and mosques were burned in Texas, Washington and Florida.
Global religious and political leaders have also condemned the New Zealand attacks, with many calling for governments to do more to combat anti-Muslim hatred.
"It is clear that the understanding that the murderer … represented has rapidly started to take over Western communities like a cancer," Turkish President Recep Tayyip Erdogan said on Friday.
Sheikh Ahmed Tayeb, the grand imam of Al Azhar University in Egypt, said the attacks sounded alarms "about the importance of not tolerating racist groups" and "the grave consequences of hate speech, xenophobia, and the spread of Islamophobia."
---
Must-read stories from the L.A. Times
Get the day's top news with our Today's Headlines newsletter, sent every weekday morning.
You may occasionally receive promotional content from the Los Angeles Times.