'God, why us?': A city mourns as authorities name victims of Pittsburgh synagogue shooting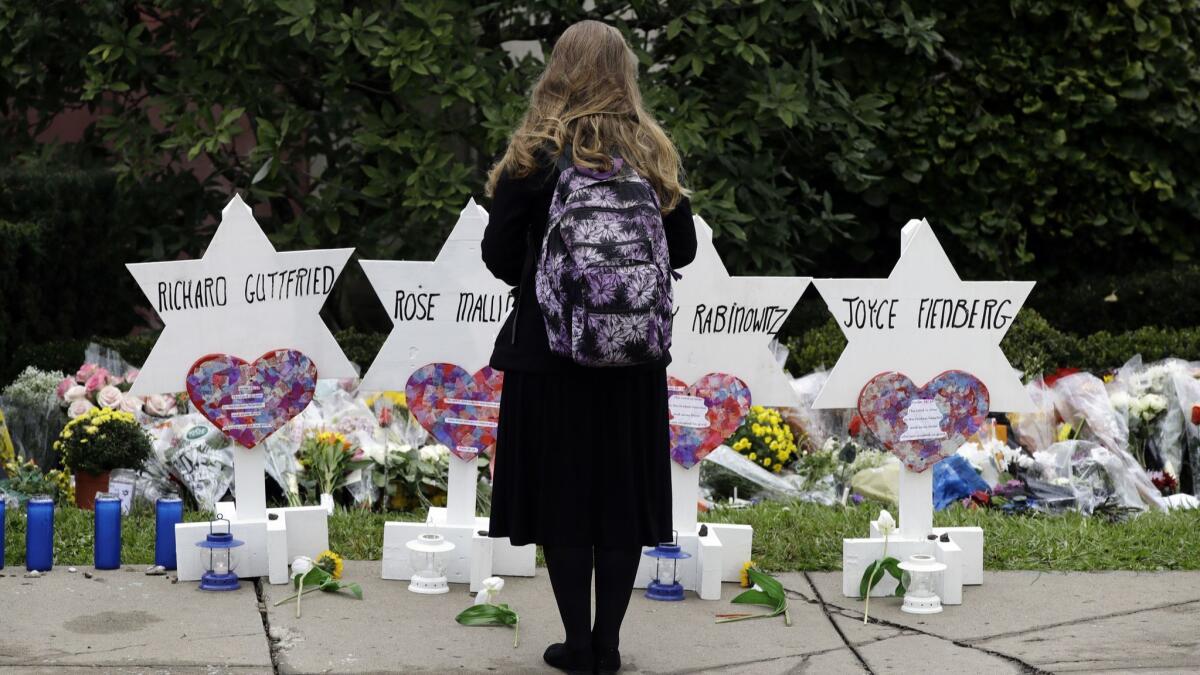 Reporting from Pittsburgh —
They were brothers — Cecil and David Rosenthal. And a married couple — Sylvan and Bernice Simon.
The youngest, David Rosenthal, was 54. The oldest, Rose Mallinger, was 97.
They were among the 11 victims of a mass shooting in Pittsburgh whose bodies were found across three floors in the Tree of Life Synagogue, where three separate congregations were holding services at the time of Saturday's attack, federal authorities said Sunday. The county medical examiner described finding ammunition "casings everywhere."
The suspect, Robert Bowers, 46, of Pittsburgh, was arrested and charged late Saturday on 29 counts, including murder with a firearm, and several hate crime charges such as obstructing the exercise of religious beliefs resulting in death.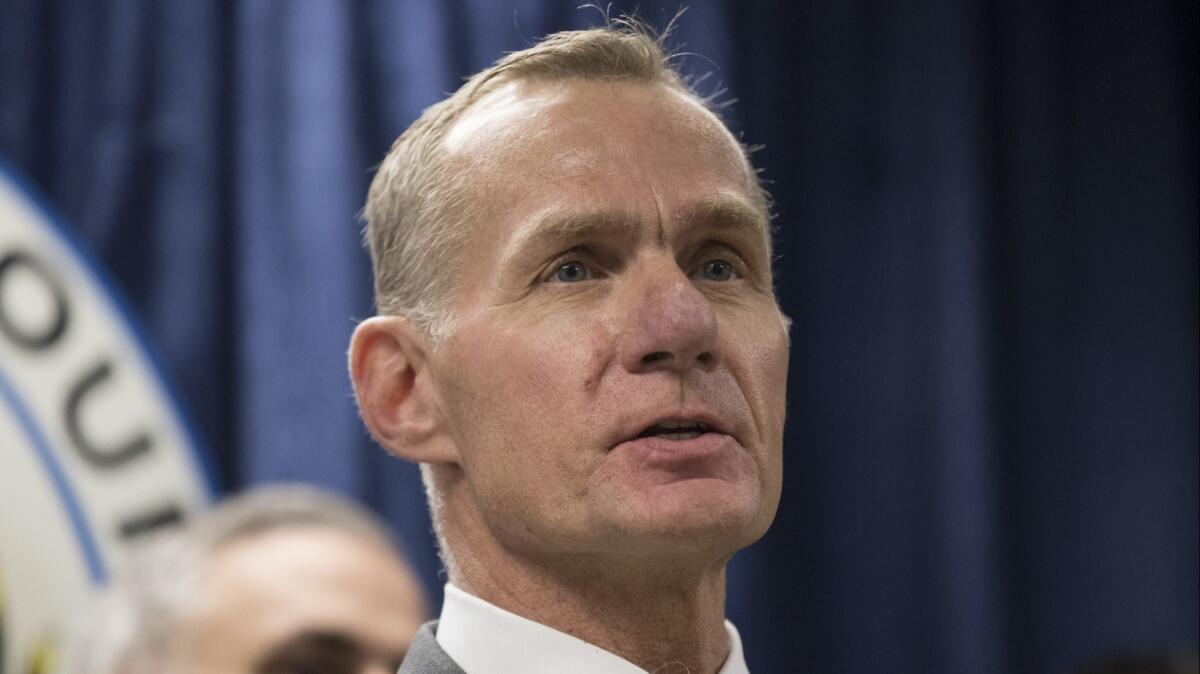 The murder charges are punishable by death. The other charges are related to injuring officers. Bowers, who was shot and underwent surgery, remained in stable condition and under guard at a hospital, FBI Special Agent in Charge Bob Jones told reporters at a news conference Sunday.
"This is an awful, awful period for our Jewish community and especially for the families that have been affected," said Jeffrey Finkelstein, CEO of the Jewish Federation of Greater Pittsburgh. "It's real once you hear the names."
Police say that about 9:50 a.m. Saturday, Bowers opened fire on Sabbath services at the synagogue in Pittsburgh's historically Jewish Squirrel Hill neighborhood, killing 11 people and wounding six. Four officers were among the injured, and three remain in the hospital.
Tree of Life Rabbi Jeffrey Myers said Bowers entered three minutes after the service began, killing seven of the 12 people in attendance before moving on to other parts of the building.
Myers said he lay in bed Saturday night, staring at the ceiling and wondering, "God, why us?"
"My holy place has been defiled," he said.
During the attack and subsequent firefight with officers, Bowers repeatedly stated his desire to kill Jewish people and made comments about genocide, including: "They're committing genocide to my people. I just want to kill Jews," according to the Justice Department's charging document.
The Anti-Defamation League, which has monitored anti-Semitism in the U.S. for more than a century, said Sunday that the mass shooting "was the deadliest anti-Semitic attack in U.S. history."
Jones said authorities do not yet know why Bowers targeted the Tree of Life Synagogue or where and how Bowers obtained the AR-15 and three Glock .357 handguns used in the attack.
Police barricades continued to block the streets surrounding the synagogue Sunday. Law enforcement is checking with neighbors for video surveillance of Bowers and the scene before the attack, Jones said. Officers from multiple cities have traveled to Pittsburgh, Jones said, and law enforcement may need up to a week to fully examine and process the crime scene.
"This was a large, complex crime scene, and much work remains to be done," Jones said.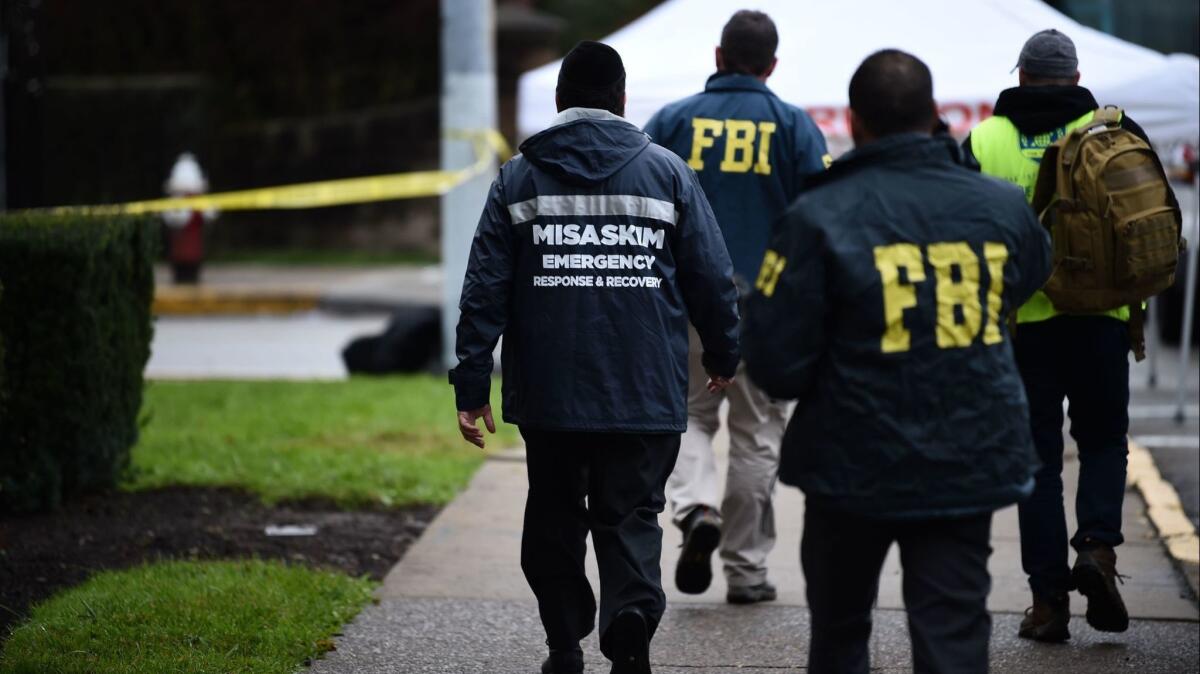 Authorities searched Bowers' apartment Saturday and his vehicle Sunday, Jones said, but he would not comment on what was found. The apartment is in Baldwin Borough, 12 miles from the synagogue. Bowers is scheduled to appear before a federal judge Monday afternoon.
"We will spare no effort or resource in ensuring that the defendant is held fully accountable for his unspeakable and hateful crimes," U.S. Atty. Scott Brady said.
Dr. Karl Williams, chief medical examiner for Allegheny County, said three rabbis have worked with his staff to ensure the bodies are handled properly, but he could not say if the examinations would be completed so that they could be released for the timely burial required by Jewish custom.
Bowers had a history of posting anti-Semitic and anti-immigrant statements on social media, including one moments before the first 911 calls were made Saturday.
His posts specifically mention a Jewish-founded nonprofit that helps resettle refugees from around the world and works with Dor Hadash, one of the three congregations that meet in the synagogue.
Dor Hadash member Jerry Rabinowitz, 66, was helping set up for the morning's services when he was killed. Another member, Dan Leger, was wounded.
Michael Thompson, 58, of Squirrel Hill is a member of the Dor Hadash congregation. He wasn't at services Saturday but could hear the commotion from his home down the street.
"We just went outside — sirens — and we were trying to figure out what was going on," he said. "It was crazy, the sirens, and it was still going on."
He paused his recount with a gasp. "The one who is in the hospital is the one who reads the name of the dead," he said, before apologizing and walking a few feet away. "It's been a hard couple of days."
President Trump has ordered flags on federal buildings to be flown at half-staff through Wednesday in "solemn respect" for the victims. At a rally Saturday, he condemned the shootings as "pure evil" and questioned how such a thing can happen in 2018. Trump told reporters Saturday that "if there was an armed guard inside the temple, they would have been able to stop him."
Pittsburgh Mayor Bill Peduto called the attack "one of the worst moments that we have experienced" and pushed back on the president's comments that an armed guard would have made a difference.
"We're dealing with irrational behavior; there is no way that you can rationalize a person walking into a synagogue during services and taking the lives of 11 people," Peduto said. "We shouldn't be trying to find ways to minimize the dangers that occur from irrational behavior. We should be working to eliminate irrational behavior and the empowerment of people who would seek to cause this type of carnage from continuing.
"The approach that we need to be looking at is how we take the guns, which is the common denominator of every mass shooting in America, out of the hands of those that are looking to express hatred through murder."
At an interfaith vigil attended by thousands in Pittsburgh on Sunday night, Myers urged American politicians to change their rhetoric.
"Ladies and gentlemen, it has to start with you as our leaders," Myers said to the dozen or so politicians who attended. "My words are not intended as political fodder. If it comes from you, Americans will listen."
At the vigil, city and religious leaders stressed that Pittsburghers would take care of their own. Wasi Mohamed, who leads the Islamic Center of Pittsburgh, said his members had already raised $70,000 for the victims' families and even promised to stand guard outside synagogues if requested.
Outside, rain poured over the thousands more sharing umbrellas and straining to hear the sound system.
Melissa Casey, 39, of Pittsburgh sat in the rain for two hours, periodically passing her umbrella so parents could shield their small children.
"There's something about being there, being present," she said through tears. "I want them to know we're here. This is Pittsburgh."
Authorities released the following names of the shooting victims:
— Joyce Fienberg, 75, of the Oakland neighborhood of Pittsburgh
— Richard Gottfried, 65, of Ross Township, Pa.
— Rose Mallinger, 97, of the Squirrel Hill neighborhood of Pittsburgh
— Jerry Rabinowitz, 66, of Edgewood Borough, Pa.
— Cecil Rosenthal, 59, of Squirrel Hill
— David Rosenthal, 54, (brother of Cecil), of Squirrel Hill
— Bernice Simon, 84, of Wilkinsburg, Pa.
— Sylvan Simon, 86, (husband of Bernice), of Wilkinsburg
— Daniel Stein, 71, of Squirrel Hill
— Melvin Wax, 88, of Squirrel Hill
— Irving Younger, 69, of the Mount Washington neighborhood of Pittsburgh
More stories from Sarah D. Wire »
Follow @sarahdwire on Twitter
---
UPDATES:
7:05 p.m.: This article was updated with additional reaction and details, including comments at a vigil.
10:40 a.m.: This article has been updated with additional details of the investigation.
This article was originally posted at 8:40 a.m.
Sign up for Essential California for the L.A. Times biggest news, features and recommendations in your inbox six days a week.
You may occasionally receive promotional content from the Los Angeles Times.