Nicaragua marks 1979 revolution amid protests and bloodshed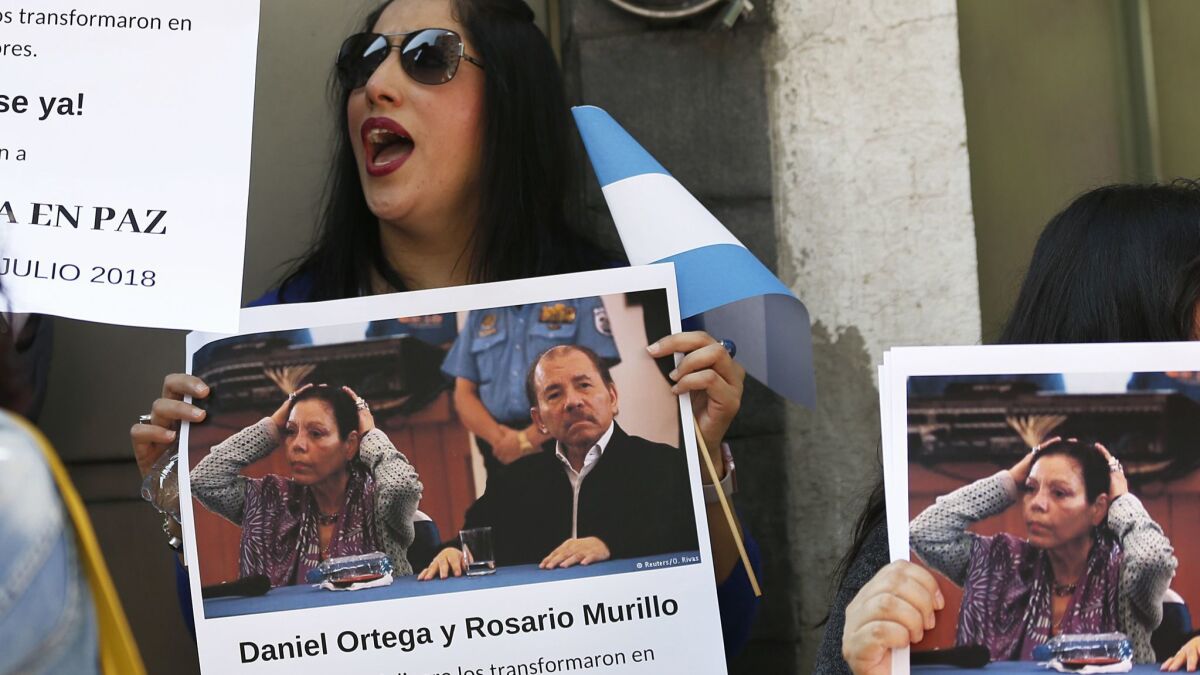 Reporting from MANAGUA, Nicaragua —
Nicaragua marked the 39th anniversary of the 1979 revolution against dictator Anastasio Somoza on Thursday, despite an ongoing political crisis that has seen hundreds killed in a government crackdown on protesters seeking President Daniel Ortega's exit from office.
Supporters of Ortega, who helped lead the Sandinista uprising decades ago, say the country has made progress under his rule. But detractors argue that Ortega has become a dictator himself and should step down after consolidating near-total political control in the hands of his family. His wife, Rosario Murillo, is vice president.
"I never thought I would see Daniel Ortega become a dictator, let alone a criminal who would try to stay in power with fire and bloodshed," said political analyst Julio Lopez Campos, an ex-guerrilla fighter who was once close to the president.
The Nicaraguan Pro-Human Rights Assn. has tallied 351 killings related to unrest between April 19 and July 10, while the government puts the figure at more than 200.
Despite the violence, many were expected to gather Thursday afternoon at a public square near Lake Managua to hear Ortega speak at a rally commemorating the fall of the Somoza dictatorship. The annual event usually draws hundreds of thousands of people, including government employees for whom attendance is essentially mandatory.
This year, the government did not organize caravans from other cities as is customary, but instead directed people outside the capital to celebrate locally with piñata parties in parks and plazas.
Many people were still expected to attend the rally in support of the government.
"The revolution is more alive than ever," said Ortega supporter Arelia Membreno, who runs a small business in the Managua neighborhood of Laureles Sur. "They have given me a loan, a scholarship for my daughter, and the street in front of my house has been paved. Before, it was dirt."
But Ortega's ability to hand out such largesse has been crippled by the steady collapse of Venezuela, whose leftist government had sold cut-rate fuel to Nicaragua. With Venezuela's economy crumbling and oil production dropping, it has become harder to subsidize Nicaraguan fuel purchases.
The opposition Civic Alliance for Justice and Democracy urged Nicaraguans to boycott celebrations and send a message by staying home with their families.
"There is nothing to celebrate," it said in a message circulated on social media, "but rather much to lament."
Thursday also marked three months since the onset of anti-government protests that began over cuts to the social security system and have since broadened to include demands for Ortega to leave office and early elections to be held.
In his drive to consolidate control, Ortega — who returned to power in 2007 following three failed attempts to win the presidency — has sidestepped term limits to get himself reelected and packed courts and government agencies with allies. His selection of his wife as vice president was seen by many as a bid to set up a family dynasty.
Dolma Jerez was outside the Chipote prison Thursday. She said she was seeking the release of her sister, Irlanda Jerez, who was arrested at a protest the previous day.
"We are demanding justice and freedom for my sister," Jerez said, "and not only for my sister but for the thousands of detainees who have been accused and have been deprived of their freedom only for speaking out."
Carla Sequeira, legal counsel for Nicaragua's Human Rights Commission, said the group is trying to determine how many people are missing.
Apparently determined to celebrate the revolution anniversary without the embarrassment of the roadblocks and protest encampments that have been in place for weeks, Nicaraguan security forces and armed civilian groups mounted an aggressive campaign in recent days to clear them by force.
Student protesters from the National Autonomous University of Nicaragua in the capital were dislodged, and the symbolically important neighborhood of Monimbo in the city of Masaya was also retaken.
Monimbo was a stronghold of support for the 1979 revolution, but it has lately been a center of resistance to Ortega's government. For weeks, demonstrators manned barricades in the streets in open revolt.
Ortega was dealt a blow Wednesday when the Organization of American States passed a resolution condemning human rights abuses committed by his security forces while quelling the protests.
The resolution, adopted by a vote of 21-3 with seven abstentions, also criticized the harassment of Roman Catholic bishops who have mediated stalled talks on finding a peaceful solution to the standoff.
The OAS resolution by Argentina, Brazil, Canada, Chile, Colombia, Costa Rica, Mexico, Peru and the United States called on Ortega to support an electoral calendar agreed upon through talks.
Ortega has rejected demands for early elections and calls those seeking his exit "coup mongers."
Nicaraguan Foreign Minister Denis Moncada called the OAS resolution "illegal, illegitimate and unfair."
Must-read stories from the L.A. Times
Get the day's top news with our Today's Headlines newsletter, sent every weekday morning.
You may occasionally receive promotional content from the Los Angeles Times.