U.S. to help North Korea economy if it gives up nuclear weapons, Pompeo says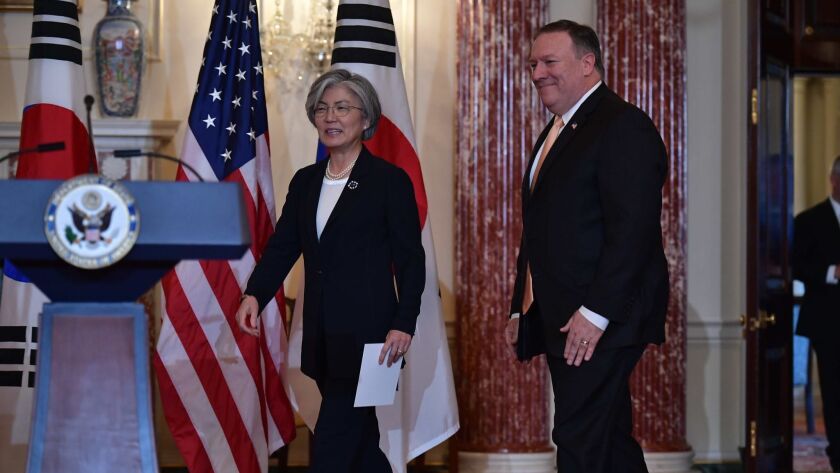 Reporting from Washington —
Fresh from a dramatic trip to North Korea and ahead of a historic summit, Secretary of State Mike Pompeo on Friday said that the United States would provide economic help if the country gives up its nuclear weapons, and perhaps ultimately agree to normalized relations.
The Trump administration is planning a first-ever meeting between a sitting U.S. president and a leader of North Korea for June 12 in Singapore.
Pompeo, two weeks and one day on the job, returned early Thursday from what he called a "productive" meeting with North Korea's Kim Jong Un to agree on details for the Trump-Kim summit. He brought home three American prisoners freed by Kim in what Pompeo said was an important gesture that helped pave the way for the meeting.
Contrasting the wealth of South Korea to the poverty and deprivation of the North, Pompeo said the Trump administration is willing to provide assistance to North Korea if Kim meets U.S. demands to forfeit its nuclear weapons. Kim has said that North Korea now has the capability to strike the continental United States.
"If Chairman Kim chooses the right path, there is a future brimming with peace and prosperity" for his people, Pompeo said at the State Department, following a meeting with the foreign minister of South Korea.
"If North Korea takes bold action to quickly denuclearize, the United States is prepared to work with North Korea to achieve prosperity on the par with our South Korean friends," Pompeo added.
It is a matter of fierce debate among diplomats and Korea experts whether Kim would get rid of his arsenal, which has long been central to his nation's sense of identity and security. He has said he is willing to "denuclearize" the Korean peninsula, but it is not clear he means what Washington means.
For any significant disarmanent, Kim would want something in return. Pompeo's offer of economic aid probably is aimed at addressing that point.
Pompeo also suggested that the U.S. and North Korea could one day be "partners." For nearly seven decades, since the Korean War, the two have been in a state of hostilities, with North Korea isolated from most nations.
Describing his conversations with Kim as "warm," Pompeo said he and the North Korean leader reached "a pretty good understanding between our two countries about what the shared objectives are." He added that he told Kim that the U.S. government was prepared to provide him with "assurances," without elaborating.
Pompeo said he insisted to Kim that a "robust verification" by inspectors would have to be part of any deal to ensure that Kim had "fully denuclearized".
The South Korean foreign minister, Kang Kyung-wha, said tough economic sanctions on North Korea would not be lifted until it makes real progress on disarming. She said the matter of U.S. troops long stationed in South Korea was up to the two allies, Washington and Seoul, to decide — not Kim. In past talks, North Korea has demanded the troops withdraw.
Pompeo, in his brief exchange with reporters, was pressed to describe Kim. The thirtysomething leader is a mysterious figure who has had little contact with the outside world since taking office — until recent weeks, when he has gone on a diplomatic offensive, meeting with Chinese and South Korean officials. Pompeo has met him twice; the first trip to Pyongyang, North Korea's capital, was in early April when Pompeo was still director of the CIA, awaiting Senate confirmation as secretary of State.
"We had good conversations about the histories of our two nations, the challenges that we've had between us," Pompeo said. "We talked about the fact that America has, often in history, had adversaries who we are now close partners with — and our hope that we could achieve the same with respect to North Korea."
---
UPDATES:
3:20 p.m.: This has been updated with additional quotes and details.
This article was originally published at 12:40 p.m.
---
Must-read stories from the L.A. Times
Get all the day's most vital news with our Today's Headlines newsletter, sent every weekday morning.
You may occasionally receive promotional content from the Los Angeles Times.