Just before summit was called off, North Korea announced demolition of its nuclear test site
Reporting from SEOUL —
North Korea said Thursday that it had demolished its main nuclear test site with a series of explosions witnessed by international journalists hours before President Trump canceled a planned nuclear summit with its leader, Kim Jong Un.
The detonations were intended to seal several tunnels and render the underground facility inoperable, although there was no independent way to confirm that. North Korea has tested six nuclear devices of increasing sophistication and power in the complex under Mt. Mantap.
The apparent destruction of the tunnel complex fulfills a pledge made by Kim on April 20 and was presented as proof that Pyongyang has decided to stop testing nuclear weapons. It was welcomed by international powers as a positive gesture, although it does not change the nuclear threat.
Indeed, the demolition came as a senior North Korean official issued another harsh denunciation of Washington, calling Vice President Mike Pence a "political dummy" and his recent comments "ignorant and stupid." The official said Pyongyang was just as prepared to meet in a nuclear confrontation as at the negotiating table.
Not long after, Trump announced he was pulling out of the summit, which had been scheduled for June 12 in Singapore, although he left open the possibility that it could be rescheduled. A White House team had been in Singapore to help plan for the meeting.
Commercial satellite imagery in recent weeks has indicated that crews were dismantling surface buildings, observation towers and other infrastructure near the three portals used to access the underground site, which sits near the village of Punggye-ri in the country's sparsely populated northeast.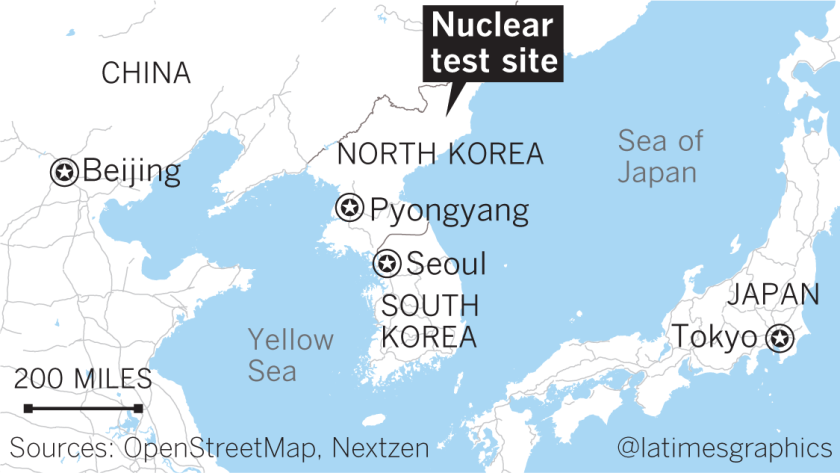 Reporting about the event was limited to reporters invited to the remote site. It's unclear if Pyongyang will allow international nuclear inspectors to visit the location and confirm that the site is permanently closed, or whether it could be reopened and used again in the future.
Experts have been split on the significance of destroying the test site, and whether it marked a serious concession by Kim's government.
Some experts argued that the facility had already been irreparably damaged by a massive underground detonation in September. U.S. officials said that blast had more than 10 times the force of the atomic bomb U.S. forces dropped on Japan at the end of World War II.
Experts said the area suffered visible damage after the test, including landslides and perhaps even a reduction in the mountain's altitude. It caused seismic disturbances felt in China and Russia.
Others contended that the North, which is believed to have an arsenal of 20 to 60 nuclear weapons, may no longer feel the need for underground testing given its six successful tests. No other nuclear power still tests its weapons; the United States gave them up in 1992.
Kim appeared to suggest as much when he announced the planned destruction on April 20, saying "The nuclear test site has done its job," according to state media.
"None of this has any impact on the [North's] nuclear stockpile, except that it cannot be immediately tested underground for the time being," said Scott LaFoy, an independent imagery and military analyst whose work has been published in leading trade journals that track North Korea.
Jeffrey Lewis, director of the East Asia Nonproliferation Program for the James Martin Center for Nonproliferation Studies in Monterey, said he believes the dismantlement occurred because the North no longer needs testing — and brings the North good publicity after years of defying the world.
"I think the North Koreans are serious when they say they've tested what they need to test and why deal with the international aggravation?" said Lewis, who hosts a podcast that often focuses on the North, called Arms Control Wonk. "Why not get some credit?"
The North made rapid strides in its offensive capabilities last year, testing not only its first thermonuclear device but its first ballistic missiles capable of reaching the continental United States.
U.S. officials say that Pyongyang is not yet capable of putting a nuclear warhead atop one of its intercontinental ballistic missiles, giving time for negotiations to defuse the threat to the United States.
Journalists who were allowed to visit the site at Punggye-ri, including some from South Korea, described a massive series of detonations. Many were flown from Beijing, a typical entry point for visiting foreigners, to Wonsan, a port city on the east coast.
The event had been scheduled for Wednesday or Friday, depending on the weather, according to state media.
Had the Singapore summit occurred, it would have marked the first time a sitting U.S. president has met a North Korean leader. But both sides had raised doubts in recent days, leading to Trump's cancellation.
The North issued two statements through its official media angrily denouncing joint military drills between South Korea — with whom it technically remains at war — and the United States, its key ally. The Pentagon has more than 28,000 troops stationed in South Korea, and military exercises are held regularly.
The North also complained after John Bolton, Trump's new national security advisor, suggested that denuclearization would follow the model set in Libya, which surrendered a nascent nuclear program in 2003 partly in hopes, never fulfilled, of gaining greater economic integration with the West.
Its strongman leader, Moammar Kadafi, was overthrown and killed eight years later during a U.S.-backed uprising that grew out of the Arab Spring. Although the civil war has largely eased, Libya has struggled ever since.
The harsh complaint about Pence on Thursday focused on his comments, in an interview with Fox News on Monday, that North Korea could go the way of Libya.
According to the North's official Korean Central News Agency, Vice Foreign Minister Choe Son Hui cited "unlawful and outrageous acts" by top American officials and said Pence had made "unbridled and impudent remarks that North Korea might end like Libya."
In a letter announcing his decision, Trump said he had been looking forward to meeting Kim, but that "based on the tremendous anger and open hostility displayed in your most recent statement, I feel it is inappropriate, at this time, to have this long-planned meeting."
He added, however: "If you change your mind having to do with this most important summit, please do not hesitate to call me or write."
Stiles is a special correspondent.
---
UPDATES:
1:05 p.m.: This article was updated with Trump canceling summit.
6:10 a.m.: This story was updated with staff reporting and additional details about the explosions at the site.
This story was first posted at 4 a.m.
---
Must-read stories from the L.A. Times
Get the day's top news with our Today's Headlines newsletter, sent every weekday morning.
You may occasionally receive promotional content from the Los Angeles Times.