Big gains in Congress, governorships for Mexico's president-elect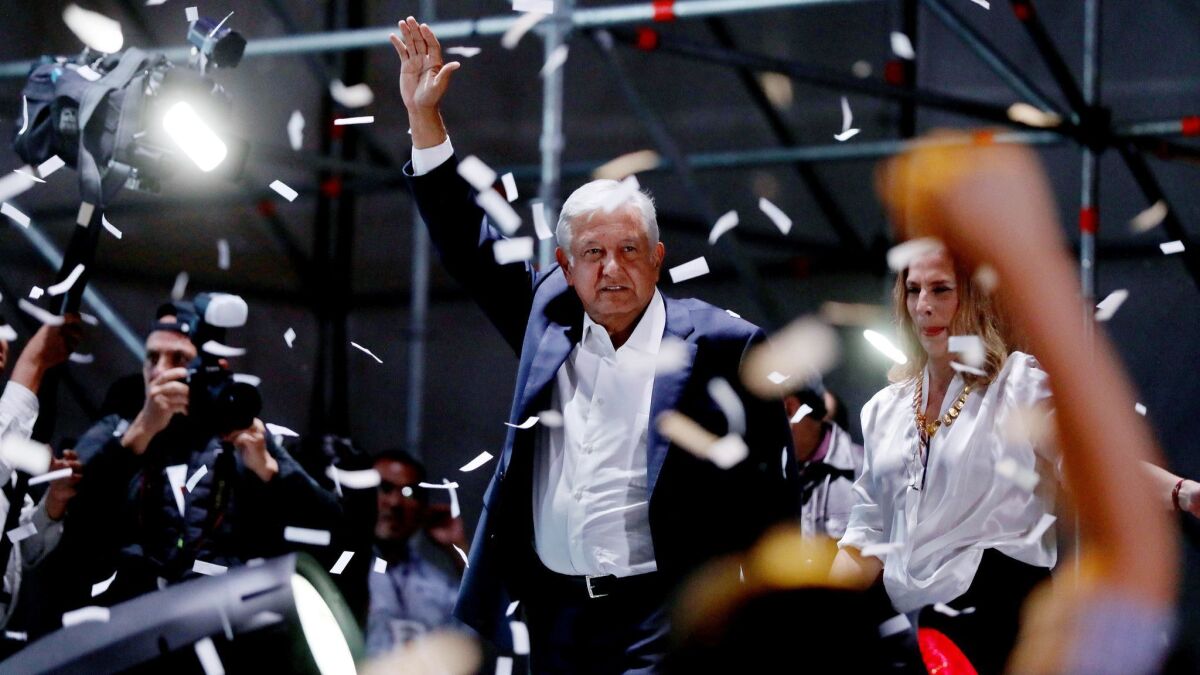 Reporting from Mexico City —
The major preoccupation a day after leftist Andres Manuel Lopez Obrador was elected president of Mexico was not politics. It was the Mexican national soccer's team elimination from the World Cup.
Unlike the national team, which lost to Brazil, Lopez Obrador appears to have a clear path forward. His National Regeneration Movement, known as Morena, was on track to win solid majorities in both houses of Congress.
In the lower Chamber of Deputies, candidates of Morena or allied parties were leading in 220 of 300 seats contested in Sunday's elections, according to a count Monday by Milenio, the Mexican news outlet, with about 85% of the votes in.
In the Senate, Morena-allied candidates were ahead in 53 of 96 races.
A congressional majority for the party will be an enormous boost for the new president, who takes office on Dec. 1, as he attempts to push through broad reforms, some of which may require constitutional amendments.
Sunday's results "will give Lopez Obrador a clear mandate," wrote Raymundo Riva Palacio in El Financiero newspaper. "It shouldn't cost him much work to get the needed majorities for whatever constitutional reforms he plans to seek."
The new president's agenda includes anti-corruption measures, additional cash subsidies for the elderly and disabled and scholarships for students. He has also vowed to review the current administration's controversial energy and education reforms and to reconsider the ongoing construction of a new Mexico City airport that some have assailed as too costly.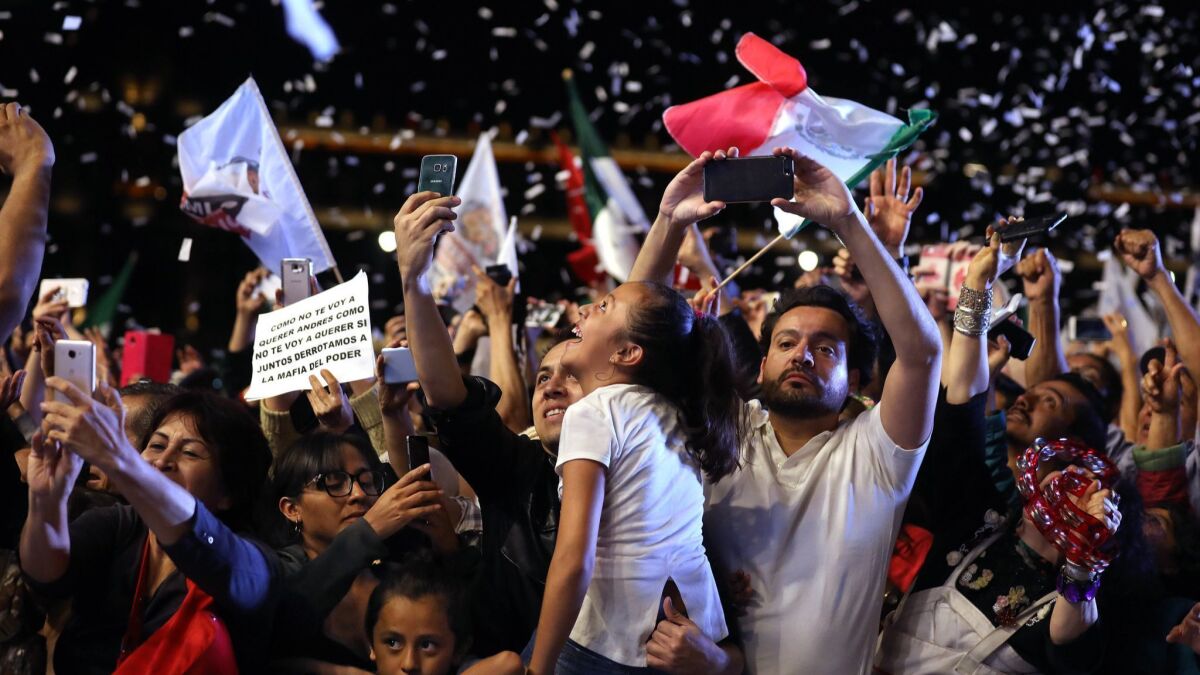 Modern Mexican democracy is often dated to 2000, the year an opposition candidate — Vicente Fox from the center-right National Action Party — wrested the presidency from the Institutional Revolutionary Party, or PRI, which dominated Mexican politics for much of the 20th century.
But since 2000, analysts say, no president has enjoyed majorities in both houses of Congress.
Support for Lopez Obrador was unprecedented in Mexico's modern political age. In a four-man race, he was projected to finish with 53% of the vote once the count is final. That was 31 percentage points ahead of his closest competitor.
Though Lopez Obrador has vowed to implement a fundamental "transformation" of Mexican society, he went out of his way late Sunday to stress themes — a respect for law and institutions, a commitment to financial stability, no confiscations of assets — that were clearly aimed at calming jittery citizens and markets.
In his acceptance speeches before adoring crowds, Lopez Obrador sometimes sounded like a war-weary leader taking command of a nation after a brutal civil conflict.
"We won't act in an arbitrary way," the president-elect told a crowd at a hotel downtown. "The new government will maintain financial and fiscal discipline."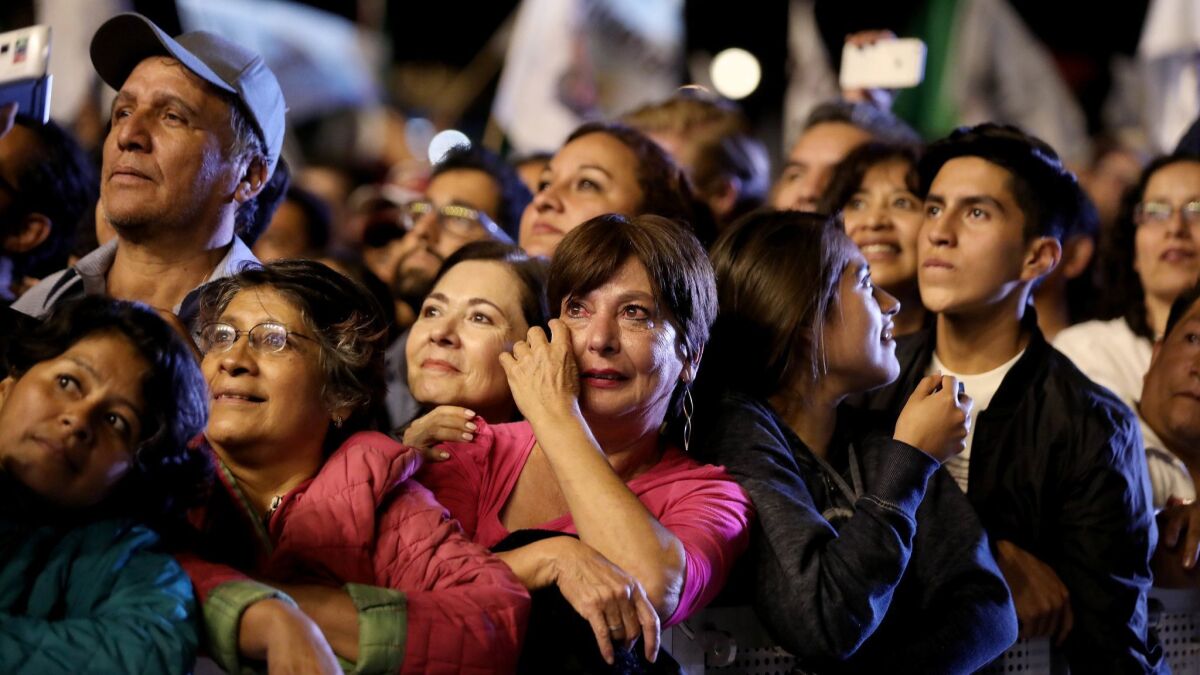 The value of the peso, a barometer of investors' view of Mexico's day-to-day economy, declined slightly Monday. But the national currency still remained at about 20 to the dollar on international markets.
The headlines of many newspapers here stressed "reconciliation," a thrust of Lopez Obrador's post-victory remarks.
In a Twitter message on Monday, Lopez Obrador said he had a "respectful" telephone conversation with President Trump. The topics included a prospective accord to generate jobs in Mexico and thus reduce immigration and improve security.
Morena, which Lopez Obrador founded four years ago, also won four of the eight governor's seats up for grabs Sunday.
And the party's candidate for mayor of Mexico City, Claudia Sheinbaum, a close associate of Lopez Obrador, won an overwhelming victory. She is the first woman elected mayor of Mexico City, a post once held by Lopez Obrador.
Morena's far-reaching triumph mostly came at the expense of traditional parties, especially the PRI, which was for decades a hegemonic force in Mexican politics. But the party's legacy of scandal and corruption and its inability to curb escalating violence or improve a slumping economy cost it dearly at the polls.
Sunday may have been the worst electoral shellacking that the PRI has experienced since it was founded almost a century ago in the ashes of the Mexican Revolution.
Its presidential hopeful, Jose Antonio Meade, a Yale-educated economist and former Cabinet member, was on course for a humiliating third-place finish, having garnered about 16% of the vote.
The PRI, which currently holds the presidency, did not win any of the eight governor's posts Sunday, and the party appeared to be headed for third-place finishes in both houses of Congress. The party was also suffering major setbacks in voting for state and local legislatures throughout Mexico.
"We've never seen such adverse results," Jose Yunes Zorrilla, a PRI official in the southern state of Veracruz, told Milenio newspaper.
The state was once a stronghold for the party. Today the state's former governor, Javier Duarte, sits in prison awaiting trial on a range of corruption allegations — one of several former PRI governors in jail or facing charges.
And Morena's candidate in Veracruz appeared to be headed to victory in the race for governor.
Cecilia Sanchez in The Times' Mexico City bureau contributed to this report.
Twitter: @PmcdonnellLAT
Must-read stories from the L.A. Times
Get the day's top news with our Today's Headlines newsletter, sent every weekday morning.
You may occasionally receive promotional content from the Los Angeles Times.