Peru ponders corruption probe's cost after shocking suicide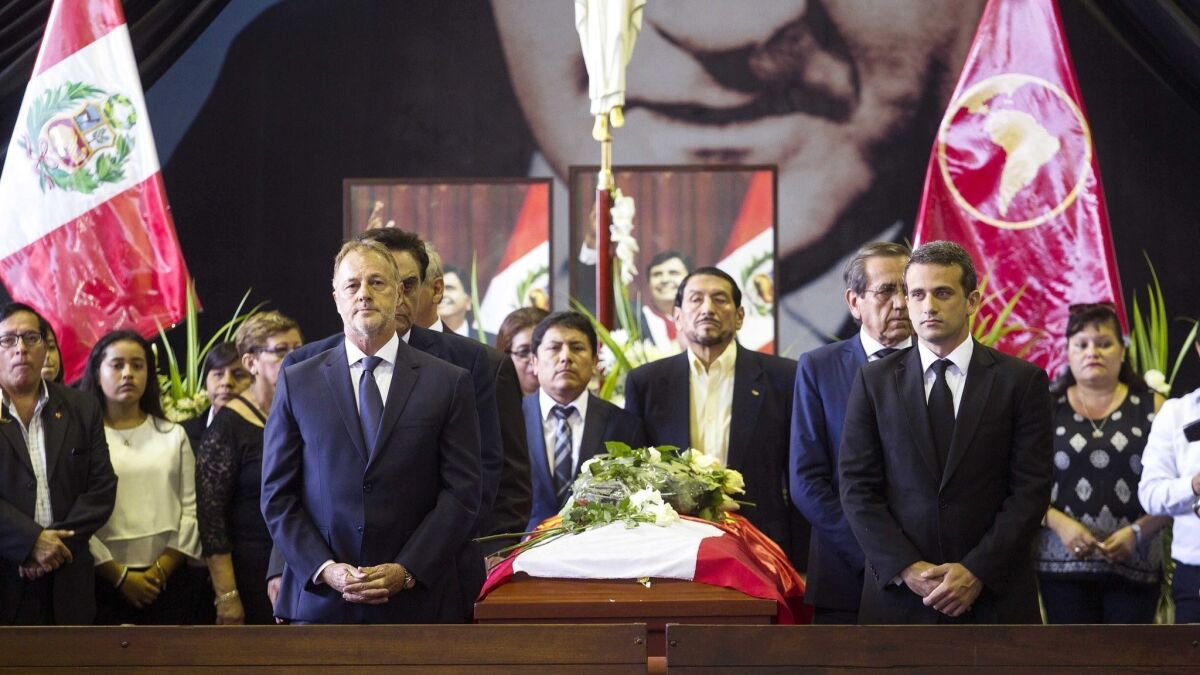 Reporting from LIMA, Peru —
The suicide of former President Alan Garcia has shocked Peruvians and sparked a debate swirling Thursday on television channels and in newspaper columns: What will be the price of the country's painful reckoning with corruption?
All but one of the nation's living elected former presidents are suspected of taking part in Latin America's largest graft probe, in which Brazilian construction giant Odebrecht has admitted to giving nearly $800 million to politicians throughout the region in exchange for lucrative public works contracts.
The case has especially rocked Peru, which has gone further than any other country outside Brazil in holding politicians suspected of participating in bribery accountable.
Corruption has long been endemic in the South American nation, where one judge was even caught on a wiretap negotiating the sentence of a man accused of sexually assaulting a young girl. Many are pleased to see powerful leaders long suspected of wrongdoing with handcuffs around their wrists.
Still, Garcia's death has prompted a closer scrutiny of how the cases are being conducted, in particular the issue of pretrial detention.
When officers showed up at Garcia's home early Wednesday, they came armed with an arrest warrant demanding his detention in connection with the Odebrecht case, in which he was a suspect but not yet charged. He asked for a minute to call his lawyer and then shot himself from inside a bedroom.
Now some ask: In a country where corruption has long gone unpunished, have prosecutors become overzealous in putting the nation's most prominent politicians behind bars even before charges are levied against them?
"The fight against corruption is good," Peruvian television host Paola Pejoves opined as images of Garcia's hearse flashed across the screen. "But at what cost?"
Prosecutors and anti-corruption advocates say preliminary detention is needed in the case of powerful leaders with access to great resources that could help them flee the country or obstruct justice. Critics say prosecutors aren't always justified in putting them behind bars before filing charges.
Throughout Latin America, it's common for prisoners, even those accused of petty crimes, to be held for months or years before being charged. It's a system that human rights lawyers have clamored against for years, and is now getting more attention as former presidents find themselves in a similar position.
Garcia would have been just another in a string of high-profile leaders ordered held on preliminary detention in the Odebrecht scandal.
Eighty-year-old former President Pedro Pablo Kuczynski is being held in connection with the probe, as is former first daughter Keiko Fujimori. Ex-President Ollanta Humala and his wife were also held for months without any formal charges until Peru's constitutional court ruled they should be freed.
Under Peruvian law, those suspected of crimes that carry a sentence of greater than four years can be held if there is evidence to suggest a suspect might try to flee the country or obstruct the course of an investigation.
Garcia twice led the nation and was reviled by many Peruvians while adored by others, who at his peak called him the John F. Kennedy of Latin America.
Prosecutors suspect him of taking bribes from Odebrecht during the construction of Lima's metro.
The larger-than-life former president repeatedly professed his innocence, going on camera just a day before his death saying that history would favor him.
"Years will pass and people will understand," he said. "I trust in history."
---
Must-read stories from the L.A. Times
Get the day's top news with our Today's Headlines newsletter, sent every weekday morning.
You may occasionally receive promotional content from the Los Angeles Times.